Fourteen people evacuated after Yerevan flat explosion
An explosion occurred early this morning at an apartment in a block of flats located in Vratsakan street, downtown Yerevan. The partition walls and balcony of the ground floor apartment have collapsed, and the windows of neighboring apartments have been damaged in the explosion. No casualties have been reported.
According to the neighbors, the apartment had been abandoned for a while.
The blast was so strong that the exterior walls split, damaging vehicles that were parked outside the building.
"I barely managed to run out of the house. I live one floor above that apartment so my entrance door was distorted by the blast. The shockwave was so strong that it blew out the windows and warped the door. It felt as if a war had begun. At first we didn't understand what was going on," said one of the residents.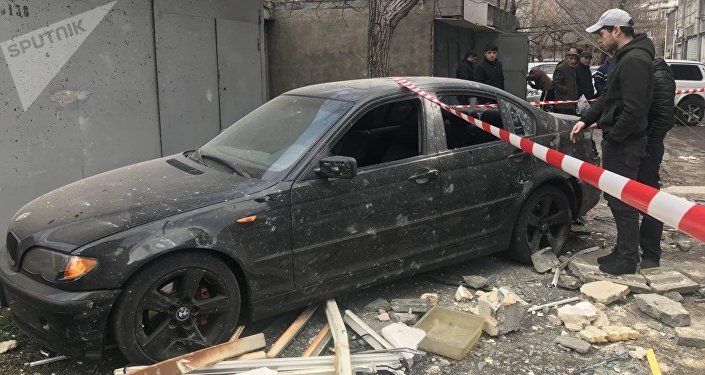 Preliminary reports indicate that the explosion was caused by a gas leak. Experts who studied the damage assume that the device which detects gas leaks and automatically shuts off the gas supply was faulty. If it had been working the explosion could possibly have been avoided.
Municipal authorities stressed that it was just a preliminary report and the actual cause of the explosion still had to be confirmed. Kamo Areyan, the Vice-Mayor of Yerevan, said that they were dealing with the residents' problems and were trying to restore the damaged part of the building.
The residents were very concerned with the restoration of the damaged apartment. It is located on the ground floor so if the foundation isn't properly strengthened then, according to the residents, the apartment will collapse and the rest of the apartments will be ruined too.
Since municipal authorities couldn't ensure the residents' safety they decided to evacuate them. The Vice-Mayor stated as follows:
"If people's lives are at risk then it's unacceptable that they live there. Thus we need to solve the temporary housing issue. They can for example stay at a relative's place. If it's not a possibility then we'll arrange something jointly with the district administration."