First visa-free Georgians depart for Europe today
The first batch of Georgians availing themselves of the country's newly-inaugurated visa-free regime with the EU left for Warsaw from Tbilisi's international airport at 04:55 a.m. today. Several more EU-bound flights from Tbilisi and Kutaisi have since departed.
"It felt odd, not having to apply for a visa," Tamta Mumladze, a Rustavi-2 TV journalist said as she was getting ready to board her flight to Hamburg. "I didn't have to spend hours in a consulate which was a great convenience. Congrats, everybody, on this historic event!" She said she was travelling as a tourist, rather than as a journalist, and would be coming back home in a week.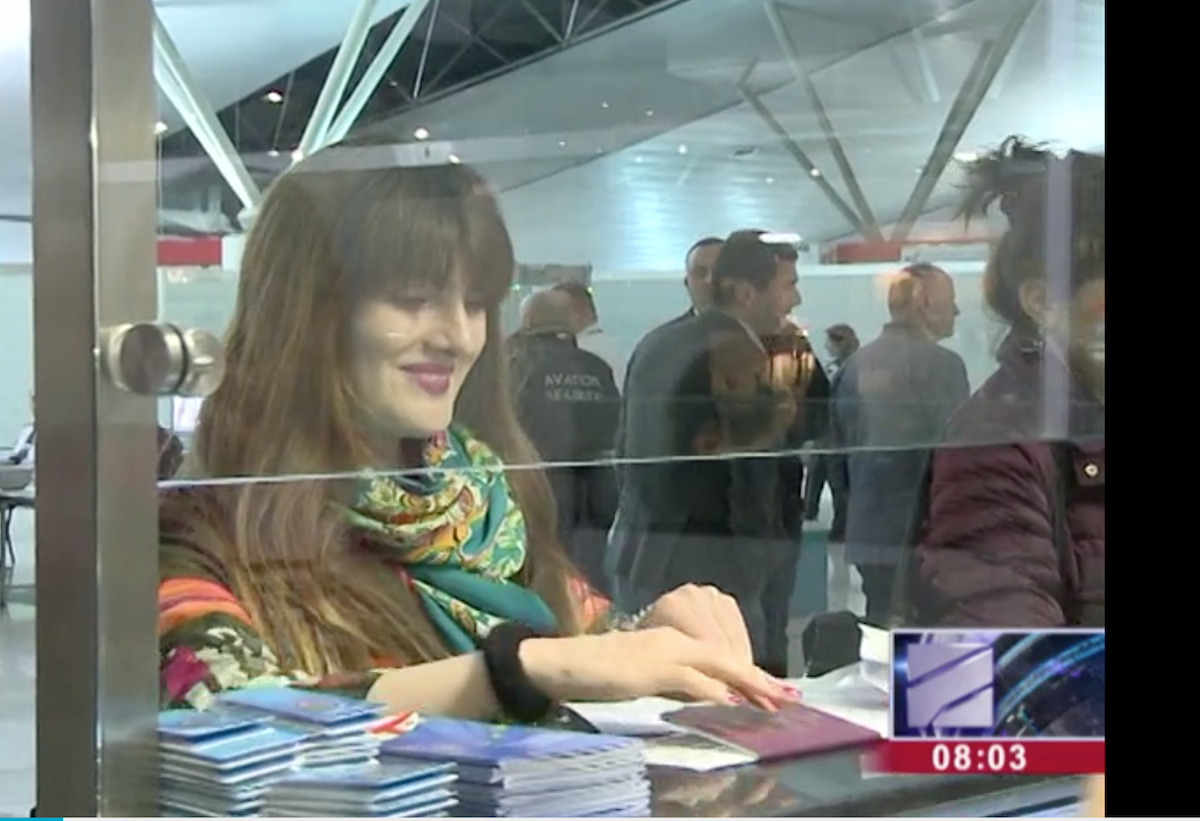 At 7 a.m., Georgia's Prime Minister Giorgi Kvirikashvili flew to Athens, accompanied by a group of government delegates, students and scientists.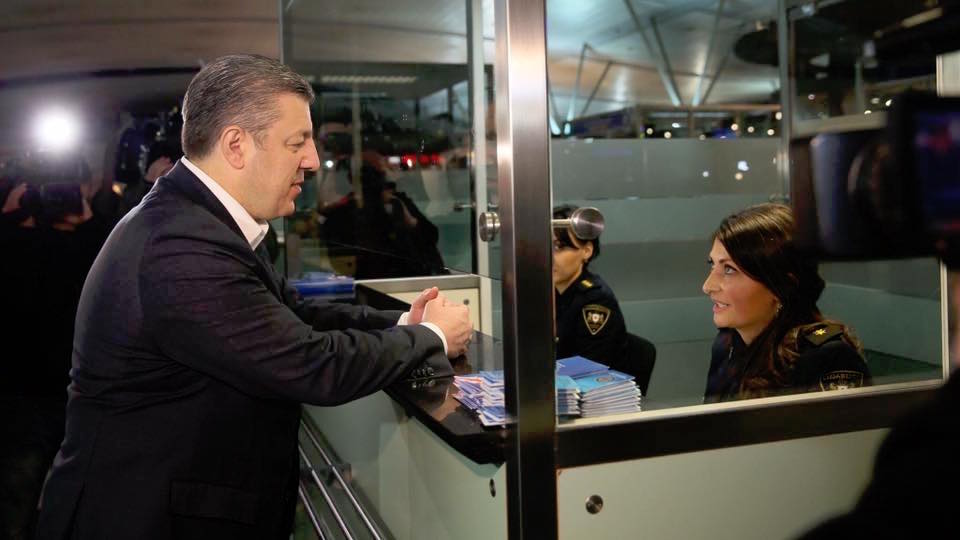 "Today is a monumental day, as Georgian citizens have finally been allowed to travel to Schengen zone countries without visas," he said while still in the airport. "It's a great achievement and a great opportunity for Georgians to get to know the European Union better, including the values that underlie Europe. This is a good chance for students to participate in various educational programmes."
He said the delegation he was leading would hold a series of meetings in Athens, before proceeding on to Brussels 'where we will celebrate this great achievement which is as much a result of our citizens' work as it is a result of the government's steadfast, intensive effort."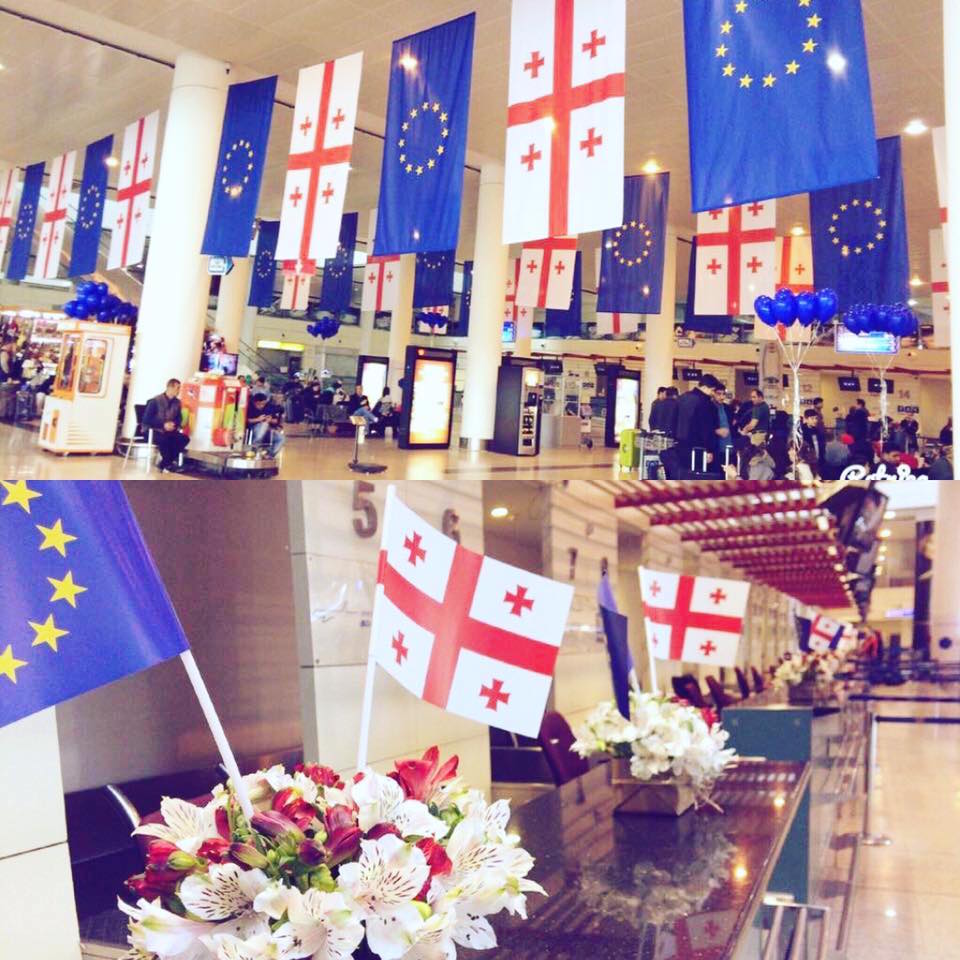 With the visa waiver now finally entering into effect as of today, 28 March, the country's interior ministry has issued a special decree making it incumbent on Georgian customs and border patrol agents to conduct screening interviews with EU-bound travelers.
Georgian nationals will be able to enter any of the 22 EU countries in the Schengen zone visa-free for 90 days in any 180-day period.
The Schengen zone countries are: Belgium, Denmark, Spain, Estonia, Italy, Lithuania, Luxembourg, Malta, Netherlands, Poland, Portugal, Greece, France, Slovenia, Slovakia, Hungary, Finland, Sweden and the Czech Republic.
The exemption granted to Georgia also extends to the four countries that are now seeking to join the zone – Romania, Bulgaria, Cyprus and Croatia.
Who can benefit from the visa waiver and how?
• Any Georgia citizen who holds a biometric passport is entitled to benefit from the visa exemption.
• Travelers who stay in the Schengen zone even a minute longer than the allotted 90 days will be deported to Georgia and put on a 'black list' with a five-year ban on visiting the zone.
• Apart from the biometric passport, a traveller from Georgia may, when crossing the border, also be asked to present travel insurance, a proof of financial solvency, a return ticket and a hotel booking confirmation. Having the documents when crossing over into the Schengen zone is not a requirement, however border control agents still retain the right to ask to see them. The difference against the previous regulations is that no visits to consulates will now be necessary. Bank statements and pay slips from an employer and some other documents a person used to have to submit to a consulate to support their visa application have now been scrapped too. Instead, a valid credit card may have to be shown to border control services as proof of one's financial eligibility.
• The visa waiver does not apply if a Georgian citizen travels to Europe to work or study for long periods of time. In such cases, a visit to a consulate and a clearance of relevant application procedures will be necessary.
What is the suspension mechanism?
Put simply, the suspension means not all bridges have been burnt for Europe and it can discontinue the visa-free regime for Georgians any time once it finds they deserve it. So, this can happen if:
• there is an increase in the number of illegal immigrants from Georgia;
•the number of Georgians applying for refuge grows;
• the Georgian authorities don't cooperate with the EU to bring illegal migrants back home.
What has it taken Georgia to obtain the visa waiver?
•The Georgia-EU visa liberalization negotiations started on 4 June 2012, leading to the EU presenting Georgia with an action plan on 25 February 2013 detailing what the country needed to do to obtain visa-free access to the EU.•
In December of 2015, the European Commission found that Georgia had done a good job implementing its visa liberalization action plan and gave it a positive reference.
The EU Parliament and European Council approved Georgia's visa waiver bid.