Festive truce
Personal Representative of the OSCE Chairperson-in-Office, Andrzej Kasprzyk, has called on the parties to Nagorno-Karabakh conflict to strictly observe ceasefire regime and avoid escalation of conflict during the celebration of Nowruz and Resurrection of Christ.
First time for so many years all parties to the conflict expressed a unanimous consensus on the truce issue and made the statements supporting Ambassador Kasprzyk's proposal. At the same time, each of the parties specified that it expected the same attitude from the opponent.
The news was discussed in Armenian Facebook. Even such "author's chronology appeared (the post author's terminology has been preserved):
• March 15 – a terrorist attack in Istanbul and Aliyev's "farewell visit to Turkey;
• March 16 – Putin withdraws troops from Syria;
• March 17 – Aliyev releases Mirkadirov and gets the U.S. State Department and EU's approval
• March 18 – for the first time for many years Armenia and Azerbaijan agree on truce;
• March 22 – Kerry to visit Moscow;
• March 31 – Aliyev-Sargsyan talks to be held in Washington
• At the beginning of April Lavrov to visit Baku to discuss the Karabakh conflict.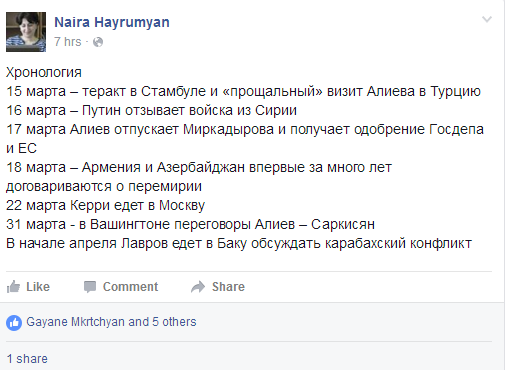 The post was followed by the following response: "May be the Karabakh conflict is being settled? However, in general, this opinion was not supported in the discussions-disappointment is too big and it is hard to believe that the issue will be settled at all, especially quickly.

On March 20-24, Azerbaijan celebrate Nowruz Bayram – the local New Year
On March 27 the Armenian Apostolic Church celebrates the Resurrection of Christ, Easter
Published: 19.03.2016