The hard life of Azerbaijani peasants making a living from greenhouses
Farming in Azerbaijan
Gunel Isayeva
Peasants who grow vegetables in greenhouses in the villages of Azerbaijan say that they work, spend money, take loans, and unscrupulous officials make money on all this.
"We have been suffering in greenhouses since January. Last year I planted 6,000 tomato seedlings, and this year I got inspired and planted 10,000. I sold animals, borrowed money from a moneylender at interest, bought everything I needed to grow tomatoes and sell them at a high price. I have 13,000 debts. I harvested fur times, but I still pay the debt to the store for the products that I took in installments … "
---
---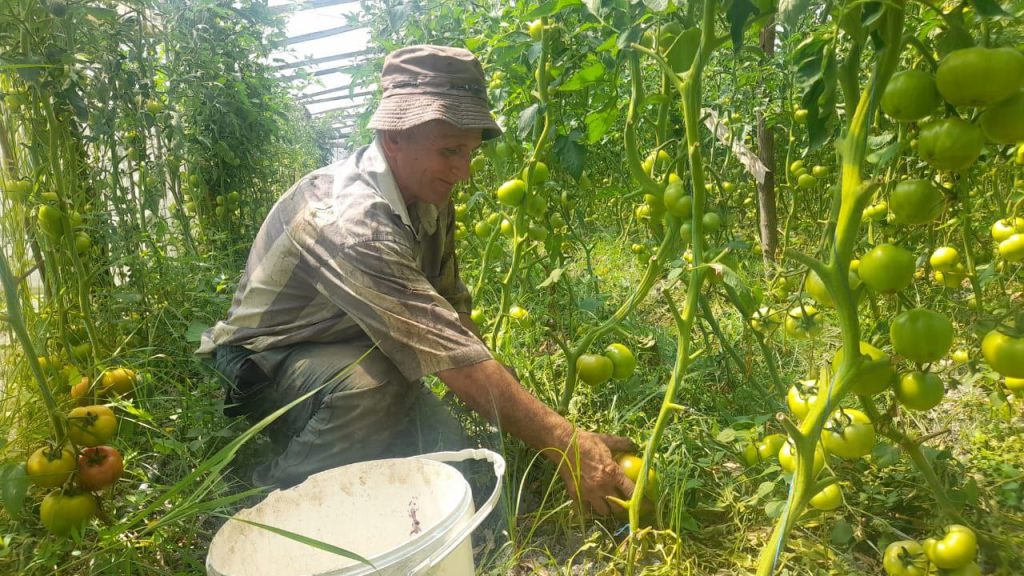 Kamran Isaev, a resident of the village of Myrty in the Goychay region and father of four, is one of hundreds of peasants who are trying to make a living from vegetables grown in greenhouses.
He says that for 30 years he tried to provide for his family by creating greenhouses both on his shared land and on the court plot. Family members have no income, they have no job. But in recent years the costs of greenhouse farming have far exceeded profits, and farmers are drowning in debt.
"During this season, I collected four tons of tomatoes from ten thousand seedlings and sold them at first for 1 manat 60 kopecks ($0.94) per kilogram. Now I sell for 40-50 kopecks ($0.23-0.29). Because of the weather conditions, white rot disease spread, the flowers burned out, and the harvest was half as much as I expected. I expected 12-15 tons of harvest, but it will not even be 7-8 tons. Moreover, a strong wind tore off the roof of the greenhouse," Isaev says.
"Entrepreneurs and officials are merciless to the villagers"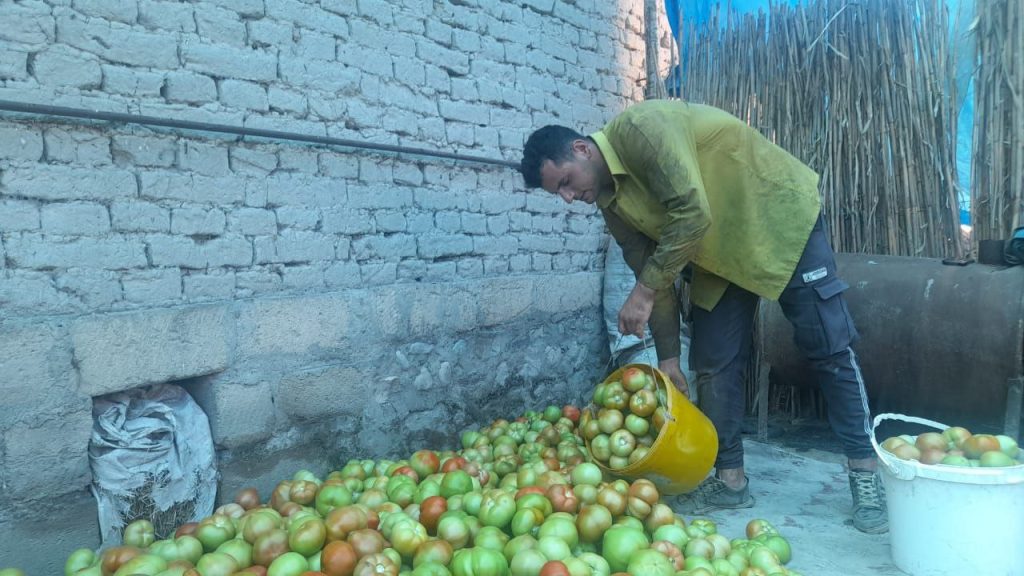 The son of Kamran Isaev, 25-year-old Elmaddin Isaev, is a veteran of the second Karabakh war. He, his father and older brother work in greenhouses every day. Elmaddin says his hands and knees are swollen from working in 40 degree heat. Plans to build a house and send a sister to tutor did not materialize, ecause prices in recent years have greatly increased the cost of greenhouse work. In addition, the strong winds of recent days have caused serious damage to the greenhouses. About 300-400 greenhouses were destroyed in each village.
"Entrepreneurs and officials are merciless towards the villagers. There are no subsidies or preferential credit opportunities on this farm. Because the only income of the peasants was the economy, ruined by officials and the weather. We will be able to sell 5-6 harvests, then the market will die completely. This will not pay off our debt in full.
My wish to send my sister to study so that she could go to university and build a house turned out to be unrealistic. Food prices have tripled over the past year, and the labor of the peasant is not appreciated."
"The market is monopolized by officials"
In the Goychay region, residents of the villages of Myrty, Garagidir and Lekchiplak receive their primary income from tomato greenhouses. The annual livelihood of rural residents depends on summer and autumn harvests.
Total crops per 300 hectares in 30 villages of the region. Each of the three above-mentioned villages increased plantings by 30-40% compared to last year. Together with them, modern greenhouses are growing, which are said to be owned by wealthy individuals and individual officials. This is also pushing out the market for greenhouse products, which farmers create in an artisanal way. The fact that Russia has been the only foreign market for many years also puts product manufacturers at a loss.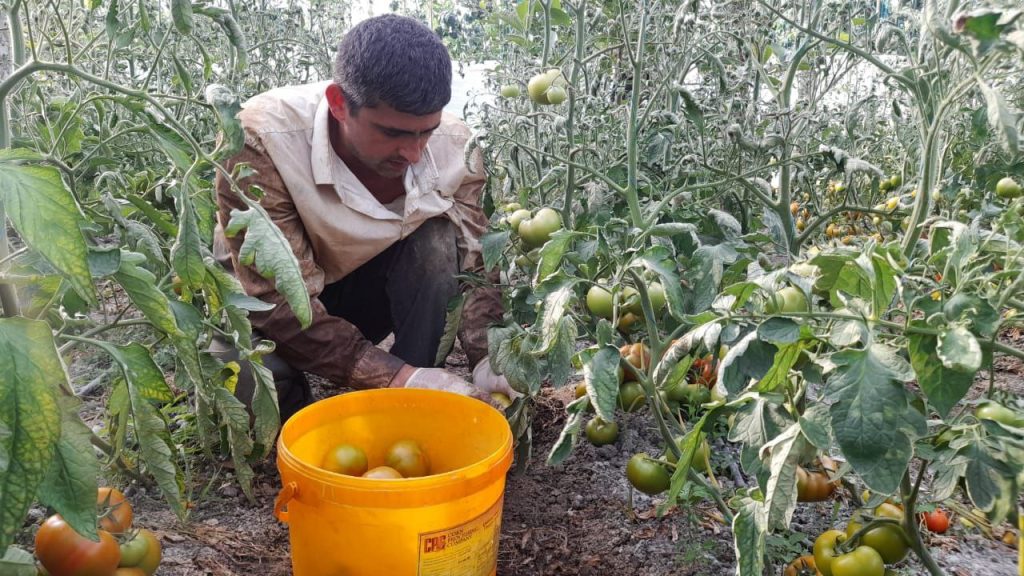 Samir Isayev took a bank loan in the amount of 25,000 manats and built five artisanal greenhouses. According to him, he expected to pay off half of the debt and allocate money for the education of three children. But due to a poor harvest, he was left alone with his problems.
He says that dealers do not allow the farmer to sell his crop directly at a high price. The road to the capital's stalls, transport costs, wooden packaging are very expensive, and the markets inside the area are inconvenient. The Russian market opens late and closes early. Sometimes there are certain restrictions.
"I could not even sell 4 tons of products. There is no direct connection between the buyer and the seller, resellers take 50-60 kopecks from us, and sell more expensive. To sell on the domestic market of the country, we need to spend money on transport, fuel, a place in the market "One wooden box costs 2.50-3 manats. It is expensive to bring to Baku, you need to have 200-300 manats a day. The market is monopolized by officials.
The local Goychay market has also become paid. If you don't pay 5 manats, they won't let you in. It doesn't matter if you sell your harvest cheaply or not. Therefore, we sell for 1 manat 50 kopecks, 1 manat 60 kopecks at the beginning of the season, then for 70-80 kopecks, and now for 40-50 kopecks.
For this reason, they carry mainly to Russia. Despite the fact that tomatoes cost 6-7 manats per kilogram there, dealers buy cheap from us because of customs and travel costs.
Often Russia imposes restrictions, they do not let our tomatoes into their market. As a result, we can only afford basic food, utility bills and grass for animals. Other important needs — walks, cultural recreation, quality education — are not being met because our income is not sufficent."
"Medicines, fertilizers, seeds at high prices, but of poor quality"
Another resident of the village, Tural Aliyev, does not expect even five tons of crops from the greenhouses he built with his brother. The cost exceeded 10,000 manats. He says that his family, which has small children and a seriously ill person, spends 700-800 manats a month, and for many years he has not been able to find a normal job, except for a greenhouse, so that he can normalize his life. He has neither the desire nor the financial resources for the next harvest.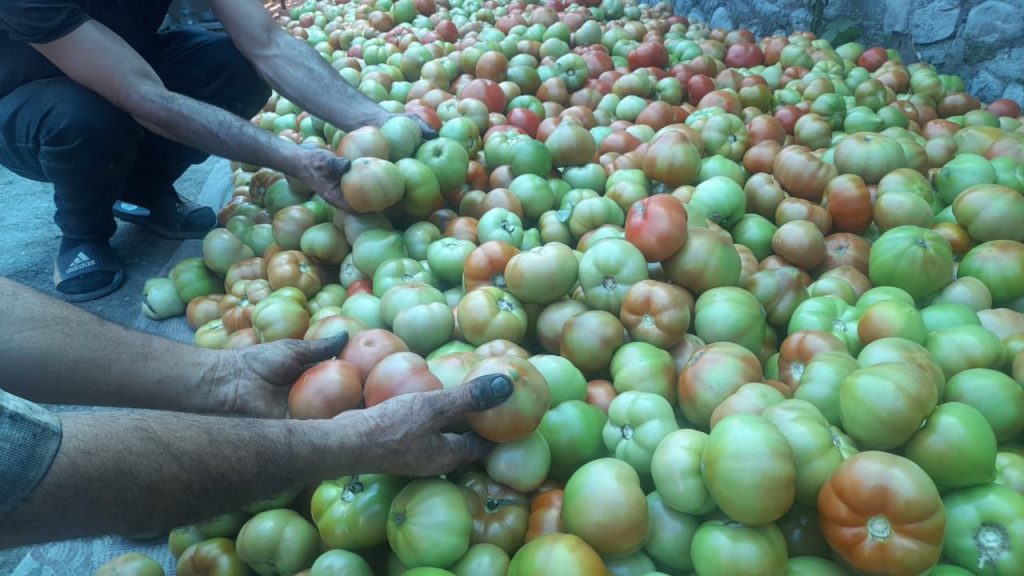 "The disease was spreading, I used drugs, but they did not help. Medicines, fertilizers, seeds, firewood at high prices, but of poor quality. I spent two thousand manats. Fertilizer for 80 manats! Although earlier it went for 20-25 manats. The cheapest fertilizer costs 50-60 manats. 100 grams of the cheapest medicine costs 40-50 manats. We still use cheap medicines in small doses to save money. A firewood machine costs 600 manats. We need to sell a kilogram of tomatoes for 2.5-3 manats to pay off our debts and live for three months. I sold only two tons of the harvest, and then the creditors took it for the debt".
"Long-term preferential loans and subsidizing opportunities are needed"
Amalia Aliyeva, a resident of the village of Lekchiplag with 1,300 farms, says the villagers need state support and a preferential loan program.
"We took a loan from the bank and borrowed from rich people on interest, planted our crops. I had to sell the cattle. Stores no longer give groceries in installments. We spent 7,000 manats on 6,000 hybrid tomato seedlings. For two years I did not fertilize the crops. Because it's very expensive.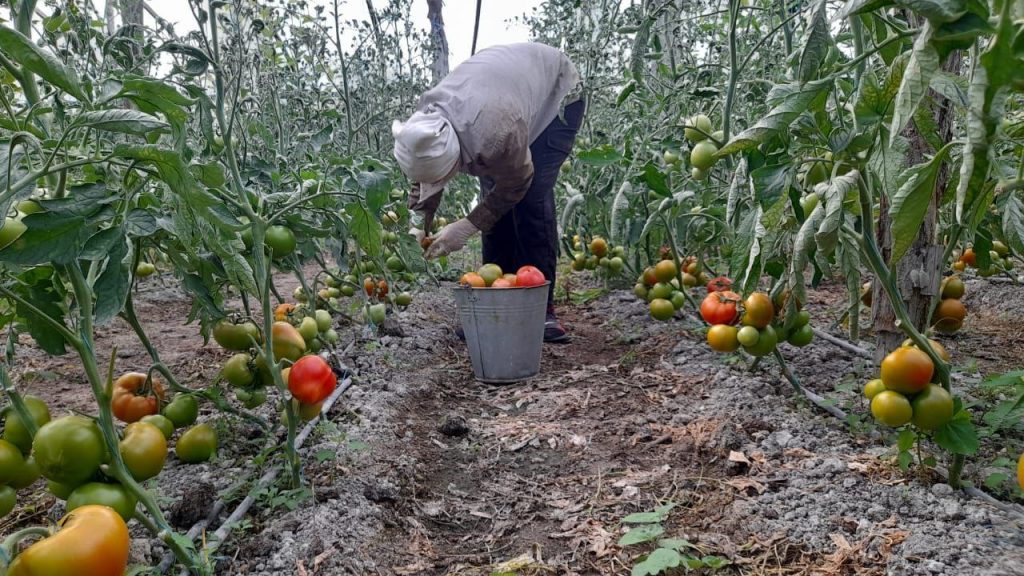 Since January, we have been crawling under cellophane in the heat, getting sick — this is slave labor. A kilogram of cellophane costs 4 manats, we use 200-300 kilograms. After ten days, the sale ends, and I have sold only three tons of the crop. Debts accumulated for 17,000 manats. There is a need for long-term soft loans and subsidizing opportunities."
Elmaddin Babaev, a resident of the village of Garagydyr, says that if he had a job, he would be content with two greenhouses.
"If I had a job, a normal salary, or a pension, social assistance, I would put two greenhouses instead of 5-6. With the proceeds from these greenhouses, I would pay for grass for livestock, winter supplies for my family and the education of children. But now, to cover all our expenses and debts, all hope is for greenhouses. It is unlikely that this will be enough for everything. All we have to do is eat tomatoes for free and not starve to death for three months."
Statistics
According to official statistics, last year there were 3,154 greenhouses operating in the country on an area of 1.6 thousand hectares. Compared to 2021, the number of greenhouses in 2022 decreased by 2%. In total, 141.4 thousand tons of tomatoes were produced last year. Exported tomatoes worth 167 million dollars. In 2021, 145.2 thousand tons of crops were grown, the export value of which amounted to about $160 million. The figures show that the increase in tomato exports last year was only in value terms.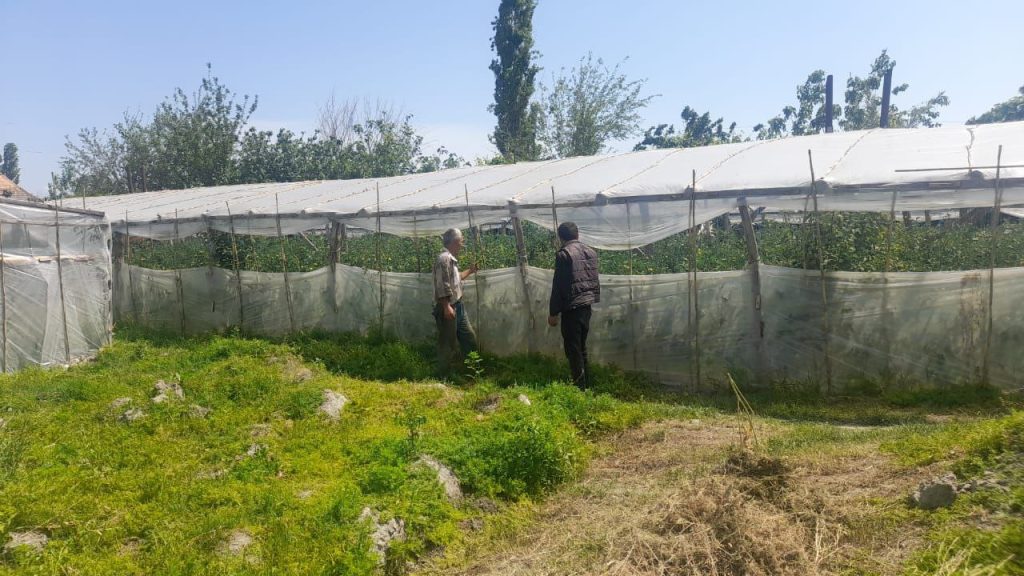 This year 3,500 greenhouses are operating across the country, and 80,000 tons of crops have been grown by June.
Although 80% of the tomatoes produced in the country are exported to Russia, the share of Azerbaijani tomatoes in the markets of the northern neighbor is declining.
Azerbaijan, dependent on the Russian market, experienced a peak period of tomato exports in 2019-2020. In those years, tomatoes occupied the first and second places in the list of exports of non-oil products of the country.
From time to time Russia refuses Azerbaijani tomatoes under the pretext of some pests. Instead the Russian government allocates large sums of investments to increase production in its country and implements large concessions for peasants. At the same time, Azerbaijani tomatoes are increasingly being squeezed out in the Russian market.
"Concluding preferential trade agreements is very important"
Expert economist Farid Mehraliyev believes that despite the dependence of the country's exports on the energy sector (92%), tomato exports have been leading in the non-oil sector over the past few years. Therefore, supporting the cultivation and planting of tomatoes should be a priority on the government's agenda.
"First of all, the government should expand crop access to the foreign market and eliminate the current 90% dependence on the Russian market. Because over time it creates economic and political risks. As soon as relations between Azerbaijan and Russia deteriorate, the latter bans the import of tomatoes into its country. This causes serious damage to product manufacturers. The Azerbaijani government should create conditions for opening the export of tomatoes from the country to other regions of the world.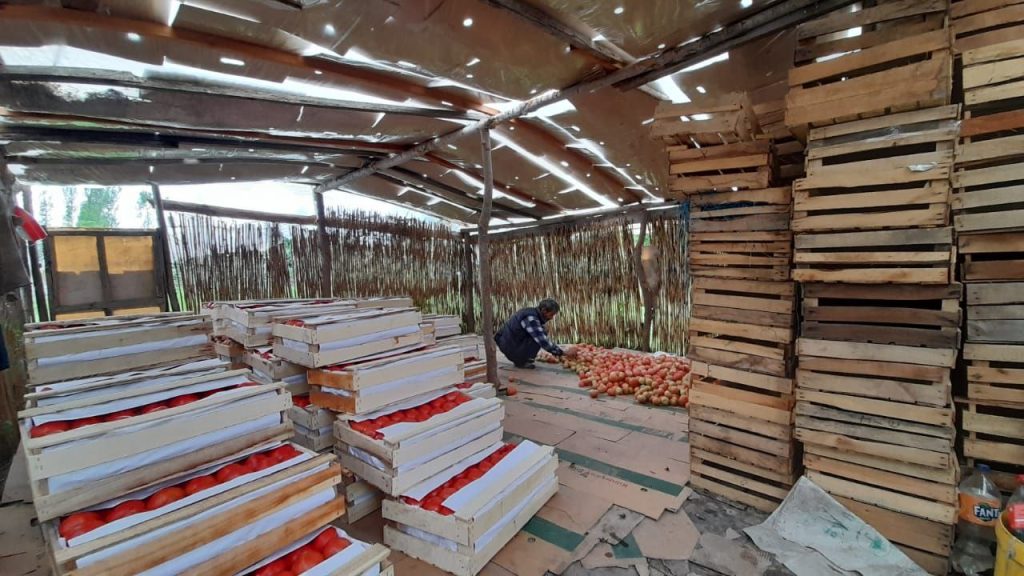 One of the largest markets is the European Union. Unfortunately, the situation with the export of agricultural products of Azerbaijan to European markets does not inspire optimism. Although related programs have been implemented in recent years, the results are not satisfactory. The main reason preventing this is the absence of an agreement on preferential trade between Azerbaijan and Europe. Although many of our region and neighboring countries have signed such an agreement with the European Union.
Azerbaijan is also one of the rare countries that has not become a member of the World Trade Organization. Until now, we see that the government is not so interested in this kind of preferential trade agreements with foreign countries and regions. Because inside the country there are monopolies and bureaucratic entrepreneurs. This hinders the liberalization of the Azerbaijani economy and its opening to the world," says Farid Mehraliyev.
"Prices in the market should not be regulated by administrative methods, but by the abundance of goods"
Agricultural specialist Vahid Maharramov argues that ensuring the country's food security should be the main responsibility of the state, and for this the market price must be properly regulated by creating an abundance of products, and not by administrative methods. Important problems in the production of products must be solved.
"A competitive environment must be created for the import of equipment and tools necessary for farmers in the production of tomatoes, or for their production domestically. Such an environment that any entrepreneur can bring to the country high-quality, cheap production tools, including various nutrient fertilizers, seeds, pesticides, machinery and medicines, so that they are available to the villagers at a low price.
On the other hand, a healthy competitive environment must be created for the sale of manufactured products on the domestic market, the monopoly must be eliminated so that the peasants can sell their products at a favorable price. It is necessary to produce a product that meets European standards in order to exclude dependence on Russia. All this must be done systematically".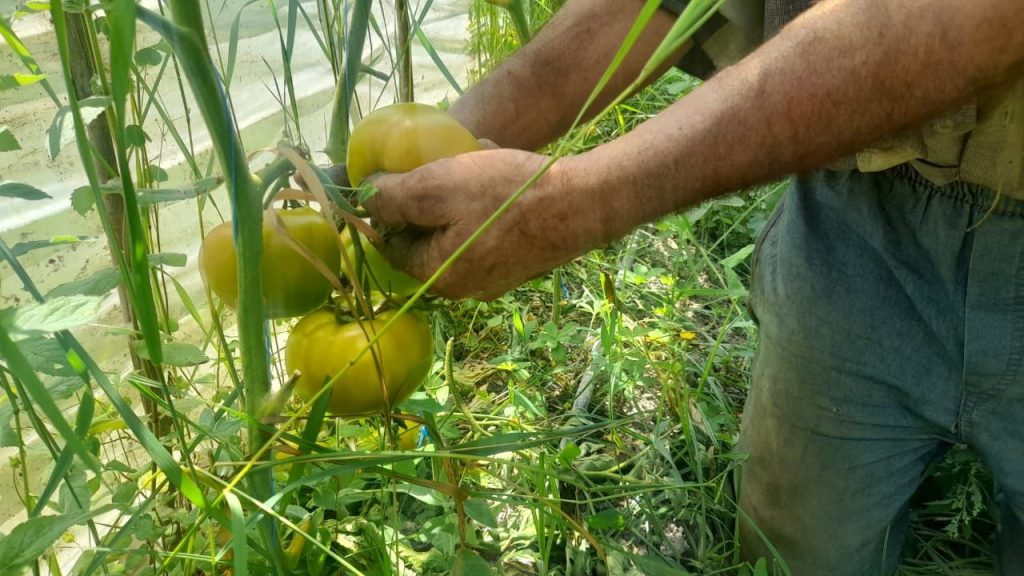 Some villagers in the Goychay region are thinking about reducing autumn crops, and some might not plant at all.
"What did we earn in the spring to be interested in autumn planting? If the price was high, I would think about it. However, this did not happen. I think to use only one greenhouse, and then only to provide the family with vegetables. If the state does not support the peasants, they will drown in debt and will not be able to revive agriculture and produce quality products," Kamran Isaev says.