Export of whiskey from Azerbaijan has grown 20 times in just one year. Why?
Azerbaijani whiskey
The export of whiskey from Azerbaijan has grown 20 times in just one year; 98.3% goes to Russia. Azerbaijanis themselves are practically unaware of the production of local whiskey. According to economist Natik Jafarli, Western sanctions on Russia have led to "a solid gap in the Russian market, which Azerbaijan is trying to fill."
---
---
According to official statistics, in 2022 the volume of whiskey exports from Azerbaijan was 1.22 million liters. A year earlier it was 61,2000 liters. In other words, the country exported 20 times more whiskey than it did in 2021. Russia alone accounts for 98.3 percent of this amount.
Experts deny re-export of whiskey to Russia, on which almost all Western countries – the main producers of this product – have imposed severe sanctions, for the simple reason that Azerbaijan does not import whiskey in such a large volume. It turns out that the country simply increased the volume of production on an unprecedented scale.
According to the State Statistics Committee of Azerbaijan, in 2022 alcoholic beverages worth $10.59 million were exported from the republic to Russia. This is about 3.3 times more than in 2021. In quantitative terms, 430,810 decaliters of alcoholic beverages were sent to Russia, which is almost twice as much as in 2021.
"Alcohol exports could grow even more"
Economist Natik Jafarli listed the reasons for such a dramatic increase.
"Azerbaijan has made significant progress in recent years in increasing the responsibility of alcohol exporters. Second, due to sanctions, the export of alcoholic beverages from a number of countries has been suspended in Russia. This has led to a solid gap in the Russian market, which Azerbaijan is trying to fill," the expert said.
According to him, the export of alcohol can grow even more, as this is a very profitable item, and the Russian market is very large.
In Azerbaijan itself, local whiskey is not known
The JAMnews correspondent asked a dozen acquaintances whether they were aware of local whiskey.
All answered "no".
It turns out that there have been two local producers for decades.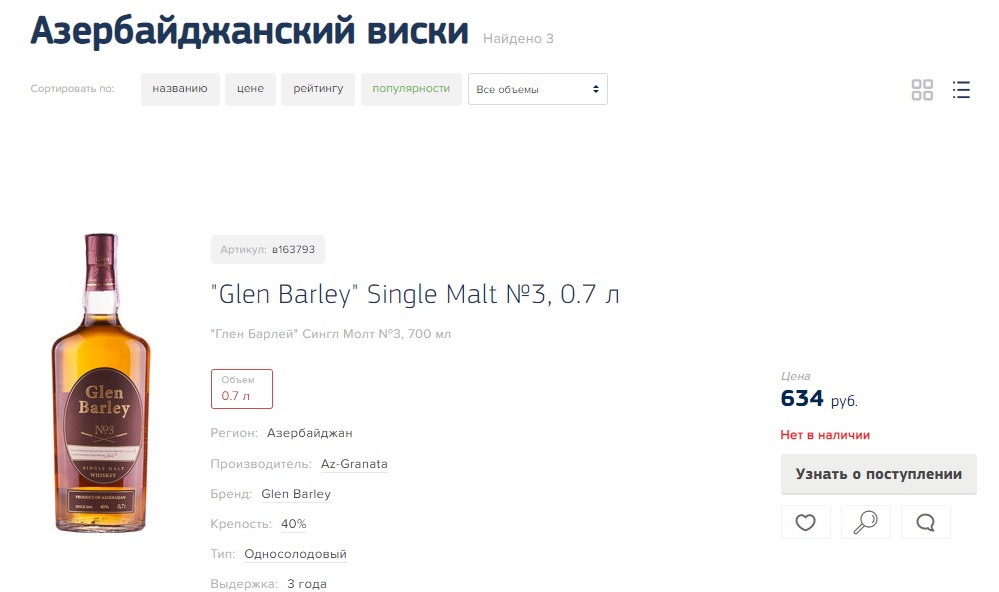 Azerbaijani whiskey is gaining popularity in Russia
According to expert Abbas Guliyev, these statistical indicators can be explained by the flexibility of Azerbaijani entrepreneurs.
"Russia is a huge market. If we take into account the traditional love of the Russian buyer for alcoholic beverages, then along with the sanctions, a very large shortage of elite drinks has formed.
Russia itself is able to provide the local market with vodka, but good wines, cognac, whiskey – in these segments, Russians prefer imports.
If Azerbaijani entrepreneurs managed to adapt their production to the requirements of the market of a neighboring country in such a short time, then honor and praise be to them. But it would not hurt to think about the local market as well," Kuliyev said.