Ex Georgian pres. Saakashvili returns to Kyiv from exile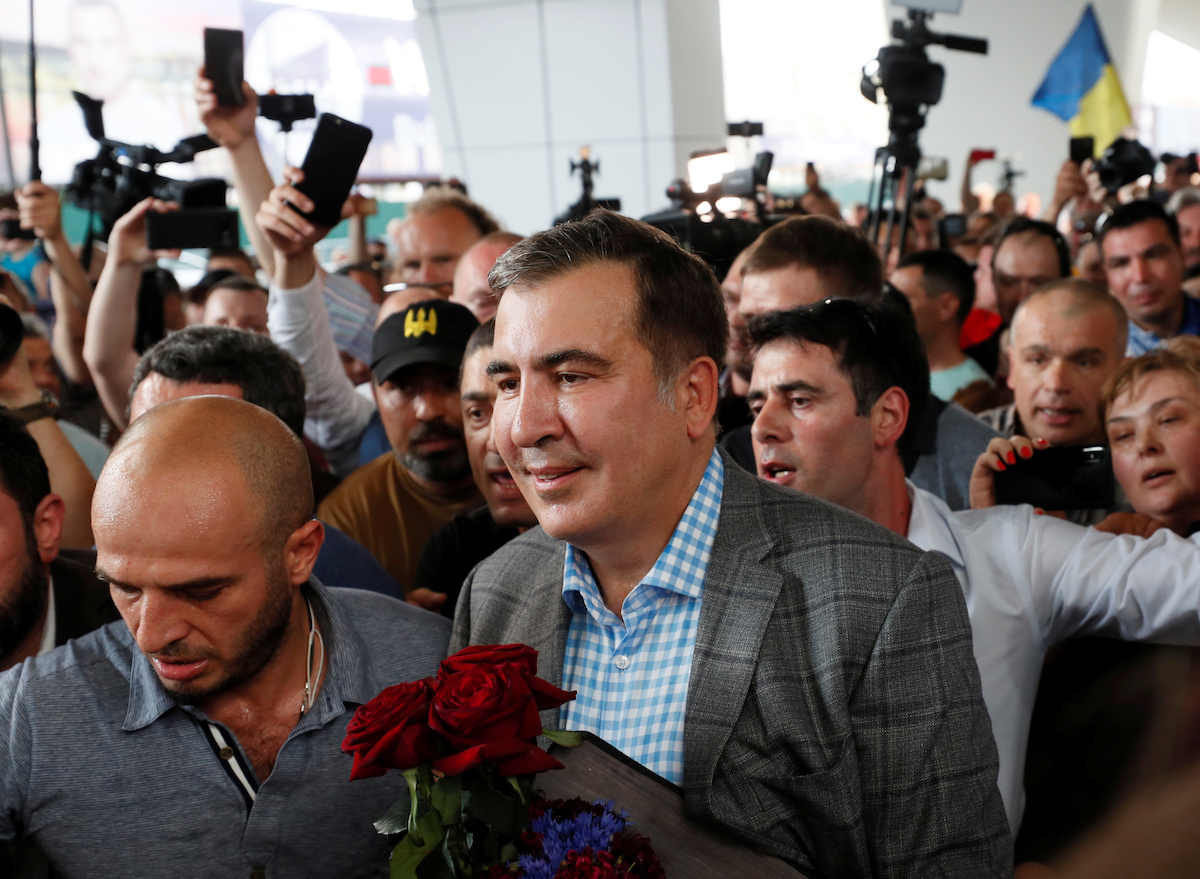 Former Georgian president and the ex governor of the Odesa region of Ukraine, Mikheil Saakashvili, has returned to Ukraine from where he was deported in February 2018.
At the Kyiv airport, Saakashvili was met by his supporters, chanting "Misha".
"I have returned to the country I love. I did not come here to avenge anyone, to punish someone or to destroy something. This is not my style. I have returned to do what I do best – build. This is what I was not allowed to do in Odesa. I want, together with millions of Ukrainians, after having had a historic chance with the team of the new president, to participate in the construction of a new Ukraine", Saakashvili told reporters.
Commenting on Zelensky's decision to restore his citizenship to him, he noted that "President Zelensky showed that he is capable of bold and quick decisions."
Saakashvili said that a lot of people in Ukraine, both among the former and current government officials, did not want to see him in the country, but Zelensky "did not listen to anyone and made this decision."
"Poroshenko's decision [ed. to deprive Saakashvili of citizenship] was a cowardly and undignified decision. Zelensky's decision was a very courageous step of a very dignified president … This president is not a simple guy, he will surprise many people, I have a good sense for this", Saakashvili said.
He also noted that he has not held any negotiations with the team of the new president about a new appointment.
•Georgia's Saakashvili in Ukraine
Saakashvili's return became possible as the new president of Ukraine, Volodymyr Zelensky, restored his Ukrainian citizenship which the previous president, Petro Poroshenko, had deprived him of. Saakashvili received a temporary document for entry into Ukraine at the Ukrainian consulate in Poland.
Today it became known that Saakashvili's party Movement of New Forces will run in early parliamentary elections on July 21, Hromadske cited a party leader, David Sakvarelidze, as saying.
"Yes, we as a party will go to these elections and will defend the philosophy and the projects we want to implement. Participation in the elections is our duty to the voters", he said.
How Saakashvili ended up first in Ukraine, then in exile
Ukrainian citizenship was granted to the former president of Georgia by Poroshenko in 2015, when Saakashvili was appointed governor of the Odesa region.
At the end of 2016, Saakashvili resigned and accused Poroshenko of corruption and unwillingness to carry out reforms.
Saakashvili announced the creation of his own party and that he was going into opposition.
In July 2017, President Saakashvili stripped Poroshenko of Ukrainian citizenship. The reason for this decision was the fact that Saakashvili, in obtaining Ukrainian citizenship, allegedly concealed information about criminal cases pending against him in Georgia. Saakashvili at that time was on a foreign trip and could no longer return to Ukraine.
In September 2017, Saakashvili, thanks to supporters, was able to break through the Polish-Ukrainian border, through which he was not allowed by the Ukrainian border guards.
In October 2017, Saakashvili and his associates launched an indefinite protest in the centre of Kiev
In December 2017, the Ukrainian prosecutor's office accused Saakashvili of "helping members of a criminal organization and supporting criminal activities to the detriment of the state's interests", by which was meant that he had allegedly received money from Russia to organise protest demonstrations from figures close to former President of Ukraine Yanukovych.
After several unsuccessful attempts to detain him, Saakashvili was arrested, but the next day a Ukrainian court released him.
In February 2018, Mikheil Saakashvili was deported from Ukraine to Poland.
Since then, he has lived in the Netherlands as a stateless person, since immediately after receiving Ukrainian citizenship, he was automatically stripped of Georgian citizenship.