EU prepares for signing a new partnership deal with Armenia in November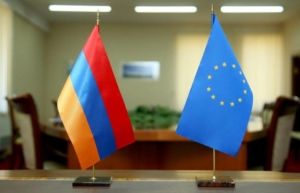 'Nothing at this stage hampers the conclusion of the EU-Armenia Comprehensive and Enhanced Partnership Agreement,' Piotr Świtalski, the Head of the EU Delegation to Armenia, stated at a recent news conference on the opening of the Erasmus+ Youth Information Center.
"The people in charge are working hard so that the signing of the EU-Armenia agreement could become a reality at the Eastern Partnership Summit in November," he said.
However, some Armenian politicians and experts are doubtful that the agreement will be signed, as Armenia was going to conclude the Association and the Free Trade Area Agreements with the EU back in 2013. However, on 3 September, the Armenian President, Serzh Sargsyan, unexpectedly announced that Armenia refused to sign the Association deal with the EU and would join the Customs Union instead. Many believe Armenia refused to sign the documents due to pressure from Russia.
According to Piotr Świtalski, he has recently returned from Brussels where he communicated with the people in charge of preparing the document for signing. In the EU Ambassador's words, they assured him that everything went as planned.
Earlier, when addressing the participants in the 'Baze' Pan-Armenian camp, the Armenian President, Serzh Sargsyan stated that Armenia was going to sign the Comprehensive and Enhanced Partnership Agreement in autumn.
"Yes, we will sign it in autumn. Why am I so confident? Because this document has already been initialed. As far as I remember, we announced in March that the document had already been negotiated upon, and afterwards was initialed. There is no reason why we shouldn't sign it," President Sargsyan noted.
Erikas Petrikas, the Ambassador of Lithuania to Armenia, also expressed his opinion in this regard, noting that the agreement would open up new opportunities for Armenia.
When asked whether the matter of Armenia being a member of the Eurasian Economic Union (EAEU) was controversial or not, and, on the other hand, was entering into such an agreement with the EU, the Lithuanian Ambassador answered as follows: "There is no controversy regarding that. On the contrary, it's very useful for cooperation. When the matter concerns the EU market which has a population of 500 million, it already bespeaks the opportunities that Armenia will be offered.
"As is the case with Armenia, this agreement will also open up new opportunities for the EU. For example, in relations with Iran, which is on good terms with you. So, we believe that both sides are going to benefit from that."