Dzhako's case: Ossetian criminal mastermind sentenced to life, confident of early release
Jacko's Case
Aslan Gagiyev, the famous criminal mastermind of Ossetian origin and "Russia's main killer", nicknamed Dzhako, may receive a life sentence. The high-profile trial, which began in 2021, is coming to an end, and recently the last session before the verdict was held.
The prosecution hopes that the court will find Gagiyev guilty of leading a criminal association, creation of three gangs, murder of more than two persons and illegal trafficking of weapons. In total, Gagiyev is suspected of involvement in the organization of about 60 murders.
We tell about the "life and work" of Dzhako, who is considered by some to be a bandit, and by others – a "noble robber".
Service record

Aslan Gagiyev, 51, is a native of the Ossetian village of Bolkvi in southeastern Georgia.
According to the Russian Investigative Committee, in 2004 Gagiyev created an organized criminal association (OCA) with a wide geography, from Moscow to North Ossetia, and gathered at least 50 people in it. And by November 2012, he had created three gangs in North Ossetia that "recruited" young people and purchased weapons and ammunition. Gagiev financed all these gangs himself in order to become the leader of the North Ossetian criminal world.
Victims of Dzhako's gang were law enforcement officers, officials, businessmen… Among the most famous crimes incriminated against Gagiev and his bank are the murders of Dmitry Plytnik, owner of National Capital Bank, Alexander Slesarev, shareholder of Sodbiznesbank and Credittrust Bank, and Oleg Novoselsky, chairman of the board of Kutuzovsky Bank.
36 of Gagiyev's former associates have already received life sentences, seven are on an international wanted list, and seven more were killed as a result of squabbles within the OPS itself between 2010 and 2014.
Aslan Gagiev was hiding in Austria for a long time, and in 2018 he was extradited to Russia.
Last word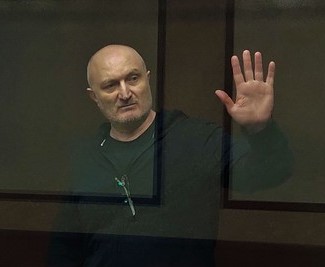 Gagiev himself denies his guilt and claims that he was not involved in the contract killings. According to him, the investigation failed to provide convincing motives for these crimes.
In his last word before the announcement of the verdict, Jacko compared the trial to Botticelli's painting "Slander" and complained about the violation of his procedural rights. He said he was guaranteed the right to a defense, but after extradition "worked for two weeks hoping to break, but didn't break," and his court-appointed lawyer "had no idea" about his case.
"Isn't depriving me of a jury trial a violation of convention? This case is trumped up, sewn with blue threads up and down. This case should be returned to the prosecutor's office for additional investigation," Gagiev was indignant.
He also recalled that during extradition Russia promised Austria that his case would be considered in a civil court, but in the end it ended up in a military court.
Dzhako is also dissatisfied with the fact that the court hearings were moved to Rostov-on-Don. According to him, if the trial had been held in North Ossetia, he would have gone free:
It's just that if I am tried in Ossetia, I will come out at once. Because everyone knows that those who are in power only eat the budget, while I have helped people and continue to help them.
"Ossetian Robin Hood"

There is some truth to Jacko's last statement – in North Ossetia (as well as in South Ossetia) the attitude towards him is very ambiguous.
Some consider Gagiyev a bloody criminal and murderer, others – "Ossetian Robin Hood" and "a just instrument of retribution in the fight against corrupt officials and law enforcers". People tell how in different years many poor families turned to Dzhako for financial assistance, and he always helped and never refused requests.
But in any case, everyone avoids talking about him in an unflattering tone – it is said that Gagiyev's informal influence in both Ossetias still remains.
Gagiyev is credited with connections with various North and South Ossetian politicians. And he himself claims that during the 2017 presidential elections in South Ossetia he supported Anatoly Bibilov, who won those elections. However, this support, if there was any, ended up hurting the "protégé": Dzhako announced about his ties with Bibilov at the most inopportune moment – during the next elections, in 2022. This cost Bibilov his reputation, negatively affected his rating, and partly because of this Bibilov could not be re-elected for a second term.
It is difficult to say what actually happened, but it is a fact that Gagiev shares political beliefs of Bibilov about South Ossetia becoming a part of Russia and urged to support this course.
Whether Dzhako is also behind the current president of South Ossetia Alan Gagloyev is not yet known. But if there is such compromise, it will surely surface closer to the parliamentary elections.
In favor of the fact that there are certain ties between Dzhako and Alan Gagloev, at least the fact that the president's brother Alexander (Alik) Gagloev is himself a representative of the criminal world and has been in prison several times.
---
---
Personal life

The show into which Jacko turned his last word in court is far from the only one in his repertoire. At all previous court hearings, he has also put on a show.
In June of this year, for example, he said that he was going to get married and that he and his girlfriend had applied for marriage registration in the detention center. However, this story did not continue.
Officially, Gagiev has never been married, but at the trial he said that he had 15 women, from whom 22 children were born.
Media wrote that the love of Jacko's life, and "part-time" and his deputy in the role of a criminal gang leader, was Guzal Mastufakulova. According to some reports, since 2005, she and her two children lived in Austria, where Gagiyev himself was under arrest at the time.
A brief excursion into the history of North Ossetian crime

The criminal community in North Ossetia, as in many other regions of the former Soviet Union, began to emerge in the 1990s.
At that time, an ethnic Ossetian group appeared in Moscow, which was mainly engaged in racketeering.
In North Ossetia itself in the same years, the alcohol and vodka business boomed and a class of nouveau riche on the one hand and criminal authorities on the other was formed.
However, such a phenomenon as thieves in law did not take root either in South or North Ossetia.
One of the most famous Ossetian criminal groups was the so-called "GES" from Vladikavkaz. But in the late 90's they were shot by their colleagues in the criminal chain.
In the following years, those associated with crime gradually went into the shadows: some went into business, others moved away.
In addition to Aslan Gagiyev, there was one more recognized criminal authority in North Ossetia – Tamerlan Dzabiyev, nicknamed Khudoy. According to the version of law enforcement agencies, he was engaged in smuggling alcohol from Georgia, and rumor also attributed to him cooperation with the fighters of Chechen field commander Shamil Basayev.
Subsequently, Khudoy gave up crime and began to lead a law-abiding lifestyle. Until he was shot dead by unknown assailants in the center of Vladikavkaz in November 2010.
After Khudoy's death, Dzhako became the sole leader of the criminal world of North Ossetia. Who has no intention at all of spending the rest of his life behind bars.
"I'll be out soon, I have a lot of money," he said at the trial.
And, addressing the journalists present in the hall, added:
"I'll hire you, the distinguished ones."
---
Toponyms, terminology, views and opinions expressed by the author are theirs alone and do not necessarily reflect the views and opinions of JAMnews or any employees thereof. JAMnews reserves the right to delete comments it considers to be offensive, inflammatory, threatening or otherwise unacceptable