Dying in Azerbaijan: prices, rules and rites
Many elderly people in Azerbaijan start saving for their funeral and wake ceremony during their lifetime, since these events are too expensive. Death holds a particular place among the social rituals. Unlike marriage or birth, to which you may show a common careless attitude, you won't be able to justify yourself before a deceased relative: everything, be it funeral or wake ceremony, should be done at a high level, even at the cost of taking debts.
Posthumous bureaucracy
Taza Pir Mosque in Baku is the hugest one, located in the city center. Alongside the mosque, madrassa and the Office of the Caucasus Muslims, there is also a building in its territory, where funeral services are offered.
A spacious hall with columns resembles an average reception palace: there are long tables arranged in rows, with tea, halva and sweets on them; there is a small table at the head of it for mullah and a closest relative of the deceased: now Irada's mother is sitting there. She is a thin woman with blond hair, wearing a dark headscarf; it seems to be uncustomary to her, sliding down, and she sets it right every now and then.
Irada and her mother had been long aware of the father's incurable diseases. Yet, they didn't expect that he would die so suddenly, in an instant, from a heart attack. "He felt sharp chest pains the day before that, so we took him to hospital, but he never returned back," says Irada.
Death in Azerbaijan is accompanied by bureaucracy. Irada could be said to have had a 'stroke of luck', because her father died in hospital and the medics immediately issued a death certificate. "I've heard a story, how long it takes some people to get a death certificate through court. If a person died at home and before that he/she hadnt visited the outpatient's clinic for quite long, they may refuse to issue a document and one will have to get a death certificate through court."
Sometimes, when the causes of death are unclear, one has to call the police.
Mustafa's mother lived alone. She hadn't picked up the phone for 2 days. So, Mustafa's younger brother went to his mother and he had to break the window to get into the locked apartment. An ambulance arrived immediately. The medics attested her death, but they said, they were to report to the police, since that was the procedure. Though there was nothing criminal in the mother's death-a cardiac failure against the background of chronic diseases, they had to give a bribe to ensure that a criminal case wouldn't be opened.
According to the Muslim funeral tradition, a deceased person should be buried on the day he/she died. It could be postponed for one day, provided that a person died after the sunset. The graves aren't dug out at this time.
Before the burial, a deceased should be taken to the mosque for ablution (washing) ritual, which costs approximately AZN50 (US$26). One may be offered a hearse right in the hospital, that's another AZN100-150 (US$50-80).
After the ablution ritual, the body of the deceased is taken back home, so that the next of kin can mourn over him/her. A grave should be prepared in the cemetery in the meantime.
Cemetery-official and real
According to Sabir Hasanov, the Chief Engineer of the Civil Service Trust of Baku City Administration, there are more than 100 cemeteries in Baku and its outskirts, but only 32 of them are under the Trust's jurisdiction. The rest are subordinate to the municipalities and the local executive government bodies. In the Chief Engineer's words, a state nominal price for burial of one person amounts to AZN 63(US$33)for Azerbaijani citizens and AZN79 (US$41) – for foreigners.
"Who said that the graves cost several thousands? The Internet users? A lot is said in the Internet! You just show me that guy!" Sabir Hasanov said vehemently. At the same time, he added that 'to order' a grave, one should go straight to the director's office, where there is a price list hanging on the wall. If one is asked to pay more, he/she should immediately call the 'hotline' (012) 501 83 08. On a side note, in the Chief Engineer's words, an official sum includes only a grave site preparation, because the land is 'free of charge'. Materials necessary for grave site preparation should be covered separately- 2-3 sacks of cement, 50-60 cube stones (Muslims are buried in a shroud rather than in a coffin, therefore a grave is laid with stones), sand – approximately AZN75(US$40).
"Anyone who dies will be buried, no one will be left on the ground," he assured.
Under the legislation, each person is entitled to 5sq.m. land area for burial. Optionally, one can submit an application, so that some space be left for a husband / wife. However, the engineer said, there were very few cemetery plots left in the city, in general, and he recommended to apply to the peripheral cemeteries.
"That's what I did. I went straight to the director's office," said Samir, Irada's cousin, who undertook to settle funeral-related matters. 'Yes, there was a price list there and we were even issued a receipt for payment of the state duty. But the site itself is far more expensive. We buried my uncle in Razin cemetery (Bakikhanova settlement). The director would accompany you, offering the most suitable sites. Better sites with possible surface development are more expensive, whereas those that are inferior in quality are cheaper. My uncle's grave, a small area in the passage between the neighboring sites, cost AZN 600 (US$ 314). We didn't have enough money to pay for a good, fenced area designed for two persons-AZN1,200.
The prices at the 'cemetery market' vary from AZN140-150 for the cheapest grave to AZN7,000 for a grave at the most prestigious 'Wolchy Vorota' (Wolf's Gate) cemetery in the central part of the city.
"If you stubbornly refuse to pay more than the official list price, you will be just told that there are no plots available in the cemetery. So, there is no other way but to agree."
Baku's Old Yasamal cemetery is officially closed. But if you wish, you will find a place for your deceased relative there. Part of it is occupied by the old Russian cemetery, with old graves overgrown with grass. Many graves are dated back to Soviet era – they are cone-shaped with a star on top. There are also more modern ones – crosses with slanted bottom beam. Costly cars are driving by every now and then-relatives come to pay tribute to the deceased.
A young guy in a dusty office, with the gravestones clotted behind it, said that there were no vacant grave sites available. "You should look for it in other cemeteries," he advised.
As for the gravestone prices, the black granite ones are the most expensive, with a price starting from AZN 2,000 (US$1,050); the marble ones are cheaper- from AZN 1,000 (US$ 523). Cut stone monuments are the cheapest, allowing one to keep within AZN500 (US$ 261). As for Badamdar cemetery, the prices there are ranging from AZN 800 to AZN1,200 (US$ 420-628).
"Grave plots are available only in the Russian section of the cemetery," said an elderly mullah, who was sitting on the roadside. "Most of the Russians have gone, no one visits the graves. That's where a person can be buried." When asked about the price, the mullah lowered his eyes. "How am I supposed to know? I'm just a mullah. I'm reciting Yasin and I'm not selling graves." On a side note, reading Yasin (funeral prayer) for a deceased isn't that expensive. A mullah usually doesn't set a price, He will charge as much as one will pay.
Those, who purchased cemetery plots in the Soviet times, are lucky, too: the area is usually already fenced an there is enough space for several people. Some people say, the cemetery plots were allotted by state for free. Natalia Garakhanova: "My great-grandmother died in Soviet times. We were allotted a cemetery plot for two persons. Later we buried my grandmother there and we had to move the fencing a little bit for my grandfather…"
New cemetery law
Siyavush Novruzov, the Chairman of the Milli Majlis (Parliament) Committee on Public Associations and Religious Organizations, stated that a new bill "On cemeteries" had been already submitted to Milli Majlis. In his words, there will be a uniform standard for all new cemeteries that will be laid: all graves will be of the same size, with equal gravestones. The prices will not exceed AZN300 (US$157), including grave digging and monument installation. In addition, one will no longer be entitled to buy a cemetery plot during his lifetime in advance. Since people tend to buy grave sites in advance, there is less and less space left, especially in the central cemeteries.
Funeral in the regions
About 25,000 people die in Azerbaijan annually. That's approximately 70 people a day. A stringent situation with land for the 'final abode' and the funeral-related problems emerging therefrom mostly concern Baku. Since there are many people from rural areas in the capital, many deceased are taken to the regions to be buried in their native land.
There are no problems with cemetery plots in the regions.
Samira Mammadova says: "Our relatives are all buried in my father's village, in Shamakhi, in the village cemetery. By the way, it's a very old cemetery. There are even graves dated back to the 7th-8th century. There is enough space for everyone. In addition, it's customary to bury several people in the same grave. For example, a grandson can be buried in his grandfather's grave. Thus, the space is saved; though we don't buy the grave sites."
There is the same situation in the settlements in Baku outskirts. Orkhan Sultanov says: "…We are from Nardaran. There is always free space for the locals." One will be charged AZN 200 (US$105) for grave digging and wall stoning. A white stone slab will cost AZN400-600.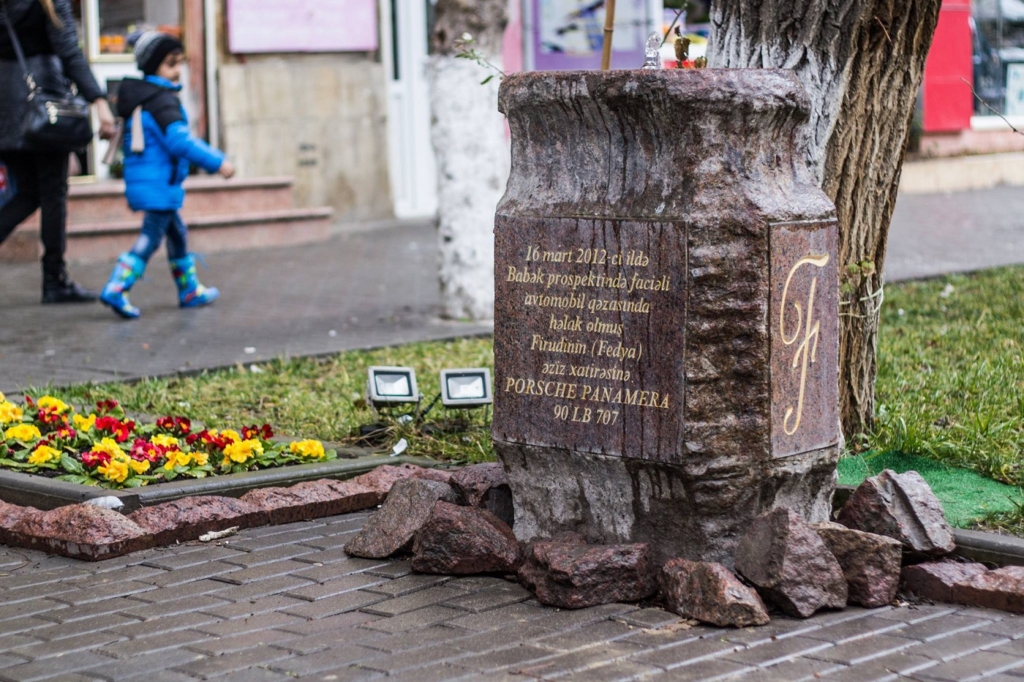 Wake
Any person, no matter whether he is rich or poor, should conduct a wake ceremony with 'Ehsan', i.e., treating everyone who attends the ceremony with free food to the greater glory of God and in commemoration of the deceased. It's not customary to cook anything except for halva on the day of death. Halva is traditionally prepared by the most respected matronly female relative, an expert in customs and cuisine. It is customary to mark the 3rd, 7th and 40th day after death. People may come to the deceased person's house in between those days, every Thursday, until the 40th day, to express condolences.
It has been customary to combine the 3rd and 7th day of remembrance these days for costs reasons.
In rural areas it's easier to hold a wake ceremony: all female relatives traditionally gather there to cook halva, dinner. A tent can be put right in the yard, whereas if the house size and weather permits, one can do even without it.
There is a torrential flow of relatives and acquaintances in the first few days. If possible, one can arrange a 'tent' for the wake ceremony (a large canvas pavilion, set by a mobile funeral services) or can contact the ceremonial house.
Some 5 years ago, when Irada's father-in-law died, they rented a 'tent'. It's size and posh varies, depending on the number of people – it can accommodate 100-250 people.
A truck arrived, a couple of guys quickly and skillfully pitched the main tent in the yard. The tent is fully equipped, there are windows, a door, a gas stove (in case it happens in winter), a fitted carpet on the ground. Plastic tables and chairs are set in the tent.
An 'extension', a kitchen, is erected next to it, where food is cook and dished out, vegetables are plated and tea is poured-a samovar (Russian equivalent of kettle) is puffing right there. Products are purchased by the family of the deceased person, whereas the guys from 'Kirayya Ceadar' ('Tents for rent') help serve the guests.
There also VIP-tents, the rental fee for which may amount up to AZN1,000-1,500 (US$785). That's a real 'royal pavilion' with flooring, air conditioning and a heater.
Another option is 'Myarasim Evi' (Ceremonial house), i.e. a certain mourning analogue of the reception palace. Technically, it is a restaurant, adapted for funeral ceremonies, where one just needs to pay a certain amount per guest- from AZN10 to AZN15 manat (about US$ 6).
Sometimes, the ceremonial house services also include mullah, who 'leads' the event and with whom the arrangement should be made in advance. Though, it's true that such mullahs don't show great zeal, quickly reciting the Yasin and never filling the pauses with touchy-feely conversations. It is believed that one would better bring his own, tried and tested mullah, who has laid to final rest some dozen of relative.
If majlis, i.e. wake ceremony, is held separately for men and women, then a male mullah should be invited for the men, and a female mullah – for the women. However, these ceremonies are often combined nowadays. So, in this case, only a male mullah is invited.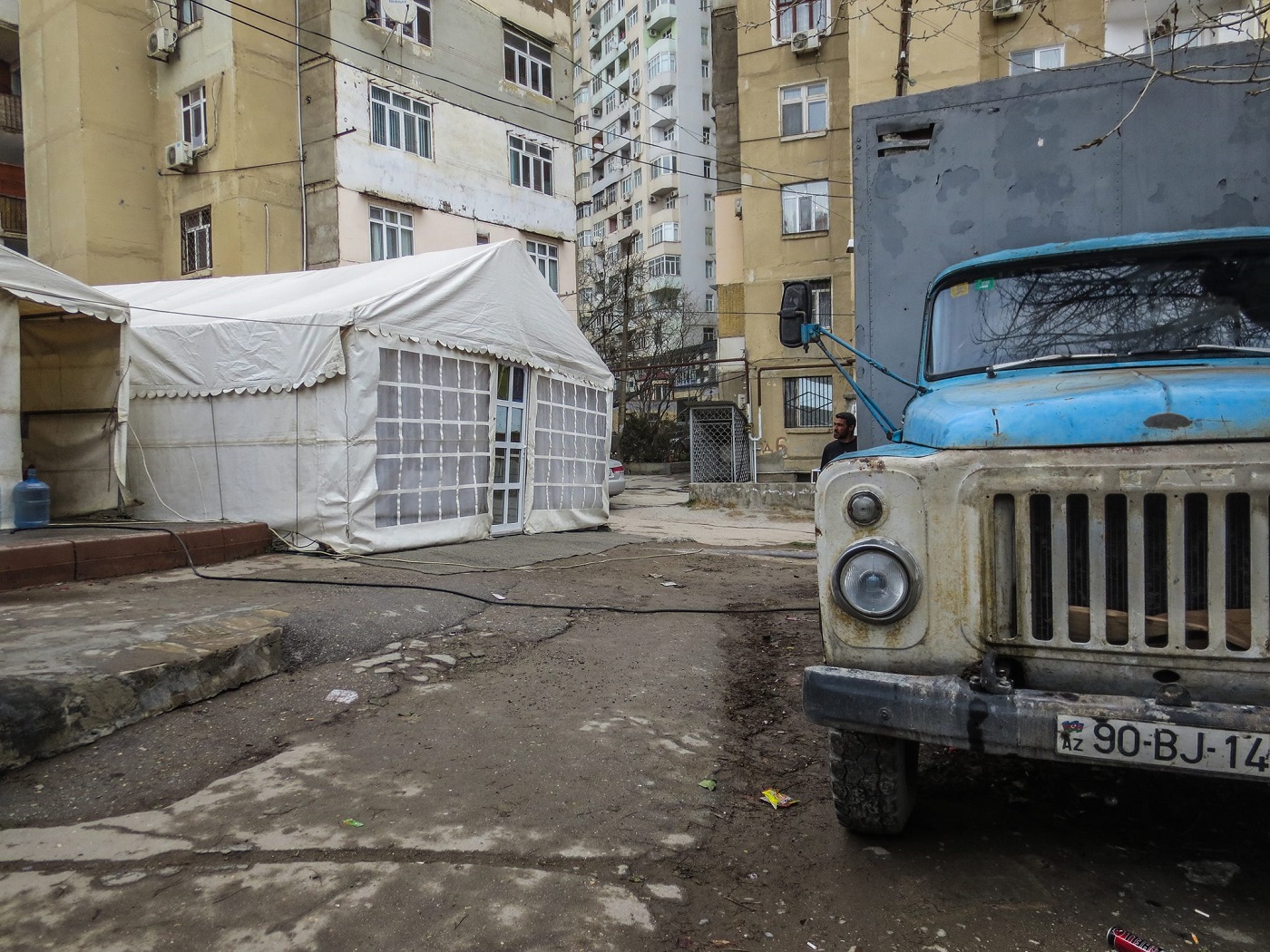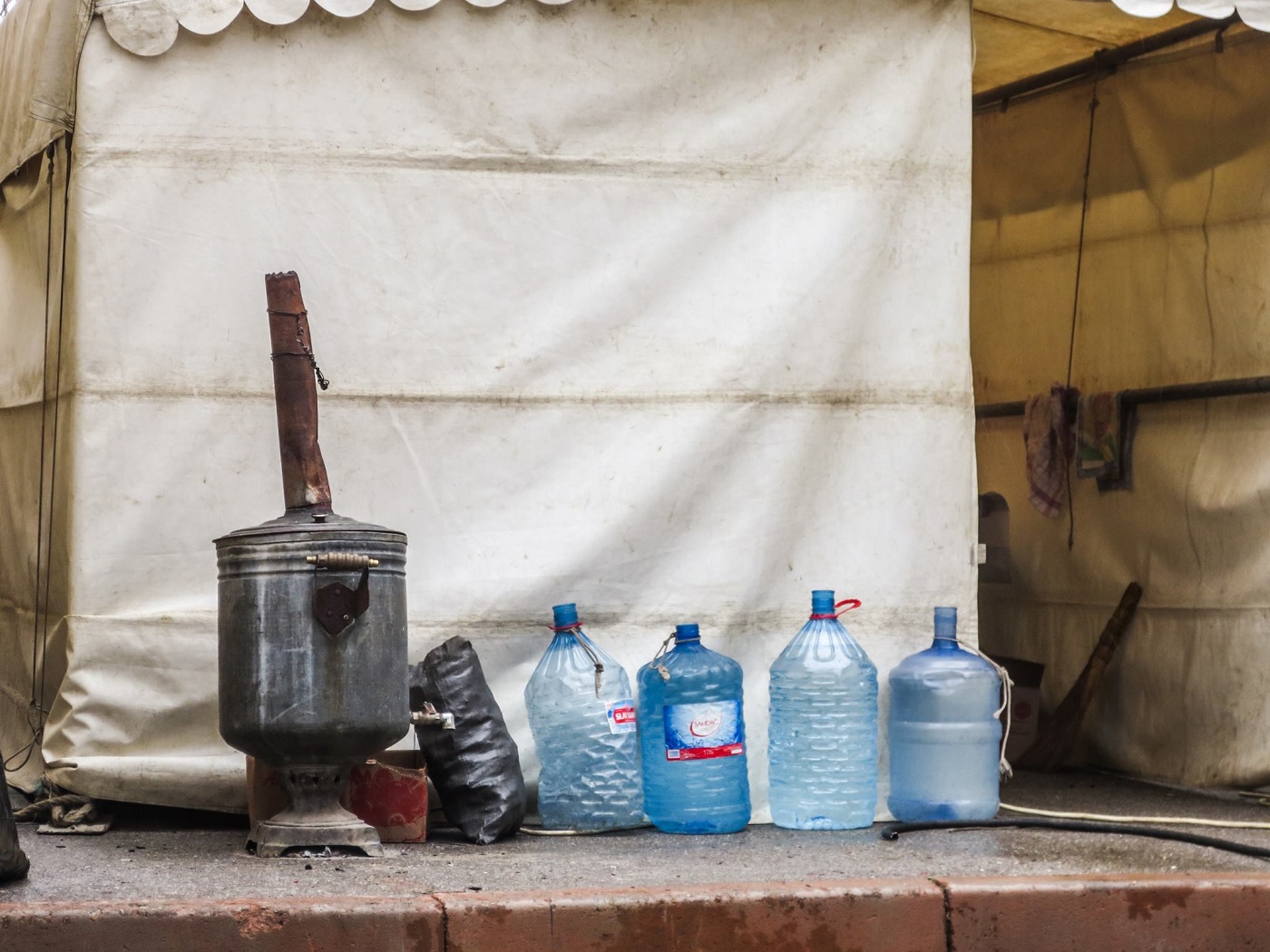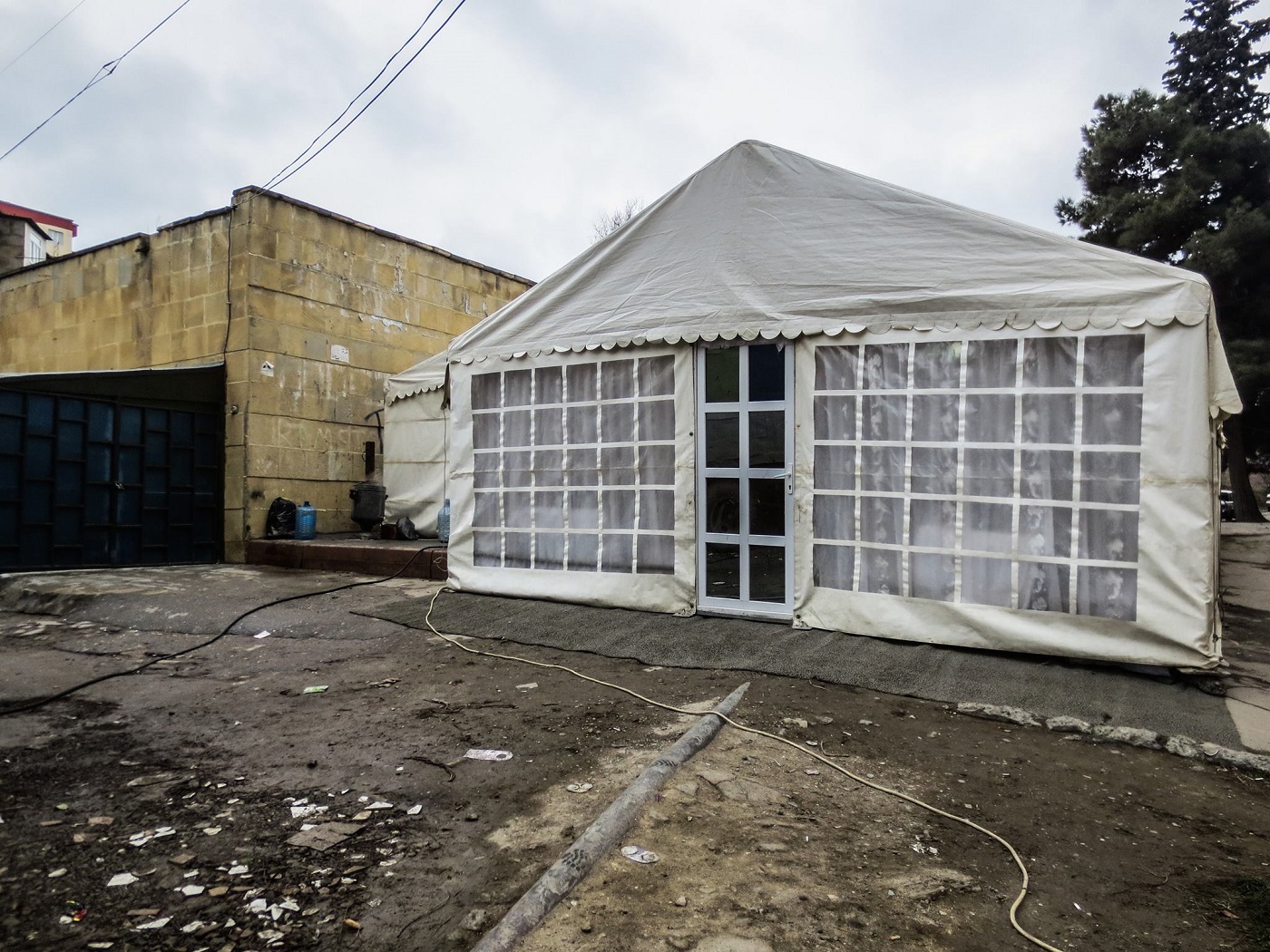 A well-run ritual
– My darling has gone, wai!
Joy in spring, in summer-wai!
He's burned our hearts with flames,
His mother inhaled his aroma just for four months! – mullah exclaims in a sonorous voice the words of Marsiya, a religious funeral chant. Marsiya should make those who gathered 'shed their tears', so that a deceased person be properly mourned.
Mullah, a stout woman with a hijab covering her head, is sitting at the head of the table.
Perfumed ladies in fur coats are talking in a low voice, stealthily glancing at the mullah. If the latter notices someone talking during the prayer, she angrily raises her voice.
People are wiping their tears. Sometimes Marsiya sounds particularly touching, making those who attend the funeral recall their deceased relatives too. The ladies in furs keep their eye on the table, but it's not allowed to start a meal without mullah's permission. There are guys with trays standing at the ready at the far end of the hall, also waiting for the mullah's signal.
But mullah doesn't hurry. She is working out her charge fee in good faith. For her, a resident of Buzovna (Baku outskirts), AZN 50 is quite a decent sum.
The biographies of Muslim saints-Fatima, Hussein, Ali, are poured out in verses. Then comes time for the lyrics – ('My dear aunt, I died, you're the only one beside me, come and cover me with shroud'). She is tapping her chest or knees for rhythm from time to time.
The wake ceremonies are far more 'emotional' in the rural areas. Marsiya turns into a kind of group therapy session there, with women wailing in unison, swaying from side to side and weeping. In some villages, it's still customary to scratch one's face in a token of mourning.
No matter who a deceased person was-a child, an elderly man, a young lady or a man in his prime, mullah always has the right words for everyone. "My friend's mother, who hold a degree in Arabic studies, suggested:"Let me cover your head that way, so that you can recite the prayers at the funerals and earn money" – says Leila. "But as far as I can see, only Arabic is hardly enough to go with, one should have an inspiration to be invited to hold such an event."
Apart from mandatory set of prayers, a good mullah should also know a couple of parables suitable to this or that occasion; he/she should be well-versed in the latest world developments ('May Allah punish those Americans!'); he/she shouldn't forget to mention that we are all in the state of war and ask the Almighty the favors for the soldiers who were killed on a battlefield.
Pineapples
And then, finally, the mullah gives a sign that everyone can start eating. There are pickles, vegetables and halva on the table; the waiters bring hot pilaf with meat. Everyone turns to eating in an orderly manner, at first in silence, but some 10-20 minutes later, the woman start laughing and gossiping in a low voice.
Although there is no such custom, but a desire to 'bid final farewell' to the deceased person as best as one can, has gradually increased the number of dishes on the well-off Bakuvians' wake tables. When it almost came to serving exotic fruits and candies, the Muslim clerics finally decided to intervene.
In Autumn 2014, the Office of the Caucasus Muslims issued a recommendation to refrain from holding pompous wake ceremonies. It was advised that there should be only tea, sugar, halva and dates on the table. "Under the Islamic canons, a richly laid table at a funeral is a profligacy, which is regarded as haram (a sin). When talking, people completely forget about a prayer and a deceased person," explained Haji Farhad Efendi, the Imam of Juma Mosque (in Zaqatala). Meanwhile, this recommendation was supposed to be of voluntary-compulsory nature – the local authorities and clergy were instructed to oversee its compliance and impose a fine on those, who disobeyed.
Although, Mubariz Qurbanli, the Head of the State Committee on Religious Organizations, assured that there was no strict ban, there were reports оn social media about the government officials and police officers coming to the wake ceremony and grabbing food from the table in this or that region. It is noteworthy that this ban doesn't apply to the 'Ceremonial houses'.
It seems that the law execution mechanism wasn't set well enough. So, the recommendation has eventually remained just ink on paper.