Volodin's statement: what is behind it? Comment
Duma Chairman statement
"Those who make statements aimed at European institutions could lose their country," the chairman of the State Duma of Russia said during a meeting with the speaker of the Azerbaijani parliament. Viacheslav Volodin cited Ukraine as an example and stated that "statehood has been lost, culture has been lost, religion has been trampled on, the church has been divided."
In Armenia these words were perceived as a threat, although Volodin did not specify whom he was addressing. According to political scientist Gurgen Simonyan, Russia has exhausted all the instruments of influence on Armenia and only blackmail remains, which Moscow uses "widely and without let-up."
Volodin's statement was elicited by the decision of the European Union to deploy civilian observers on the territory of Armenia who will monitor the situation on the border with Azerbaijan. Earlier, the Russian Foreign Ministry also issued a sharp statement saying that the appearance of EU observers "can only bring geopolitical confrontation to the region and exacerbate existing contradictions."
---
---
Armenia warning
Volodin, without naming the countr, called for abandoning the involvement of European structures in resolving the situation in the region, in particular the European Parliament and PACE.
Volodin stressed that a resolution of the conflict should be based on an agreement signed by the leaders of Azerbaijan, Armenia and Russia in 2020.
"Wishing to involve the European Parliament and PACE, we must think ten times and weigh how this can end, using the example of Ukraine, Yugoslavia and other countries. Anyone who wants peace, who wants to resolve the situation, must not only stay away from these quasi-parliaments – both PACE and the European Parliament – but clearly understand that their involvement will aggravate the situation, create more and more problems. And if they do, they must be held accountable for the consequences," he said.
A comment
According to political scientist Gurgen Simonyan, Armenia is trying to "diversify the forces involved in the region" to solve the problem of national security. He believes that these statements from Russia are aimed at slowing down this process, if possible even stopping it.
"Obviously, they cannot have any effect, because the side that resorts to threats is the side that no longer has the resources, the ability to pursue any rational policy on the ground," he told JAMnews.
Simonyan says that Moscow has been pushing its agenda in Armenia through a so-called "fifth column" for years, but now it lacks this political capital as well. In his opinion economic levers do not work either, only a possible "gas blackmail" remains.
"The 'stick' in the form of a threat from Turkey, which Russia constantly used, does not work anymore. Turkey and Azerbaijan are much more effective in deterring the US, the presence of the Iranian guard corps than Russia. By the way, this cannot be considered the result of our diplomatic talents. This is the alignment of geopolitical realities," Simonyan asserts.
Simonyan believes that Russia continues to advance its policy of keeping Armenia in its orbit. And the statements made by the Russian Federation should be considered in this context and understand that it is not only the deployment of EU monitors on the border that is annoying. According to Simonyan, concerns in Russia are caused by the fact that there has been a reassessment of the situation in Armenia, ideas about its future and security, the country will no longer "accept the status of an appendage."
"Now the ideology of promoting the Armenian-centric policy runs like a red thread in Armenia. Gone are the days of playing someone else's game. The country must conduct a policy in the context of a free, independent state, cooperate with those power centers with which it can serve its national interests to the maximum," Simonyan concluded.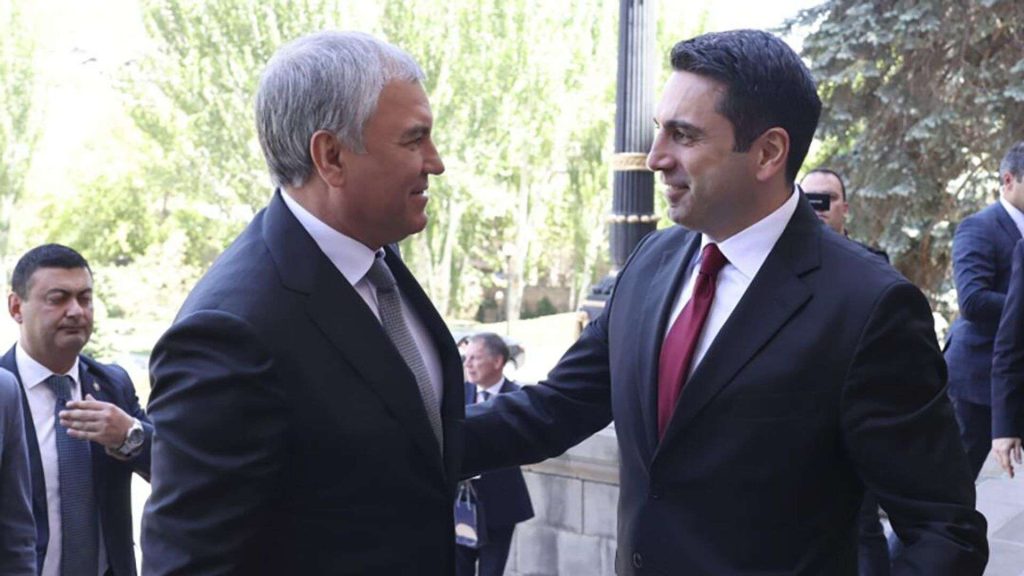 Statement by the Chairman of the State Duma of Russia