Dream Town: Batumi's ghetto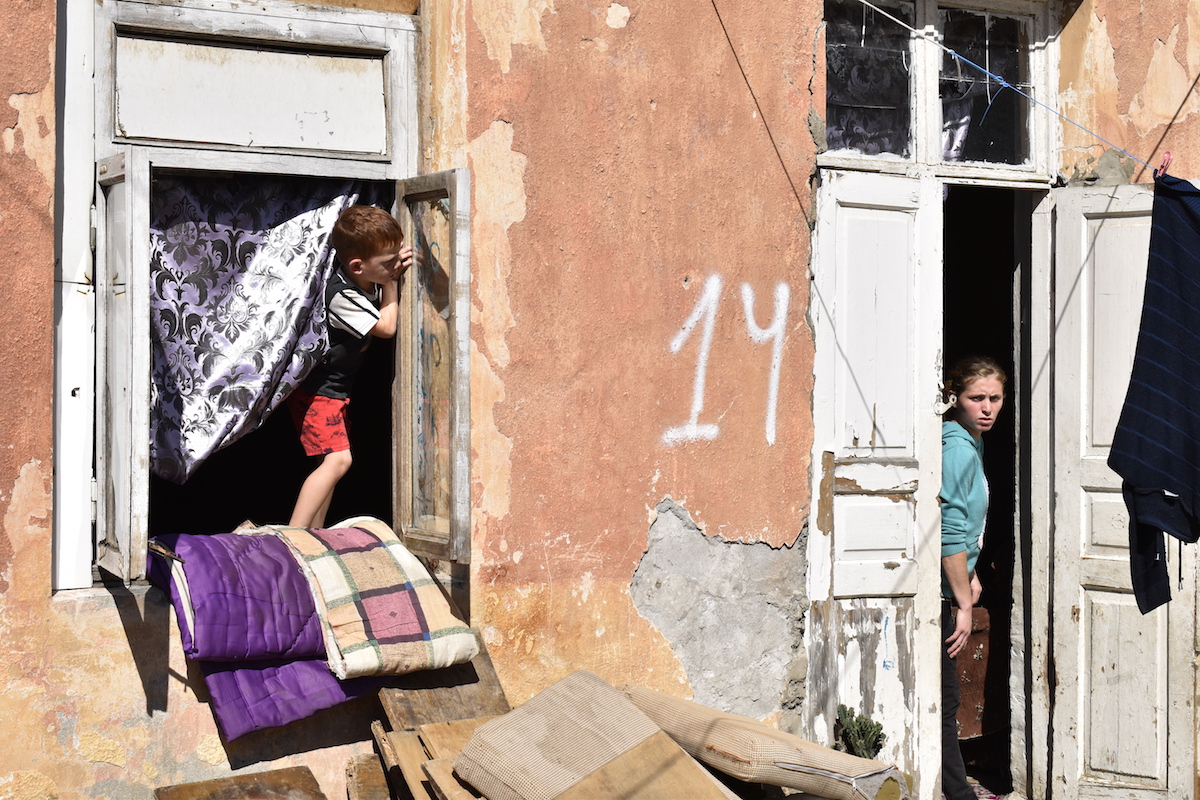 Hundreds of families from the highlands of Adjara moved to the seaside city of Batumi in the autumn of 2012 – just after the Georgian Dream coalition's victory in Georgia's parliamentary elections. They settled on the outskirts of the city in their own huts made of cardboard on a former Russian military base.
Those who came to settle here from the mountains had few belongings with them. It was mainly people with disabilities, large families, families that had lost their breadwinner, and veterans of the war in Abkhazia and the August 2008 war who settled there. Those in most need.
According to official data, 1 500 families live in a disctrict called Dream Town, though unofficial data estimates the number to be twice as many. Five years ago, it sprang up out of nowhere in just a few nights. Its appearance is directly connected with the current Georgian Dream political party.
How Dream Town appeared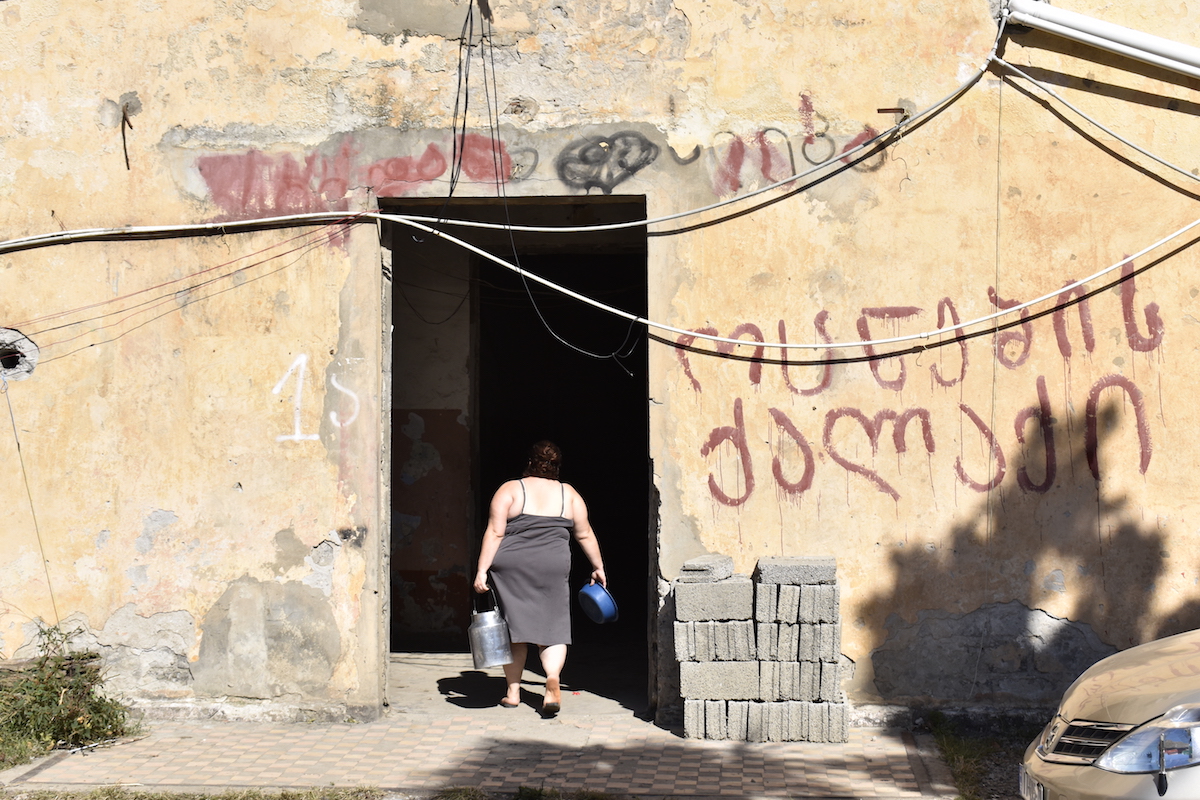 In 2012, representatives of the then opposition Georgian Dream coalition made generous promises.
They promised to solve one of the most severe problems of Adjara: to help environmental migrants who had lost their homes due to landslides in Upper Adjara, as well as to overcome poverty.
When the opposition came to power, the first stream of eco-migrants stretched from the mountains to the valley. They built huts and booths at the speed of light near Batumi, hoping that it would remind the authorities of their problems.
Dream Town sprang up on the outskirts of Batumi, in an area of 25 hectares. A little over 20 hectares was part of a former Russian military base but is now property of the Adjara autonomy, with the rest property of a private company.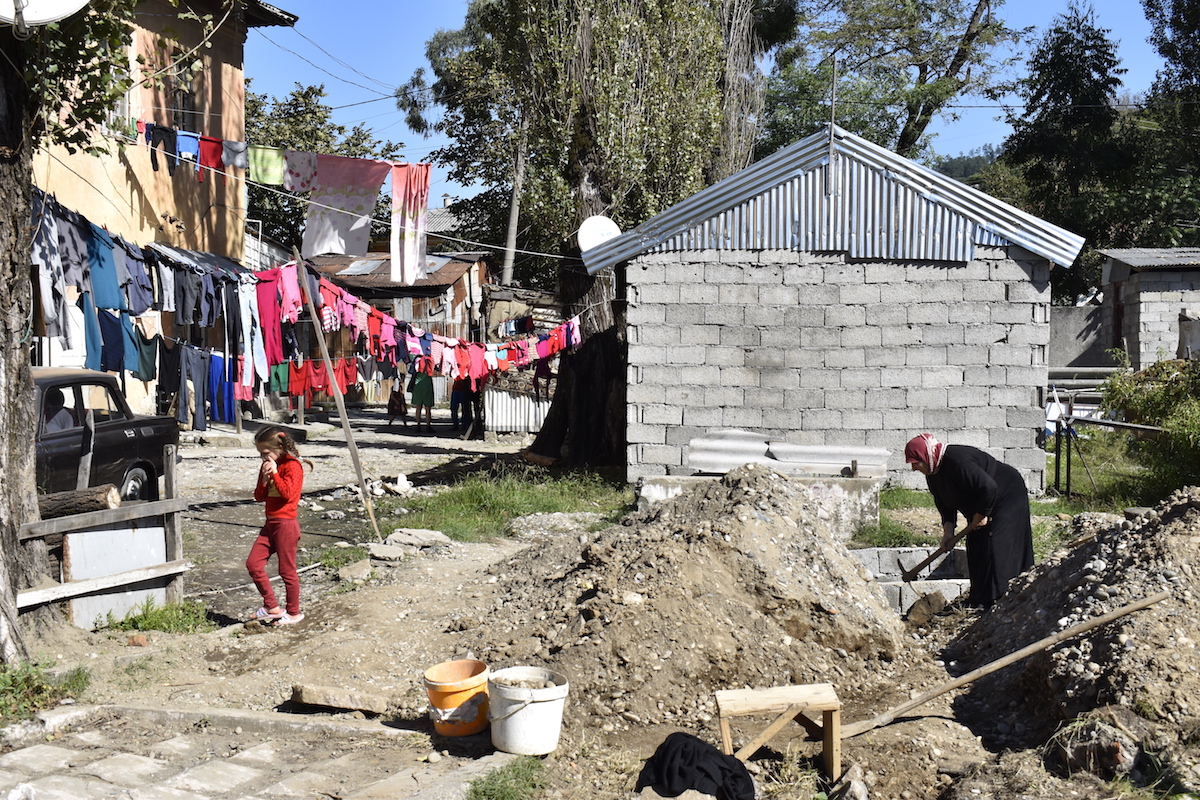 The local press christened the settlement "Cardboard City", which was literally built in five days along the road from Batumi to Akhaltsikhe.
The buildings here were actually made of cardboard. The first stream of migrants settled in them. The huts leaked, there was mud all around, no drinkable water, and it was dark and cold. Despite the intolerable conditions however, the population of the village grew steadily as people believed that the pre-election promises of the "dream" would soon be fulfilled. The name "Dream Town" later arose out of mockery.
Another stream of people rushed to Dream Town. This was when eco-migrants from Adjara who were living in other regions of Georgia suddenly realized that they themselves needed to buy out the houses that the government had settled them in. This happened in the Tsalka area of eastern Georgia, where Adjarians were settled in the homes of Greeks who had left Georgia. However, the owners of these homes began to return in 2013, and demanded payment for their property. Many eco-migrants who had lost their homes due to natural disasters had to return to Adjara, to Dream Town.
Without water and sewerage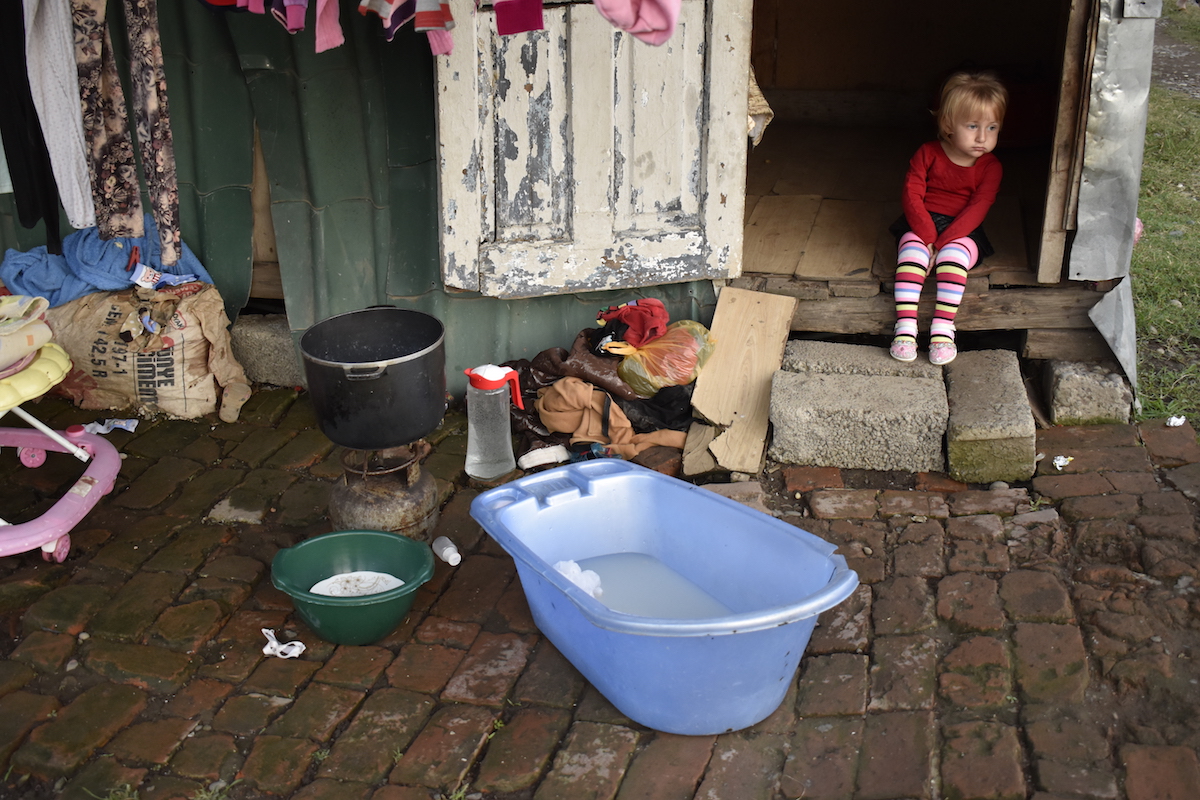 In 2015, Dream Town was visited by the Council of Europe Commissioner for Human Rights Niels Mujnieks. In his report on the situation in Georgia, the European Commissioner devoted a whole page to Dream Town. He noted the difficult living conditions of about 900 families in the village who had been living without running water or sewerage, without access to health services and who did not receive social assistance. The European Commissioner recommended that the authorities take adequate steps to meet the elementary, basic needs of the people who live there and to ensure decent living conditions.
The result of the European Commissioner's visit: Dream Town was given electricity, and most families who were living below the poverty line were given the right to visit a free cafeteria.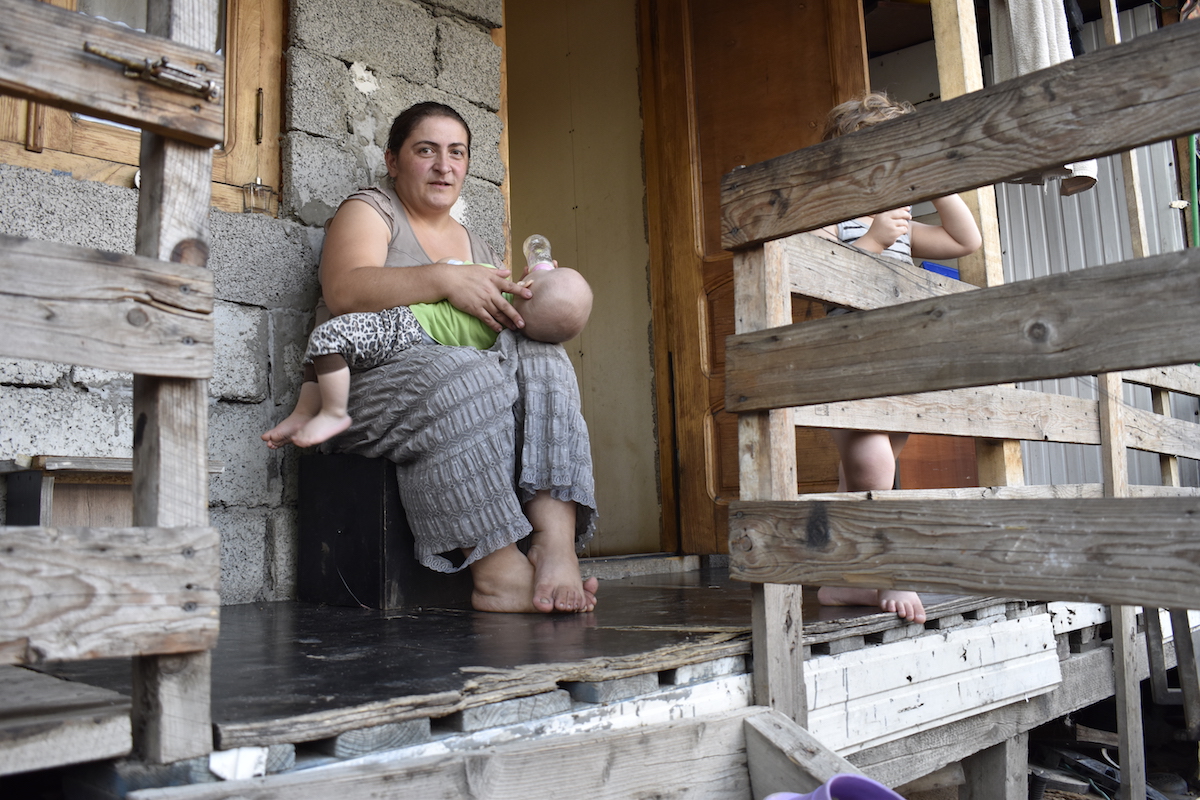 Today, five years later, very few cardboard huts remain. Now, the construction of houses made from concrete blocks is in full swing. The settlement was built without any plan; there are no streets, no central sewerage, no stores, and no medical center.
Dato Mzhavanade is a veteran of the 2008 war, and one of the builders in Dream Town.
There's no running water here either. At first people carried water from far away. Then they found a solution. "We bring a tractor and dig a 3-meter hole in the ground to make a well. We use pumps to pump water from the well to the house. One well is used by several families," said local resident Gocha Shainidze.
Gocha and his wife are disabled. They already built a small house, and are now trying to add a toilet. They have three children. Giuli and Megi, their 13 and 14-year-old girls used to study at a music school, but the family couldn't continue to pay 60 GEL (USD 24) per month for their studies, so they had to cancel their lessons. The girls know what position their parents are in, and are trying to accept that their dreams of being musicians won't come true.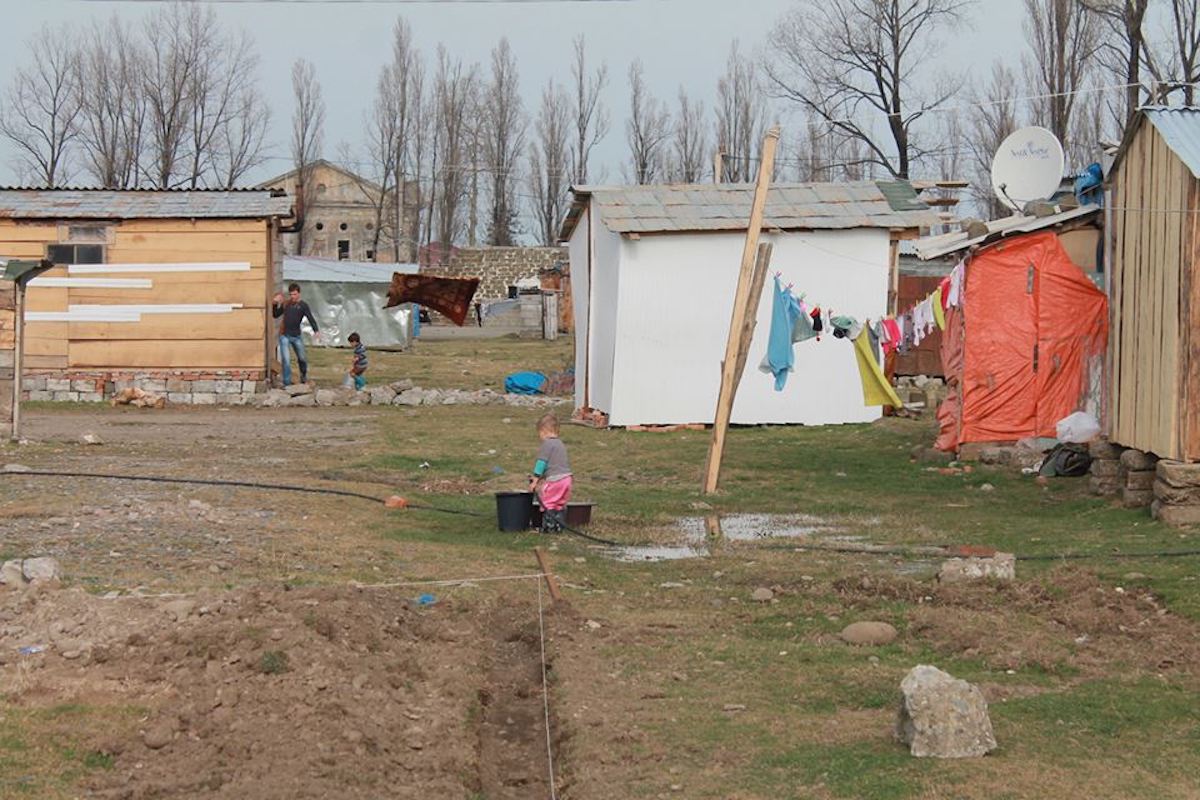 50-year-old Zeynab, a widow, is raising four daughters. For years, she and her minor daughters went to Turkey to work collecting tea. She managed to save up 10 000 GEL (about USD 4 000) to build a house. The new house has a living room and bedrooms, but the walls are bare cement. However, there is a toilet and bathroom which is rare here. Neighbours still go to Zeynab to admire "this comfort".
Zeynab's daughters are grown up. The oldest is marrying a man who lives right there in Dream Town. Zeynab renovated the entrance hall, toilet and bathroom, just in time for a visit by her future son-in-law's family. She says that the new relatives don't live any better themselves, but she would not want to bring them into an unrepaired house.
Dream Town is an example of primitive sewerage: dig a well three meters deep, into which the sewage is drained. The sewage drains should be properly sealed from above, otherwise it risks spreading infections. Many people cannot afford to dig these wells.
Tamar Kokobinadze is a mother of seven, and a resident of Dream Town.
https://www.youtube.com/watch?v=jVeWriatr1c&feature=youtu.be
Residents of the village claim that up to 450 schoolchildren live there, about 300 more are kindergarteners, and another 250 are even younger. These are approximate figures, however, since no one keeps official records here.
English lessons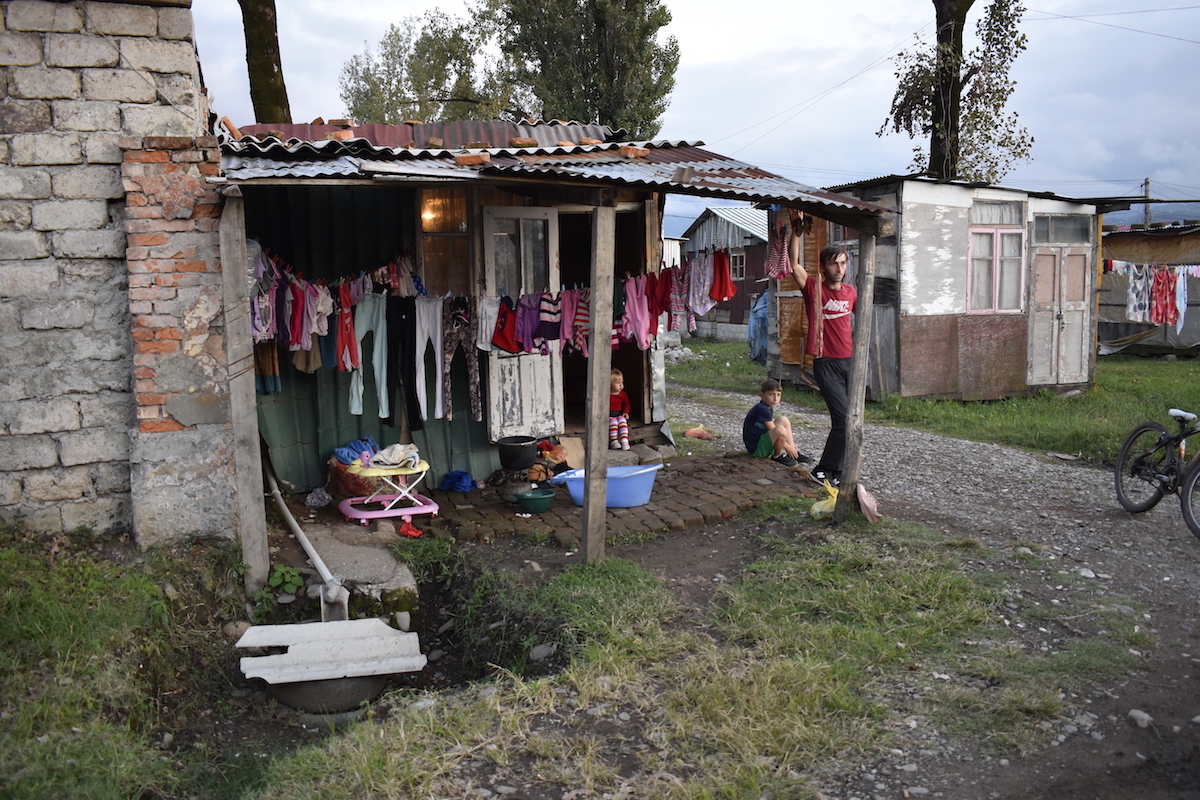 Marina Beridze, 40, is one of the village's first inhabitants. She has four children. Residents often hold demonstrations in order to attract the attention of authorities. As a rule, Marina is their main organizer. Marina recently established a non-governmental organization:
"We built an education center where children will learn English and some technical subjects too. Free English lessons will be taught by a volunteer from Holland, and the Hilton Hotel has also promised us free teachers. We have 10 desks, and probably won't be able to take more than 20 children at a time. But we'll make several shifts, and begin with the lower classes."
There is space for a bathroom in the center where only the children may bathe. There is also space for a toilet, a washing machine, and a dryer, which can be used by families in need.
The mosque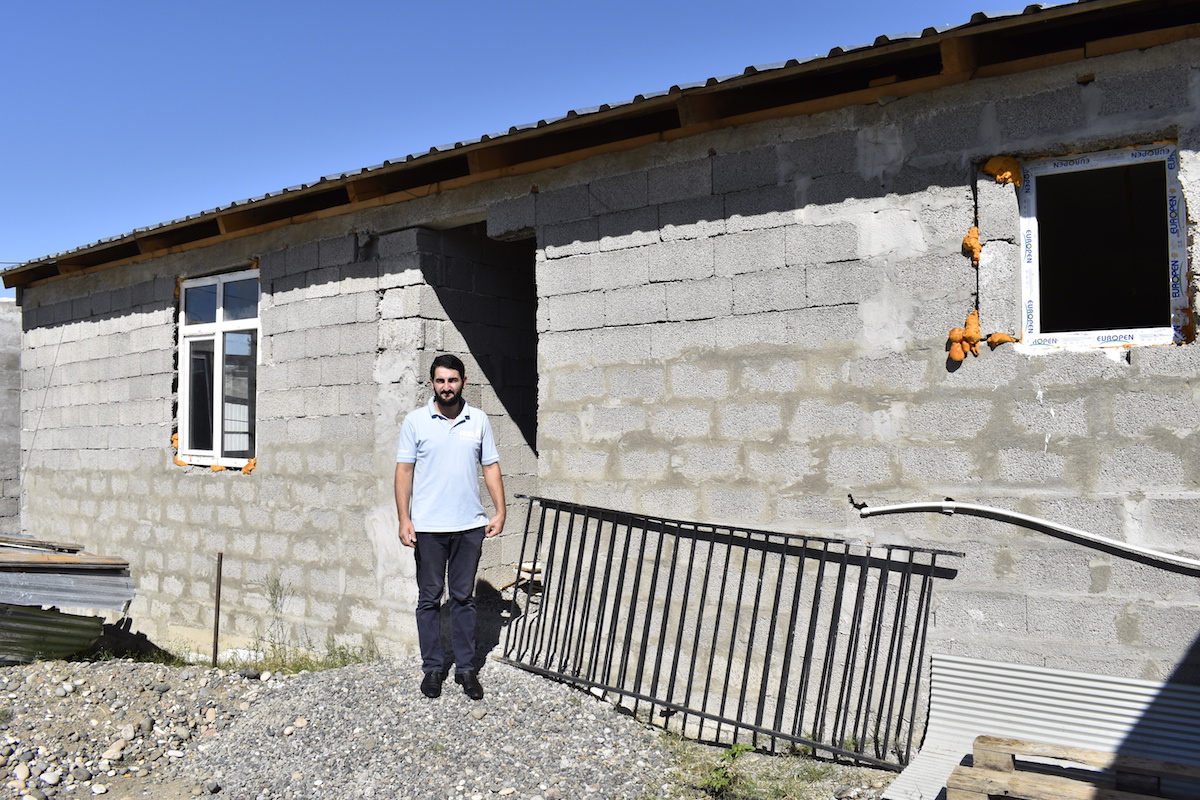 Residents say that most people living there are Muslims. They have no mosque, but the locals have never specifically talked about such a need. Now, they are building a small mosque. The pioneer of the construction is 27-year-old Tazo. He settled here with his wife three years ago.
His story is typical of an environmental migrant from Adjara: in his childhood, he and his family first lived in Marneuli, then Kvareli, then in Tsalka, where they settled in a house abandoned by a local Greek. In the end, the owner of the house returned and demanded they either pay 14 000 euros or vacate the house. So Tazo, along with his parents and brothers, came to Dream Town. He says that he was lucky. He studied at an Islamic spiritual school and now works as an imam at a mosque in a neighboring village. His salary is 300 GEL (about USD 120) per month. His father and brothers are in Turkey right now, collecting tea.
"I teach children religious studies. We have 24 students taking classes three times a week. I began my own religious education in Batumi, then graduated from the institute in Bursa, Turkey," Tazo said.
He built himself a house in Dream Town. It is separated from the mosque by a wall.
"I would be lying to you if I said that I'm building the mosque with my own money. There is no such opportunity for any spiritual person. My teachers from Turkey have been helping me. I told them about the conditions we're living in, and they gave money."
Outcasts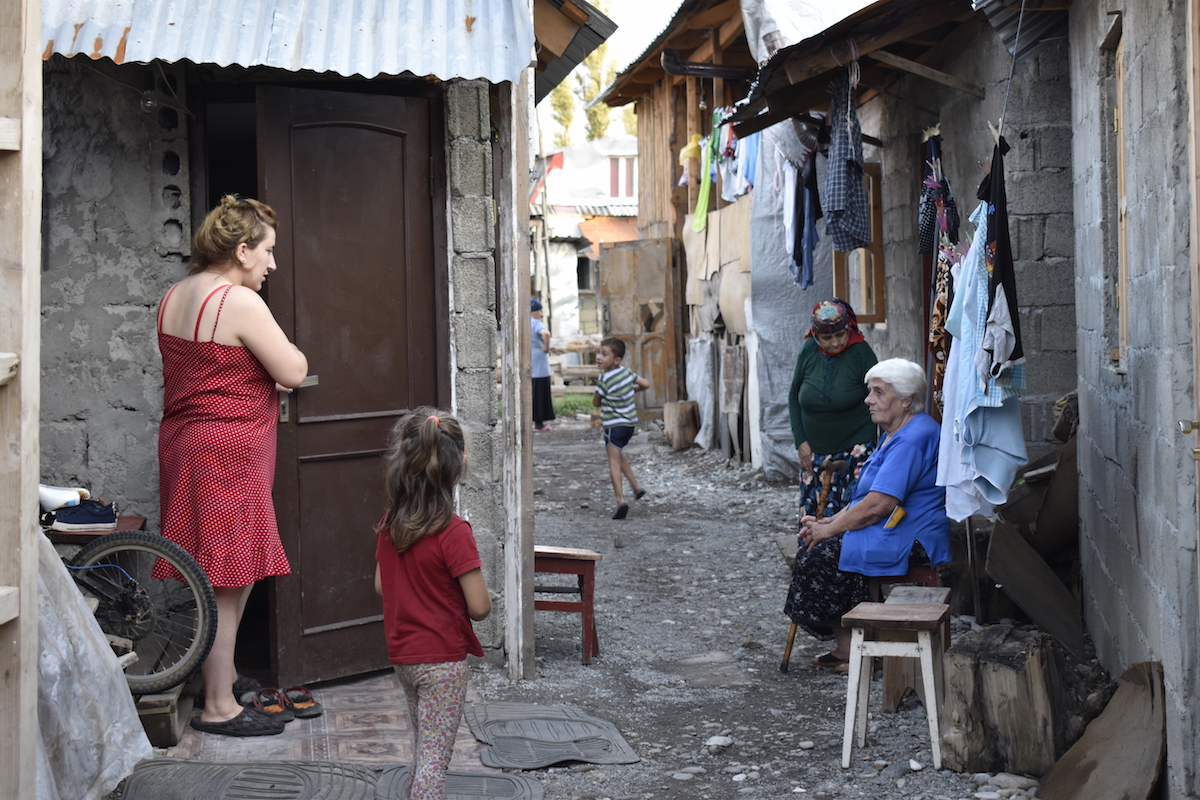 There is no kindergarten in the village. Marina Beridze says that there are a lot of pregnant women there, and it is necessary to think about a kindergarten.
"Every other woman is pregnant. They look at us and say 'why are these children miserable, why are they so sulky?' " Marina tried to joke.
Here it's said that its not only the authorities who are blind to the problems, but also the locals.
"The authorities have convinced people that we are just frauds who have taken over someone else's property, and are trying to cash in at society's expense," said one resident of the town.
"Town" and "Dream"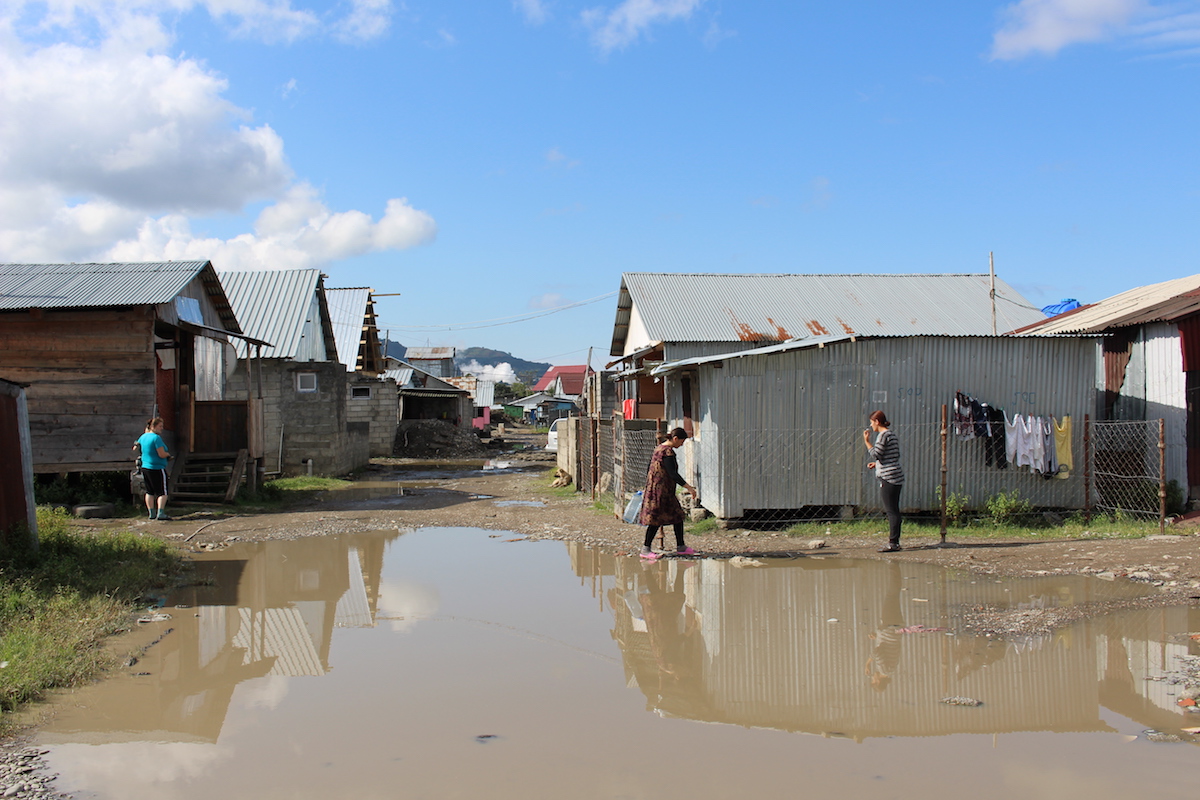 The government of Adjara (staffed by the ruling Georgian Dream party) says that only a small portion of those living in Dream Town are environmental migrants, meaning only about 30 families which the government has included in an assistance program to the amount of 25 000 GEL (About USD 10 000).
"These are families who are participating in the program for eco-migrants, according to the established queue. We will buy a home for them," said Revaz Jincharadze, Deputy Minister of Health and Social Protection of Adjara. He is leading a commission under the government of the autonomy to study the social and legal situations of eco-migrants.
For several years the government has been saying that ith as a plan for Dream Town, but no one has an answer as to what it consists of.
"Right now, we're in the pre-election period [elections of local self-government bodies will be held in Georgia on 21 October] and we don't consider talk on this topic to be appropriate. But we will do everything we can within the law to ensure no family is ignored. We're not talking about families who have their own housing, but want to get some benefit from the state. We're talking about truly homeless families. We are going to work on this with the non-governmental sector, and will familiarize citizens with the plans after the elections," the Deputy Minister said.
However, Jincharadze also said that '70 percent of those who live there do not need governmental help'.
Marina Beridze believes that such statements are designed to divide residents. "The residents of Dream Town however, are not going to speak individually with the government," Marina said.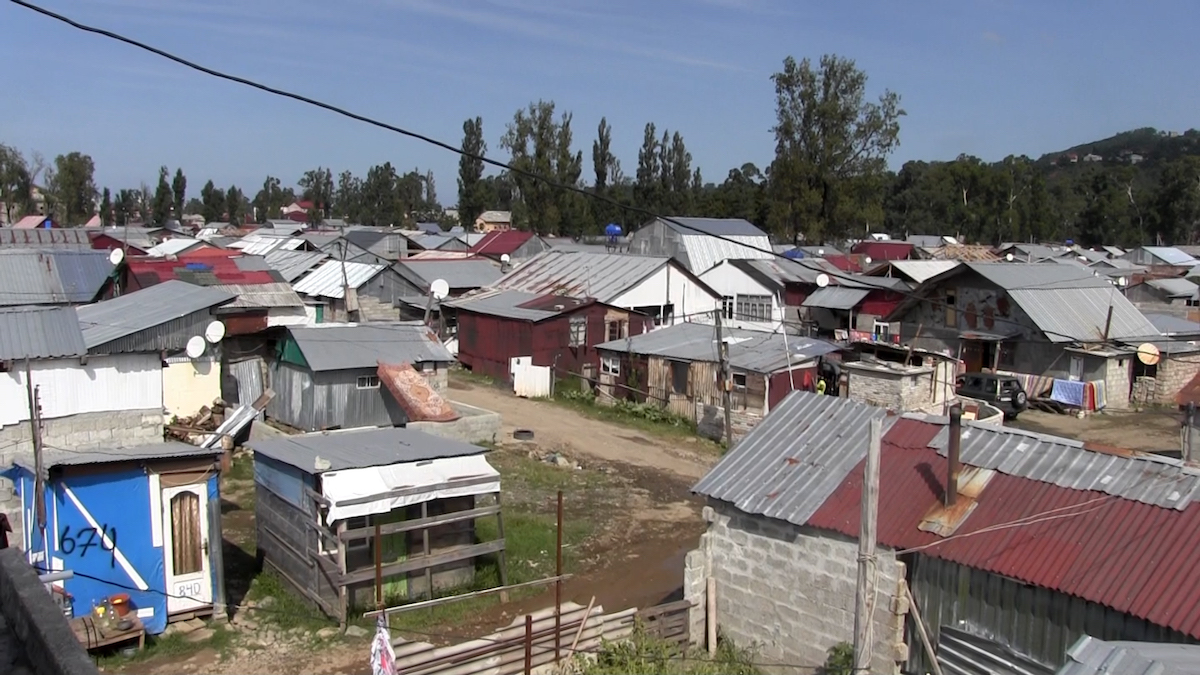 According to Marina, Dream Town residents are asking the authorities to build multi-story buildings on this spot. They believe that the state should find an investor who will build the houses, sell part of the area, and give part of it to the residents free of charge.
In the meantime, residents of the town remain in their own homes, and survive mostly off of work in Turkey: collecting tea and nuts in the summer, cleaning homes and caring for children and the elderly in the winter.