Bell pepper in the olive oil marinade
My beloved aunt's, Zhanna's, house is where numerous friends and their families would often gather. Someone would play the piano, someone would sit lazily in a deep, cozy sofa and the children would run about the huge apartment in the Stalinesque house. While all this was happening, a large table would gradually be filled with all sorts of dishes.
These were really splendid dishes, and they will be the subject of the series, "My aunt's delicious recipes." It will just suffice to mention the stuffed vegetables – bell peppers, eggplants and tomatoes, cooked simultaneously in a monstrous-sized saucepan, in 'industrial' quantities.
Baked bell peppers were popularly used in many salads that were served at the table in enormous and beautiful salad bowls. These salads would be prepared beforehand and left to cool in the fridge. This is why at the time it was served at the table in a clear-glass, slightly steamy salad bowl, it had acquired a surprisingly subtle taste. And what could've been better in the 30-degree heat! You were really overwhelmed by the cold, spicy, slightly sour taste from this pepper.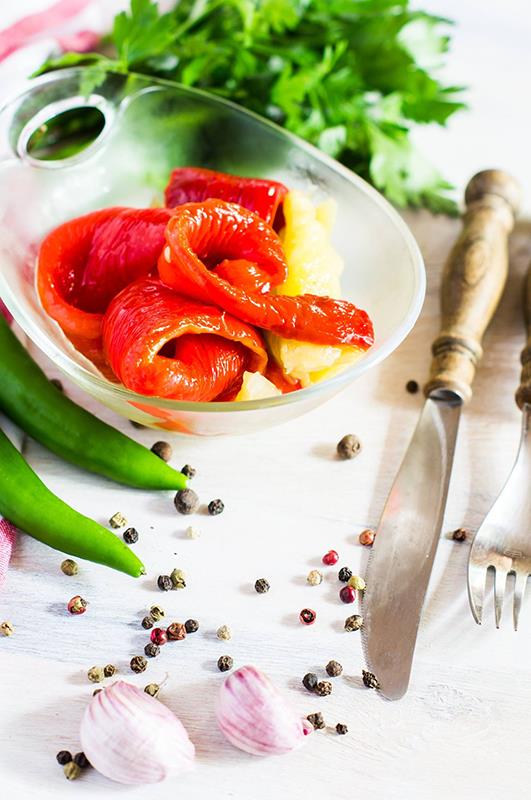 The recipe for this dish is surprisingly simple.
• Wash bell pepper of various colors, dry them out and put them on a baking sheet.
• Put them into a pre-heated (180 ° C) oven for 15-20 minutes.
• You can tell whether it's ready or not by the pepper's surface: if the thin pepper skin can be easily peeled from its outer layer that means it's time to remove it from the oven.
• Let it cool.
• Remove the skin and put the slices of pepper into a separate bowl, in which you intend to cook it, preferably a glass one. When you do this, juices will leak out, but you shouldn't pour it out. This is what adds savor to the dish.
• Take a separate small bowl, mix and then beat the olive oil and vinegar(of standard acidity, apple cider vinegar is best suited for this), in a ratio of 1:1.
• Pour this sauce over the peeled pepper.
• Put it into the fridge for at least an hour.
Pepper cooked this way can be stored in the fridge for 2-3 weeks, so you can cook plenty of it all at once because it is very tasty.
Initially published: 14.07.2016