'We believed he would come back'. Remains of Azerbaijani soldier discovered after 30 years
Mass grave, missing persons
"I told myself that he would never give up, he couldn't be captured or killed, he would surely come back. I believed that he was alive until the very day his remains were brought back…"
Rahila Atamoglanova waited 30 years for her husband, Abulfat Atamoglanov, who went missing during the first Karabakh war. This wait ended a month ago.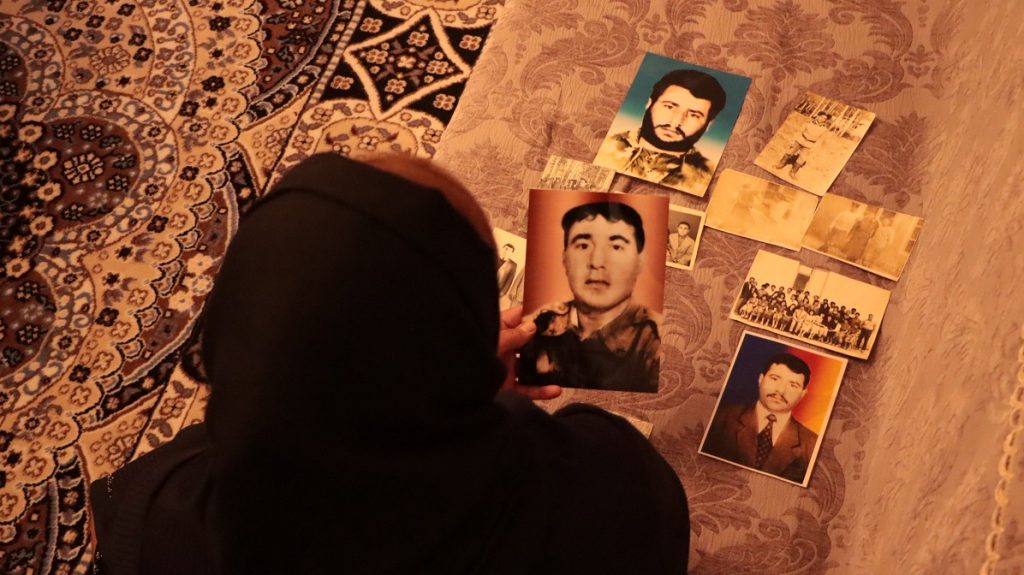 In February 2022, a mass grave with the remains of 12 people was discovered in the village of Edilli in the Khojavand district, which returned to Azerbaijani control after the second Karabakh war. As a result of DNA analysis a year and a half later, it was possible to identify several of them, including Abulfat Atamoglanov. The remains of Atamoglanov, who went missing in 1993, were buried a month ago on September 28, 2023, in the village of Kyursengi, Salyan district, where he was born and raised.
---
---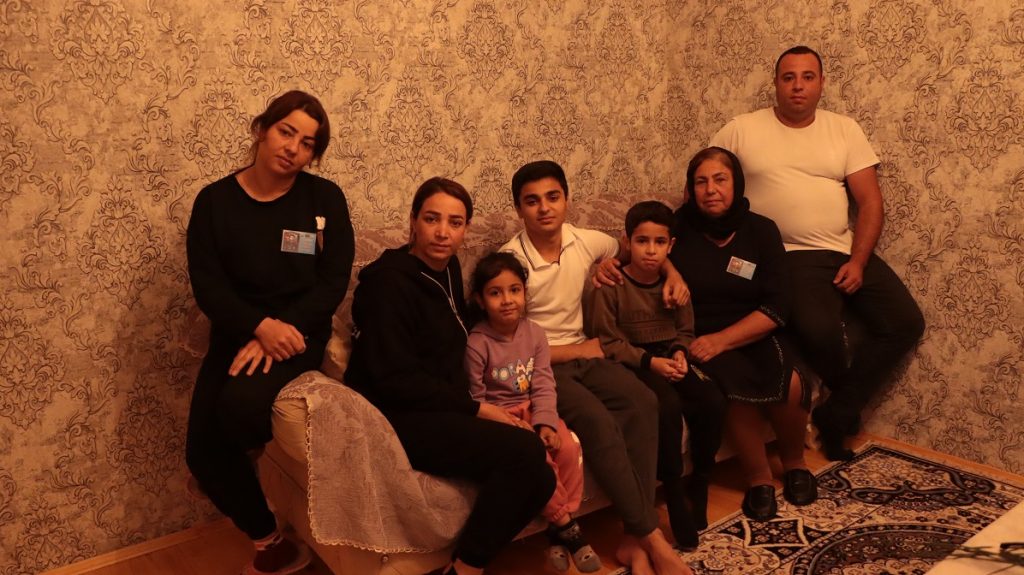 Rahila is 57 years old. She is the mother of two daughters and one son, grandmother of five grandchildren. The family now lives in the town of Khirdalan near Baku.
Rahila's husband was a relative of hers. When she was 21 and Abulfat was 23, her parents agreed among themselves and decided to marry them. In 1988 they were married. They had three children – Ulduz, Jamila and Rufat.
Rahila says that Abulfat was by nature a sullen, unsociable person. Since he did not like to talk much, his voice could rarely be heard at home. He always had a serious expression on his face. Only when he was playing with his children did he become cheerful, talking and laughing with them.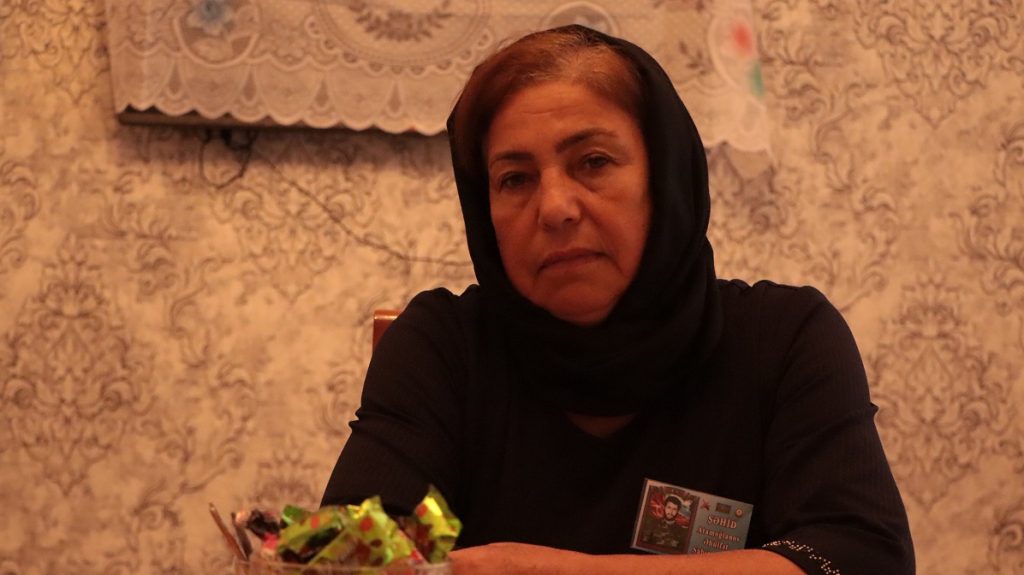 "My husband was from Kursengi village of Salyan district and we lived in Shamakhi. After marriage, I also moved to Kyursengi.
At that time we had many acquaintances and neighbors in our village, Armenians by nationality. They would come to our house, sit opposite Abulfat and talk. None of us expected any evil of them. Then gradually they stopped visiting us. Then they left the village and war broke out."
When Abulfat Atamoglanov, a warrant officer in the Azerbaijani armed forces, was drafted in July 1993, his family tried to prevent him from going to war. Rahila says that Abulfat's mother knelt down in front of her son in the yard of their house, even threw her handkerchief under his feet, and begged him not to leave. Rahila herself also begged him to stay.
But Abulfat did not hear them. When he went to war, his son Rufat was only ten days old.
After Abulfat left, Rahila never heard from him again.
On August 31, 1993, Abulfat Atamoglanov went missing during the fighting for the village of Kurdmahmudlu in Fizuli district. As soon as the news reached the family, Abulfat's father, Sabir Atamoglanov, went to the war zone to find out about his son, but without success.
Rahila said they later managed to contact several of Abulfat's comrades.
"They told us that the fighting for the village of Kurdmahmudlu was heavy. They were waiting for reinforcements. The soldiers who remained in Kurdmahmudlu were advised by the Defense Ministry to go to the area with vineyards behind the village and wait, a tank battalion with a white flag would come to help.
The so-called tank battalion arrived. But when the battalion approached, it turned out that the tanks were being driven by Armenians. His comrades said that Abulfat and other soldiers were taken prisoner there."
Abulfat's family could not get official confirmation of this information.
In 2000, the family was granted the status of a martyr's family. This officially confirmed the death of Abulfat Atamoglanov. His family were not in agreement with this.
For 15 years after Abulfat Atamoglanov went missing, Rahila continued to live with her three children in her husband's native village of Kursengi. But as the children grew older, it became difficult to stay in the village. Rahila says it was impossible to find work in the village, and she needed to earn money to provide for her children's needs. So she decided to move with her children to the settlement of Khirdalan near Baku (now this settlement has received the status of a town and the center of the Apsheron district):
"After coming here, I got a job in a confectionery shop, then worked in a pasta shop. Now the children have grown up. Although not exactly as I would have liked, I am grateful to Allah that I was able to bring them to this age," she says.
She tries to hold back her tears, but fails:
"I was alone, I couldn't give them a good education, I couldn't send them to university. This is the only thing I can't forgive myself for."
Rahila says Abulfat's absence depressed her spiritually. At such times, she always found comfort in the words Abulfat said when saying goodbye:
"He showed me the children and told me that you will not be alone. I trust you with the children, take care of them."
Rahila was not discouraged about Abulfat's return, although years passed. Since Abulfat's disappearance, she often met with representatives of the Ministry of Defense and the State Commission for Captives, Missing Persons and Hostages, trying to find out about his fate.
She told her children that your father was a soldier, he had gone to do his job, but he would definitely come back.
Jamila, Rahila and Abulfat's youngest, says that when she was still a child, she was invited to memorial events at school as the daughter of a martyr:
"We didn't ask our mother many questions, we understood the situation ourselves…" – she cannot hold back her tears.
In her place, her mother continues:
"They did not consider him dead, but missing. They believed that someday he would come back. The children were always waiting for him, at every knock on the door."
Jamila continues:
"I was introduced as the daughter of a martyr. But I have never called myself that. Where I have been working, for 14 years now, no one knew that my father died in the war. I didn't say so. Because I wasn't sure if he was alive or not… Until I received the remains of his body a month ago."
Rahila says that when Abulfat was leaving, he told most of his relatives that he would be back in a few days so they wouldn't worry about him.
"But in fact he wasn't going to return from the war until all the territories were liberated. That's how it worked out. First they got the territories back, and then he came back…"
According to information released by the State Commission for Captives and Missing Citizens, the search for mass graves from the first Karabakh war began in February 2021.
According to the State Commission's report for 2007, the number of missing persons and hostages taken during the first Karabakh war is 4,354. Of these, 3,503 were military personnel and 841 civilians. It is not known whether the remaining 9 people are military or civilians. The civilian missing include 47 children, 268 women and 371 elderly people. In the course of analyzing the organic matter submitted to the State Commission, it was found that 550 people from this list were killed or died for various reasons in captivity.
Eldar Samadov, deputy head of the State Commission's working group, told local media that the remains of 415 missing people are currently being identified in the laboratories of the relevant state agencies.
Of these, 117 corpses were excavated on the territory of the zone of temporary responsibility of the Russian peacekeeping contingent, 115 in mass graves identified in Dashalti village of Shusha district, Edilli village of Khojavand district, Yukhary Seyidahmedli village of Fuzuli district, Farrukh and Dashbashi villages of Khojaly district, as well as in burial sites discovered during construction in the territory of Aghdam, Shusha, Kelbajar, Terter, Fuzuli and Zangilan districts.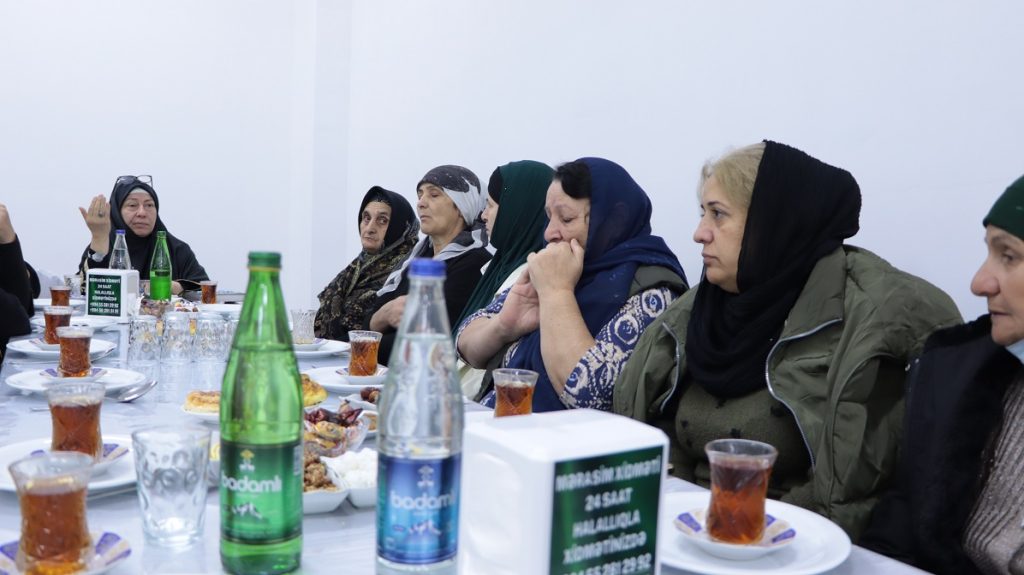 Dozens of people gathered in front of a wake hall in the center of Khirdalan. Rahila and her children accept condolences.
Although Abulfat was declared dead long ago, no mourning ceremonies have been held for him in his native village or here at his family home. Rahila says those who come to the wake feel surprise rather than sadness. "Because we all expected him to return safely," she says.
The only things left to his family are a knife, two buttons from his shirt, a notebook with rotted pages, an iron cigarette case with a bullet mark, and shoes that were found on his remains.