All that remains in Babayli
– Which one of you is Munavvar?
A girl on horseback blocks the way of women returning from a collective farming plot. Looking at each other, the women part and Munavvar silently steps forward. The rider is also silent, giving Munavvar a long look from head to toe, then riding off. Munavvar remembered this beauty in a gold-embroidered dress for a long time.
Munavvar herself was dressed in a simple cotton dress, which, when working in the fields, could be tucked up like pants.
The girl on the horse was the mistress of Kerim, Munavvar's husband. Confident that Kerim's wife was ugly, she believed that he would soon divorce her; but seeing the matter drag on, she decided to have a look for herself. And after seeing her rival, she broke up with Kerim and married another – my grandmother Munavvar was stunning.
"Let's go to the village"
As a child these were some of my favorite words, especially in the summer. Until the age of six I was also in the village in winter. I have not forgotten the snow falling outside the window or the crackling of red-hot coals in the stove, where I would sit next to my grandmother. Electricity played such an insignificant role in our lives that on those winter evenings the heat of the stove was more than enough.
Going to the village also meant listening to my grandmother's stories. About the past, about the war, about everything she had experienced. She also talked about her love for her husband, my grandfather. This love was so strong that, after he left for the war [World War II – ed.], she refused everyone who proposed to her. And even after the funeral she did not lose hope. On the spring holiday Nowruz, along with other girls, according to tradition, she went to eavesdrop under other people's doors, and rejoiced when she heard something good.
Kerim, long thought dead, returned to his native village exactly four years later. They lived together for many years, and despite his betrayals she did not leave him, although she reproached him unto the very last.
Every house, every family in Babayli had its own story
My best memories are of the library in the courtyard where my maternal grandmother lived.
I often remember this small building made of river stone with an attached veranda, with one wall facing the ravine and looking at the world through its only window. I remember its smell, even. I searched for this smell in the world in my student years, and it would come to me at odd places, such as at the entrance of the Elmlar Akademiyasi metro station.
The uneven dirt floor in the library was covered with thin linoleum with circular patterns. Reddish, it seems. The wooden door was locked with a small padlock. This door had been made by simply nailing together thin boards. One of the boards at the bottom of the door broke off, and that is how it remains in my memory. I also remember once I launched a little black kitten into the library. I thought that he would live there, and I could play with him. But the next day the kitten was gone without a trace – he'd escaped through the hole at the bottom of the door!
Aliens "from the other side"
"The other side" for us was Iran. "They" and "we" were separated by the Araks River, and there were many who crossed over it from Iran to Azerbaijan and vice versa – for example, my maternal great-grandmother Dunya.
When the chiefs argued, the peasants were divided. Dunya's entire family was killed; only she and her aunt survived. Dunya at that time was fifteen years old, and in order to protect the beautiful young girl from possible abuse, her aunt dressed her in rags, smeared with mud, and told everyone that she was crazy. Crossing the Araks on bulls they ended up in Babaili. But her aunt did not realize that their young neighbor Yadulla, who was in love with Dunya, had followed them.
Dunya lived in a house built by Yadulla, later turned into a library.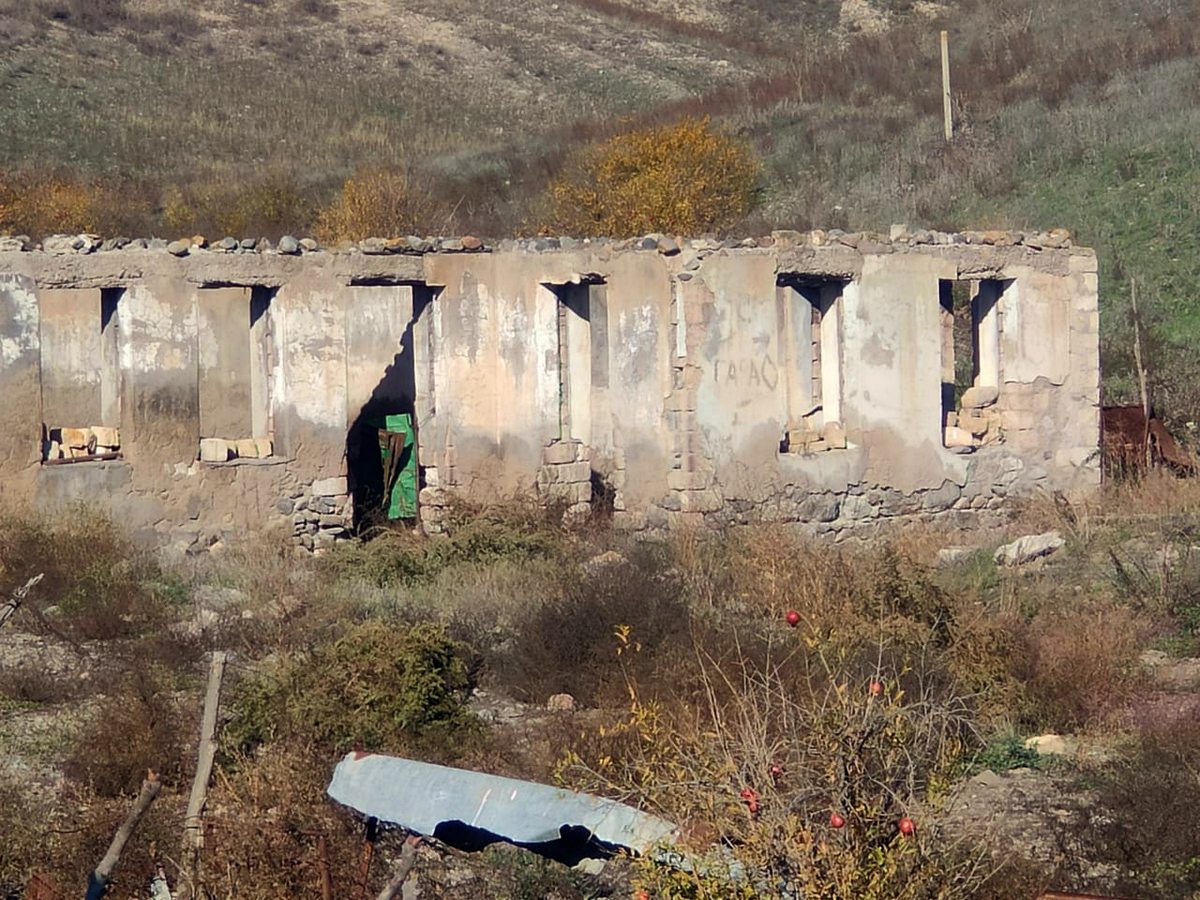 Her life was short, dying during her third childbirth. Of Dunya's three children only my grandmother survived, and her two brothers died in infancy.
When my grandmother was in elementary school, her family again had to be relocated. Since her father was from Iran, the Soviets deported them to Kazakhstan. She returned to Babayli many years later as a mother of two children. She was helped in this by former fellow villagers, including my paternal grandfather, Farhad.
Graveyard of tattered memories
The rural cemetery of Babayli was located on the edge of a ravine. It is still there, as I've heard from the stories of a brother who recently visited. The tombstones were visible from every corner of the village. And among these tombstones there is one that even the war seemed not to have touched – the grave of my grandmother Sarai.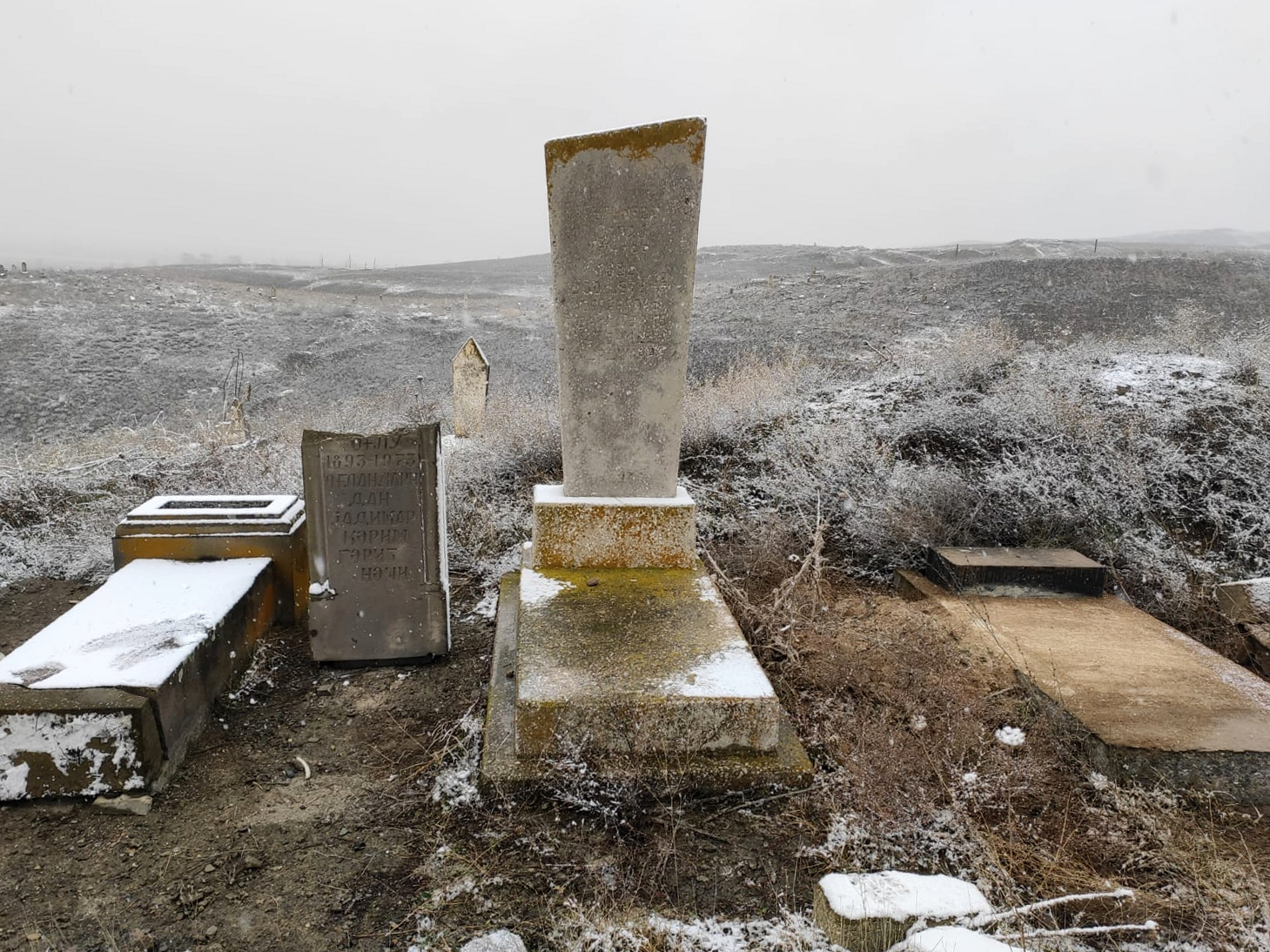 Sarai was originally from Karabakh. Mom said she was tall and blond, and that even before her death, almost blind, she sewed and patched her own clothes. Her husband Farhad was a quiet man. Perhaps this trait even reached my father, because I don't remember that my father ever spoke in raised tones.
Her husband Farhad, son Garib and grandson Sahib are buried near grandmother Sarai in the cemetery in Babayli. The marble tombstones are no longer there; only stone slabs remain.
Munavvar placed a tombstone at the Sumgayit cemetery with a photograph of her son. For my grandmother, who was unable to visit her son's grave in Babayli, nothing mattered anymore, so her other son was buried next to her in Sumgayit. Kerim's grave is bedecked with photos of his brothers and sisters, who, after the first Karabakh war, scattered to different parts of the country and thus were buried in different places.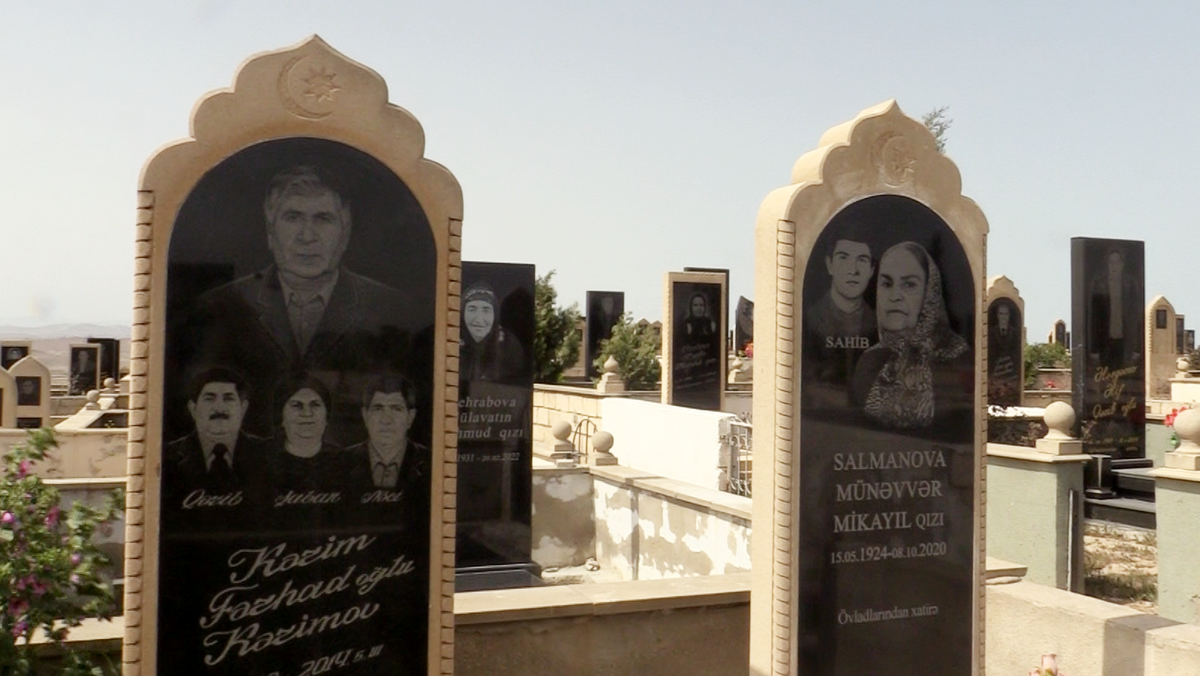 So death united those who were forced by war to spend many years of their lives apart. And Babayly, their village and homeland, a graveyard of restless souls.
For me, Babayli now exists as poetry – bayatis that my grandmother once sang to her son and grandchildren. Neither mine nor anyone else's. A place where you can't walk to your heart's content, don't run down the ravine, don't pick roses at the threshold of the house to bring to the cemetery, don't climb onto the roof of the library, don't go to the garden of Uncle Musa's neighbor, having had enough of fruits growing in your own garden – that is Babyli.
Babayli is the past, and whether it will become the future is unknown. Babaili is a place I still cannot reach, because a political structure does not give me permission to do so. Why? Because I don't write what they want to hear.
Babayli are bayatis that my grandmother sang over the cradle. Nor longing will fade, nor wounds heal. In fact, Babayli is nothing more than a graveyard of memories.