BBC on Batumi protest: Ship leaves port after protesters throw eggs at it
BBC on Batumi protest
The BBC writes that after the protest of local residents, the cruise ship Astoria Grande with Russian tourists on board was forced to leave the port of Batumi.
"The arrival of the cruise ship in Georgia caused a protest among local residents, which began in Batumi and then spread to Tbilisi." It also claims that the Russians on board the ship repeated Kremlin propaganda regarding the 2008 war.
According to the BBC, the ship left the port of Batumi after protesters pelted it with eggs and urged passengers to leave the country. They note the ship has now excluded Batumi from its itinerary.
The BBC also says the ruling Georgian Dream party has angered many of the country's citizens with its policy of rapprochement with Moscow and restoring direct flights to Russia.
The article also mentions Georgian President Salome Zurabishvili, who "praised the protesters for defying the 'latest Russian provocation'."
The article goes on to say that ruling party chairman Irakli Kobakhidze condemned the protests as violent and criticized US Ambassador Kelly Degnan for saying "Georgians should not accept tourists from a country that occupies their territory."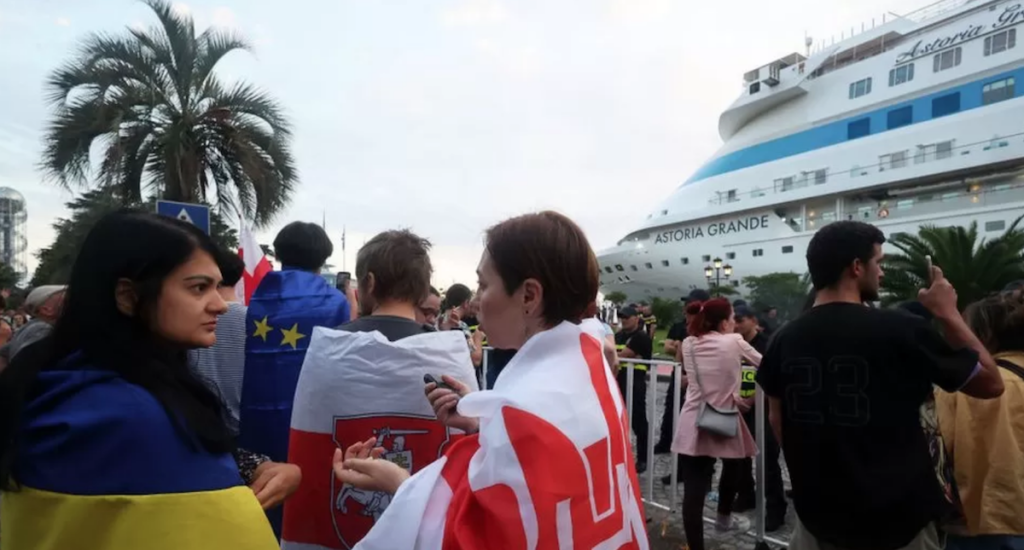 ---
---