Azerbaijan: a story of the past winter's main photo
If a resident of Dellekli village decides to buy a car, that will most likely be 'Niva'. 'Porsche' simply won't be able to drive up here. Besides, there has been severe winter with knee-high snow this year.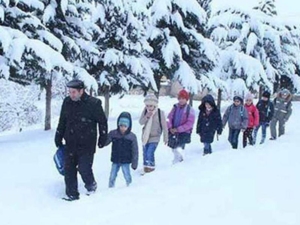 There is a school in the village, but students here are taught only till the 9th grade. To study in the 10th and 11th grade, one has to travel to the district center, to Yardimli.
Children have to walk about 1 kilometer to get to school. It's not far, but in snowy weather, when minors find it hard to walk through deep snow, Najaf Magerramov, a teacher, starts his working day with accompanying his pupils to classes.
That's the picture captured by someone named Sakit Ziyadov. This photo has become fantastically popular and it may well be regarded as the main photo of the past ,unusually snowy, winter.