Armenian universities in a deadlock
Photo: Lucy Sargsyan, JAMnews
A new academic year begins, and 8 266 freshmen will soon enter the classrooms of higher educational institutions across Armenia. However, the year has been marked by certain processes in the country's university system that need to be analyzed.
Vacant seats
This year, 20 000 paid and tuition-free seats were offered by universities this year, but 11 375 (or 56%) of them have remained vacant. Only 9 737 people applied for admission this year – 1 500 applicants less than the previous year. In addition to those at the Yerevan State Medical University, there have been vacant seats at nearly all the faculties at all the universities.
University
Faculty /Department
Alloted seats
Vacant seats

ESU (Yerevan State University)

Economy

130

80

English Language

135

52

Spanish Language

40

36

German Language

40

33

Sociology

40

35

Physics

50

47

Chemistry

26

24

Russian Language and Literature

40

40

Theology

25

25

Yerevan V.Y. Brusov State University of Languages and Social Sciences
Only two students who plan to be future chess teachers have enrolled in the Armenian State Pedagogical University, and that's against the background of the subject being mandatory in the school curriculum. You won't find a single applicant who would like to study foreign languages and natural sciences there. While the Armenian government is adopting environmental protection concepts and resolutions, there has been only one student willing to study at the corresponding faculty of the Yerevan State Politechnical University.
The universities have obviously failed to do any market research, studies on the demographic situation, or to find out about youth preferences.  Thus the number of seats at the faculties was determined at random.
What's the reason for the drop in application rates?
The rate has dropped for a number of reasons:
In 2006, the Armenian government decided to switch to a 12-year schooling system, but did not abolish the 11-year one. The parents were given a choice between the two, with most of them opting for the 11-year system. Consequently, the 30 000 students who chose the 11-year system graduated school this year, and the 15 000 students who chose the 12-year system will finish school next year.

According to the National Statistical Service, 11 000 school students permanently left Armeniain the past two years.

As military conscription starts at the age of 18, many consider it pointless to enroll at a university beforehand and therefore put their studies on the back burner.

Covering university tuition fees has become more difficult due to social problems.

The number of Armenian students applying to foreign universities has increased considerably.

Applicants aren't confident that they will be able to find jobs in their chosen major.

Not all countries recognize Armenian diplomas, therefore many students would like to continue their studies or work abroad.
These and some other reasons have led to the reduction in the number of enrollees. Levon Mkrtchyan, the Minister of Education, predicts that: "The situation will get even worse and there will be even fewer enrollees next year. Our universities will be facing difficult times. So, they will have to find a way to save jobs and survive."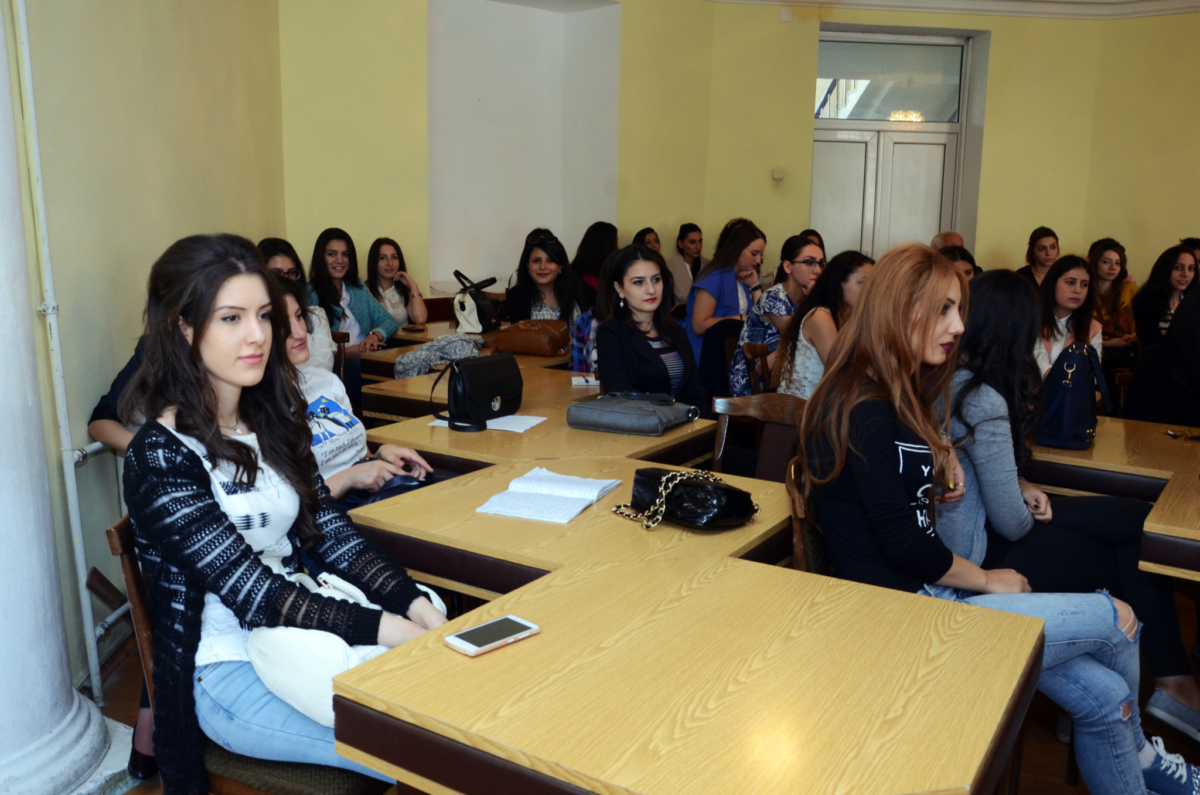 Popular majors
This year, the Armenian enrollees have been offered a wide variety of opportunities for admission to the universities, since supply considerably exceeded demand. Yerevan State University has maintained the status of being the most popular higher education institution, with some faculties traditionally showing high entry rates.
In this regard, the Faculty of Law, as well as the Faculties of Journalism and Economics, have expected a 10-student increase this year in comparison to those of the past.
However, the number of enrollees this year has dopped even at the most popular faculties. In particular: at the Faculty of Law – 3 times (from 325 to 102), at the Faculty of Journalism – 1.5 times (from 114 to 76), at the Faculty of Economics – 2.5 times (from 162 to 64). Data for the past three years is given in the table below:
Popular Faculties at YSU

Academic Year 2017-18

Academic Year 2016-17

Academic Year 2015-16

Seats

Number of applicants

Seats

Number of applicants

Seats

Number of applicants

Faculty of Law

140

227

130

258

130

325

International Relations

142

132

140

89

130

124

Informatics and Applied Mathematics

207

267

192

264

192

229

Journalism

75

76

65

88

65

114

Economics

133

64

123

114

180

162

Armenian Language and Literature

136

102

133

174

133

144
In recent years, Armenia has attached great importance to the role of economists and lawyers. About 1 000 specialists in those fields graduate from private and state universities annually. However, when entering the university, most of them are already doomed to unemployment. The labor market is simply unable to accommodate so many lawyers and economists annually.
Therefore, the demand for those majors is gradually decreasing. Judging by the admission scores it becomes quite obvious that formerly in-demand majors are facing a decline.
Admission scores for paid seats at such faculties as International Relations, Economics and Management, Jurisprudence, etc., have dropped an average of 5-10 points. 15.25 Points were enough to enroll in the faculty of mathematics and mechanics at YSU. With 16 points you could have enrolled at the Tourism Faculty at the Yerevan State University of Economics, while 15.75 points was enough to enter the Armenian State Pedagogical University and become an English language teacher.
The Yerevan-based Brusov State University of Languages and Social Sciences is the only higher education institution that has raised the admission score. The lower admission threshold at the Chinese and French Departments (Translation Studies BA) has been raised by 16 and 10 points, respectively. It needs to be mentioned that those two foreign languages attract the most applicants. 
Least popular majors
Each university has faculties which are dying out. Below you can find data concerning the number of students who enrolled in three such faculties at Yerevan State University.
University

Faculty

Number of seats

Number of applicants

YSU

Chemistry

33

3

Biology

53

16

Physics

77

33
Graduates of the Chemistry Faculty have no hope of finding a job, especially given the government's attitude towards this particular field. The chemical industry giants, such as 'Vanadzor Chimprom' (chemical plant) and 'Nairit', are going bankrupt, leaving thousands of people unemployed. So, what's the point of training chemists or choosing this major?
The lack of interest in certain majors this year could in general be attributed to a low student enrollment. This however raises the question: have those majors become useless or will they be in demand again with an increase in the number of enrollees?
Tuition fees
The universities in Armenia mainly rely on revenues raised from student tuition fees. Yerevan State Medical University charges the highest tuition fee – AMD 1 million (approximately USD 2 000) for the general medicine and dentistry faculties. The Armenian State Pedagogical University offers the cheapest programs.
Students will have to pay AMD 260 000 (about USD 480) to study at the Faculty of Biology, Chemistry and Geography. The Yerevan-based Brusov State University of Languages and Social Sciences is the only higher education institution with fixed tuition fees – AMD 400 000 (USD 835).
Tuition fees for the 2017-2018 academic year haven't been raised, although was raised in previous years.
| | |
| --- | --- |
| University | The amount by which a tuition fee has increased / in thousand drams |
| Yerevan State University (YSU) | $30-70 |
| Armenian National University of Architecture and Construction | $20-70 |
| Armenian State University of Economics | $100 |
| Yerevan State Medical University | $200 |
| The National Agrarian University | $20-60 |
However, there were no grounds for raising tuition fees as new teaching methods have not been introduced, students have not been sent for internship abroad and international instructors were not invited. It's no secret that students with a below-average level of knowledge often pay their tuition fees in good faith and get a 'specialist's' degree.