Azerbaijani president, Armenian PM agree to decrease tension on Karabakh line of contact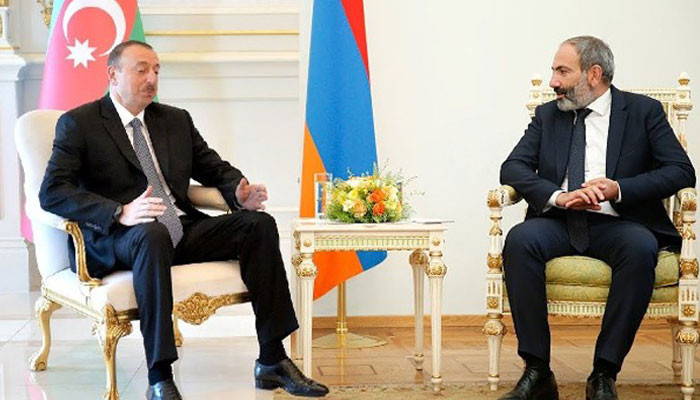 Armenian Prime Minister Nikol Pashinyan and Azerbaijani President Ilham Aliyev have met in Dushanbe on the sidelines of the Commonwealth of Independent States summit. 
Nikol Pashinyan later posted on his Facebook page that he and Aliyev had come to an agreement on three issues, particularly pertaining to taking steps to prevent flare ups on the line of contact:
"We agreed to task our ministers of defence with taking concrete measures in order to reduce tension on the line of contact. I notified the head of Artsakh [about this agreement], and this decision is acceptable for him.
"In essence, we can say that there is an agreement to prevent violations of the cease-fire on the Armenian-Azerbaijani and Karabakh-Azerbaijani borders.
"I have given the order to our armed forces and last night was the most peaceful and calm night since I have become prime minister."
Pashinyan also said that during the conversation they both indicated their commitment to the negotiation process:
"We both stated that the conflict must be resolved through negotiations."

The third agreement between Pashinyan and Aliyev concerns the creation of a communications system:
"This is so far only an agreement. How this will actually work and the technical issues [therein] have not been set."
This is the first conversation to take place between Pashinyan and Aliyev. However, they had met each other before and were introduced in June by Russian President Vladimir Putin in Moscow during the FIFA World Cup.
Armed conflict took place from 1991 to 1994 between Azerbaijan and Armenia over Nagorno-Karabakh. Since a truce was called, Nagorno-Karabakh has existed as a de-facto independent republic, not recognised by a single state including Armenia. Azerbaijan considers Karabakh and the surrounding territories as occupied and demands they be returned.
Both sides of the conflict regularly report clashes on the line of contact and accuse one another of provocations.