Armenia receives Genocide documents from the Vatican Secret Archives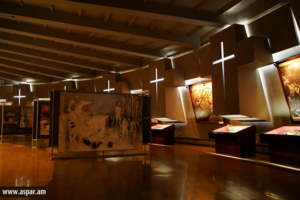 Documents on the Armenian Genocide, which were preserved at the Vatican secret archives, have been handed over to the Yerevan-based Armenian Genocide Museum-Institute.
The Armenian Genocide Museum-Institute was set up in April 1995. Its exposition features photos and documents of great historical value, as well as various materials reflecting the world community's attitude towards the fact of the Armenian Genocide.
The Armenian Genocide took place in the Ottoman Empire early in the 20th century, when young Turks were in power (the Turkish Nationalist Party). Around 1.5 million Armenians were deported and killed at the time. Every year, on 24 April, Armenia commemorates the victims of the crime.
Manana Hakobyan, an author of the TV show 'Armenians by origin', handed the documents over to the museum. In her words, there is an extensive list of Armenian Genocide-related materials at the Vatican secret archives, and just a part of that has been handed over to the museum.
"The acquired documents are new for us. Although they are available in digital format, they haven't been studied yet. There are new facts that need to be translated and examined. In other words, there is much work to be done," said Manana Hakobyan.
Suren Manukyan, the Deputy Director of the Armenian Genocide Museum-Institute, also noted that the documents should be studied first. Yet, in his words, he spotted some letterheads of Vatican officials from the Ottoman Empire among the documents, which proves their particular importance.
"The matter concerns the envoys who were serving in the Ottoman Empire in that period. As far as I can guess at first glance, those are diplomatic records. There are both handwritten and printed documents. They are extremely valuable materials that will find their place in our museum, as well as in our studies," said Suren Manukyan.
Toponyms and terminology used in the publication, as well as views, opinions and strategies they contain, do not necessarily reflect the opinions of JAMnews or any of employees thereof. JAMnews reserves the right to delete comments it considers to be offensive, inflammatory, threatening or otherwise ethically unacceptable.