How and why the Armenian national football team lost 1:9 to Italy in record defeat
On November 18th, the Armenia national football team suffered its biggest defeat in the history of the organization. Armenia played against Italy and lost 1: 9 in the final match of the qualifying tournament for UEFA Euro 2020.
The last time they suffered such a crushing defeat was in 1997, when they lost 0:7 against both Chile and Georgia.
Their current losing streak started with a match against Finland, and was followed by an at-home loss against Greece.
Incidentally, the previous Armenia-Italy match held in Yerevan also ended in a victory for the opposing team (3: 1).
Head trainer ready to resign
First of all, it should be noted that Abraham Khashmanyan joined the team on November 6th—just 13 days ago.
"I wanted to have one of the most experienced coaches in Armenia…The Armenian team had some impressive victories in 2019. I hope that our team, under the leadership of a new coach, will make the fans happy," said then head of the Football Federation of Armenia, Artur Vanetsyan.
After the loss against Italy, Khashmanyan announced that he took full responsibility:
"Alas, this disaster perfectly reflects the current state of the Armenian team. When I took this position, I suspected that this could happen. I take responsibility for the defeat, it's my fault."
The head coach of the Armenian team noted that he was ready to resign if the Football Federation so decided.
"If they decide that I should keep working, then I have to change everything, because, in my opinion, nothing about the team, even the way we think, is consistent with the level we're playing on," said Khashmanyan.
Other Opinions
Nikolay Petrosyan, Media expert and head of online publication Cybersport, wrote on his Facebook page that "the 1:9 loss to Italy is the logical consequence of a combination of total corruption and hopeless amateurism."
He did not stop there, and even proposed an anti-crisis plan, which "urgently needs to be implemented." Here are some points he mentions:
• Vanetsyan, Melikbekyan, Nikogosyan [head of the Football Federation—JAMnews] (it's time to name names) should resign if they have any conscience or dignity. If they don't, we must urge them to do so.
• Conduct a full financial audit of the federation and publish its results.
• Football players are required to return the bonus (12 thousand euros each) they received for the meaningless victory over Bosnia and Herzegovina. We should give this money to the families of deceased soldiers.
• Invite industry pros to develop a national football development strategy for the next 10-12 years.
• Redistribute the federation's budget, minimizing the national team's expenses and maximizing spending on infrastructure, staff (coaches, managers, doctors, etc.) and youth football.
Levon Pachajyan, Armenian footballer and midfielder for the Swedish FC Linköping City, also expressed his dissatisfaction with national team's performance.
This is what he wrote on his Facebook page:
"You can't experiment at this level, especially when there is a 99% likelihood that it won't work! After the first half, couldn't you see that this little stunt wasn't working for the team?! Now we are disgraced! You need to answer for it; you should all resign. And what about the footballers? A game without a leader…Listen, you've already played so many games together, was there really not one strong player among you who could understand what was going on and warn what it might lead to? So what, you don't have a coach today, and suddenly that means the other team gets to score 9 goals on you?"
Who is Khashmanyan
Abraham Khashmanyan was appointed head coach on November 6. He is contracted through November 30, 2020. There is still no information on his possible resignation.
Incidentally, his predecessor, Armen Gyulbudagyants, resigned from the post on October 18th.
He says his reason for resigning was that the Armenian team had practically no chance of qualifying for Euro 2020.
As for Khashmanyan, he was once considered one of the most promising Armenian football players. He was involved with the USSR's youth team.
He played in the Soviet championship for the leading Armenian clubs "Ararat" (Yerevan) and "Kotayk" (Abovyan).
However, Khashmanyan achieved his greatest success as a coach. They say in football circles that he knows how to pull clubs from the bottom. It was under his leadership that Yerevan "Alashkert" won the national championship and was able to participate in international European tournaments.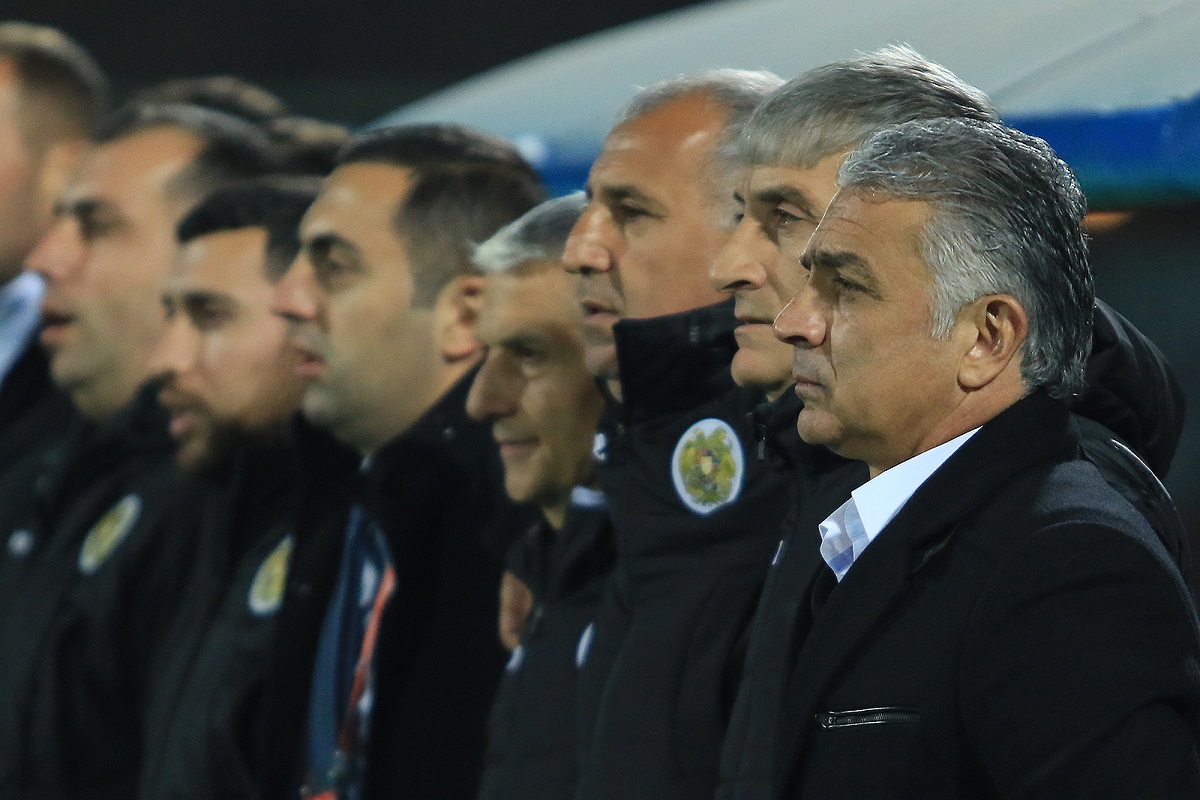 Khashmanyan's Achievements as a coach:
• Two-time champion of Armenia (2015-2016, 2016-2017)
• Armenian Cup Winner (2018/2019)
• Armenian Supercup Winner (2016).