Armenia: merchants protest against new tax regulations and the growth of bureaucracy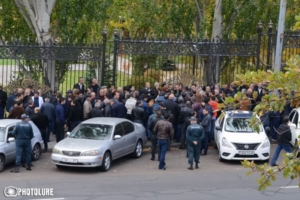 Traders at Yerevan markets came out today in protest in front of the building of the National Assembly of Armenia. The demonstrators demanded that the rights of small and medium sized business owners be respected and lodged complaints that the State Revenue Committee is putting pressure on them.
"We demand justice and fairness so that this harassment finally stops. The harsh and rude words of the Head of the State Revenue Committee have scared people. Some start trembling on the spot when they hear about the new tax system," said one of the merchants.
Traders are particularly unhappy with a new regulation made by the State Revenue Committee, wherein they have to document every single sale. Failure to record sales will lead to fines.
The merchants claim that as a result of the new approach they will be forced to pay enormous taxes. Moreover, the new regulations will lead to additional bureaucratic delays. As a result, they will have to close their businesses because in order to document every sale they need additional resources which the don't have.
"We can't stand against this process. Moreover, they are rude to us and we will not stand for that. We are not criminals. If their aim is for us to pay 175 000 drams [370 dollars] in fines for every undocumented check, then that's another matter," said the Head of the civic organization Solidarity, Armen Nersisyan.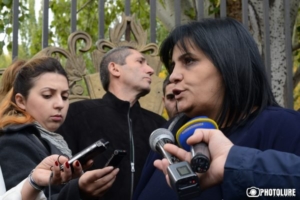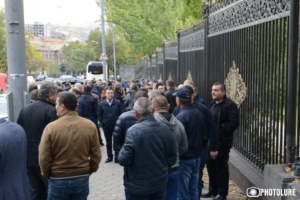 Protestors called for a campaign against the employees of the State Revenue Committee.
"Let the employees of the Committee be subject to the same sort of persecution. How were they able to get so rich? How did they all become millionaires? Such luxury houses and cars they have! Why are they not examined? Why is this not being done?," said one of the merchants.
The Committee categorically disagrees with the opinions of the merchants.
"In accordance with the law, everyone must pay taxes. They need to be explained that it is impossible not to pay taxes, to avoid them and hold rallies and protests [to this end]. This is out of the question," Vardan Harutyunyan, Head of the State Revenue Committee told reporters.
This is the second demonstration held by the merchants. In order to bring attention to their problem, they gathered signatures today and wrote a letter addressed to the four parties represented in the National Assembly.