Ancient Azerbaijani holiday
'Celebrate St. Valentine's Day by joining the «Cupid Bash party at Razzmatazz Cocktail Bar & Lounge at the JW Marriott Absheron Baku Hotel. Price: AZN 30 – standing ticket for one person including the cupid welcome cocktail; AZN350 – decorated table for two (including chocolate truffles and a bottle of Champagne).'
Valentine's Day is a time-honored Azerbaijani holiday
And if not time-honored, at least it is obligatory for celebration. It is even more Azerbaijani than Halloween.
There is a simple explanation to it – hotel & restaurant business needs this wonderful day of cards and presents. And one would better not argue with business, especially with that part of it, that offers its services to the elite. In other words, the part that is based on a small but still powerful 'electorate', not affected by the crisis, that has not lost its purchasing power and still longs for lobsters, sushi and marble meat.
'Decorated table' at a symbolic price – US$ 200, that's exactly what they need.
Who has the biggest bouquet?
If Halloween can be screwed as an 'evil' holiday, the day of bad vampires and witches, in this case everything is clean and clear – love, presents, cards, nothing indecent. Valentin has got his claws into the young ladies' hearts – a boyfriend, who has ignored an occasion to please his girlfriend, will never be forgiven.
Therefore, St. Valentine's Day is not an elite holiday at all. It is quite a 'popular', easily apprehensible holiday: once an Azerbaijani belle first gets a teddy bear on February 14, a female rivalry mechanism is launched. No elders' argument about alien nature of this holiday can defeat the girlhood dream about a grand bouquet of roses, presented not on a formal occasion, but in a token of affection.
Our response
When it became clear that Valentin had perfectly caught on the local ground, people, advocating national traditions, expressed concerns. Therefore, Azerbaijan has its own, sort of alternative All Lovers' Day. However, it has not been included either in the holiday calendar or in any official lists. Though not backed by the government, this initiative of one of the officials, caught many patriots' fancy.
This is June 30 – Fariza and Ilham Allahverdiyev' wedding day. Both of them tragically died soon after the wedding, in the Soviet troops' crackdown against civilians, during the developments in January 1990. The death dates on their graves are the same, but, in fact, Fariza committed a suicide some time after Ilham's death.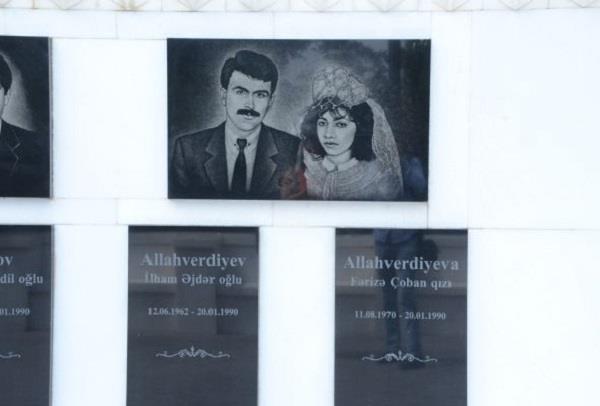 This idea was not supported by masses. The tragic love story was regarded just as terrible rather than insightful and inspiriting – who is going to organize parties on such an occasion? Therefore, this date – June 30, is recalled only on February 14, when one wants to oppose something to the upcoming vanilla-floral debauch.