Exhibition dedicated to victims of Stalin's reprisals opens in Yerevan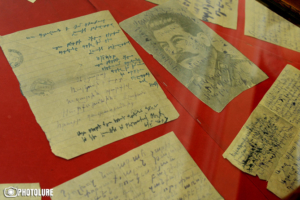 An exhibition titled 'The Anti-Soviets', dedicated to the 80th anniversary of the 'Great Terror' of the Soviet Union has opened in Yerevan. Thousands of people were affected in Armenia during that period, as was the case in the rest of the Soviet republics.  As the Soviet media reported at the end of the 1980s, the Stalin-era reprisals claimed more lives than WWII, i.e. over 20 million people.
The topic concerns the reprisals, exiles and executions that took place between 1937 and 1953 (Stalin's death). According to the organizers of the exhibition, about 60 000 Armenians became victims of Stalin's reprisals. Some of them were exiled, others died from deplorable conditions in camps, and some were executed.
According to Hranush Kharatyan, an ethnographer, the exposition includes personal cases of some of the victims of reprisals, compiled by investigative agencies. Extensive documentary materials were obtained as a result of four-years' worth of painstaking work: "Every victim is a human loss. The biography of each and every victim of Stalin's reprisals is of extreme value to us." The ethnographer noted that the exhibition is aimed at familiarizing contemporaries with the situation in that period.
"There are many previously unknown facts. For example, one of the exhibition halls features materials on the groups and individual deportations that started in Armenia in 1937. Documents regarding the deportation of Crimean Armenians as well as those living in other parts of the Soviet Union are also displayed… There are numerous documents on the exiles that took place in 1949, including reports by Azerbaijani and Georgian Interior Ministers, as well as information by officials in the Krasnodar region on the number of people they had deported," said Hranush Kharatyan.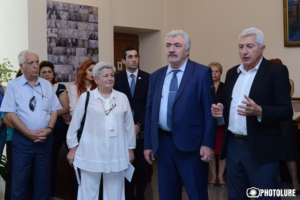 According to Amatuni Virabyan, the Director of the Armenian National Archives, all people of the Soviet Union were subjected to violence and the scope of that inhumane treatment was just unimaginable. "We shouldn't forget our history, no matter how painful it is for us. We should know all the actors, the executioners and the victims. In 1937, Stalin carried out acts of terror in Georgia and Armenia as well as issued special resolutions on the Kurds and Poles.
Violence had no age or ethnicity. People were grabbed and executed, their wives and children exiled as the next of kin of the people's enemies," said Amatuni Virabyan. The National Archives is expected to publish a five-volume work on the results of its studies which will include not only the victims' names but also those of the executioners.
"All names will be included. History shouldn't be presented partially. People should be offered complete historical records.