How children with achondroplasia, a rare genetic disease, live in Georgia
Achondroplasia in Georgia
For the past two years, parents of children suffering from a rare genetic disease, achondroplasia, have been demanding that a new expensive drug be supplied to Georgia to treat the disease. Some are holdingpermanent protests in front of the government building. The parents say it's a revolutionary drug, invented two years ago, approved by the World Health Organization, and vital to their children's health.
Achondroplasia slows bone growth and can cause health complications such as shortness of breath (apnea), ear infections, and curvature of the spine (lordosis). More serious complications are accumulation of fluid in the brain (hydrocephalus) and narrowing of the spinal canal, which pushes and compresses the spinal cord. Achondroplasia is caused by changes in the FGFR3 gene.
According to various sources, achondroplasia occurs in one in 20-30,000 children worldwide. There are no exact statistics on how many children with this disease are in Georgia. Parents, by correspondence with each other, estimated that there are about 20 children with achondroplasia in the country.
A few years ago the first effective drug for treatment of the disease was developed. Voxzogo (vosoritide) promotes bone growth and greatly relieves the symptoms of the disease. It is important that the patient take this medicine before their bones stop growing — that is, in childhood. And the sooner the better.
Since the drug is expensive and the disease is rare, many countries provide it to their citizens free of charge. But in Georgia, in order for the state to ensure the health of about 20 children, their parents have to hold rallies.
Zako
The mother of 13-year-old Zako, Ketevan Begiashvili, is one of the organizers of the protest. She fears that by the time the Georgian authorities start buying the drug, her son will be past adolescence and the drug will no longer be effective.
Ketevan tells us that before she knew about her son's diagnosis, she had no idea about achondroplasia.
"It was a shock. There was no one around who had a similar experience to ask for advice. I was all alone. I always say that the first battle I won was against myself, it was the hardest battle for me to win. For about five or six months I didn't read anything, didn't do any genetic tests, convinced myself that my son didn't need it.
But then I realized that I was selfish, my child needed help, and I started going to doctors again. Some doctors told me that this is my cross, I must bear it and give birth to many children.
Many endocrinologists, as soon as they found out about the imbalance, called me on the phone saying this is not our concern," Ketevan says.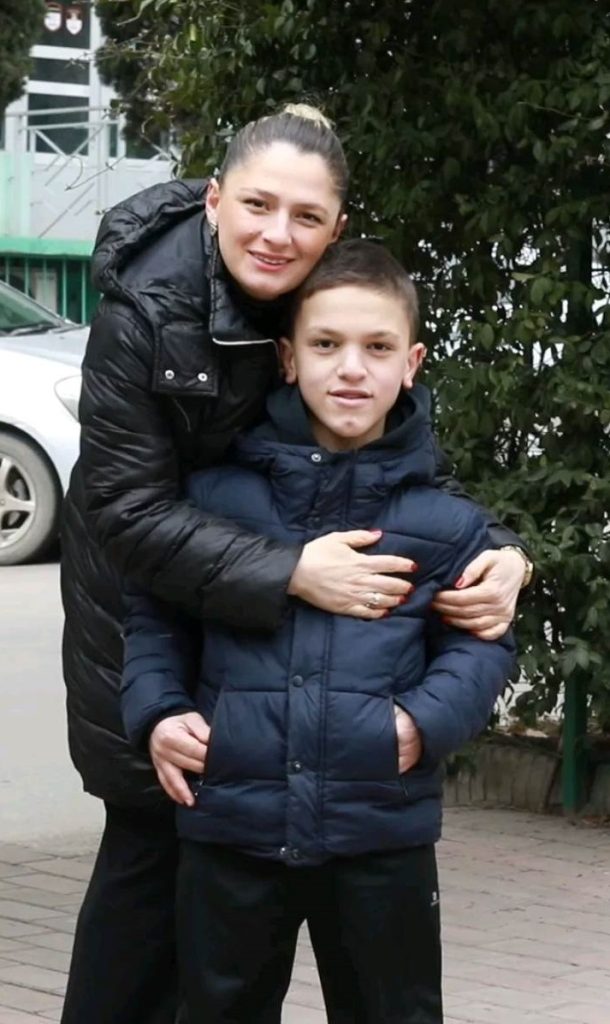 Zako was one year and eight months old when he took his first steps on his own. Ketevan says that at first her son began to bend one leg, then the other. There was difficulty breathing during sleep, and kyphosis of the spine, which subsequently disappeared.
"At the same time, he was growing. He was eight years old when we got the first operation – special plates were inserted into his legs. But this did not help.
Two years later a second operation was performed, already with large plates. Zako is a very active child, he went to kindergarten and school, and once he broke his leg while playing football.
Because of this the doctors decided to do an osteotomy, i.e. fix his leg. But I was warned that it would be a difficult process. He was in restraints for a month.
He really liked the straightened leg, and the doctors also told us that it would be inconvenient for the spine to straighten only one leg, so we made a plan and did a second osteotomy.
The plates are checked once a year, they are afraid they can bend, so this must be controlled. There is disproportion, so if other children have to take one step towards the goal, he has to take two or three steps. He also has oxygen problems, although not as severe as the others, and occasional discomfort from the plates. Despite this, he is a very active boy."
Little people from Georgia
In 2020, parents of children with achondroplasia founded the Little People from Georgia organization. The name was chosen based on a similar group in America.
During one meeting, the endocrinologist told Zako's parents that there is light at the end of the tunnel – a gene that causes the disease has been discovered, and scientists have begun work on a cure.
The family are now waiting for this medicine.
In 2021 this drug, called Voxzogo, received approval from the European Medicines Agency (EMA) and the US Food and Drug Administration (FDA).
According to the EMA, key studies have shown that Voxzogo is effective in accelerating the growth of children with achondroplasia, can lead to a significant increase in height, and can make everyday life easier for children with achondroplasia.
Side effects are considered manageable. The decision also states that "the benefits of Voxzogo outweigh the side effects and introduction of the drug in the EU is possible." According to the EMA, this medicine can be taken at the age of two.
"So my son and several children who have reached the age of 13-14 have an emergency situation. Even if they had a few years to help them, it would still be good. Zako suffers a lot from this condition. This medicine would be a great hope for them," Ketevan says.
As she notes, a representative of the Ministry of Health of Georgia told the parents at the first meeting that they would do everything to finance the purchase of this medicine.
"We were told that one child needs 150 ampoules a year and that they had begun negotiations. The price of an annual dose was reduced from $300,000 to $200,000."
Achondroplasia in Georgia
Dachi

Nika, the father of 12-year-old Dacia, says parents call the drug vital because it not only helps increase height, but reduce accompanying symptoms. He tells us about the difficulties Dachi has to face on a daily basis.
"From childhood he has had daily complications, including increased fluid in the brain, as well as ear infections, which immediately make themselves felt with any cold, difficulty breathing. Most children with achondroplasia have difficulty taking care of themselves, whether it be hygiene or otherwise.
For example, they cannot hang up their coats, take a book from a shelf, press an elevator button, swipe a card on a bus, and so on. Bullying is a separate issue. We couldn't walk down the street without someone pointing at us. Children already at this age realize that they are "different", so psychological problems are added. And the new drug would alleviate all this."
Ioane

The mother of three-year-old Ioane, Mariam, shows us a prescription that doctors wrote for him at a clinic in Turkey. The child was assigned a vosoritide.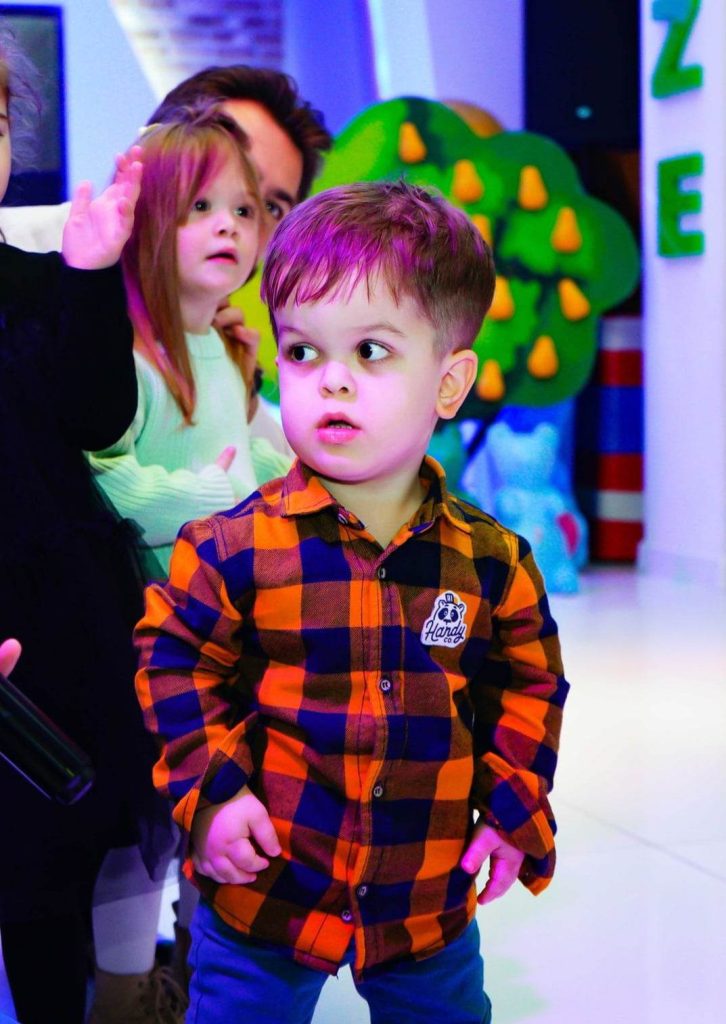 "This is such a rare disease that doctors in Georgia do not have the experience making any recommendations. We brought him to Turkey, and the geneticist wrote out a prescription, but the cost of a three-month dose was 7,000 euros. We physically could not pay this amount. I have this prescription and there is nothing we can do," Mariam tells us.
Gabriel
Gabriel is two years and seven months old and is already walking in the garden. His mother, Salome Gabelashvili, tells us that with the help of the new drug, her son would be able to avoid the complications associated with achondroplasia.
"Parents talk about bullying, many bring their children to a psychologist. There is also a sense of rejection in society, and children ask: "Why am I like this, why are they calling me that," etc. It's not about height, but proportional growth, so that my child is healthy and feels complete.
Someone might think that this is a big risk, because the medicine is new.

But American parents write that they have very good results: limb growth, relief from sleep apnea, children sleep peacefully and have much less inflammation, etc.
They've been seeing results for some time now. And how can a Georgian mother get this medicine? We are told to wait. I can still wait, my child is small, but who is older, who has health problems, how can they wait? To wait is to watch your child's condition worsen."
Achondroplasia in Georgia
What is the state's response?
At the end of last year the parents turned to the Ministry of Health, who promised to purchase the drug. Moreover, there is a video on the internet where the head of the parliamentary health committee, Zaza Lominadze, says that they met with both the Ministry of Health and the Ministry of Finance and tried to include funding for the treatment of achondroplasia in the budget.
"This is from seven to sixteen children, and seven of them need this medicine. Negotiations have begun. We hope that an agreement will be reached between the supplier and the customer," Lominadze said on December 7 of last year.
But then the rhetoric changed – the Ministry of Health says that the drug is in the early stages of use, and at this point the results of long-term use and possible complications are unknown. In Georgia, an inter-ministerial group dealing with achondroplasia has been established to develop a strategy for the treatment of this rare disease.
On April 19, the Minister of Health was summoned to Parliament. The meeting with parents and deputies was held behind closed doors, and Minister of Health Zurab Azarashvili explained to journalists the delicacy of the topic.
According to him, FDA and EMA approval means the right to import and sell in countries, but not automatic funding of drugs from the budget of these countries.
The Minister noted that in case of other needs of children with achondroplasia, whether it is the help of a psychologist or massage, the Ministry is ready to consider the issue of funding and take care of them within the framework of universal health care.
According to him, "where there are concomitant diseases and they are associated with a risk to life, [we are ready] to organize and conduct diagnostics in Georgia and abroad."
Achondroplasia in Georgia
How the government treats rare diseases
According to the Ministry of Health of Georgia, rare diseases include severe, life-threatening diseases, the number of which among the population is small, and the fight against them requires special joint efforts. By European standards, a disease that affects one in 2,000 people is considered rare.
According to the NCDC, the number of rare diseases in the world is about 7,000 – five percent of the world's population has some form of a rare disease, which is about 300 million people.
The Ministry of Health of Georgia has a program "Treatment of patients with rare diseases subject to permanent substitution therapy".
The agency explains in various documents that the goal of this program is to improve the health status of patients with rare diseases who require ongoing substitution therapy. However, the ministry does not list achondroplasia as a rare disease.
Parents have not lost hope that the state will finance treatment for their children and will continue their activism.
"It is impossible to buy medicines for 16 children with a rare disease, instead the mayor's office can pay 10 million lari [about $4 million] for underground garbage cans," says the father of 12-year-old Dachi.
Achondroplasia in Georgia
Achondroplasia is a rare genetic disorder.