Abkhazia's entry into the Union State: a "diversionary maneuver" or a no alternative option?

Although there seem to be no real prerequisites, Abkhazia is actively discussing joining the Union State of Russia and Belarus. What's the for and against, and is it even technically possible?
The Union State is a supranational formation of Russia and Belarus with gradually organized common political, economic, military, legal, humanitarian and other spheres.
According to the charter of the Union State, only a country that is already a member of the UN may join. Abkhazia is not a member of the UN. And Belarus does not officially recognize independence of Abkhazia.
The issue of Abkhazia's entry into the Union State is used by the government of the republic to divert attention from internal problems, believes economist, and member of the Academy of Sciences of Abkhazia Akhra Aristava:
"Neither Belarus nor Russia seriously consider Abkhazia as a member of the Union State."
---
---
But it is also impossible to say that there are no prospects for relations between Abkhazia and Belarus at all. Business partnership between the two countries has existed for a number of years.
Cheese and wine

The refrigerator with dairy products from Belarus in the main supermarket of Sukhumi is always busy. Cheese and butter are the most popular. Since 2014, when the export of the most popular food products from Europe to Russia and therefore to Abkhazia, was banned, Belarus has mastered this niche in the food market.
"Lithuanian parmesan was still more or less to taste, but the Belarusian one looks more like a tire," a shopper says.
Natalia Mikhalchuk looks at the selection in exasperation:
"There is nothing to buy, we will go to the market. We ourselves live in Vitebsk and know very well which goods are worth buying and which are not. We bring cheese, butter, and our world's most delicious sour cream in buckets to our relatives in Russia, but there are no such producers here. The cheapest stuff is imported."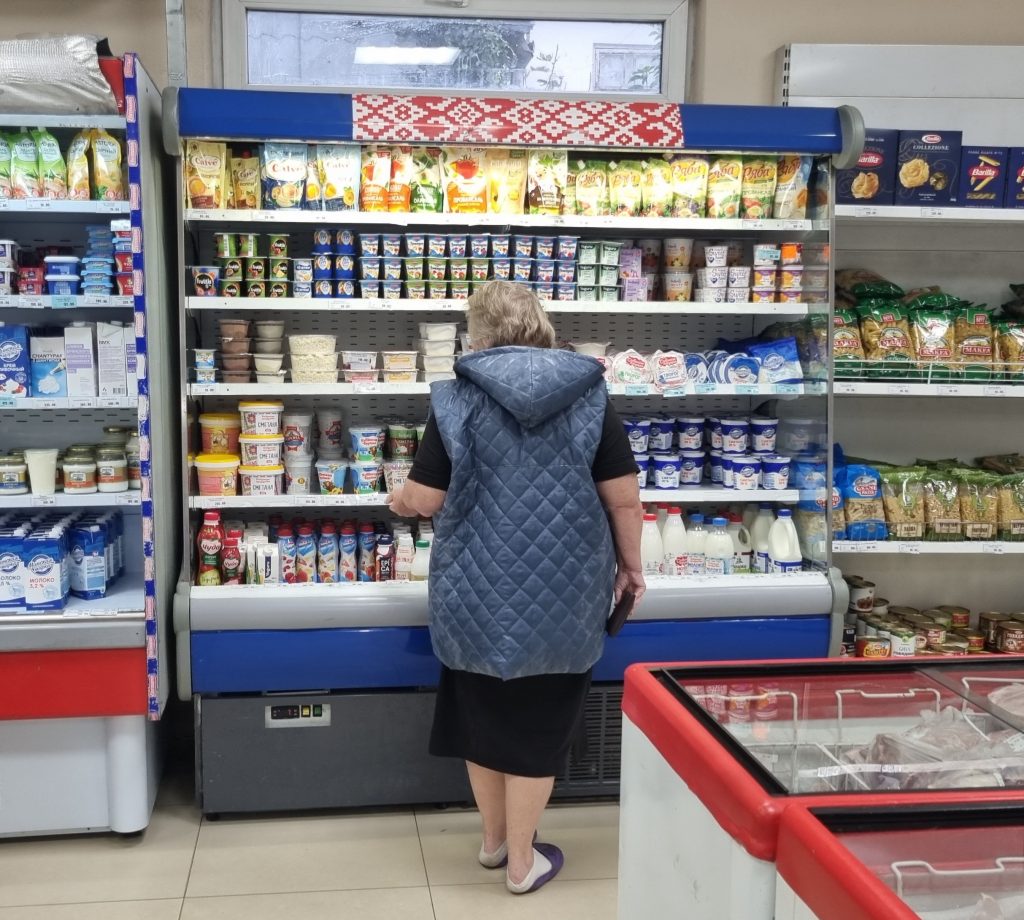 Belarusian goods appeared in Abkhazian stores long before Foreign Minister Inal Ardzinba started talking about the possibility of Abkhazia joining the Union State. That is, economic cooperation began even before Ardzinba took office as minister. However, under him the Belarusian market opened for Abkhazian goods. Wine, mineral water and fruit sodas made in Abkhazia found their way into the stores of Belarus.
Agreements on mutual trade turnover were signed in the spring of 2023. The agreements also concerned the tourism sector. Exactly a year ago, in November 2023, President of Abkhazia Aslan Bzhania made a report, saying that Belarus was implementing a large-scale project in the republic, the cost of which exceeded $50 million.
"I think that in time we will come to the political aspects of our relationship," Bzhania said.
He then quoted President of Belarus Alexander Lukashenko, said at the meeting in Abkhazia: "If you think that politics governs the economy, it is a deep misconception. In fact, the economy governs politics.
"I do not want to join any unions"

The idea of joining the Union State is perceived positively by Abkhazians of the older generation – those whose youth was spent in the USSR.
Alla Lasuria is a pensioner, she is 79 years old. She receives a Russian pension and believes that she lives in an independent republic, but in her opinion the future of Abkhazia is in the Union State:
"Was it all bad in the USSR? It was good for everyone. We lived in friendship, everything was enough for everyone. And everything is going towards restoration of the Soviet Union. Of course, it won't be like it was, but it will be better than it is now. We old folks don't care anymore, but it's a shame for the young. You haven't seen the good life."
Young people have a different opinion. Amina Aiba, 19, is a student. She has Russian citizenship, like many young people in Abkhazia. But she is not sure that her generation would have more prospects in the Union State:
"My father and both uncles fought [in the Georgian-Abkhazian war of 1992-93] and say that, above all, they were defending their home. But after the war they realized that the main thing is to create an Abkhazian state. Only in this status we will be able to survive as an ethnic group.
I am not repeating their words, I really think so. I think that even the blockade, in which we were in the first five years after the war, had a positive impact on cohesion of the people. I don't want to join any unions, we should be independent."
"We have no alternatives"

But those who govern Abkhazia today realize that the processes are much more complicated, and the international context dictates its own conditions.
At a recent meeting with journalists, Bzhania said that the first task of Abkhazia is to build any kind of relations with Belarus, and depending on how the foreign policy situation develops, decisions will be made.
"Abkhazia is a small republic. On one side we have an empire defending its geopolitical role, on the other side we have a country with which we have an unresolved conflict (i.e. Georgia – JAMnew). We have no alternatives but to establish and strengthen relations with Russia and its allies."
---
Toponyms and terminology used by the author, as well as views, opinions and strategies expressed by them are theirs alone and do not necessarily reflect the views and opinions of JAMnews or any employees thereof. JAMnews reserves the right to delete comments it considers to be offensive, inflammatory, threatening or otherwise unacceptable