Abkhazia closes checkpoint with Georgia over Tbilisi protests
Abkhazia has closed the crossing checkpoint with Georgia because of the Tbilisi protests that have been going on in Tbilisi since June 20.
Passage through the Ingur Bridge is partially closed – foreigners can leave Abkhazia, although they cannot enter.
"Georgia is currently host to mass protest demonstrations of a provocative nature, affecting the statehood of the Republic of Abkhazia.
"Protest demonstrations are also being held in the Zugdidi district, in the territory bordering on the Republic of Abkhazia. The State Security Service of the Republic of Abkhazia has developed and is implementing the necessary set of response measures," a message says on the website of the State Security Service of Abkhazia.
•Russia – friend or occupant? Russian tourists, expats in Georgia on recent unrest
•The oligarch besieged from all sides
Earlier this week, opposition MP Dmitry Dbar was the first to float the idea of closing the crossing point at the Ingur Bridge.
Although the protest had been brewing for a long time and was associated with deep discontent in society with the policies of the ruling Georgian Dream party and personally its leader billionaire Bidzina Ivanishvili, State Duma Deputy Sergei Gavrilov was the immediate cause of the street protests.
The Inteparliamentary Assembly on Orthodoxy was to open on June 19 in Tbilisi. The right to open the assembly was given to Russian MP Sergei Gavrilov, and he did so from the seat reserved for the speaker of the Georgian parliament.
An outraged parliamentary opposition left the meeting room. The authorities said that the appearance of Gavrilov in the chair of the Georgian speaker was a "protocol mistake" – but thousands of people took to the streets of Tbilisi.
• Glimpse: Peaceful demonstrations in front of Tbilisi parliament after bloody dispersal
At dawn on June 21, police special forces in Tbilisi broke up a protest in front of the Georgian parliament, which had lasted from seven o'clock in the evening of the previous day.
Journalists say not less than 30,000 people took to the streets and demanded the resignation of the heads of the Ministry of Internal Affairs and the state security service, as well as the prime minister and the speaker.
Several hundred people were injured after police used tear gas, water cannon and rubber bullets. On the afternoon of June 21, Georgian Parliament Speaker Irakli Kobakhidze announced his resignation.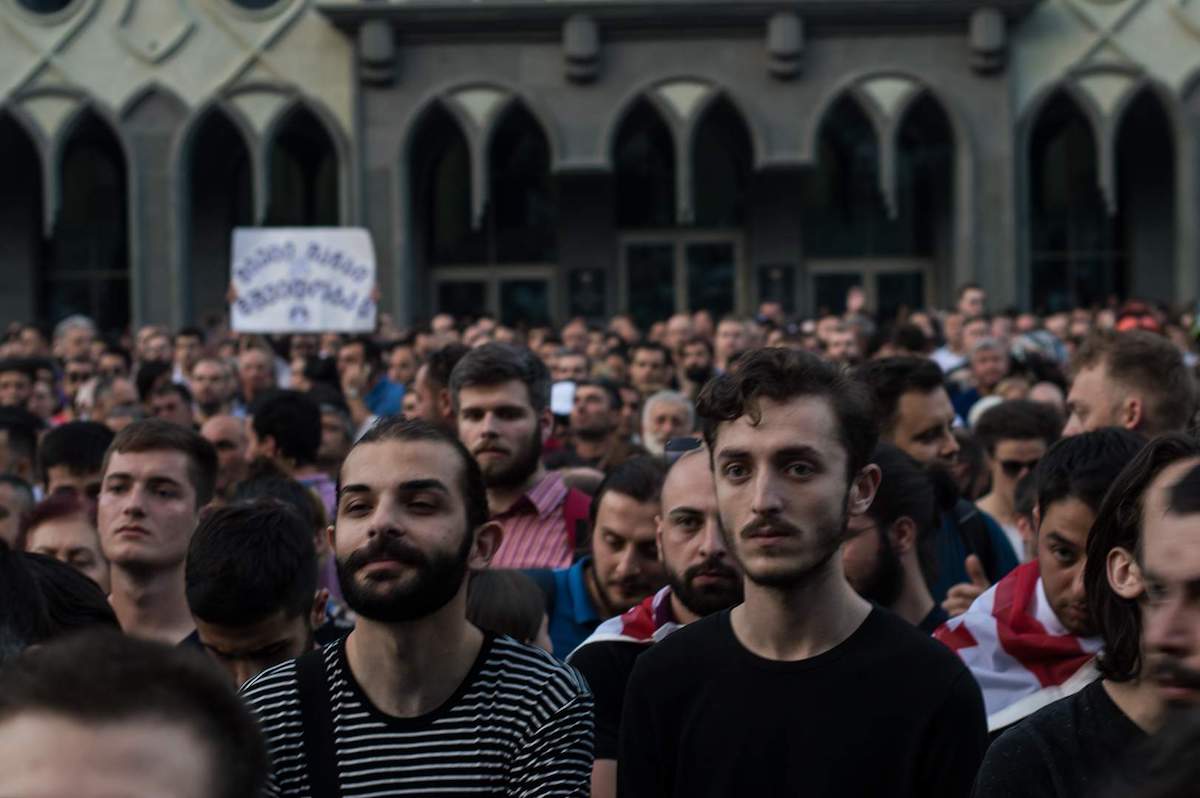 Toponyms and terminology used in the article, and views, opinions and strategies expressed in it do not necessarily reflect the views and opinions of JAMnews or any employees thereof. JAMnews reserves the right to delete comments it considers to be offensive, inflammatory, threatening, or otherwise unacceptable