Abkhazia bans foreigners from leading tours
Foreigners no longer have the right to conduct excursions in Abkhazia. In order to work in the field, one must now be a citizen of Abkhazia.
This decision will largely affect Russian guides, who, according to local authorities and residents, do not always 'correctly tell tourists about the history and culture of the republic.'
• How did Abkhazian resorts scare away Russian tourists?
According to the rules, excursion groups that come to Abkhazia from Sochi [ed. the only way for tourists to get to Abkhazia] must be accompanied by an Abkhaz guide ordered by a tourist company in advance.
However, many Sochi companies prefer to save money and use the services of their own employees.
Local experts say the history of Abkhazia is distorted by Russian guides, which gives rise to confusion in terms of geography, history, politics and toponymy.
It turned out, for example, that some Russian guides say that Abkhazia is a part of Russia.
Other guides tell tourists that the Abkhaz during the Georgian-Abkhaz conflict in 1992-93 fought against the Ossetians, and then they were reconciled by Moscow.
The reason for deciding to complicate the licensing procedure was also a tax problem.
Russian guides are not required to pay taxes to the budget of Abkhazia – unlike their local colleagues. This allows Russian guides to set different prices. As a result, about 700 Abkhaz guides with a license (data from the Ministry of Tourism) find it more difficult to work.
Since May 2019, the Ministry of Tourism of Abkhazia and the tax service have been arranging regular inspections of the service system for excursion groups. The guide must have a compulsory license to conduct the excursion.
To obtain a license, one must pass a certification in the Ministry of Tourism and pass an examination on knowledge of history and geography, and familiarity with local legislation and methods of conducting a tour. The guide must also present how they will lead their tours.
A guide must have with him not only a license, but also an itinerary and a tax certificate.
But the most important thing is that the guide must be ready to present an Abkhaz passport.
More than half of those arriving in Abkhazia during the summer season are Russian tourists vacationing in nearby Sochi.
As a rule, they come for one day in order to see the sights of Abkhazia which have been popular since Soviet times, such as Lake Ritsa, the New Athos Cave, the monkey nursery and the botanical garden.
Although tour guides say that many are beginning to get interested in longer routes and tours.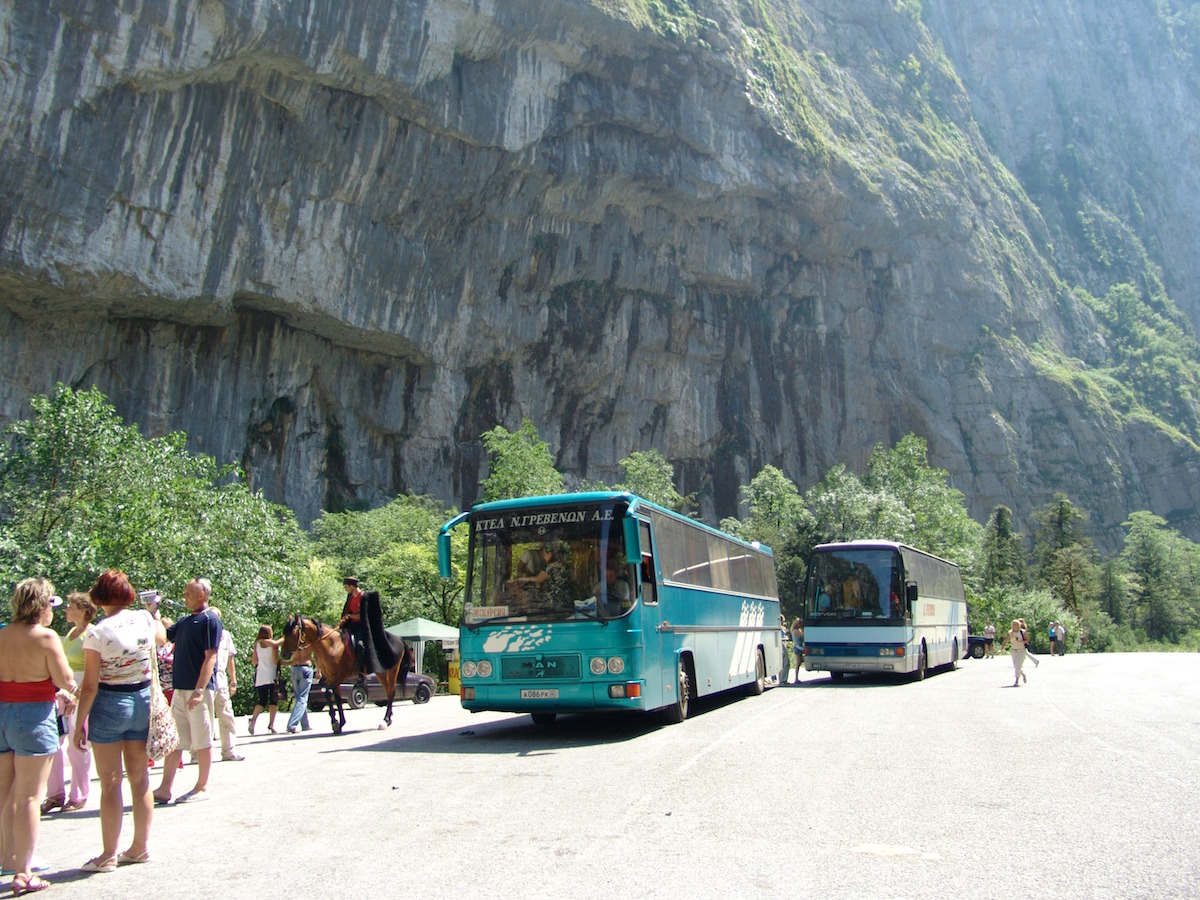 Toponyms and terminology used in the article, and views, opinions and strategies expressed in it do not necessarily reflect the views and opinions of JAMnews or any employees thereof. JAMnews reserves the right to delete comments it considers to be offensive, inflammatory, threatening, or otherwise unacceptable