Abkhaz opposition struggling with prosecutor general it elected
photo: Sergey Demyanov, JAMnews
A block of opposition forces in Abkhazia has harshly criticized prosecutor-general Zurab Achba, which is significant as he was elected by the same opposition bloc.
However, he has now been accused of idleness and a lack of efficiency, which has lead to a growth in crime and corruption in the republic.
"Recently, there has been more than a dozen crimes of cruel violence committed against Abkhaz citizens and employees of law enforcement agencies. Abkhazia has become a place where the criminal 'authorities' and gangs are trying to establish their control and influence."
"Evidence from the Audit Chambers of Abkhazia and the Russian Accounting Chamber prove that there has been massive misuse of state money, estimated to be tens and hundreds of millions of rubles."
Among those accused of embezzlement, are officials of virtually all key ministries. The president's reserve fund has also been included on the list of squandered funds, the opposition bloc said in a statement.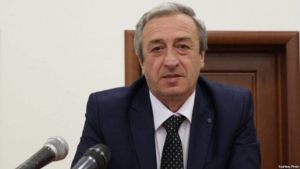 The new leadership of the prosecutor-general's office was the result of a compromise which was achieved after the unrest in Abkhazia in December of 2016.
After a series of negotiations, an 'Agreement on Societal-political Stability' was signed on 19 December 2016, which, according to experts' opinions, prevented the beginning of civil confrontation in the republic.
In addition to the seat of the prosecutor-general, the opposition received the possibility to appoint two of five judges in the Constitutional Court, one deputy prime minister and two members of the Central Election Commission. In exchange, the bloc of opposition forces agreed to retract its demand for the resignation of President Raul Khajimba.
[su_quote]"A peaceful way out of the crisis seemed impossible until the last minute. But the revolution has so far been canceled" – a JAMnews report from Sukhum[/su_quote]

Members of the opposition claim that they confidently decided in December 2016 to appoint Zurab Achba as the prosecutor-general and they were sure of positive changes which would allow one 'to look with refrained optimism to the future'.
However, the bloc of opposition forces stated that 'neither a breakthrough, nor a recovery of the situation, nor even a hint of change has come about as a result'.
"We are deeply convinced that the personal responsibility for this state of affairs lies with Prosecutor General Zurab Achba," the opposition says, and warns that if measures are not taken in the near future, the block of opposition forces will demand his resignation.
Toponyms and terminology used in the article, and views, opinions and strategies expressed in it do not necessarily reflect the views and opinions of JAMnews or any employees thereof. JAMnews reserves the right to delete comments it considers to be offensive, inflammatory, threatening, or otherwise unacceptable