A look from beyond the boundary
The church is full of people on the Christmas day; needy people, as usual, are crowded near the door, hoping that believers will be more generous on the festive day and they will get money to buy something for dinner and to pay debts.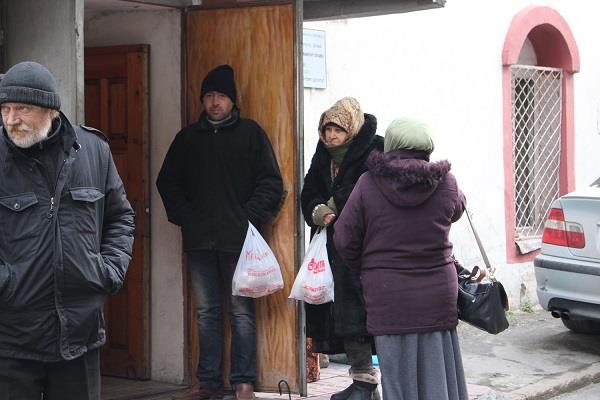 The junior one of the five sons
A young guy in a thin coat is huddling from cold and addressing the people, entering the church, in a polite but persistent manner; "Please, help me as far as you can! His name is Sergey, he is 23. He is not always here, since he tries to earn for the bread, the flat rent and medicines for his blind mother. The mother is sitting right there, ona piece of cardboard, on the steps.
Sergey's mother, Tatyana Fomenko, is 63, but she looks older, probably because of diseases and the hard life. She can't help crying while speaking. She lost her eyesight because of diabetes three years ago. She lives with her junior son. "Earlier, we lived in Kyurdamir, but our house burned down. All documents were lost together with it. I was alone, as my husband had died of alcohol addiction and I was bringing up five children. Then we moved here.
By some quirk of fate children were scattered in different parts of the city, one of the sons died, another son and the daughter drink alcohol; Sergey is the only one who has a job and takes care of his mother, who has become helpless because of blindness. Sergey strains himself to the utmost to earn at least something: "I can do any job, carry heavy things if necessary, help to do flats, wash cars, but I rarely have job. My mother gets a pension, but we have to pay AZN150 monthly flat rent, that is AZN5 per day. We have a debt and they want to oust us.
Life has become harder because of the crisis, it is more difficult to find a job and people donate less. "Today we have managed to collect just AZN5, we have not eaten and we have to travel home, to pay for the flat rent, Sergey is sharing his problems.
"I tried to treat my eyes for a long time, visited different hospitals, but I was told nothing could be done, says Tatyana khanum. She has glaucoma, that developed on the diabetes background. "I was prescribed a medicine that costs AZN20. We cannot afford such expensive medicine. What I ask is that maybe someone could help us with products.
The church usually supports people in need, but Sergey, who is freezing from the winter wind, is not much satisfied: "Earlier, there was another good priest here; he always laid tables for the poor in the churchyard. This priest does not help with anything…
One of the female parishioners, who is leaving the church, gives fried stuffed buns to the people, standing at the door. Chilled through, they start eating them with appetite.
Twelve hours a day, daily, the whole life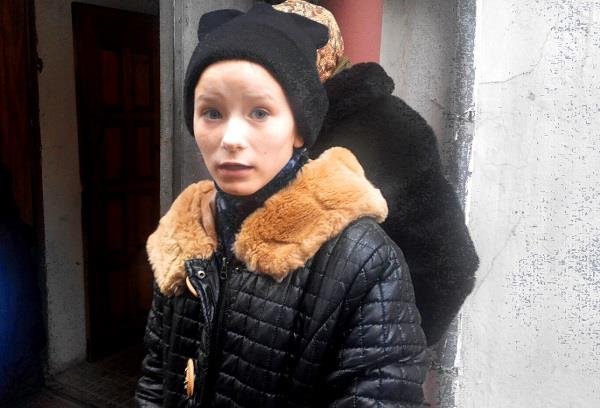 "…You are lucky, because you are young and able to see, you can speak so loudly, Tatyana addresses a slim girl with a serious face not typical for her age. The tall girl with freckles on her pale nose, is asking with a ringing voice those, who are entering or leaving the church: "Please, give at least ten kopecks, thank you very much, God save you!
Her mother, who is wearing the municipal utilities service worker's bright orange uniform waistcoat, is standing across the road, not far from the church. She is not on service today, but she prefers to stand aside. From time to time the daughter puts collected coins into her wide pocket.
The girl's mother, Irina, is 44. She sweeps streets without days-off, 12 hours a day – from 7 a.m. till 7 p.m. She has to ask her boss and even to "butter him up to go to the church on the feast day. "If I have to go somewhere, I have to bribe him by something, to buy cigarettes or deposit money on his cell phone. She is subordinated to the municipal public utilities service and the territory, she cleans, is quite large – she has to sweep crowed streets rather than calm yards. Her wage totals AZN250, but that's hardly enough for living, especially in view of the costs for the daughter's school, textbooks and the uniform.
Her daughter, Alena, is still in the second form, though she is already ten. The mother explains: "She had no documents, so she could not study at school. I gave birth to her in the street. It is not difficult to give birth, is it? Irina had no opportunity either to undergo registration in the prenatal clinic or to have a maternity leave, since she had to earn the living. She had been living Irina with her old mother till she was six. But when the mother died, she had to take little Alena to work and they were in the street the whole day – in heat and cold, on the roads.
Irina was lucky: she met a young girl in the neighborhood, who contributed to her fate and helped her correct Alena's documents. "At first she was not admitted to school; we were told, there were no vacancies, that her mental development did not meet the requirements and we were concocted a lot of excuses. But Alena went to the director's office and told her something, I don't know what exactly she said. The director came out and said "Come to school and choose any form you like!
Now, Alena studies and does not feel a lame duck despite the age difference with her classmates. She has made friends and studies well. Being asked if it was inconvenient for her to stand near the church, she responded in a childish inartificial manner: "No, I have got accustomed to it.
Despite the difficulties, Irina has no complaints: "The only thing I wish is that people were more kind and helped each other.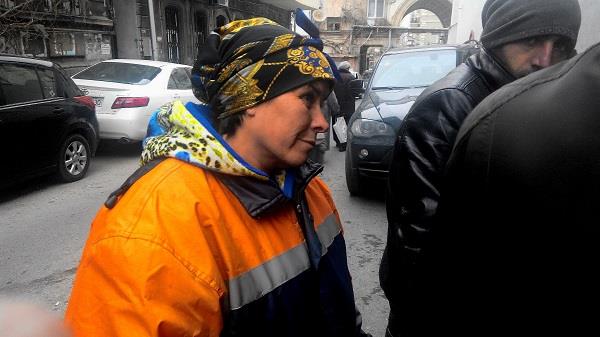 Crisis beyond the poverty boundary
According to Alexander Antropov, the head of the social service of the Archangel Michael Church in Baku, the homeless and baggers' life has become more difficult and they were the first to experience the impact of the crisis. "Earlier, they were donated 20 kopecks, but now they are given ten kopecks or nothing at all. They have to stand longer in the street. Having spent so much time in the street, they eat something and then go to a shelter to sleep. One could stay there at night for AZN1. Of course, there are no conditions there, matrasses are on the uncarpeted floor, but it is better than to stay in the open air.
Antropov says, the homeless people get out of the mess differently. They are not above stealing linens, that are put out to dry, which they sell at a knockdown price at the "flea market. They also collect bottles and usable things from the trash cans, help to wash cars, unload cargo.
When it is cold, homeless children and youth while the time in Internet-clubs: either sit at computers or simply sleep there. Sometimes they are lucky to get some food if they know, where it can be found: on certain days they watch over near the supermarkets, waiting for transportation of expired goods. The shop employees can give them a pair of cans or a package of expired food in exchange for their help to carry and load boxes to vehicle.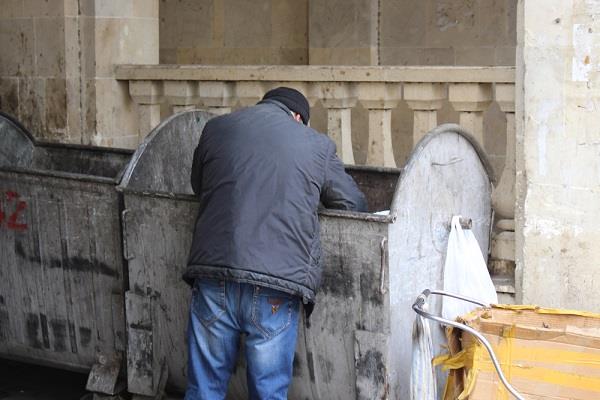 A strange couple
They seem to be ridiculous, when they are together – a crooked bearded old man, leaning on a stick and a stout woman in a shapeless coat and spectacles, who is standing aside. From time to time she approaches the old man, who awkwardly puts collected coins into her wide coat's pocket. Sometimes she says something strictly to him, checks him, sometimes she sets his cloths right.
Some time ago, there were reports in the social networks about this couple, saying the woman allegedly exploited the old man, beat him and took all the money. Besides, it was reported that there were several such persons under her "care.
One can't stand in the street for a long time in a cold weather, especially as the age and strength do not permit. Having stood for a certain period of time near the exit from the Akhmedli metro station (a residential district in Baku), the couple heads for the street crossing, then changes their mind and returns back.
Vendors near the exit tell: "We often see them. The old man, obviously, has "stuck to her and she takes him under her command. It is better not to interfere into this affair. It has turned out that the woman's name is Zoya; she calmly reacts to the camera and eagerly tells everything.
"Lyonya is my legal husband, he is 75. He is a disabled person of II degree. You can see how thick his leg is. It is bandaged as he has a trophic ulcer. Besides, he has a bilateral hernias, he can't stand straight. He receives a pension we can hardly live on, she says.
They have to stand in the street to collect money for a flat rent, food and necessary medicines. "Earlier, we had a flat, but we had to sell it to operate Lyonya, she added. "Besides, we need medicines; he has diabetes, every day we have to buy a tube of solcoseryl, rivanol, cotton and a bandage. That's why we are standing in the street to collect money for that stuff.
According to her, they do not stand for a long time, may be for half an hour a day. They try to be far from the police in order to avoid troubles; they have not had them so far. "If we learn that raids are conducted, we stay at home. That's why they do not stand in one place; they roam about different districts in the city suburbs.
In Zoya's words, they have no possibility to draft the disabled person's pension. The officials will demand money, she says and she has no energy to apply to different instances, complaining, brawling and trying to get a pension. "We did not stand for a long time, just for half an hour; we decided to go home, but Lyonya said: "Where should we go, look what a miserable sum we have collected. So, we had to return, says the 60 year-old woman. "I had counted on my pension, but I was told the pension age had been raised to 60, though it was 57 years earlier.
"The only thing I ask people is to leave us alone. I've heard, people say I allegedly exploit and beat him, nothing of that kind. We have to earn our living; we do not expect any assistance from anywhere. Several years ago a young girl came to us in Razino (Bakikhanov settlement in Baku), she asked whether we needed any help. I told her, we needed medicines and food. She promised to come and help, but she has not come yet.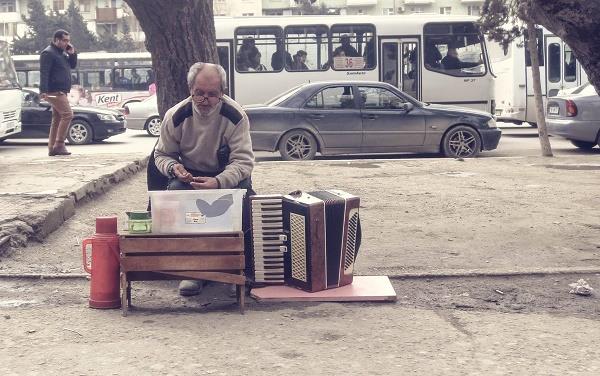 We know nothing about them
There are no statistic records on homeless and socially vulnerable people in Azerbaijan. Moreover, there are no public structures engaged in resolution of the homeless and vulnerable people's problems. In winter 2012, when there was a biting frost, the Ministry of Labor and Social Protection initiated organization of movable temporary shelters, where homeless people were provided with food, elementary medical aid and where they could spend a night. The initiative vanished together with the melted snow.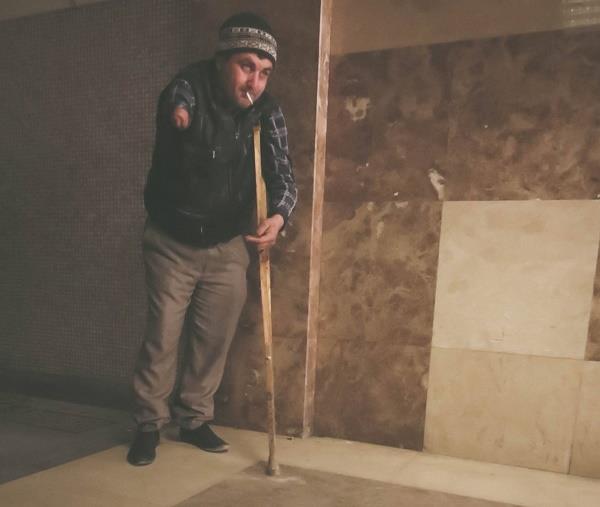 According to Eldar Alizadeh, Chairman of the public union "Assistance to the Human Rights Protection of the Homeless and Vulnerable Residents of Baku, homeless people are deprived not only of any physiological privileges, including food and stable overnight accommodation, but also of any kind of legal assistance.
According to the 2012 statistics, there are up to five thousand homeless people (rough estimates) in the country. Different NGOs, dealing with the vulnerable people's problems, report on higher figures.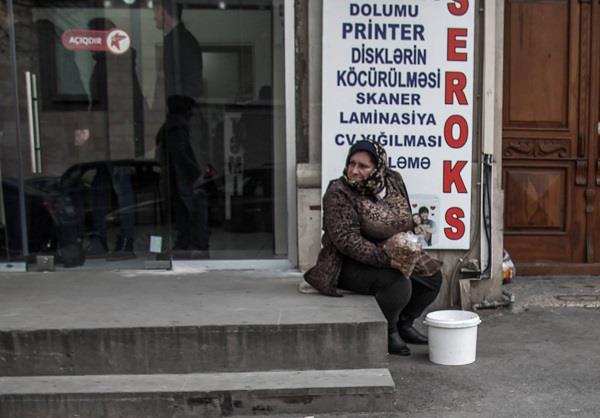 The same official structures in the name of the Ministry of Labor and Social Protection have not been provided with information on any plans of establishing permanent shelters for homeless people. The legislation does not provide for creation of shelters either. Sometimes, the bodies of frozen people are found in the streets in cold seasons. No calls in the emergency medical service have been reported – probably, the homeless consider it senseless.
Dayanat Rzaev, a psychotherapist, commented: "Although there are shelters for homeless people in many countries, there is no such practice in Azerbaijan. The reason for that roots into our soviet past, when existence of homeless people in the country, heading towards communism, was not officially recognized and some "elements were considered as asocial and immoral subjects. We have inherited it and today, the law does not provide for any assistance to the homeless and poor, because there are no official data on their existence.