Georgia. Natural disaster in Guria - landslide, houses flooded, minor killed
A landslide has occurred in Guria
There is a natural disaster in Guria. Bad weather has created problems in Ozurgeti municipality. As a result of heavy rains, residential houses were flooded, trees were uprooted and a landslide occurred.
According to the Emergency Situations Service, rescuers found the body of a minor in Jumati village. According to the Interior Ministry, rescuers found the body of another 80-year-old woman in Silauri village, while the search for another teenager continues.
Firefighters and rescuers of the emergency management service continue to work in the disaster zone. At the moment, the rescuers have found and brought to a safe place 11 people, including children and minors, as well as a citizen of a foreign country.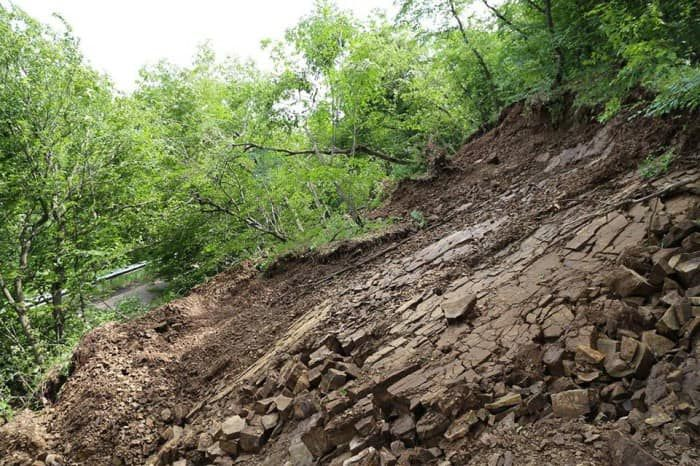 "The bodies of two dead have been found, the search for one teenager continues.
Representatives of various departments of the Interior Ministry are present in the disaster zone, appropriate equipment has been mobilized, work is being carried out in an active mode," the Interior Ministry said in a statement.
The agency urges the population of the region to refrain from moving and obey the instructions of the Interior Ministry representatives.
---
---
On August 3, a landslide hit the Shovi resort in Georgia, including the Sunset Shove Hotel. The overflowing river swept away a highway bridge. Two rescue helicopters flew in to help the population. Rescue work is still ongoing. According to official information, 24 people died as a result of the disaster.
According to the conclusion of the National Environment Agency, the cause of the tragedy was the coincidence of several natural geological and hydrometeorological phenomena that led to the formation of an extreme mudflow in the valley of the river Bubiskali.
In particular, the landslide processes were facilitated by climatic changes – the recent increase in air temperature led to intensive melting of glaciers and excessive precipitation.
As stated in the conclusion, although the formation of landslide processes was caused by the coincidence of many factors, but the catastrophe, which occurred immediately on the day of the tragedy, developed instantly. According to the conclusion, the widespread opinion that shortly before the tragedy in the river gorge was observed flooding, is not confirmed.