24 hours in Dubai
My friend and I finally arrived in Dubai, a blooming oasis in the midst of desert. Two young ladies with the backpacks and a huge bag with food, and, most importantly, water. After all, we traveled to a country where petroleum is several times cheaper than water.
We decided to experiment, whether it's possible to spend a vacation in Dubai at minimum costs and without hotel accommodations.
11.00
We were at the airport and were going to head from there directly into the city center, where the Dubai Mall, Burj Khalifa and the Dubai Fountain are located. We had to take a bus and get to the terminal, from which one can travel to the center by metro.
A travel fare in public transport here starts at AED3 (US$1)-that's the minimum. It may raise up to AED10 (US$3) depending on the distance. Taxi is another option, but it's more expensive. A passenger should pay a minimal sum just for getting into a car. Then the cost increases per kilometer and minute of waiting time. A minimal taxi fare from the airport amounts to AED25 (US$7).
On a side note, there are separate seats for men and women in Dubai public transport. Or, to be more precise, the women's section is separated, but women are allowed to stand in the men's area. The men, however, are less lucky; they will be imposed AED100 (US$27) fine for 'crossing the line. Though, if there are no standees in the men's section, and there are vacant seats in the women's one, even the fees can't prevent some bravehearts – they will take a seat and that's it!
12.00
We finally got to the Downtown Dubai-Dubai Mall shopping center. Shopping malls are the most popular landmarks in this city. Dubai Mall is regarded as the world's largest shopping center, with thousands of boutiques and firms, leisure& entertainment places, and, certainly free Internet.  You can walk around this place for several days, each time discovering something new, and even come across the snow, even though it's artificial one.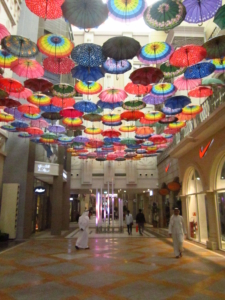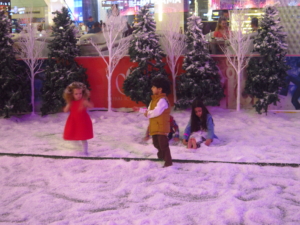 Shopping mall toilets are a real recreation area, with separate rooms for kids. By the way, there are similar rooms in the men's toilets too, since dads here are very attentive to their children, literally carrying them in their arms and entertaining them, while their moms do shopping.
We wanted to leave our luggage somewhere just to travel light. Proceeding from the past experience of traveling to Europe, we thought about leaving the bags in the supermarket storage area, but … it turned out that there is nothing of the king in Dubai. Here, one will be chopped off his hands for theft- stealing is unacceptable here. So, you can leave things wherever you want, and we made sure of it.
By the way, we visited the neighborhood where gold items market is located, which, oddly enough, is considered as a less prestigious place. Here, the jewelry stores are scattered at every corner; there are all sorts of eye-catching gold jewelry on tatty shop windows. Among them are heavy necklaces, weighing several kilos and costing millions of dollars, not to mention the diamond necklaces. None of these stores have special security systems. We were told that this is not necessary: the strictest punishment excludes any possibility of theft.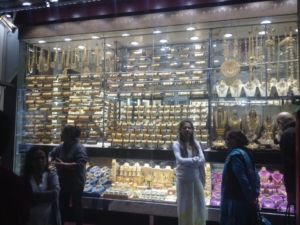 13.00
We were still in Dubai Mall. At first we were worried, whether we would be able to wear open-shoulder tops and above-the-knee skirts. But then we realized that side by side with the women, completely wrapped in black clothes, there were tourists freely walking in rather open and even transparent attires. And, most importantly, it looked quite harmonious, and everyone felt comfortable in his/her clothes. Arab women mostly wear black clothes, whereas the men wear white. And there is even the 'Black and White' sculpture in Downtown Dubai.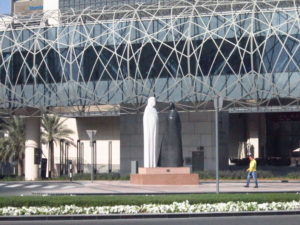 On a side note, for the sake of tourism development this country is ready to 'turn a blind eye' to the centuries-old traditions and allow tourists to wear things that are unacceptable for the locals. When strolling down the streets we never found ourselves in an awkward situation: even in the most remote areas, even at late hours, even when we were all alone-we never felt ourselves in danger. Later we learned that a mere touch to a woman here may result in fatal consequences for a man; he may be even deported. 
13.30
Finally, we left the Dubai Mall and headed to the sea. We, the tourists who escaped the winter cold of Yerevan, were longing for the summer sun. My phone map showed that the sea was just 3 kilometers away. We decided to walk around and explore the city center. But not a bit of it – just forget about taking a walk in Dubai.
It's usually too hot here (about +500C).Therefore, everything has been arranged here so that one can get from one place to another through closed and air-conditioned premises. Even the bus stops here are closed and air-conditioned. And our route considerably stretched out, since we had to bypass numerous highways (there is a rather heavy traffic in Dubai-everyone here travels by car).
17.00
At last, we reached the beach, but it was already rather cold. Yet, we managed to lie down there for a while and relax. And the sea brought tranquility. It was getting dark, so we had to find a place to stay for a night. There was no chance to sleep on the beach: there were signs warning against it. So, we had to find some other place. For a start, we decided to return to the Dubai Mall, which is open until midnight.
21.00
We asked at the information desk, whether there was any night club in the vicinity. It turned out that there was 'Armani' club with free entry for women, just a short distance away, in Burj Khalifa.
We called and booked a table (you won't get there otherwise) and then started preparing. The club dress code required high heels, which I didn't have. So, I had to hunt through the shops in search of a pair of cheap high-heel shoes. It cost me AED40 (US$11). Then I was ready to go to the club.
01.00
Having been checked our names on the list, we were let into the world's tallest building – Burj Khalifa. Our hopes to meet the locals there did not come true. It turned out that the Arabs take rest in absolutely different localities, where the visitors, by the way, aren't allowed in.
On a side note, the local indigenous people represent a minority in their own country. The majority of people employed here are foreigners – migrants from India, Pakistan, the Philippines, and 90% of them don't speak Arabic.
English is the prevalent language for communication in the United Arab Emirates (UAE). Even the locals in shops and cafés have to speak English, since the personnel don't speak Arabic. This, however, hasn't prevented the locals from creating a 'developed feudalism' with a set of laws, under which they are the only masters of their country.
None of the foreigners can feel themselves the full-fledged citizens for a simple reason – only those, who are Emirati by blood are eligible for UAE citizenship. Even the children from interracial marriages aren't granted citizenship by default.
02.00
All the men present in the club tried to show off their financial capacity. In particular, the champagne fireworks were ordered for this purpose. To imagine, how much it might have cost, you need to know that a glass of juice here costs AED40 (US$ 11), and a bottle of water – AED30 (US$ 8).
03.00
The club personnel politely saw us off the premises, smiling- the club was closing like everything else in Dubai. We found ourselves in the street again and there were 4 more hours left before the dawn.
We indifferently passed by a comfortable bus stop, because it's prohibited to stay there at night.
By the way, during the night stroll we met a young lady from Philippines, who told us about the problems she had been facing for walking hand in hand with her Arab boyfriend in the street. Police check those, who walk hand in hand to make sure they are spouses. Otherwise, a couple will be fined. In her words, the reason is that many Filipino girls dream to become the second or even the third wife of an Arab man.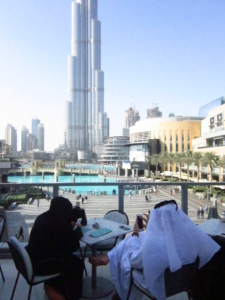 04.00
Having walked for an hour, we finally found a round-the-clock pizzeria, where we saw the sunrise with a slices of pizza and a cup of hot coffee, bought at the nearby supermarket.
In the morning, we finally checked in the hotel and the only thing we were dreaming about was to sleep ourselves out. And we reached our goal-to live a day without hotel accommodations and spend next to nothing.
Whereas upon our return to Armenia, we decided to conduct one more experiment … So, our relatives were watching with surprise the two young ladies in black niqabs, who were approaching them in the airport, and they didn't know which language to address them.