10-year imprisonment for graffiti
An inscription 'Happy Slaves' Day!' on Heydar Aliyev's monument appeared on the eve of the ex-President's birthday, May 10 this year. Qiyas Ibrahimov and Bayram Mammadov, the young activists, whom the scandalous graffiti inscription has been attributed to, were arrested on drug trafficking charges. On October 25, Qiyas Ibrahimov was sentenced to 10 years in prison.

It is noteworthy that shortly before that, the public prosecutor requested 9-year sentence for Ibrahimov.

On social media, the young activist is referred to either as the 'monument's prisoner' or the 'graffiti prisoner'. After the verdict was handed down, an ill-fated inscription has appeared on some other walls throughout the city.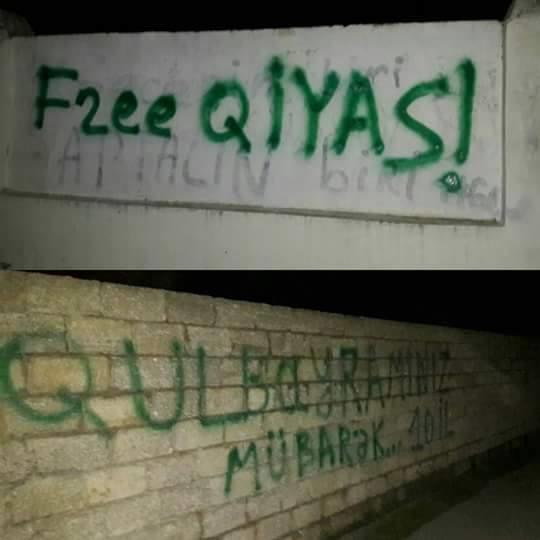 "Those rascals are afraid of a 22-year-old student, Khadija Ismail, a prominent journalist and former political prisoner, wrote on her page on social media.
"After spending six months or a year in prison, he will get out as a famous rebel. He will be pardoned. It's a conveyor method of producing 'oppositionists', one of the Facebook users' post reads.
"I'm proud of my son, Qiyas is a good guy. 10 years are nothing for him. Ilham Aliyev deprived my son of 10 years of his life in order to put his own son on this post, says Shura Ibrahimova, Qiyas Ibrahimov's mother. "Never mind, there are still many such children like Qiyas. His name will remain in history even if he's no longer alive.

According to Elchin Sadyqov, a lawyer, the trial was 'political from start to finish', there were numerous violations. "In disregard of the law, the court ruling was handed down at the closed session. In addition, Qiyas was threatened by the detention facility administration, says the lawyer. And also, according to Sadyqov, the defendant was seized the text of his speech at the final hearing. Sadyqov intends to seek release of his client.
A never-before-seen practice has been applied in Azerbaijan. The punishment, that has been imposed today, exceeds the one demanded by the public prosecutor, Rasul Jafarov, former political prisoner and human rights activist, wrote.

Rashadat Ahundov, ex-political prisoner and activist, witnessed the last court session himself. In his words, when during his final speech Qiyas said: 'I shouldn't be here', he was interrupted by the Court Chairman, Enver Seyidov himself, who laughed and asked him: 'And where do you think you should be?'
In his final statement Ibrahimov stressed: "I see no point in defending myself against the accusations against me. Everyone, who has a conscience, knows that the actual reason for my arrest was my protest against the havoc and chaos in the country, my civic protest as a youth, in general. I haven't violated any written laws. However, the system has its unwritten laws, under which slavery is presented as freedom. Once you violate these unwritten laws, it's hard to avoid a 'punishment'. Those, who have violated the unwritten laws, are arrested on slanderous charges. We are often told: it's you, who have driven yourselves into the well. We know that petty well. We have driven ourselves into the well, because we hoped, we could find water there and wash away that dirt. We could get drowned, but we are hopeful to find that water.

The pro-governmental Mass Media presented the arrest news as a regular report on court ruling, emphasizing that the convicted person was a member of NIDA youth movement and giving a detailed account of the charges brought against him: production and organized sales of narcotic drugs. There was no mentioning of any monument inscription at all. Even haqqin.az, which usually condemns the opposition in a stormy way, was very concise this time.
Amnesty International, Human Rights Watch and other international organizations have condemned the court ruling, referring to it as 'a political' and 'antidemocratic' one. In response to a court in Azerbaijan sentencing a 22-year old to 10 years imprisonment for writing "Happy Slaves Day on a monument of the late president Heydar Aliyev – father of the country's current president – Freedom House issued the following statement:
"The prison sentence for 22-year old Qiyas Ibragimov followed his being tortured and being found guilty of bogus charges of drug possession, said Robert Herman, vice president for international programs. "The government is intolerant of dissent or free expression of any kind, demonstrating its fear of public opinion.
Published 26.10.2016