Off the Coast of Karadeniz
A small tea café in old Batumi has been overcrowded since morning. It's a sunny Saturday and the regulars frequenting the tea café have gathered at a table on the sidewalk.
Some of them are sipping tea from thin glasses brought from their homes and entertaining themselves by reading newspapers. Others hide from the sun's burning rays inside the café, where card and domino games are in full swing.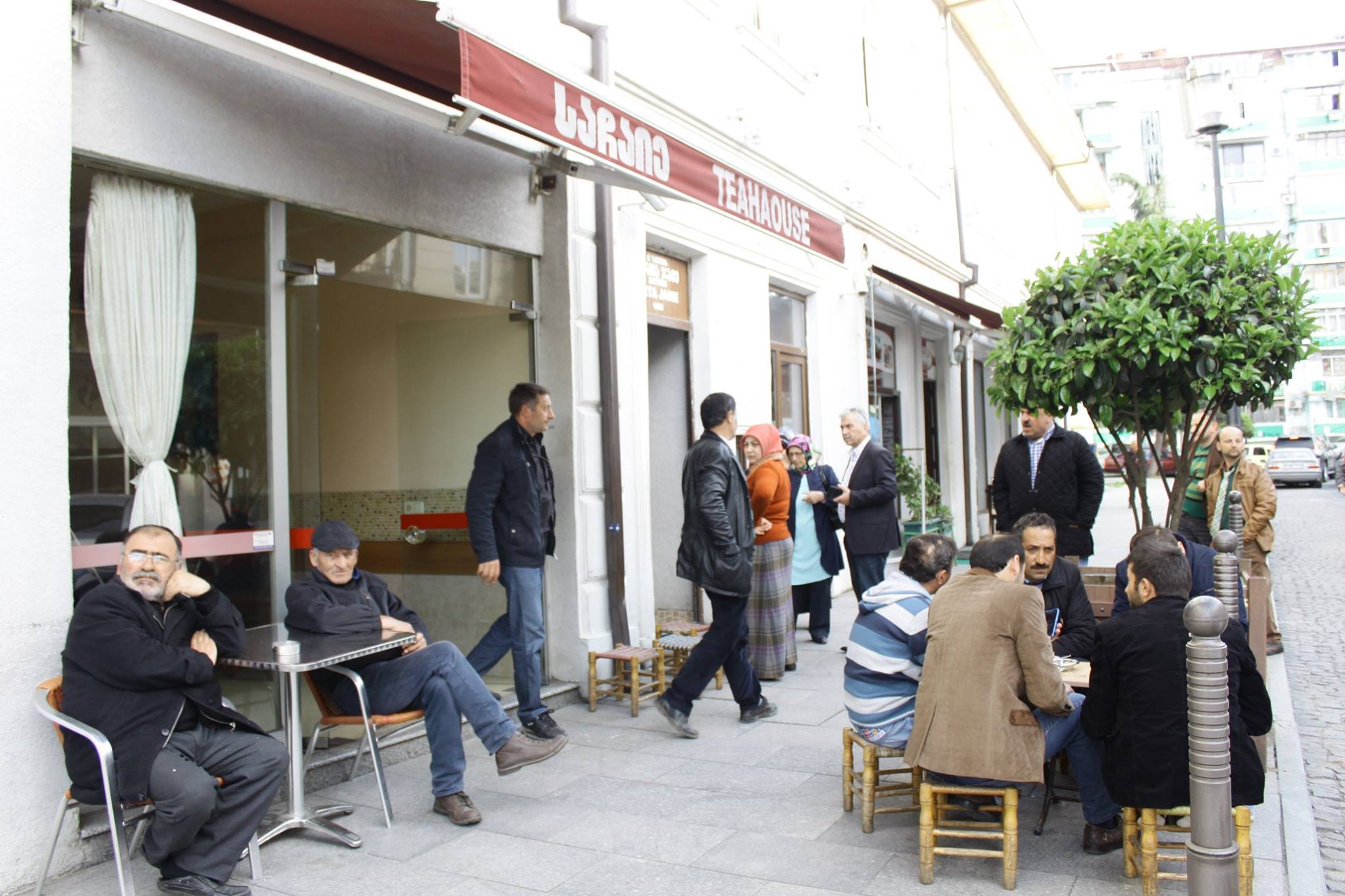 Yalcin Ibraimoglu is not playing together with his compatriots. He is sitting in front of the café, looking for clients to purchase his brand new cars. He has been living in Batumi for eight months and earns a living by importing and selling cars.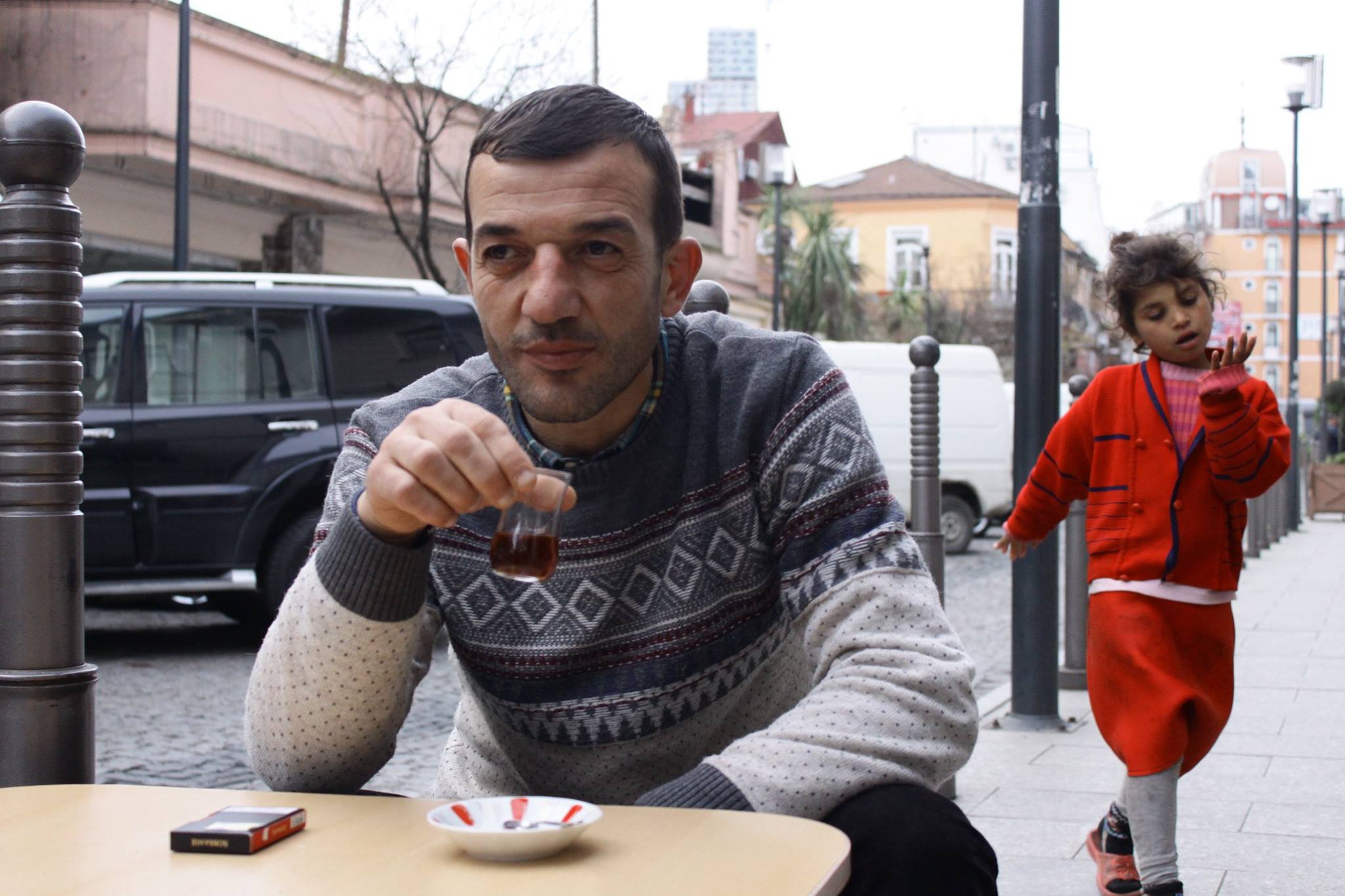 Yalcin Ibraimoglu, in front of the café in Kutaisi street, the so-called "Turkish town"
'Before I came here, I was working in a truck, delivering goods and travelling from one country to another. At first I arrived in Batumi as a tourist, and then I followed my friends' advice and decided to move here. I was told that it is easy to do business here. I decided to try my hand at it – maybe I'll get lucky,' says Yalcin.
Yalcin's parents run a construction business in Istanbul. He is also thinking of becoming involved in a construction business in Batumi. At this stage, while he is still waiting for the Justice Ministry to issue him a permanent residence permit, he spends his pastime communicating with his compatriots and drinking tea on Kutaisi street in Batumi.
Locals call Kutaisi street and the adjacent area the 'Turkish town'. There are dozens of Turkish restaurants, cafés, tea-shops, supermarkets, beauty salons, hotels, discos and poker clubs on this street, which is just a 2-minutes walk from the sea port in the old part of Batumi.
[YoutubeVideo_0bdb1ce40115437f8e2513f1924653d2] 

'Turkish town' in old Batumi brings together Turkish people, who either live here or are visiting the place as guests. What also makes this place attractive for Turks, alongside many entertainment facilities, is Batumi's main mosque, from which the sounds of prayer can be heard every day.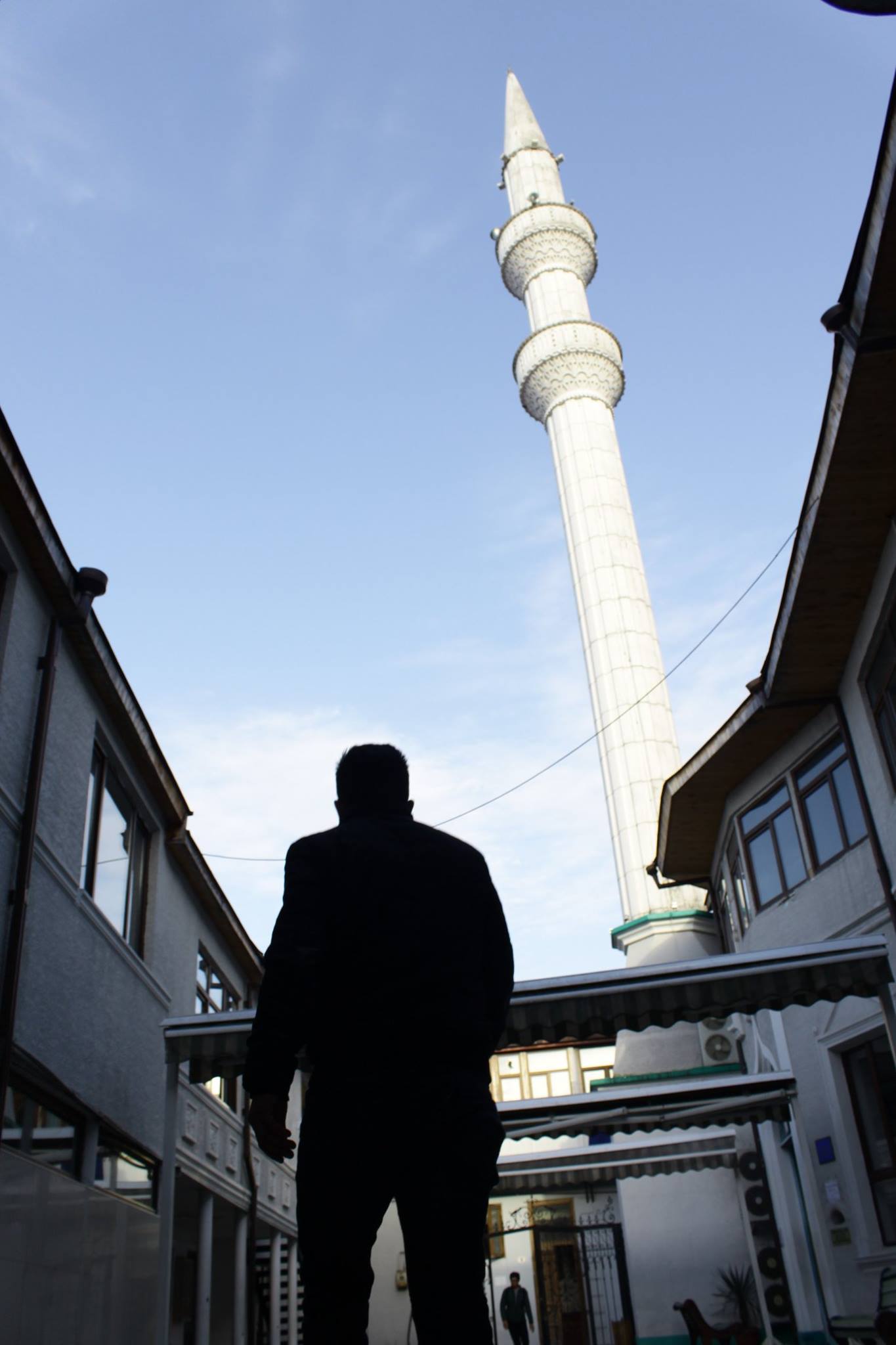 Batumi Orta Jame Mosque in Kutaisi street
When going down this small street it feels as if you are in Istanbul. "Hoşgeldin" exclamations, Turkish music and the smell of shawarma in the air add more acuteness to this sensation.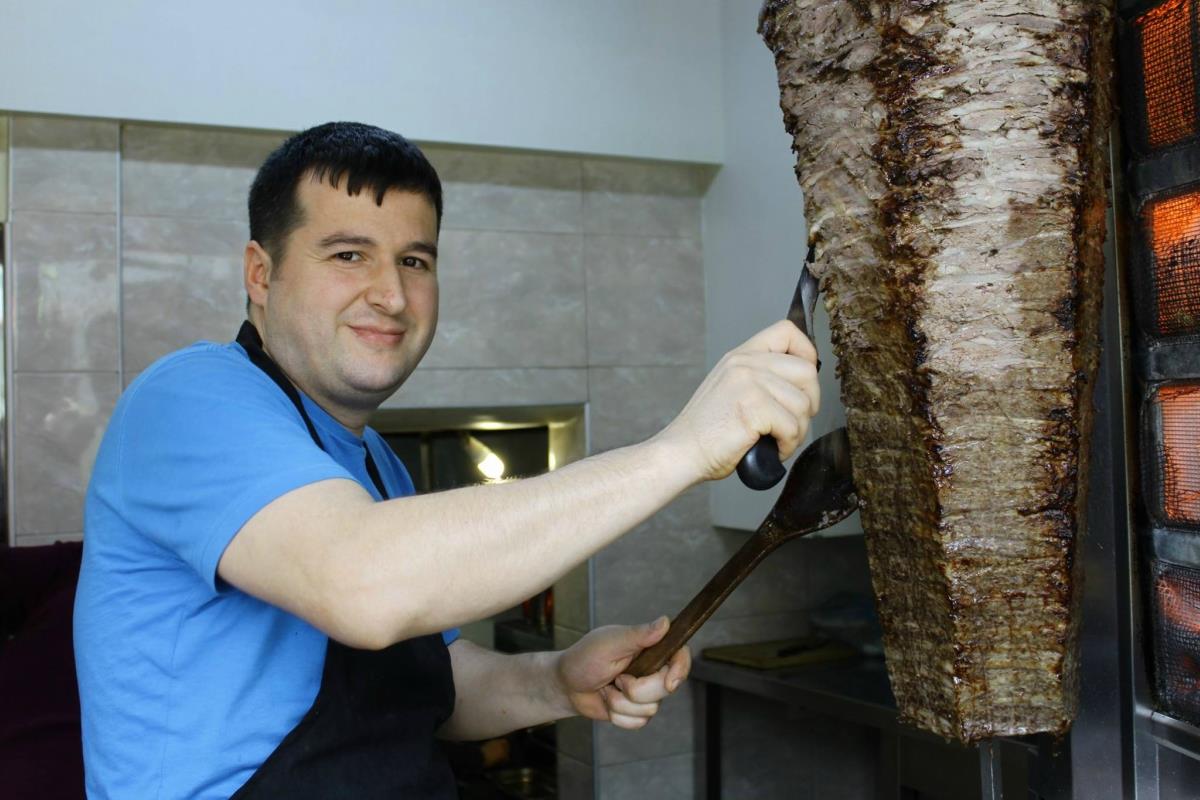 Suleiman – Georgian chef at 'Karadeniz' restaurant. He claims, his shawarma is the best in the city
The majority of the facilities in 'Turkish town' are owned by Turks, whereas the personnel are Georgians. Among them are Muslim Meskhetians, who have come to the country to do business.
'There is a very good system in Georgia. Once you pay taxes, you have no problems. There is a very tight-knit team in my restaurants, and we are like one family. This is my home,' says Murad Ozgencil-Genjalogli, 45, owner of the 'Karadeniz' restaurant.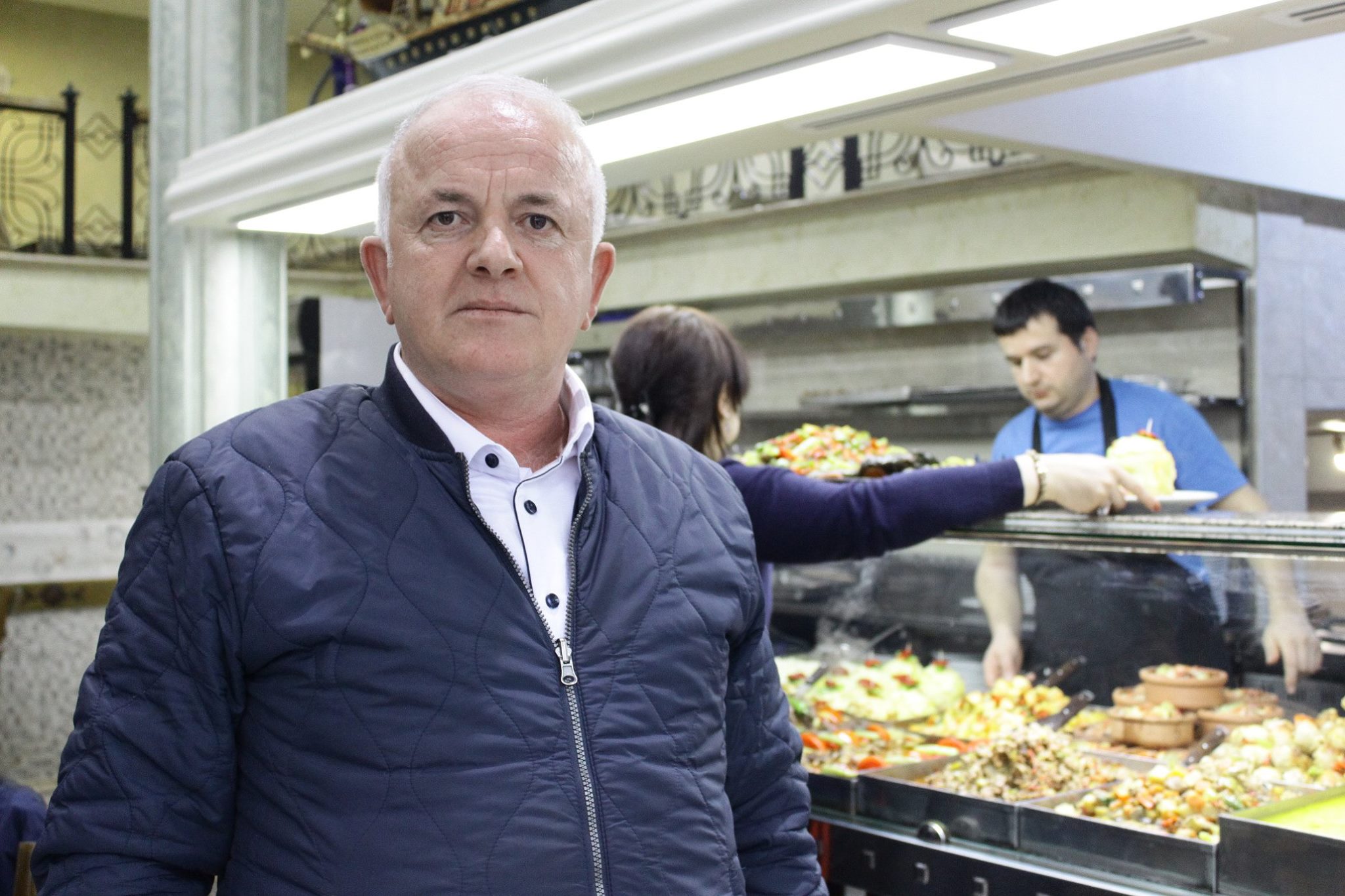 Murad Ozgencil-Genjalogli, an owner of 'Karadeniz' restaurant. Karadeniz is a Turkish word for the Black Sea
Murad is of Georgian origin. His ancestors had been living in Turkey for over one hundred years. He and his seven siblings also grew up in Artvin. He had to overcome many difficulties before he was able to achieve financial success. At the age of 11, he was already working at a construction site, carrying heavy loads, although, in his words, that experience taught him the value of labor. Apart from the restaurant business in Batumi, he also runs a business in Turkey, where his family lives.
'I was dragging a cart since I was 11 and I know the value of labor. I am 45 now and I have never had a 15-day vacation in my life. I come here at 7 or 8 a.m., then I go to the market and stay there till midnight. We have had to go through such hard times … there was neither wheat nor corn and my mother had to bring them from Abkhazia to put them out for sale,' says Murad.
Murad's restaurant,'Karadeniz', which is translated from Georgian as 'the Black Sea', is a very popular place on Kutaisi street. As the restaurant owner proudly says, Georgians, including local government officials, are also frequent visitors there.
Murad opened his restaurant and was granted Georgian citizenship in 2009. He now spends two days a week with his family in Artvin, and the rest of the time in Batumi, at his restaurant.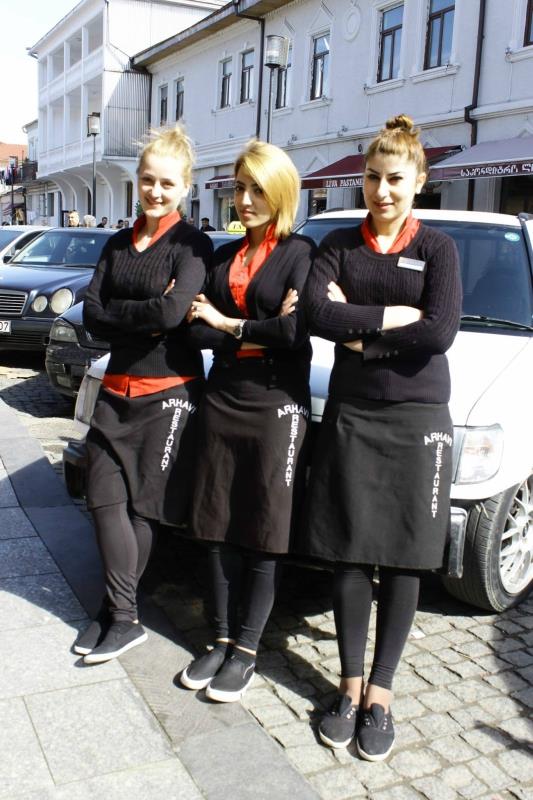 Turkish restaurant personnel catching a few sun rays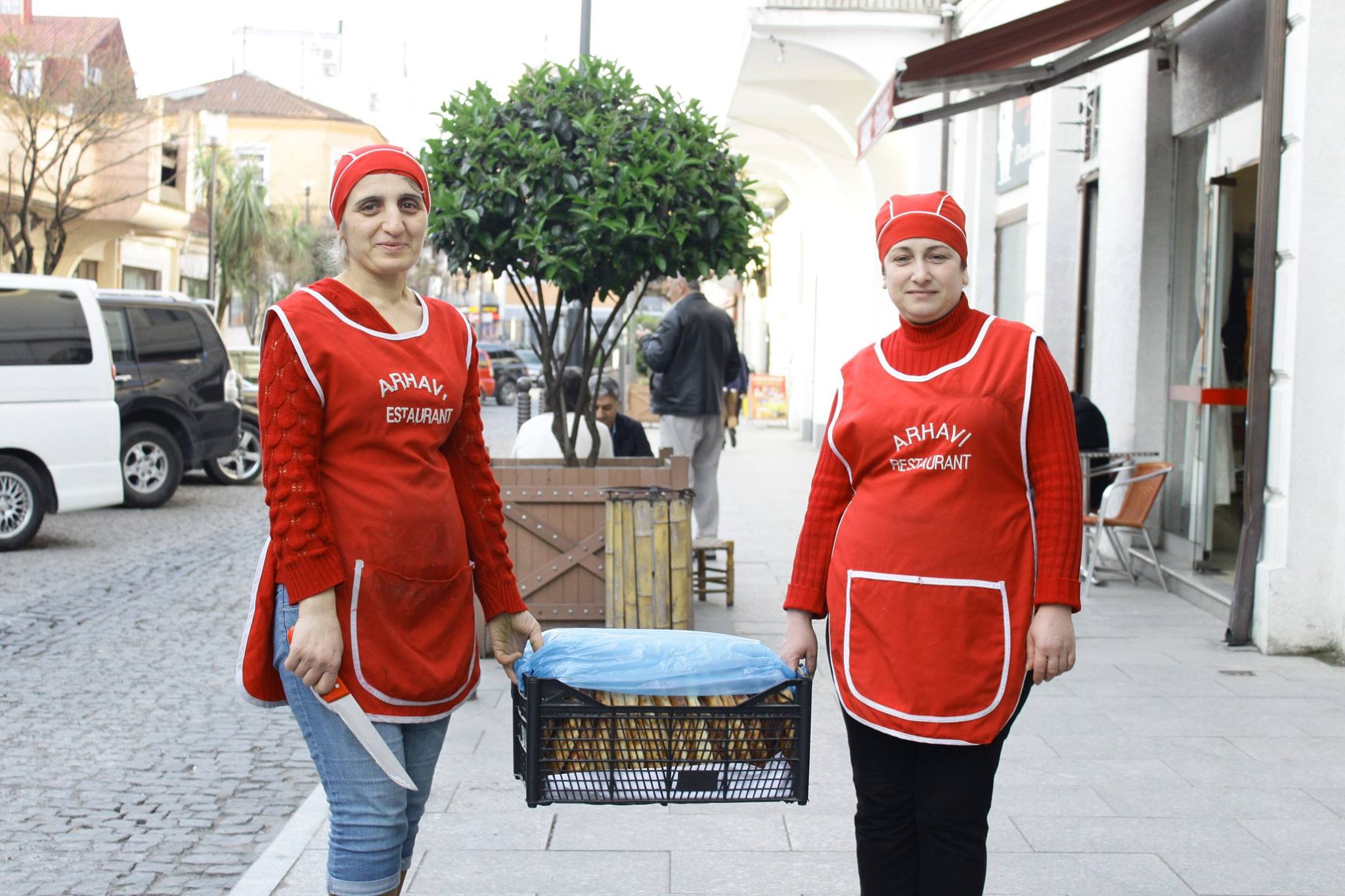 Because the street is located in the vicinity of the sea port, there has always been ethnic diversity here. Greeks, Armenians, Russians, Azeris, Georgians and Jews used to live here side by side for many years.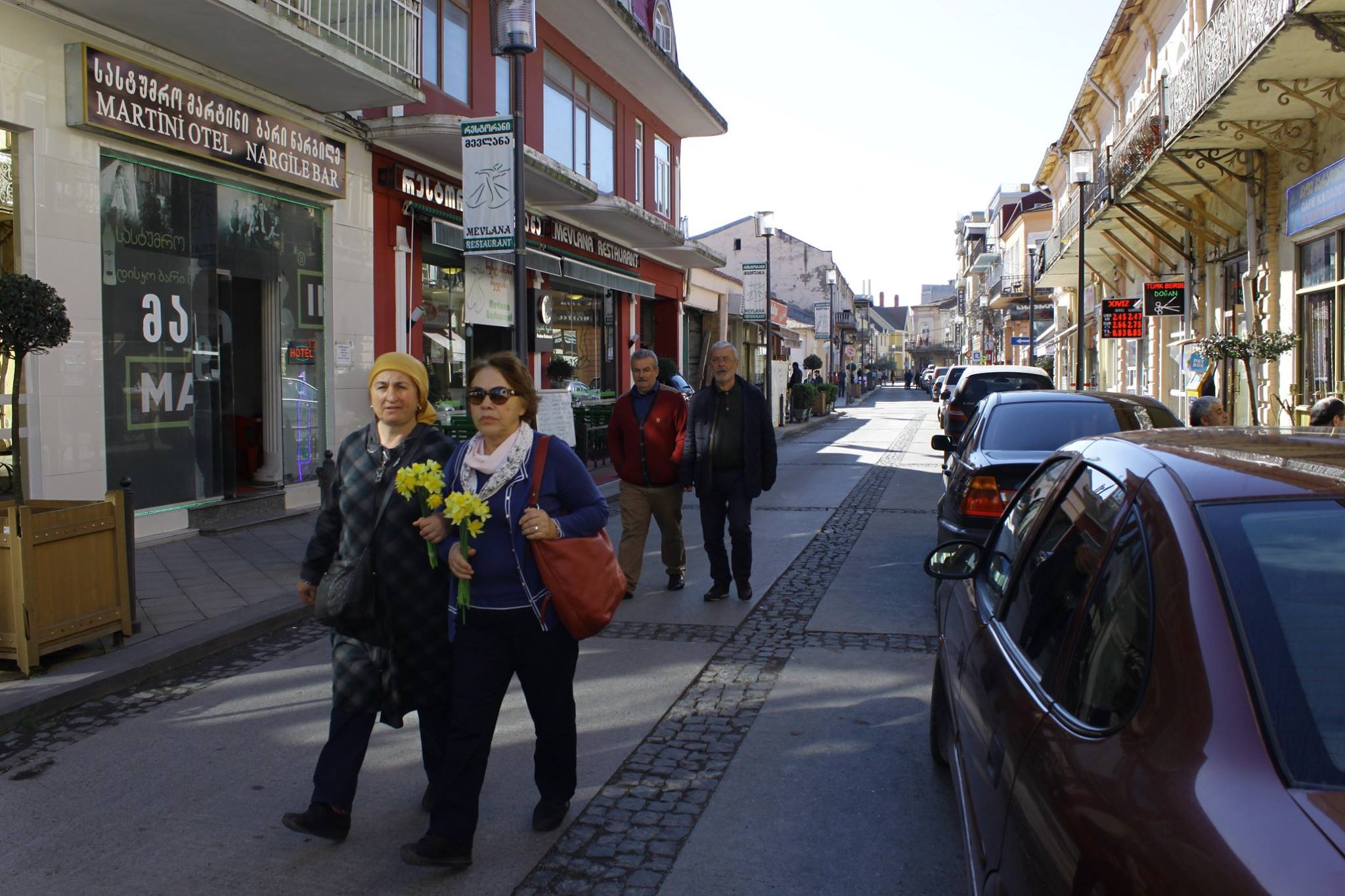 Tourists from Turkey in the Turkish district
However, after the 1990s, people of different nationalities started to gradually leave this area. The construction of 'Turkish town' was launched in 2003. Turkish restaurants, hotels, poker clubs and other entertainment facilities popped up here like mushrooms.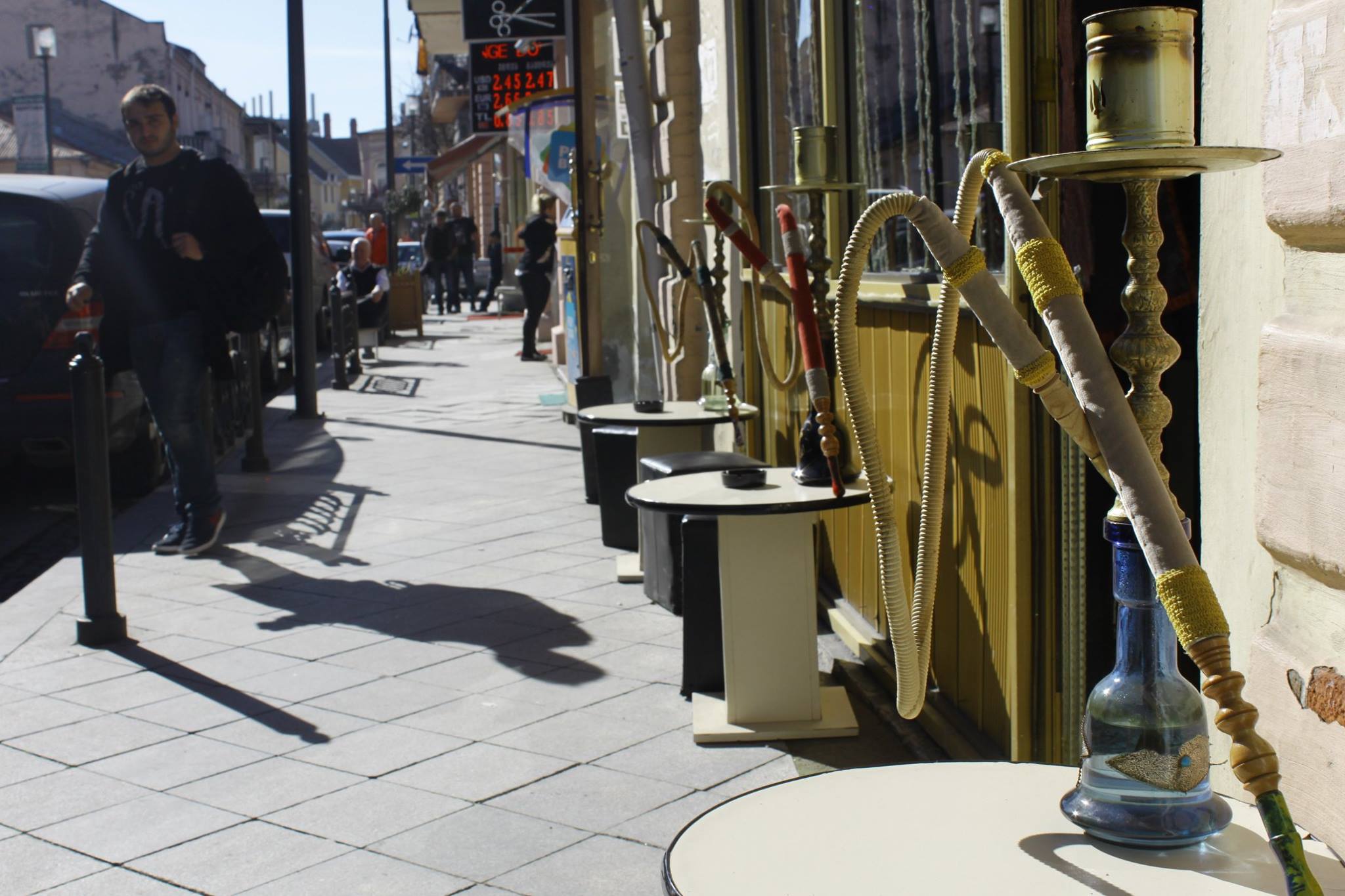 A Hookah is a necessary tool here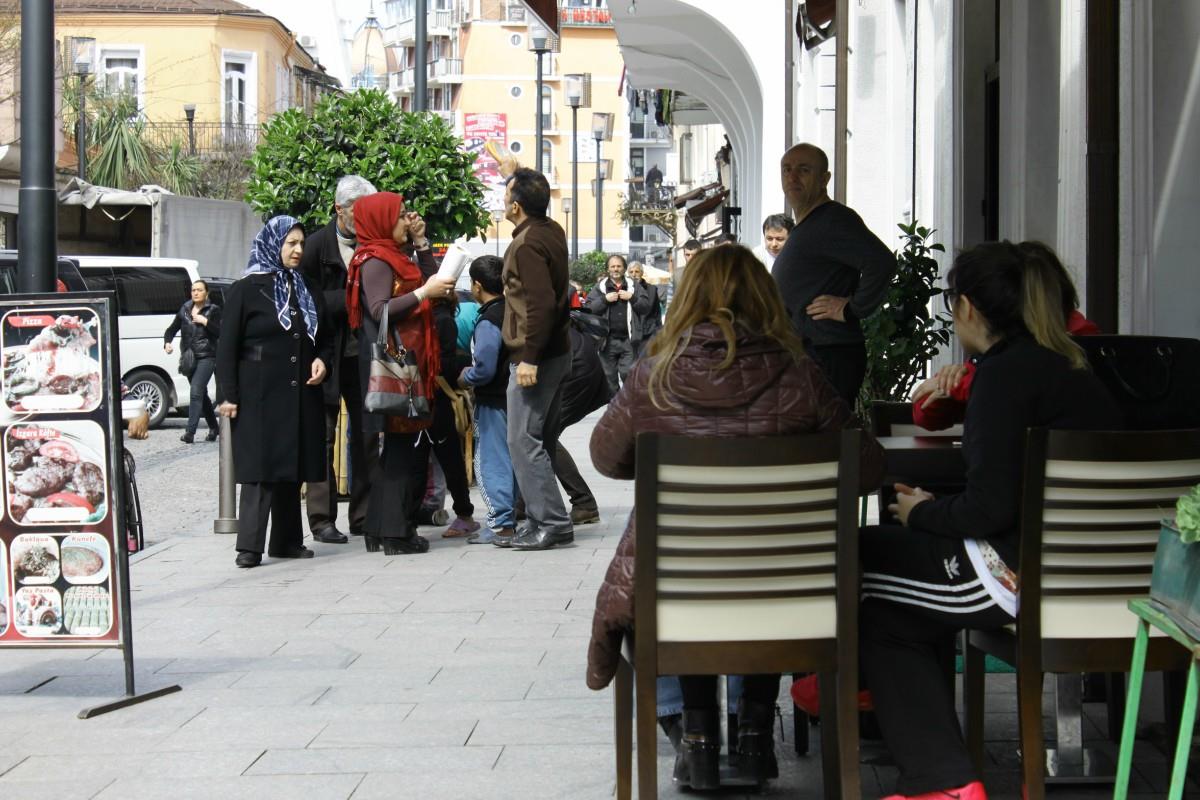 Sunday in the "Turkish town". Turkish guests outside the tea café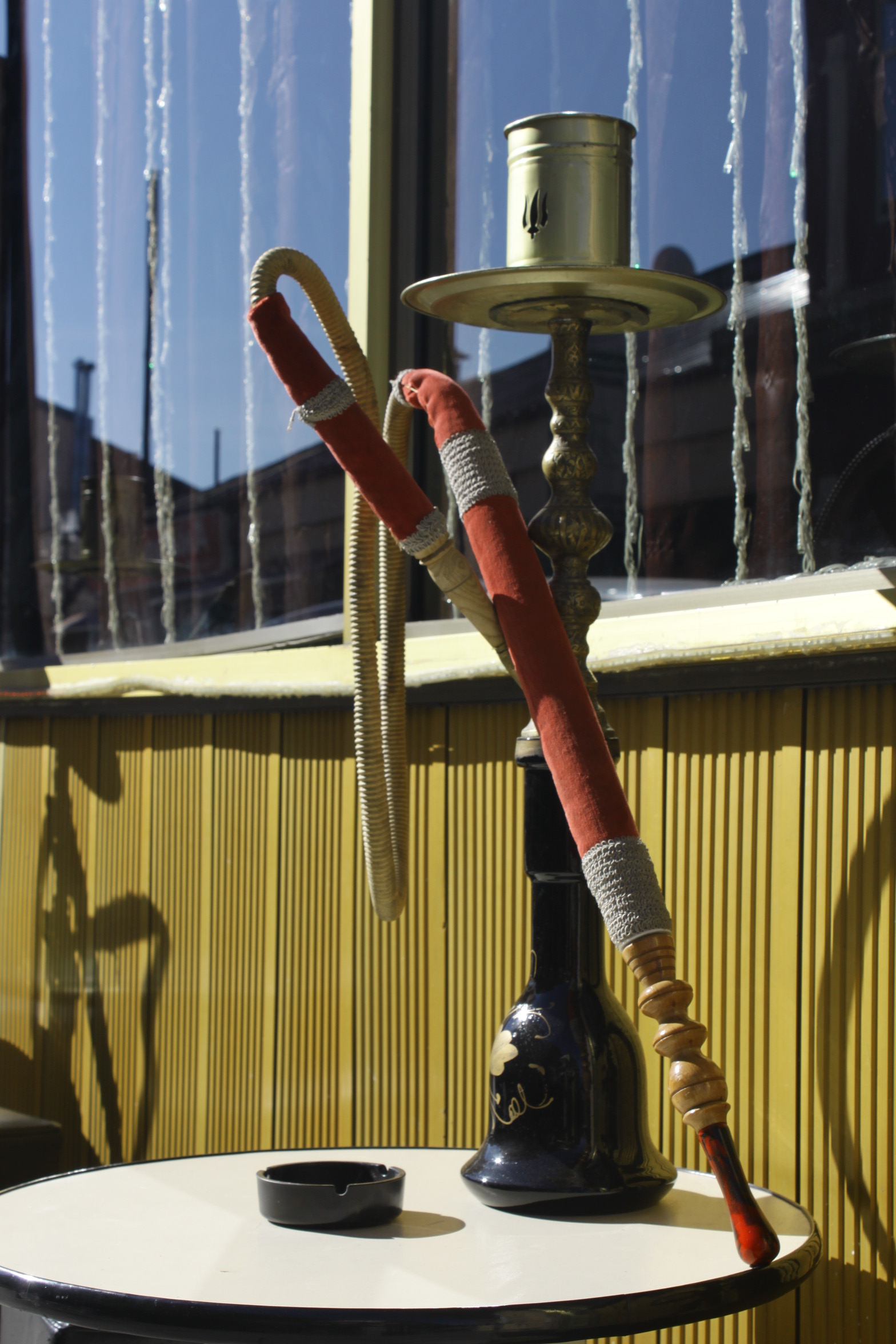 Discontent among the locals, along with the number of claims submitted to Batumi City Hall, also gradually increased. People still look with suspicion at the rapidly growing number of Turkish facilities.
'I've been living here for 45 years already. Because of its proximity to the port, there were a lot of people of different faiths and nationalities here, but they never bothered each other. Whereas now, it is simply impossible to go outside at night. They behave defiantly, literally jumping at one another in public. When I go home, I take a bypass road to avoid encountering them,' says Makvala Jijavadze, 75, when describing visitors of hotels and discos.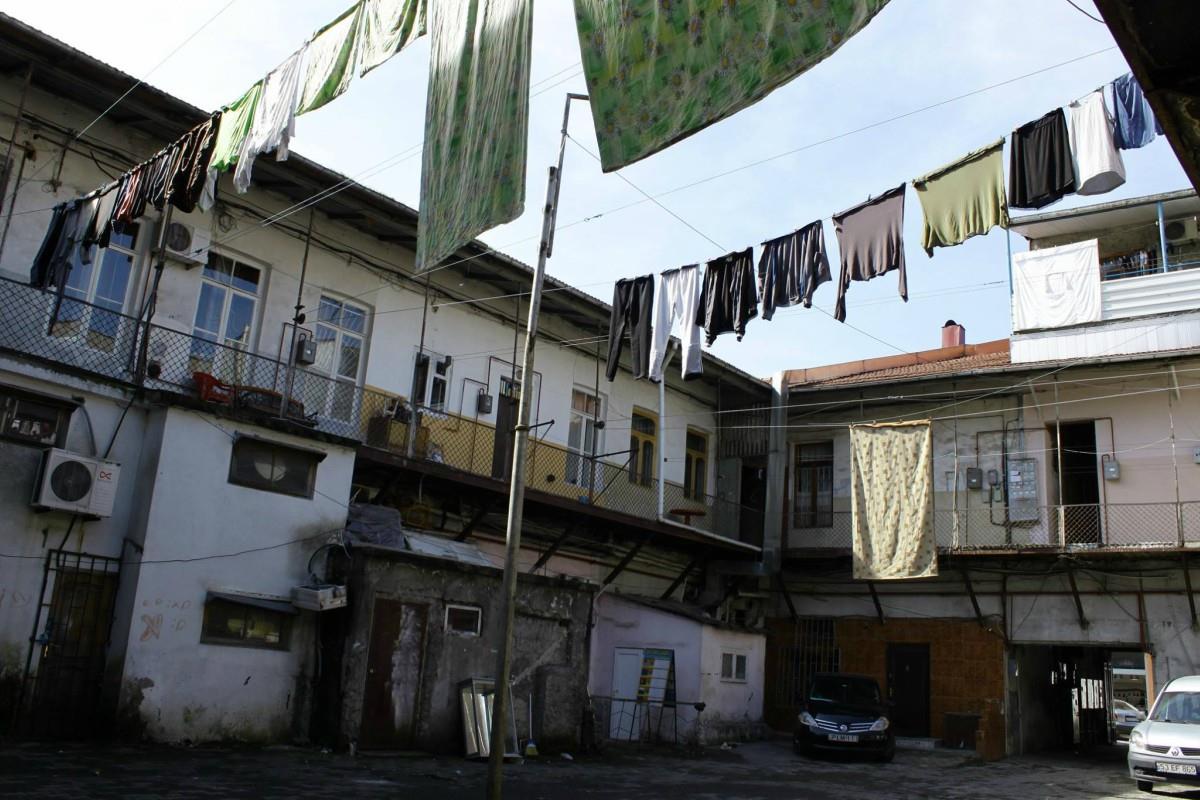 This house with Italian courtyard is located in front of the 'Turkish town' on Kutaisi street. Local residents complain about the noise coming from the Turkish bars and restaurants
Ahmed Kadidze, 56, points out the same problems. He has been living in a cozy house with an Italian courtyard on Kutaisi street for over 20 years. In his words, he knows many Turks and is even on friendly terms with some of them. However, he also makes no secret of his displeasure towards them.
"Our street was the quietest and coziest one in this district. It used to be a place where one could relax. One would freely let his wife and children go outside without being afraid of someone taking liberties with them. Whereas now, one is afraid that someone may look at them askance,' says Ahmed.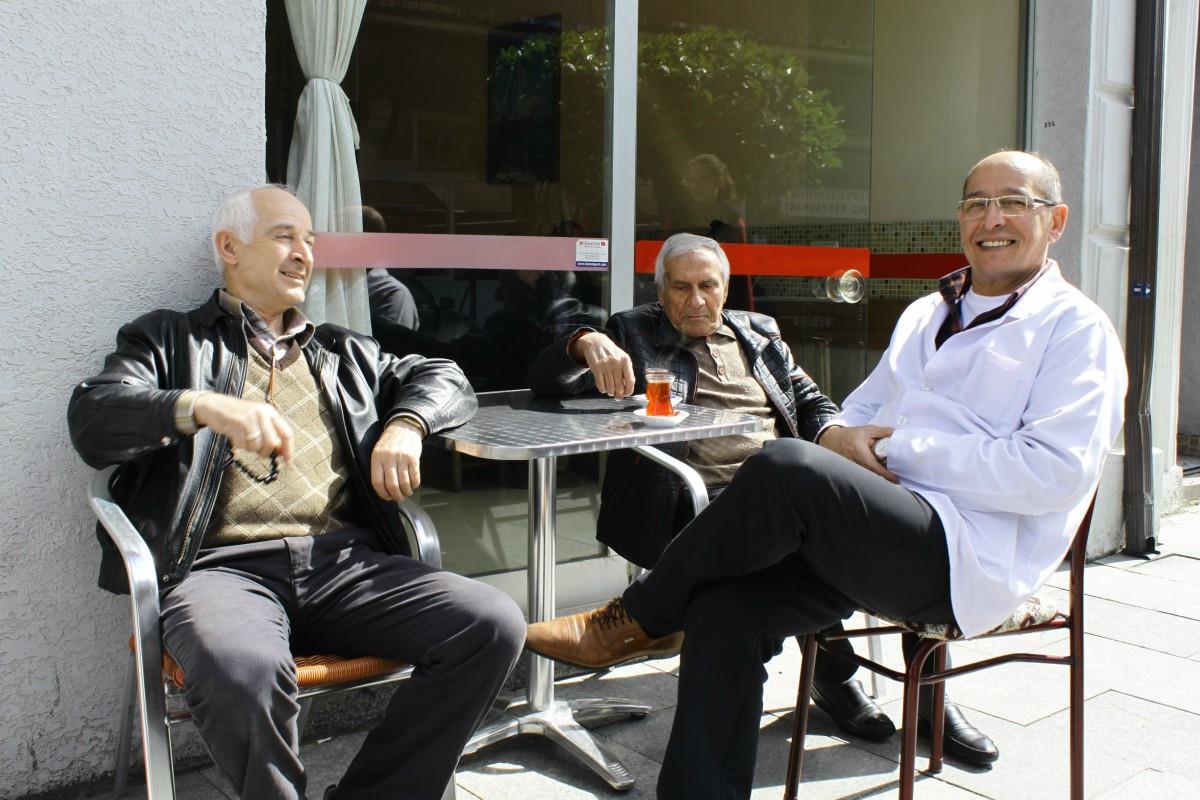 Recep Aydin Baramidze, an owner of the butcher's shop. He has been living in Ajara for 10 years.
Turks whom we have talked to say they understand the reasons for local residents' discontent. Aggression could often be felt, though there have not been any conflicts yet.
'Well, you know what the problem is? Imagine how you would feel if you live upstairs from me, and I have the music turned up all night which could be heard one floor down? We do not even sell alcohol to avoid drunkards making noise here. Only 20 out of 100 Turks are ordinary, the rest of them either play dice in the neighborhood or arrange noisy discos. I don't like that,' says Murad.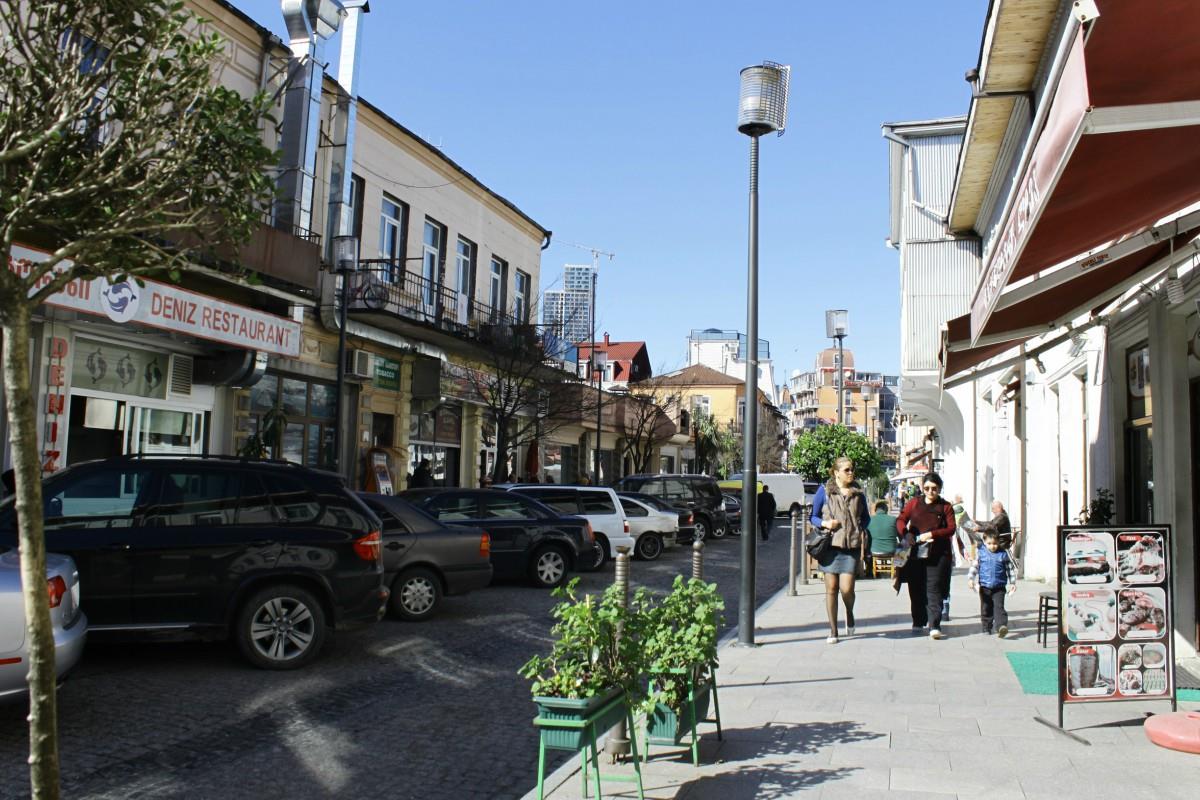 The facilities on Kutaisi street are mostly leased by Turks and Meskhetian Muslims. The street residents hope that one day Georgian owners of the commercial areas will take into account their neighbors' opinions and stop leasing them to Turks.
'I understand that the locals will hardly be able to pay my neighbors such a high lease fee in dollars, but I still hope that they will take our opinion into account. I hope I will not have to move to another apartment and let the Turks live happily here ever after,' says Makvala Jijavadze.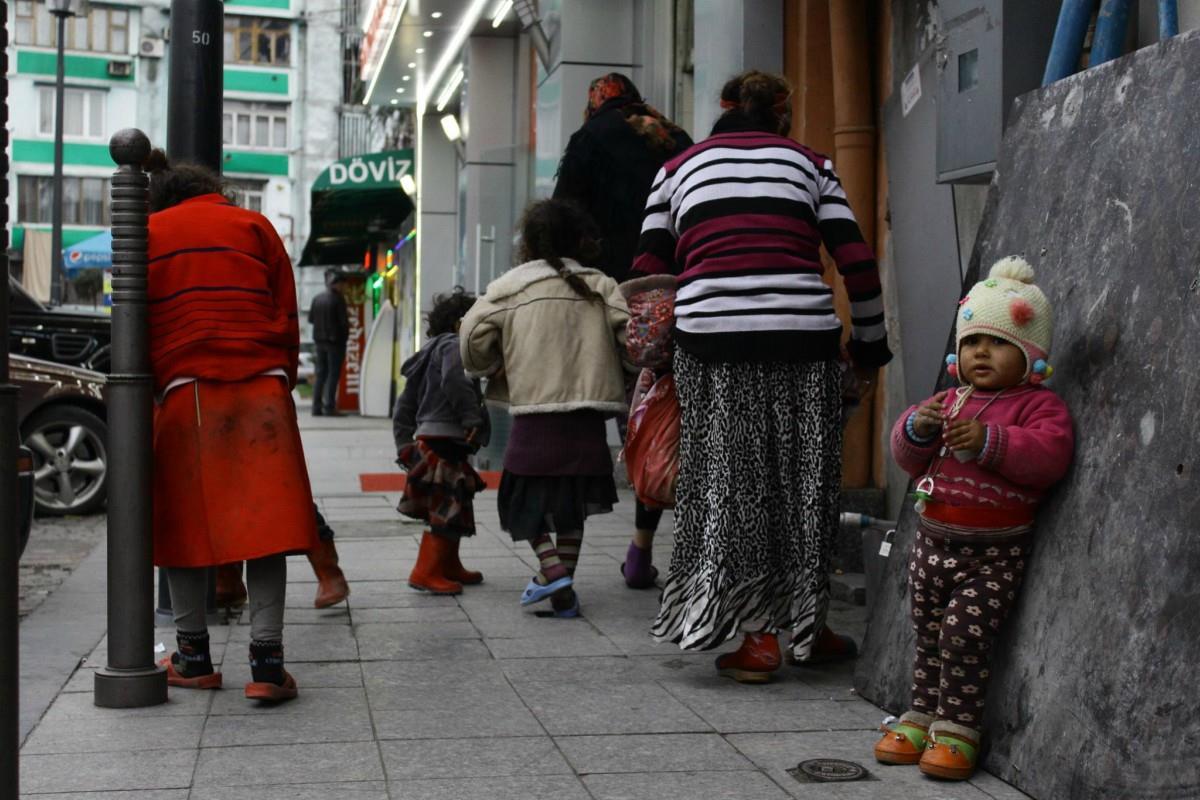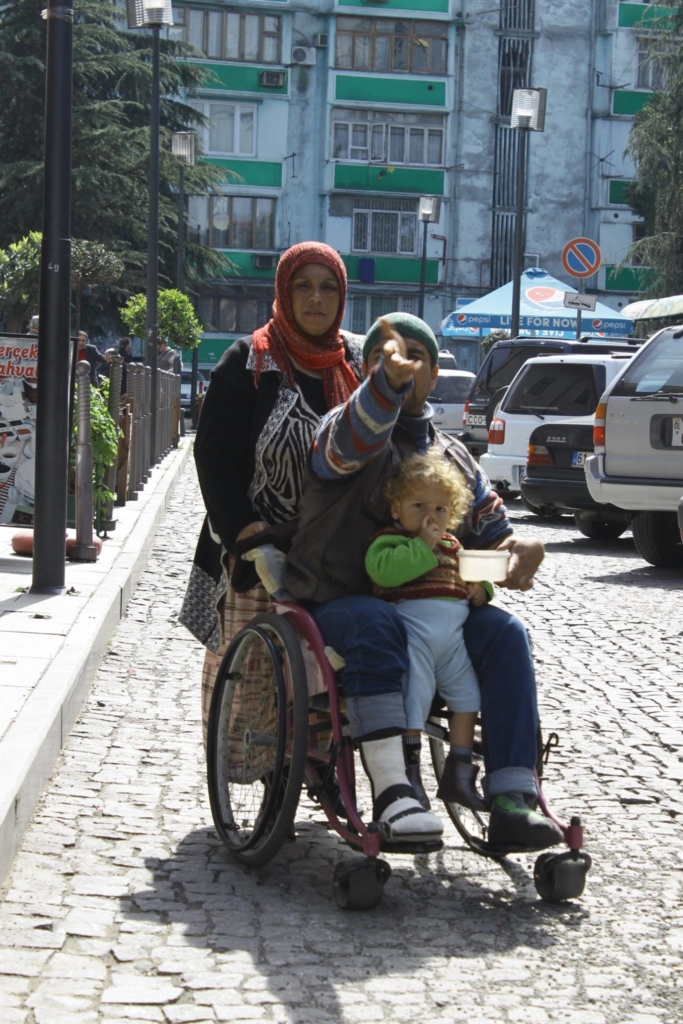 However, not everyone shares this opinion. Many even like the oriental colorfulness and diversity.
'I like that there is such an area in my city. In many European cities that I've been to there are streets and even entire neighborhoods, densely populated by Turks, Chinese, Arabs, who add their own flavor, a piece of their culture, to the city life. No matter how much we, Batumi residents, complain, one thing is clear, that this process is necessary and inevitable for our further development,' says Giorgi Davitadze, a Batumi resident.
According to 2015 statistical data from the Ministry of Justice of Georgia, there are 1 591 Turkish citizens in Ajara, including 269 people with Georgian citizen status, 1 002 with provisional status and 89 with permanent residence status.

As of 2015, Turkish investments made up 39 percent (USD 107.5 million) of the total foreign direct investments (FDI) in the private sector of the Ajara region. That is 66% more than last year.

Turkey ranks the first by the number of visitors compared with other countries. According to border crossing statistics, 78 633 Turkish citizens visited the region last year. That is 1.2% more than in the same period in 2014.
First published: 08.04.2016