Verdict against journalist
Journalist Rauf Mirkadirov was sentenced to six years in a high-security penal colony. Meanwhile, on the same day, a decree on pardoning 210 convicts was signed, which does not apply to any of the political prisoners.
Rauf Mirkadirov was found guilty of 'high treason.' His former colleagues believe that the real reason for his arrest and conviction is his professional activity.
Rauf Mirkadirov has been engaged in journalism since 1991. He worked for several oppositional publications, visited Karabakh combat area in the capacity of journalist.
He also was engaged in politics: participated in setting up the oppositional Azerbaijan Popular Front Party (APFP/National Democratic Party), the oppositional Azerbaijan National Independence Party (ANIP), and even stood as a candidate for parliament in 2005.
In 2005, Mirkadirov was granted a title of 'Honored Journalist of Azerbaijan.' Since 2011, he worked in Turkey as the 'The Mirror' newspaper correspondent. He participated in the international conferences on the settlement of Karabakh conflict on a number of occasions.
The latter circumstance, actually allowed the Azerbaijani special services to suspect him of spying for Armenia.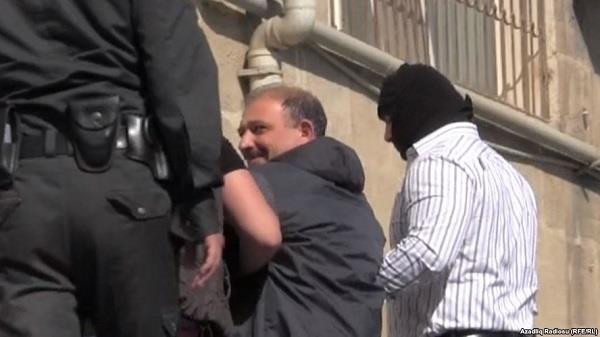 In April 2014, Mirkadirov was deported from Ankara to Baku and was put into custody. 8 months passed since that moment until handing down a judgment.
In May 2014, Rauf Mirkadirov's father died at the age of 84, the morning after an overnight search in his apartment, where Rauf had not lived for many years.
The forum and social network visitors' reaction on Mirkadirov's sentence varies from 'Who is he?' to 'it served him right, he should not have dealt with Armenians.' This event is discussed less than Mirkadirov's arrest, which was a real surprise for everyone and raised a lot of questions about the Turkish secret services' role in this case, as well as the links of his arrest to the pressure on human rights activist, Leyla Yunusova, who was still free at that time. Now, as other journalists and civil society activists have been sentenced to longer terms of imprisonment, the news could not cause the same agio.
The journalist's former colleagues and those, who personally knew him, spoke up for him.
'It is certainly far less dangerous to pardon bandits, thieves and murderers in the era of the upcoming crisis and 'let them out into the street' (I wonder, how they are going to reintegrate into the society amidst long-term mass unemployment?), rather than to acquit Rauf Mikadirov, an honored journalist (who was honored this titled exactly for journalistic activity and professionalism).'
'Instead of catching thousands of corrupt officials, swindlers, uncontrolled criminals in power, these' brave guys' are catching a poor journalist, whose' entire trouble is that he is an Azerbaijani… that is a hungry journalist, who was engaged in all sorts of joint projects just for earning his keep … '
As for the public at large, none of the journalists in Azerbaijan is so well-known and much loved, so that his arrest or conviction would cause any notable public response. Therefore, only a few journalists, as well as some human rights organizations, including the international ones, regarded the absence of political prisoners in the list of pardoned individuals as mockery.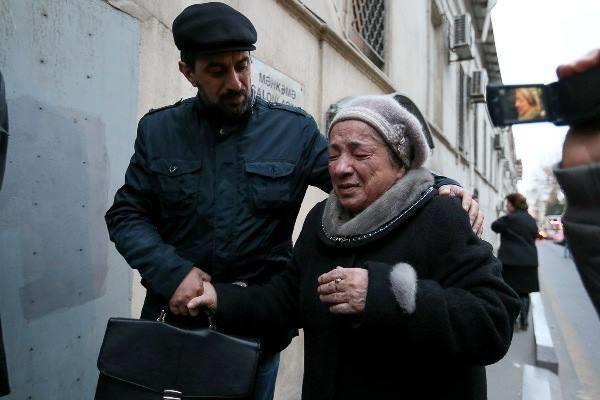 Rauf Mirkadirov's mother after passing the judgment