USA sanctions Chinchaladze, Murusidze and two other judges
USA sanctions four Georgian judges
The US State Department has imposed sanctions on judges Mikhel Chinchaladze, Levan Murusidze, Irakli Shengelia and Valerian Tsertsvadze, as well as their family members, and banned them from entering the United States "due to significant corrupt activities", according to a statement from the US Secretary of State, Antony Blinken.
Antony Blinken alleges that the judges have, in their capacity as representatives of Georgia's High Council of Justice, abused their authority.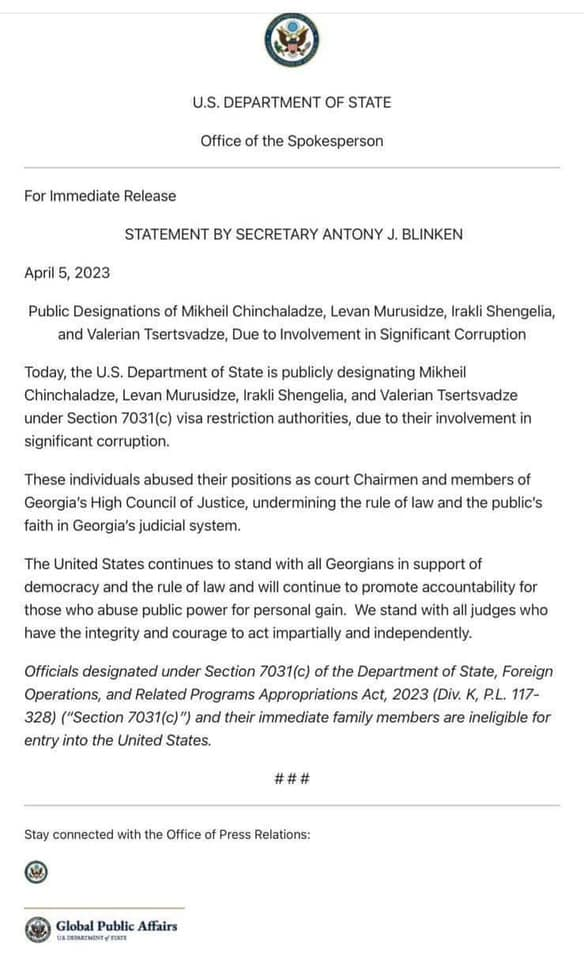 Independent experts and human rights defenders have been alleging for years that Levan Murusidze and Mikheil Chinchaladze lead a powerful "clan" of judges blocking reforms needed to strengthen ties between Georgia and the European Union.

Both judges are linked to a powerful body called the High Council of Justice, the main oversight body for the country's judiciary. They are also believed to have a secret relationship with Bidzina Ivanishvili, the richest man in Georgia, the founder of Georgian Dream and the country's alleged informal ruler.

Murusidze is also distinguished by his loyalty to the previous government — he was the judge in the high-profile case of Sandro Girgvliani during the time of the National Movement. Murusidze's name is associated with the reduction of the sentence for the accused in the case of the murder of Sandro Girgvliani.

A clause on the improvement of the judicial system was also included in the April 19 agreement of Charles Michel. Later, the US ambassador also made a statement several times. However, the government did not stop the appointment process and continued to appoint lifetime judges to the Supreme Court.

On October 31, the conference of judges elected two new members of the High Council of Justice: Paata Silagadze and Giorgi Goginashvili. It is believed that Silagadze and Goginashvili are members of the so-called clan of judges, and both of them have been appointed as lifelong judges of the Tbilisi Court of Appeal.
The State Department explains that it continues to support the citizens of Georgia in strengthening democracy and the rule of law, and will continue to ensure the accountability of those who abuse public power for personal gain:
"We stand by all judges who have the courage and integrity to act impartially and independently."
---
---
USA sanctions four Georgian judges