Uncle Yaqub, a tank and Eckersley
Uncle Yaqub
Back in the day, there were many so-called "book stalls–small shops which sold new and used books. Today the scanty sellers 'still kicking' complain about a lack of clients. Their plywood stalls no longer have their previous diversity–here the modern detective stories were able to be found side by side with horoscope and recipe-books.
Uncle Yaqub, 75, a book seller, is in a surprisingly optimistic mood:
"You know, the interest of youths in reading books, especially classics, has increased, he says, standing behind the counter that represents the "a la 90s nostalgic installation: there are "women's novels with bright covers side by side with dark, worn-out classic volumes and a bit further down-a couple of books in English.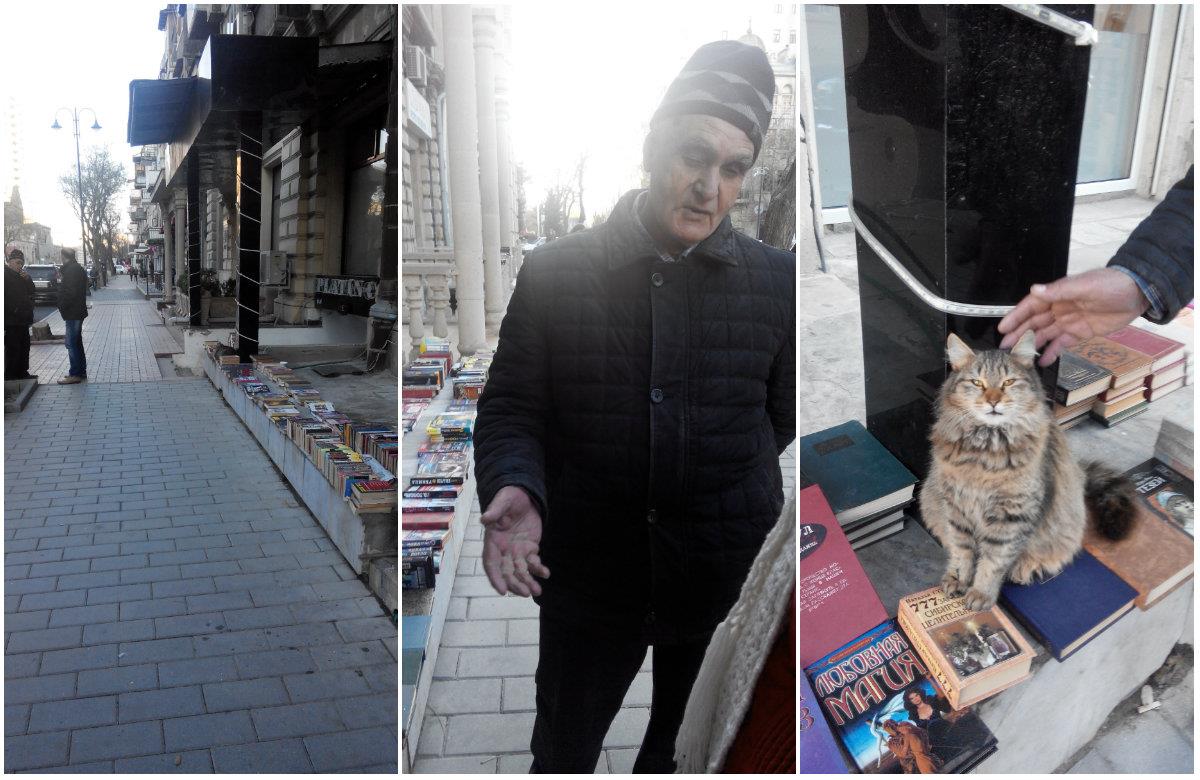 Our conversation was interrupted twice; once there was a middle aged woman passing by.
– Hello, Yaqub. Have you got anything for me?
– No, only the Soviet Encyclopedia, will it be all right for you?
Then a policeman approached and asked in quite a friendly manner:
– Did you manage to sell anything?
– Yes, I did, -answers uncle Yaqub, handing him a bill. The policeman counts the change up honestly and hands it back to him.
"The police do not take much, says the seller, but they take something daily. If you have not sold anything, then it comes out of your pocket, uncle Yaqub explains.
By virtue of amendments to the Code of Administrative Offences, uncle Yaqub and his colleagues have been prohibited from putting books on the curbstones, like they used to do earlier. However, this is now punishable by a fine amounting to 80 AZN.
Uncle Yaqub is in the street in any weather; he dines here, right at the stall or in a neighboring cellar, washing his sandwiches down with tea from a thermos. He says his small business has known better times:
'I remember once, in the beginning of the 90s, a jeep full of foreigners drove up to me. There were no jeeps at that time in Baku. They ordered 250 sets of Eckersley (English language) text-books. And, as far as I can remember, they paid me $1250 US. Such a huge amount! I only got half of that sum. Being a soviet citizen (possession of dollars was considered illegal), I went and exchanged the money and bought everything I needed for home. And then, all of a sudden, there was default the next day. One dollar had been valued at 10 AZN, but then it became AZN40! I could have earned heaps more. But something like this is a learning experience.'
Uncle Yaqub has some far more extreme stories from the 90s:
'It happened in January 1990; tanks were deployed in the city. I arrived at my place as usual and laid out the books. Then, I saw an officer, who was getting out of a tank and coming up to me: "Are all those yours? I said, "Yes, they are mine. "Do you have more? I said, "Yes. I had a huge library at that time. He was from Russia and all people there are fond of reading. "Get in the tank! he told me. I climbed into the tank and we drove to my home. When the tank stopped near my house, the neighbors did not know what to think, perhaps, they decided, I was a traitor. We went into the house and the officer bought my entire library. He paid 5,000 RUB for everything-a pretty good sum at that time'.
Though other small bookshops are not afraid of being unexpectedly closed, they are still facing hard times, for example, the once renowned "Bookinist store. Its shop-assistant, Vidadi Melikov, also complains about the lack of clients. "You know, nowadays people first think of buying bread, then clothes etc.
Despite the fact that the shop has many high stacks full of books, there are fewer clients in it than before. In Vidadi Melikov's words, there are also few regular customers. "Sometimes they do not buy anything; they simply talk casually and leave. People mainly buy the well-known stuff–detective and love stories.
A very fragile web
When orchestrating this "book adventure, the three guys from Sumqayit did not expect it would bring in much income. Their main goal was to create a sort of "intellectual oasis in one of the central streets, where there are versatile trade centers, tea cafés and fast food places selling shawarma. By the way, the street is named after a famous Azerbaijani poet, Nizami Ganjavi. Thus, it was quite logical that one summer day, a small, but proud bookshop "Tor (like the web browser) appeared there.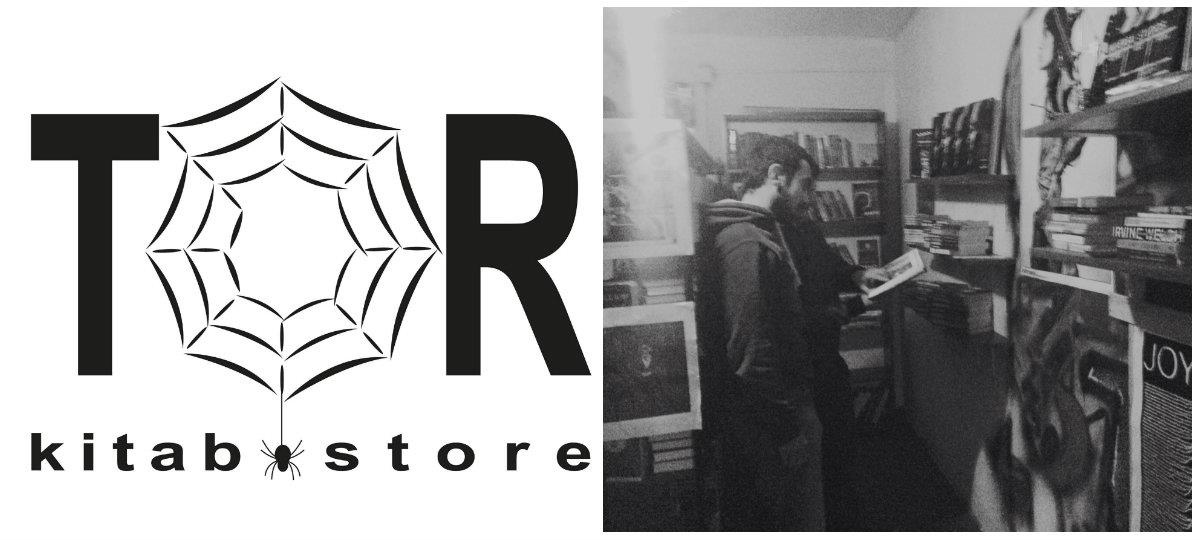 There were three "founding fathers of the shop–Ulvi Najafli, Orkhan Gasymov and Faig Aliyev.
'In fact, we didn't want it to be a shop, but rather a kind of a club where Sumqayit reading youth could communicate with each other, exchange books and opinions. To tell the truth, we are asocial by nature, plus, on top of that, for us it was another way to make friends, Ulvi unveils their "little secret.
Their friend provided them with the initial financing. Despite that, their personal expenses associated with the shop turned out to be tremendous (as compared with the men's incomes). Initially, they decided not to sell textbooks, dream-books, world conquest guidebooks, etc., but instead, to focus on the fiction from around the world in the Azerbaijani and Russian languages.
"Tor did not only sell old books-at the lowest possible prices-but also functioned as a private payable library, where one could rent a book.
At first there were many visitors, but after the crisis they could not sell more than 10 books a week.
"The majority of those who entered our shop wanted to get information on how to get to certain destinations in the city. During that time period, we managed to get rid of many stereotypes. For example, sometimes a clever-looking person entered our shop, talked about his intelligence for an hour and left the shop without even a single glance at our books. And vice versa, a rather suspicious guy looking like a thug would buy books by Goethe, Salinger or Firdovsi.'
In order to somehow lure the public in, Ulvi, Orkhan and Faig even tried to act like barkers in antique shops in the Old City or in Istanbul restaurants. Standing in the doorway of the shop, they offered the youth who were passing by to enter the shop not to buy something, but rather to flip through a book, "to taste it. However, nothing came out of that.
The shop was not in demand and it was closed.
Discounts as a mean of 'anti-crisis'
The crisis affected not only small book sellers, but also Azerbaijan's most famous "Ali and Nino bookshop network. Though many book fans often reproached the network for high prices, the shops were always full of clients because practically all new books could be found there. Additionally, stationaries, textbooks and toys for children are also available there.
According to Nigar Kocharli, the director of "Ali and Nino, their problems had begun long before the devaluation of the Manat did, approximately in August-September, as a decline in clientelle interest had been already observed by then (in light of reduced capacity to afford their products, as the rate of the Manat began fluctuating in February 2015). Sales dropped by 30-35% as compared to the same period the previous year.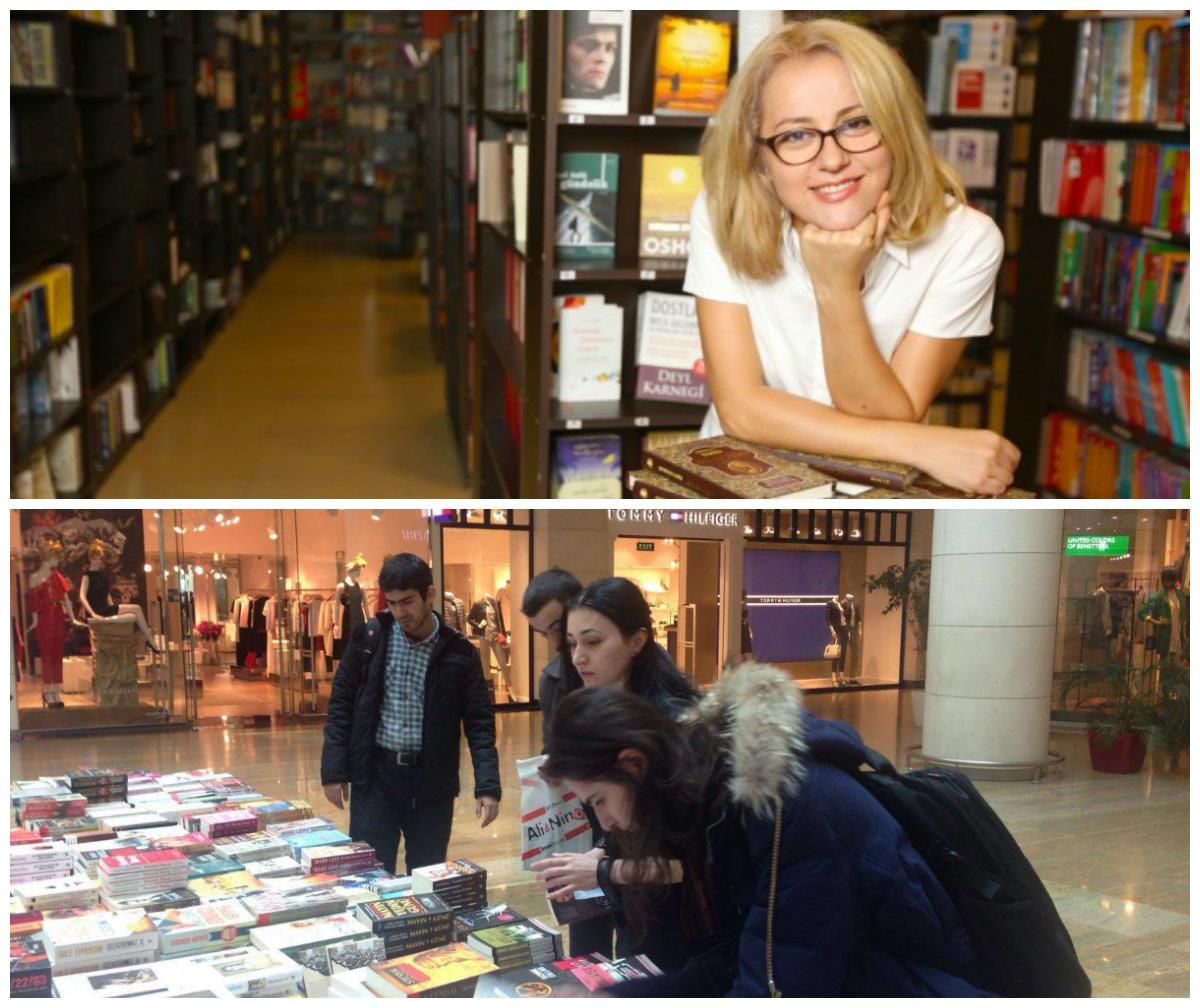 Nigar Kocharli
Since the majority of books are imported from abroad, a drop in the rate of the Manat has increased the books' prime cost and, consequently, their price.
'We conduct discount campaigns to stimulate book sales, but we, in reality, sell them at a loss, at prices that are lower than their prime cost,' says Nigar khanum. 'We have to resort to such measures, since people, as their first priority, think of earning their living, whereas interest in books is dwindling.'
«Qanun» publishing house has faced similar problems following the devaluation of the Manat. According to Shakhbaz Khuduoglu, the publishing house director, sales dropped by 30-35% after the national currency declined in value.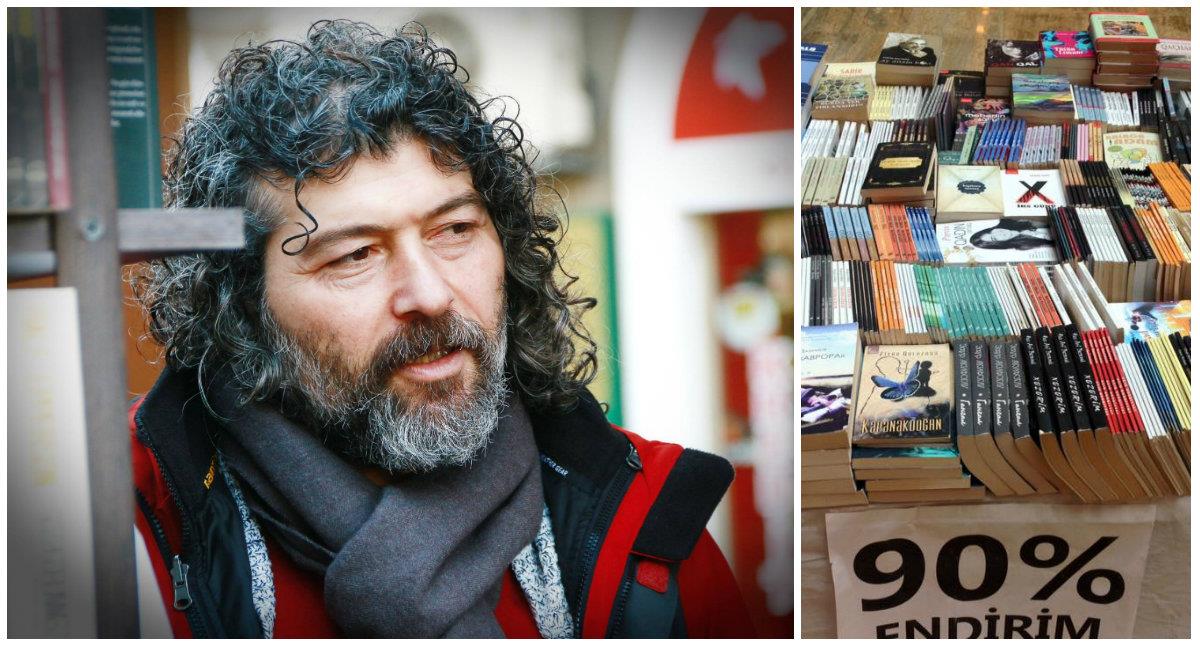 Shakhbaz Khuduoglu
Unlike many other producers and sellers, «Qanun» has found a solution to this problem not in increasing prices, but vice versa: "After the devaluation everybody rejected the idea that the only way out was to increase prices. To my mind, it is a strategically wrong approach and can yield only temporary income, not long-term income. Thus, on the contrary, we decreased our prices, and it turned out to be very effective. We have managed to attract many new clients.
Nigar Kocharli and Shakhbaz Khuduoglu unanimously state that the Azerbaijani book market's major problem is the lack of tax privileges: domestic mandatory payments for book sellers were not different from taxes for other types of entrepreneurship (though book outlets, in general, enjoy "privileges worldwide). Based on the Milli Mejlis decision, since January 1, 2016, the books imported to the country have been imposed an 18% VAT in addition to the customs duty. However, this tax was not required earlier.
This new rule has posed more problems on "Ali and Nino because the majority of their books are imported, and to the «Qanun» publishing house because it often publishes its products abroad.
Both of our respondents believe that in order to improve the situation within the country's books market, it is necessary to lift the tax burden. In Shakhbaz Khuduoglu's opinion, the attitude towards this issue also needs to be changed: "A strong propaganda is required for that. For example, regular book fairs should be held in each district of Azerbaijan. Otherwise, our people will soon forget about the existence of books.
To illustrate this point, Shakhbaz Khuduoglu provides the following data: "At present, there are only 15 specialized bookshops in Baku, 2 shops in Sumqayıt and only 1 shop in Gyanja (the country's second largest city) and one books section in Lenkoran. In other towns there are practically no bookshops at all. To compare this situation with France: there is one bookshop for every 2,000 residents there. In our case, we have 1 bookshop for every 400,000 people.
Of course, we can "blame the increasing tendency of reading electronic books for the insufficient demand for "paper literature. But according to the publisher, this is not the case: "It seems to me that these are different cultures. The Stone Age has ended, but the stone, itself, has not disappeared and is still in use, isn't it? The paper book era still continues. But there are not so many books in the Azerbaijani language, whether it be in paper or electronic format. Thus, the contemporary Azerbaijani language reader has not much to choose from.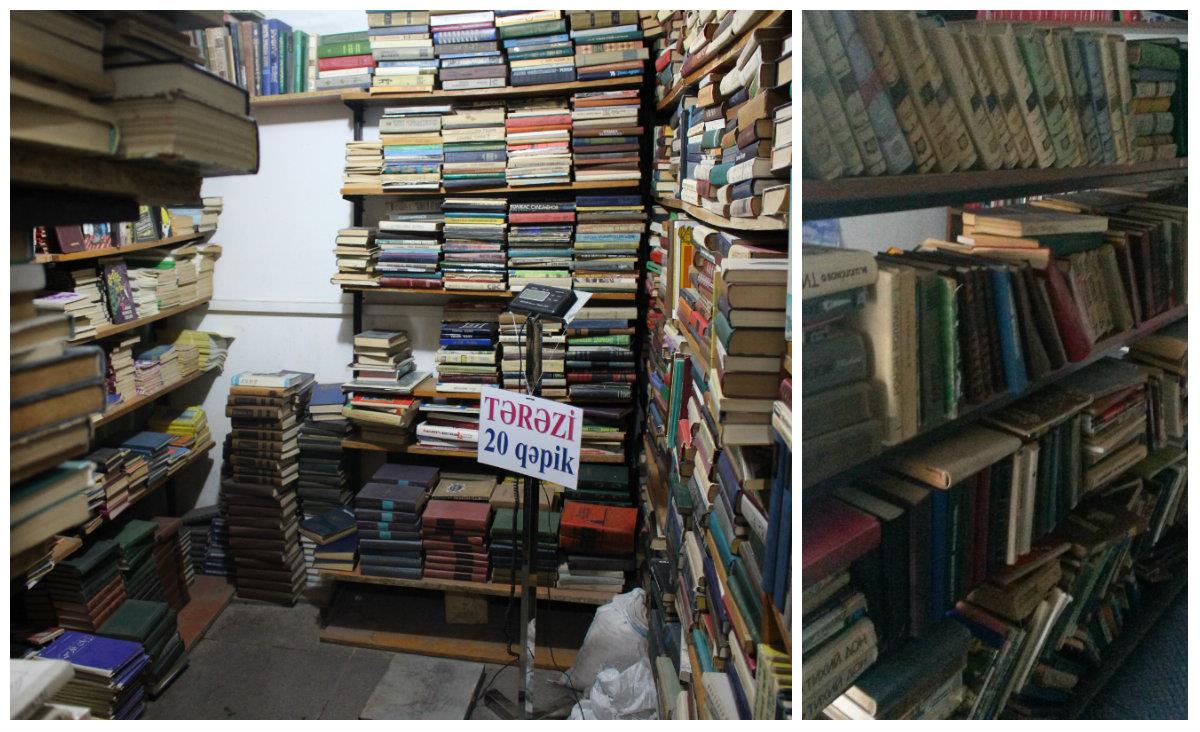 "Scales. 20 kopecks
Published 19. 04. 2016