Trial in South Ossetia: Minister of Justice v. journalist
On trial in South Ossetia is Irina Kelekhsaeva, a well-known journalist and teacher in the journalism department at a local university, reports Caucasian Knot.
The lawsuit was filed against her by the Minister of Justice Zalina Lalieva, who accused Kelekhsaeva of libel.
On February 18, a scheduled meeting was held, during which they failed to come to a decision.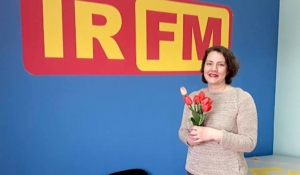 "Now my case will move on to the prosecutor's office. The judge changed the case from a civil lawsuit held by Minister Laliyeva to a criminal lawsuit, and redirected everything to the prosecutor's office for a pre-trial investigation. So my journey is just beginning," Irina Kelekhsaeva wrote on her Facebook page.
If the journalist is found guilty, she faces a fine of up to seven thousand euros.
This story began in the fall of 2019. Inmates in Tskhinvali prison complained about inhumane detention conditions. After members of parliament intervened, conditions improved. But the six people who wrote the complaint were beaten in prison.
•South Ossetia's prisoner hunger strike debacle – who, what, why
In her journalistic reports, Keleshaeva said that the Minister of Justice Laliyeva was present during the beating. Laliyeva responded with a lawsuit.
This is not the first time that Irina Kelekhsaeva has been under pressure from the authorities because of her work.
Two years ago, she was under attack because of her reporting on the case of Georgy Kabisov, former South Ossetian Minister of Communications. He exposed a scheme to embezzle funds that should have been allocated to the republican budget for broadcasting Russian television channels.
Kabisov was arrested and sent to prison on charges of illegal possession of weapons and special equipment.
•South Ossetia's ex-minister accused of illegal arms possession while he blames the leadership of fraud
Irina Keleshaeva talked about the Kabisov case, and ended up becoming persecuted herself.
A support group for Kabisov was created on Facebook, which is currently conducting a campaign to support Irina Kelekhsaeva as well:
"Someone made a huge mess of the case. The journalist [Kelekhsaeva] described the already well-known facts (which were currently being considered in the local parliament), and suddenly it was Kelekhsaeva who was being accused. … Everyone knows that they are simply trying to shut her up. So that she won't dare to do it again. So that she will be afraid. So that she will act just like everyone else," reads a statement on the page.
Toponyms and terminology used by the author, as well as views, opinions and strategies expressed by them are theirs alone and do not necessarily reflect the views and opinions of JAMnews or any employees thereof. JAMnews reserves the right to delete comments it considers to be offensive, inflammatory, threatening or otherwise unacceptable