South Ossetia's ex-minister accused of illegal arms possession while he blames the leadership of fraud
A scandal is unfolding in South Ossetia around a criminal case involving Georgy Kabisov, a renowned figure in the republic.
Kabisov is a former minister of communications and currently a colonel in the Foreign Intelligence Service. He also ran for presidency in South Ossetia back in 2011.
He was arrested on 7 November 2017 on charges of the illegal possession of firearms and special equipment, as well as for the abuse of official powers.
The General Prosecutor of South Ossetia Uruzmag Jagayev told journalists that 'special-purpose equipment of unknown origin' was found in Kabisov's house. "Specifically, the matter concerned watches and keyrings for car keys with intercept devices, tiny video cameras and radio transmitters."
As it turned out, the prosecutor's office learned about the aforesaid from Valery Kochiev, the head of the state-funded 'Elektrosvyaz' (telecommunications) enterprise who was Kabisov 's subordinate while the latter was the minister.
That's the official version. However, there is also another version of events that has stirred up public protest, which is growing daily.
The version offered by Kabisov's family and his supporters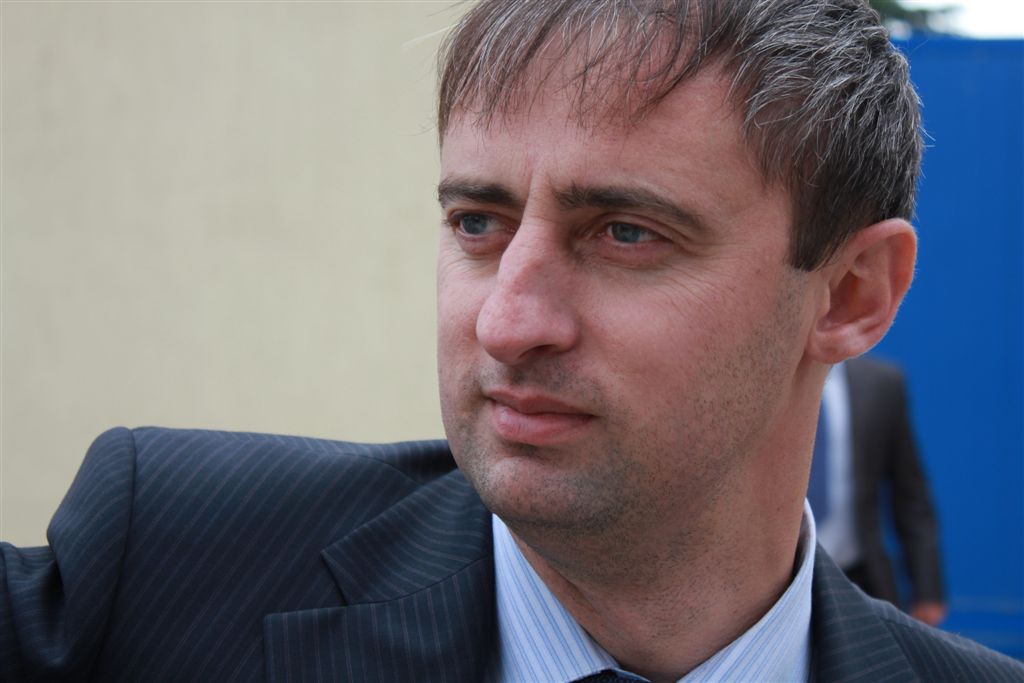 Family members and supporters of Kabisov insist that the aforementioned 'special equipment' was available in Moscow shops and that Kabisov bought it for the ministry's use.
They also say that Kabisov used to buy other similar equipment such as mobile phones which protect phone conversations from being tapped. The President as well as the KGB Chief and the Interior Minister of South Ossetia used these devices during the combat phase of the Georgian-Ossetian conflict in 2008.
The family members and supporters of Kabisov fully deny all the charges (including embezzlement of funds) brought against him. Moreover, they make counter-accusations against Valery Kochiev, who is responsible for Kabisov facing trial.
Zarina, Kabisov's wife, gave JAMnews the details of that version.
The Elektrosvyaz (telecommunications) company, led by Kochiev, was supposed to broadcast several Russian TV channels in South Ossetia starting from 2005, And the TV channels paid him for that.
However, Kochiev registered his own private company in North Ossetia under the same name. Being the head of the state-funded company, he then signed an agreement with this company (that is, with himself). Under this agreement, Kochiev allegedly transferred all the equipment to his private company's service. Thus, for about a decade the Russian TV companies' payments have been transferred directly to him, not even reaching the state budget.
"That is hundreds of millions of rubles that have been stolen from the republic!" said Zarina Kabisova.
In her words, Kochiev's private company has become a 'feeding trough' for the chosen ones. She said that many prominent figures in South Ossetia requested the Russian TV channels to conclude a contract with the state-funded Elektrosvyaz company. However, Anatoly Bibilov, the incumbent President of South Ossetia who was the Parliamentery Speaker at the time, would repeatedly request and insist that the TV channels maintain their contract with the private Elektrosvyaz company.
"Georgy exposed this criminal scheme and publicly condemned the swindler on a number of occasions, both on TV and on social media. The Prosecutor's office didn't react in any way. Afterwards he was dismissed from his post and there was nothing he could do. However, they have reacted now – they have jailed the man who dared to openly speak about it," Kabisova told JAMnews.
In her opinion, the reason her husband was arrested now is that the license of the private Elektrosvyaz company is due to expire on 3 April, 2018. "Georgy Kabisov has been isolated for that very reason: to prevent him from interfering in the matter," said Zarina Kabisova.
After being arrested Kabisov was held for a couple of days in a basement with no heating or a toilet. He wasn't provided with either food or water. As a result, he started experiencing serious health problems – said Zarina Kabisova. She concluded as follows:
"Georgy has been persecuted because of his stance with regard to the outflow of funds from South Ossetia's communications sphere into some private pockets."
I
n early February, the Tskhinvali city court extended Georgi Kabisov's detention for another two months. The defense petitioned the court to change his restraint measure to house arrest. Three ex-presidents of South Ossetia – Ludwig Chibirov, Eduard Kokoity and Leonid Tibilov – joined the petition and volunteered to stand as guarantors that Kabisov wouldn't leave the territory of South Ossetia during the investigation. However, the court didn't take it into consideration and turned down the petition.
Toponyms and terminology used by the author, as well as views, opinions and strategies expressed by them are theirs alone and do not necessarily reflect the views and opinions of JAMnews or any employees thereof. JAMnews reserves the right to delete comments it considers to be offensive, inflammatory, threatening or otherwise unacceptable