Three apples fell down from the sky
In the house of Edgar Tatikyan and Gohar Arakelyan, a couple-puppeteers, none of the items are left idle. Sooner or later, each will find its role in one of the performances. It takes just a little bit of imagination to make an ordinary rolling pin 'play on zurna', and a sieve – on drum, and to turn a dryer into a beautiful basket for Christmas gifts.
When the couple started collecting old clothes from the local friends, nobody even thought that Anderson's 'Swineherd' fairy tale characters could be made of old jeans or skirt: a king, dressed up to the knocker, a handsome prince and an elegant princess.
Both spouses are stage directors. They moved from Yerevan to Karabakh in 2012 and started working at Stepanakert State Drama Theatre. Here they first staged a puppet show – 'The Bremen Town Musicians'. Two years later, they founded their own touring troupe called 'Three apples.' Gohar makes dolls and Edgar writes plays.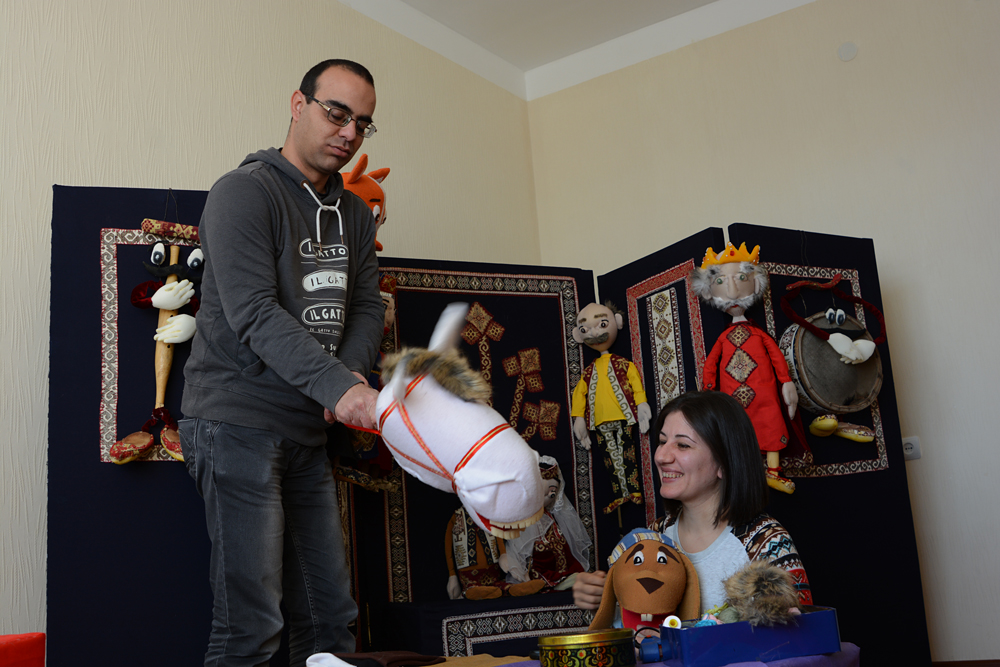 'I spent my childhood in a tiny Armenian town of Yeghegnadzor. After the war, I knew that there was a puppet theater in the world, but I had no chance to see even a single performance. I've grown up, but I remember pretty well, how much I wanted to see a puppet show. Our troupe wants to ensure that every child today, especially in the villages, gets a little bit of magic and fairy tale. We are trying to turn into a fairy tale at least one of their days,'- says Gohar.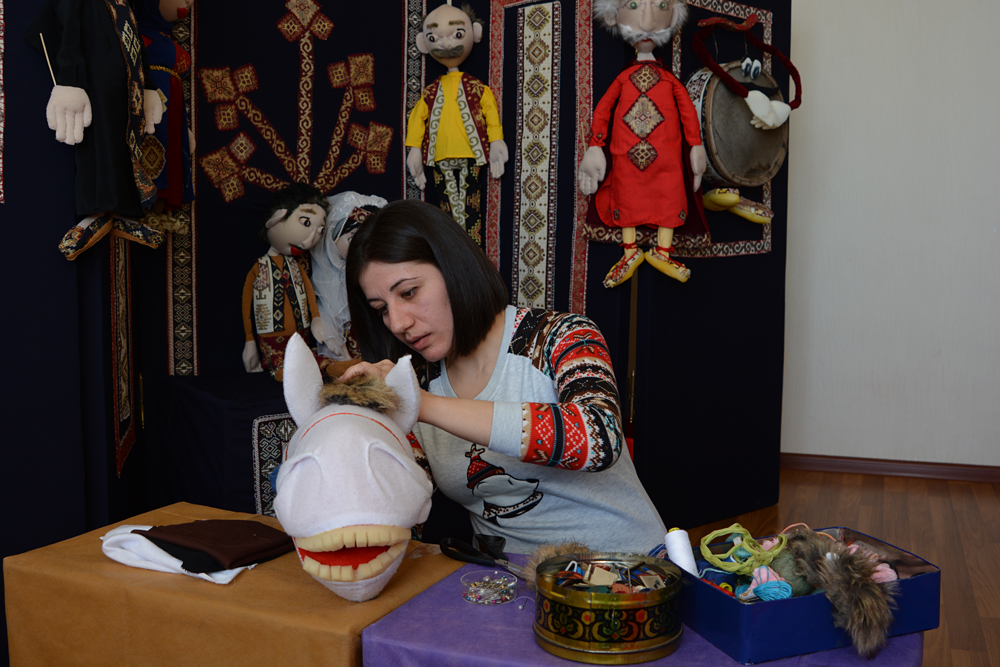 That's how magic is born: first, Gohar makes up a fairy tale character and then she turns her ideas into reality using sponge and glue. Meanwhile, Edgar makes fun of unfinished dolls and holds rehearsals with them.
When a performance is ready, the couple gets money from somewhere (for example, gets donations from the Armenian diaspora, sometimes from charities) and sets off on a journey – to the forgotten Karabakh villages.
First night performances are, as a rule, held in a remote village, where such events have never happened before.
White 'Niva', loaded with theatrical props and puppets, each time delivers a new fairy tale to children from the remote, border villages and orphanages. There are no tickets for such performances or they are not sold, but handed over to the audience free of charge.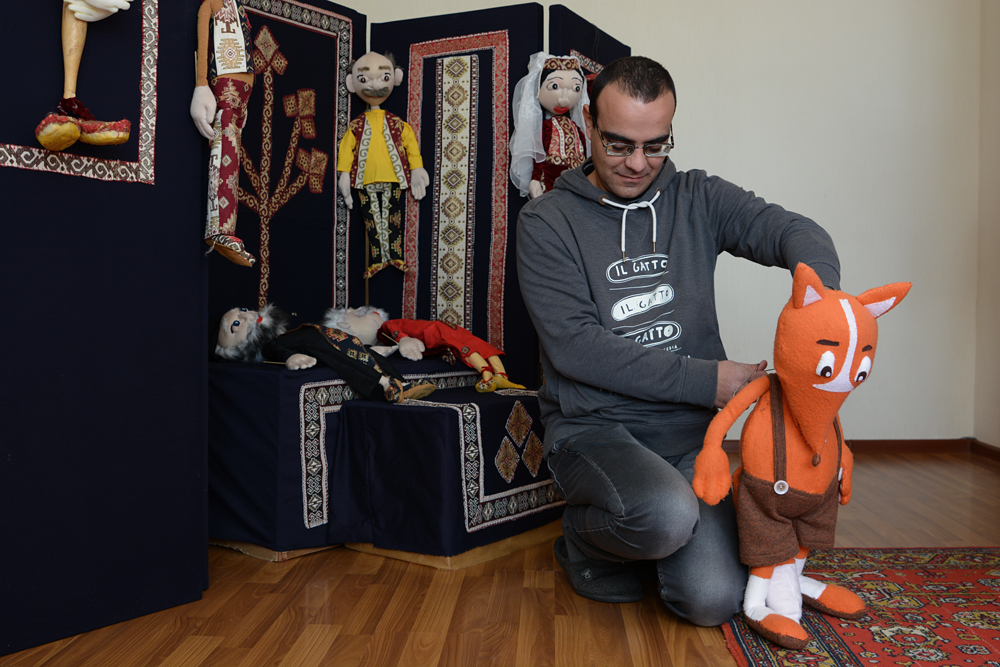 'Last year, on the funds provided by the « Awesome Faundation», on the New Year's Eve, we showed my play – 'Hundred kisses from the Princess', staged according to Anderson's fairy tale 'The Swineherd', in 4 border villages. For already the second year, we have been performing in Stepanakert and Berdzor orphanages as part of our cooperation with Los Angeles-based "Armenian Network organization. This year, with the assistance of our compatriot, Tigran Aleksanyan, who lives in London, we have purchased equipment and tools for making puppets for one more performance, '- says Edgar.
Edgar and Gohar want to open a theater in Stepanakert. Tickets will be sold there and the couple will spend funds raised from performances for touring the villages.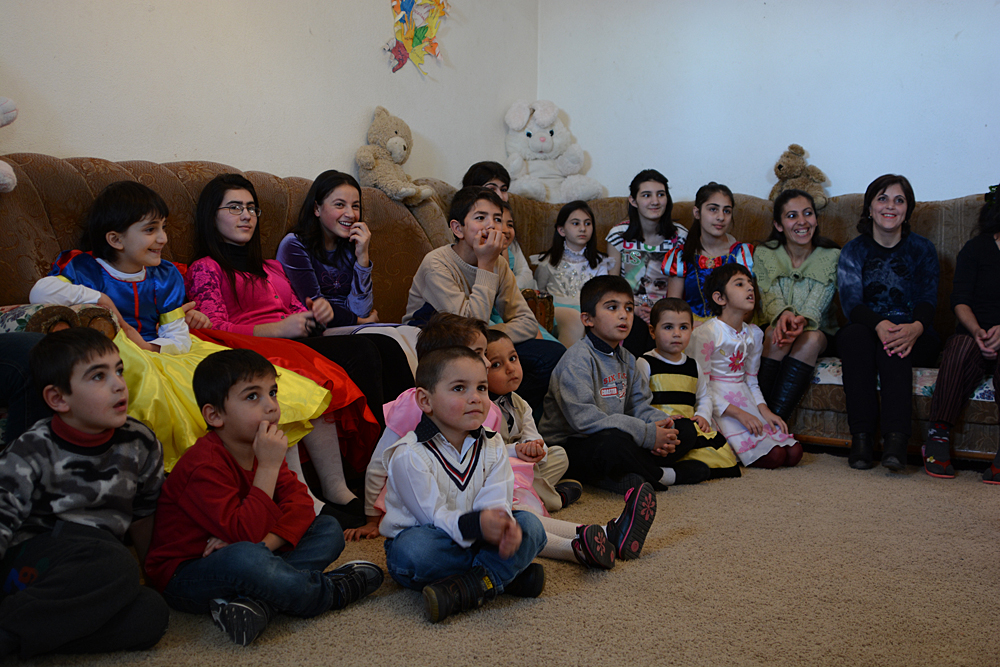 On New Year, a white 'Niva', loaded with props for the performance 'Snowman', will travel around the villages. And, in the end, as in all fairy tales, three apples will fall down from the sky: one – to the fairy tale author, another – to the narrator and the third one – to the audience.