The language in exile
Photo: 
Цензор.НЕТ
Crimean Tatar is a unique language in the post-Soviet area… Mass deportation of the Crimean Tatars in May 1944inflicted considerable damage to the language. How did the Crimean Tatar language develop in independent Ukraine? And what has happened to it over the past 3 years, when many families have had to leave their homeland again?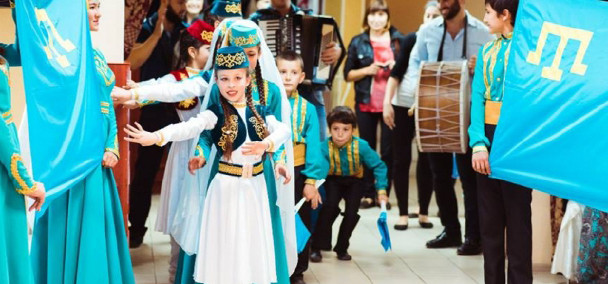 Learning the native language
'Koryushkendzhe!' – Ahtem Seitablaev, filmmaker, says goodbye at the door of the restaurant, where we recorded the interview. It means 'see you later'in the Crimean Tatar. 'Good afternoon, thank you, please, goodbye'– Ahtem uttersall those polite formulas in his native language here, in the Crimean Tatar restaurant, that was opened by his friends. Three languages have now intertwined in his life and work, in general: Ukrainian, Russian and Crimean Tatar.
 For Ahtem, the'Native Speech' subject wasn't just a mere title on the school textbook cover, but at some point he really had to learn his ownnative language. The deportation in May 18, 1944,had a devastating effect, including on the language environment: like thousands of others, the Seitablaev family also partially lost their language.
 "I've always had the language comprehension, because I was brought up in the familyand next-of-kin environment.The Crimean Tatars always tried to settle down close to each other, it was quite natural. After the deportation, when they were literally thrown into the field, they tried to hangtogether, becausethus it was easier to survive.  I lived in the Uzbek city of Yangiyul (literally translated as'a new way'). This city was built by political prisoners, including theFar East Koreans,the Volga Germans and the Chechens. And Russian was the communication language for all those ethnic groups."
 When Ahtem Seitablaev enrolled in the drama faculty, he realized: mere comprehension of the native language was hardly enough. In 1989, they recruited the first-course students for the reviving Crimean Tatar Theatre. And then it became clear that he needed to know the language fluently.
His film 'Khaytarma' about the 1944 developments was produced partially in the Crimean Tatar language.  In his words, if he takes it upon himself to produce the film in his native language only, there won't be enough actors. Though, now he is shooting a Ukrainian-language film about 'cyborgs' who defended Donetsk airport.
Repressed names
 Crimean Tatar language appeared onUkraine's linguistic map in the early 90s. The Crimean Tatars, nearly 70% of whom lived in Uzbekistan, started repatriatingto Crimea. Almost half a century has passed since the deportation.Then, on May 18, 1944, in an instant, the language lost all of its social functions, except for the everyday one. Whereas before the deportation,theCrimean Tatar was used at school (elementary, secondary and high), on the radio, in record-keeping, in jurisprudence, science, journalism, literature. For those, who were far away from home, the only thing left was to hold together and communicate with each other. Half a century exile inflicted tremendous damage on the language. It was 'banished' even from the geographical map of Crimea: under the 1945 decree, hundreds of original Crimean Tatar names, each of them telling something about a city or village, were replaced by the commonSoviet ones: Plodovoe, Yagodnoe, Solnechnoe. Those were the real toponymic reprisals.
 Therefore, many Crimean Tatar children actually have to learn their national language.
After the annexation
 Russia's annexation of Crimea in 2014 also played its role. Before the annexation, there were less that 10 trainees at Kyiv-based Crimean Tatar Cultural and Education center, headedbyAnife Kurtseitova. Whereas now, there are morethen fifty of them. And their number is continuously growing.: more families arrive here, in Kyiv after each wave of arrests and detentionsin Crimea.
 The Crimean Tatar language, music and dance classes are delivered inKyiv-based school # 165. The administration opened the school doors without asking any questions, allowing toconduct as many classes as the center requires. Anife Kurtseitova says, she was very grateful for that. In her words, the government talks much about the Crimean Tatars, but they getmoreattention and assistance from the ordinary citizens and activists.
 Apart from the center, Afize Emiramzaeva also teaches at Kiev National University after Taras Shevchenko. The Crimean Tatar language and literature faculty was opened here after the annexation. They managed to prepare everything in five months-the work was launched immediately after the March 'referendum'. The classes started on September 1, 2014. Interestingly, there were more Ukrainians rather than the Crimean Tatars among the students. For them it was a kind of support act.
 There is a lack of teaching materials. The activists release magazines, publish books and manuals. There are no stalls with the literature in Crimean Tatar language in the bookshops either in Kyiv or Ukraine's other cities. If you want to buy a magazine, book or manual, you should apply to a 'word of mouth'. But the Crimean Tatars have no complaints and they don't ask for anything. Afize, on the contrary, is very happy about everything they have. She recalls the Crimean Tatar proverb: 'If you keep digging, there will be a lack'.
 Dreams and expectations
 Khalise Zinedine, a TV anchor, a young teacher from the Crimea, who is still a student herself, also points to the lack of materials. Khalise also moved to Kyiv in 2014. Her acquaintances asked her to tutortheir children. And then adults also startedturning to Khalise. Khaliseimprovised and invented the lessons herself, including the game-lessons.But all the aforesaid is still not enough. Moreover, it's hard to choose from what is already available: there are no adapted manuals and textbooks. Khaliseintends to publish a compilation of the Crimean Tatarlessons one day.
 She anchors the 'Elifbe' program on Radio Liberty. It's a project jointly carried out by the radio and the Ukrainian Information Policy Ministry. For some time now,'Elifbe' anchor has been visiting various ministers: they participate in the program and say a few words in Crimean Tatar. But so far all participants have limited themselves to saying something on camera: none of them wished tocontinue with the lessons.
When a child, Khalisewasn't fluent in Crimean Tatar – she knew just a few words and set expressions. She started speaking native language in the national school. Now speaks with her mother,relatives and friends in Crimean Tatar. And she also anchorsa news program on ua.tv.
Movies and animated films are Khalise's favorite resources. The Crimean Tatar ATR TV used to dub many popular movies and animated films. Even Karlsson-on-the-roof started speaking Crimean Tatar.
Though, it's true that Khalise has already shown all dubbed animated films to her trainees: there's nothings left. She wishes she could translate into Crimean Tatar the popular 'Friends'TV series, since it will be easier to learn the language from it. Her another dream is to see on the bookstore shelves all world masterpieces translated into Crimean Tatar.
Khalise believes, it will surely happen one day, because one of her dreams has already come true: she started having night dreams in Crimean Tatar and she was so happy that she didn't want to wake up.