The dark side
'Tell me, why is it that street lights are switched off completely in Baku after 11:35 p.m.; there have never been street lights in the secondary streets before, but now there is darkness in the central streets as well. If it is due to the lack of funds, then why the solar street lights have not been installed?'
This and similar questions have been burning in the minds of Azerbaijani Internet users for already a week. Moreover, the 'witnesses' testimonies' differ very much.
What is going on?
Some people say, the city has 'plunged into darkness', others claim – nothing unusual has happened, there are also people who say they have never had any street lights, so the risk of stumbling and breaking one's leg has not increased for them. It all depends on the city district one lives. For instance, street lamps along the avenues are switched on most of the night.
Different switch on times are also named; some say, it is 10 p.m., others – 3 a.m.. The only thing that one can say for sure is that the city lighting mode has really changed. At least, the well-known chandeliers in Nizami street, that Bakuvians are so much fond of boasting to the tourists, are no longer switched on.
Reasons and explanations
Radio Liberty reporter tried to find out in the state structures, whether the lights were really switched off for the purpose of economizing. The officials' comments were not very helpful. JSC 'Azerishyg', the power supplier, told press from the very beginning, that all objects, the power was supplied to, were just its subscribers. Thus, 'Azerishyg' is neither economizing nor is responsible for its subscribers' actions.
Baku city lighting control department also did not have a clear position in this regard. Two employees of this structure made statements: Shahmurad Mammadov, Head of Sabail district office, said the lights were switched off after 10 p.m. in order to save the budgetary funds; whereas Maharram Babayev, the Head of the structure, claimed it was not true, and that even if they started switching off something, it would happen after 1 a.m.. And they had not been officially instructed to do that so far.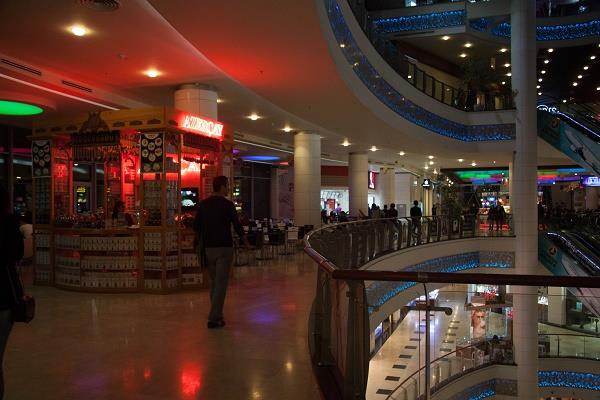 Park Bulvar trade center is also economizing
Social networks
'Who would care if the roads were good. But there are huge holes in the asphalt and, God forbid, if one gets at least in one of such holes… And the sidewalks? They're not much better. So what? Shall people break their legs?'
'I don't know about other places, but in our yard they've really started switching off the lights at midnight sharp, like in a fairytale about Cinderella. And the yard is really getting plunged into darkness.'
'In Yasamal district the lights also have been switched off at midnight. And not only in the streets, but in the houses as well. '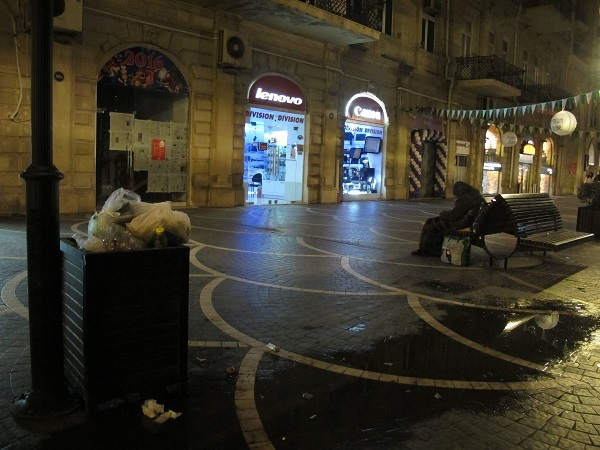 On the forums, the users have been also exercising their wits about the crisis, petrodollars and the approaching apocalypse.
Perhaps there is a portion of artistic fiction in all that, but the dark shop windows with 'For rent' inscriptions really look scary in the night twilight.