Why they kill stray dogs in Abkhazia and what can be done about it
Stray dogs in Abkhazia
The Abkhazian parliament adopted a law "On the responsible treatment of animals." This is only the beginning of a meaningful struggle with the problem in Abkhazia. About two thousand stray dogs roam around Sukhum and throughout the western part of the republic.
Irina came to Abkhazia on vacation with her daughter, and she is leaving with Zhuchka, a stray that attached itself to her not far from her hotel room.
"We walk and this shaggy girl walks, we stop and she stops. And she looks with such sad and affectionate eyes that we had no strength to leave her on the road."
Irina firmly decided that she would bring the dog with her to St. Petersburg, with all attendant troubles this would entail.
According to animal rights activist Karina Kolpakchyan, five more dogs from the shelter are waiting for their new owners from St. Petersburg: "We publish photos of our pets, we are trying to find their owners, and people are responding."
---
---
How to ruin a "dog wedding"
But today the work of the shelter is practically paralyzed — their 16 enclosures are filled because city services do not work properly with stray dogs, Karina believes.
She says that mating events between dogs in the street frighten people, but only the female in heat should be taken away, not the entire pack.
"It is necessary to isolate only one dog, sterilize it and return it to its place. But the city takes them all, and most turn out to have homes."
"A month of confinement costs five thousand rubles [about $63] plus food. And we have forty or more such dogs. We sterilize them and vaccinate them at our own expense," Karina says.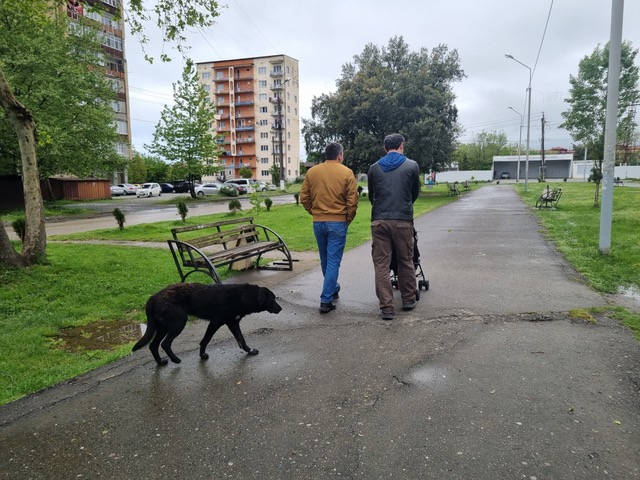 Not homeless, but too independent

According to Karina, if the actions of animal rights activists, government services and residents of Abkhazia were coordinated, then the problem of stray animals could have been solved long ago. These dogs are mostly not strays, but their owners simply let them roam around at will:
"The owners even swear at us, they say why did you sterilize my dog and put a tag on it. But if your dog wanders the streets and you don't know where it is, then you should actually be thanking us."
In her opinion, the law "On Responsible Treatment of Animals" should be amended to levy fines for owners, include educational activities for children and adults, and also regulate the keeping of animals.
"It is possible to provide all pets with chips which will record information about the owner, address, telephone, and so on. And the price is not high – just over 100 rubles [about $1.25] per chip. Then it will be easy to find out whose dog is roaming the street and collect fines from the owners."
Stray dogs vs. jackals

Since the shooting of animals is prohibited in Sukhum, and complaints to the city administration about stray animals are received, public utilities solve the problem using the methods available to them. So, for example, about a dozen dogs were brought across the Kodor River, that is, outside the Sukhumi region. According to Said Kur-Ipa, director of the municipal unitary enterprise "Improvement" of the administration of the city of Sukhum, this was a one-time event:
"People turn to us, complain that a lot of dogs walk in their area, but the shelter is overcrowded, and in order to somehow solve this issue, we brought them out of the city," Said Kur-Ipa explains.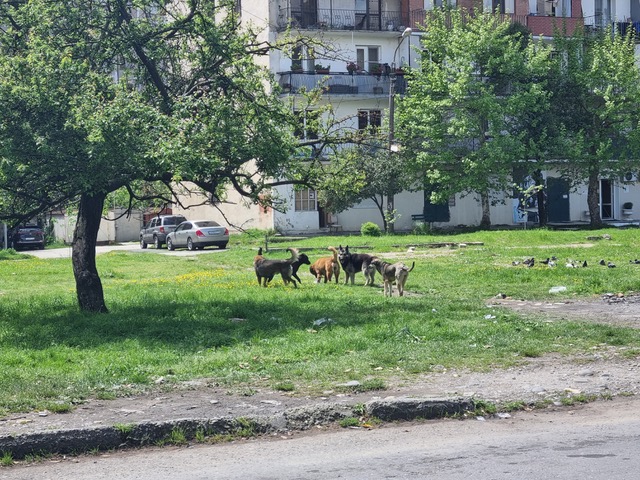 Karina Kolpakchyan is skeptical about such measures and believes that only sterilization will help control the number of homeless animals:
"Do you understand that stray animals are also needed? They protect the city from rats, jackals, snakes and other living creatures that can be really dangerous to people. Recently yard dogs were shot in a new area, which we sterilized and vaccinated. And now residents have started sending us videos and audios of jackals howling."
She says dogs keep wild animals from approaching cities, and vaccinated dogs don't spread infection. In recent years, there has not been a single case of canine rabies in Sukhum, because most of the homeless dogs are vaccinated:
"And if the dogs are not vaccinated or the vaccinated are shot, then rabies may come back."
According to animal rights activists, domestic dogs that find themselves on the street near their homes show aggression. They consider passers-by strangers and protect the territory from them. This territory can also be a garbage dump, and if a person approaches a hungry dog and he considers it dangerous, he can show aggression:
"You need to call the dog in a kind and confident tone, to show that you are not an enemy and are not afraid. Then the dog will not attack. I have never been bitten by stray dogs, although I have probably already caught a hundred with my own hands," Karina says.
At the same time, Karina understands those who are afraid of dogs. But she doesn't understand why animal rights activists are blamed for the fact that there are more stray dogs:
"On the contrary, we want to see fewer stray, hungry and angry dogs on our streets, but this must be done in effective ways."
Karina recalls a recent case in Gagra, where dogs died of poisoning in broad daylight right in front of passers-by. There is unconfirmed information that the poison in Gagra is purchased centrally and scattered around the city not without the knowledge of the relevant services.
"But even a domestic dog or even a small child can eat this poison. So getting rid of stray dogs is not just inhumane, but socially dangerous," warns Karina.
She complains that it is difficult for volunteers to receive support from the authorities. Public organizations that directly or indirectly deal with the problem of stray animals do not receive it either. For example, the Abkhaz Desk organization purchased two plastic collection machines. It works like this: a person throws a plastic product into it, and the device gives out dog food.
"Such devices are installed in many countries of the world and are very popular. We, thinking that we are doing a useful thing, bought two such devices, but for several months we have not been able to install them. The city authorities cannot find a place for them, believing that the devices will attract animals and spoil the appearance of the place where it will be installed," Angela Pataraia, project manager, says.
According to official statistics, today there are at least 500 stray dogs in Sukhum and almost 1,500 more in other parts of the republic.