Sexist scandal in Georgian Parliament - will the case go to court?
Sexist insults in the parliament of Georgia
Georgian MP Teona Akubardia plans to file a lawsuit against the chairman of the parliamentary committee on defense and security, Irakli Beraja, accusing him of sexual harassment.
On October 31, during a public speech in a parliamentary session, Irakli Beraja, who is also Teona Akubardia's superior in the defense committee, used offensive and degrading language towards his female colleague. Beraja insulted Akubardia, calling her a "shameless, shameful liar, and an unworthy person." He also made derogatory comments about her personal behavior.
According to Beraja, Akubardia criticized the ruling team for not being included in foreign trips and for "not having the opportunity to use various platforms for disinformation."
"To have the opportunity to take selfies on Facebook, to enter airport lounges, to get drunk and wallow with the likes of her and anyone else. Those who know her will know exactly what I'm talking about. I urge this person to refrain from mentioning my name and the name of my committee with her long and ubiquitous tongue," Beraja said.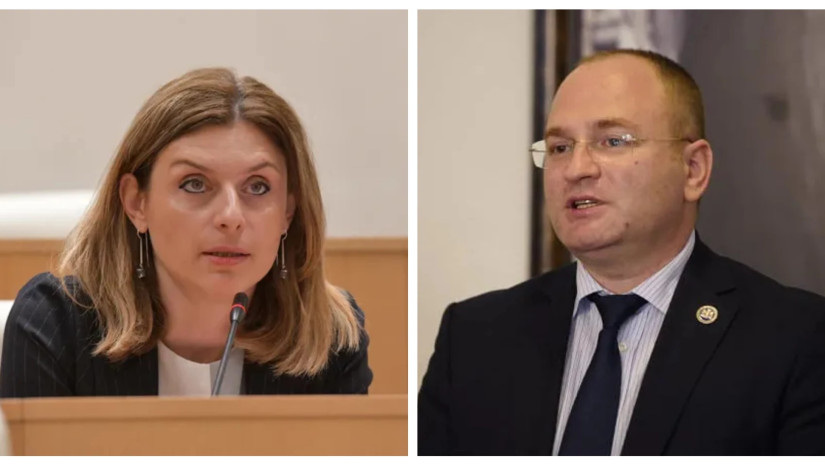 Akubardia was not the only victim of harsh verbal attacks from male colleagues.
Another representative of the ruling team, MP Aluda Gudushauri, said the following to a member of the opposition National Movement Party (founded by Saakashvili), Ana Tsitlidze:
"You are a wretched, uncouth boor. You're a common wretched woman. You don't even fit into the list of women that Saakashvili liked, so calm down. Get out of here, get a move on, you lowlife."
In the first case, the dispute arose because the opposition accused the authorities of passivity in response to Russia's plans to establish a naval base in Ochamchira, and in the second, it was due to the issue of Mikheil Saakashvili.
Reaction of the ruling Georgian Dream and president Salome Zurabishvili
Following the negative reactions these statements received from the political community, civil society, and on social media, some MPs from the ruling Georgian Dream party offered partial apologies for the "sexist statements."
They explained that they were reacting to unfair accusations and pressure that had built up their frustration.
However, they maintained that they had no intention to impose any punishment and also urged the opposition to issue apologies.
"Apologize as well," stated Georgian Dream faction chairman Mamuka Mdinaradze when opposition MPs demanded the resignation of Irakli Beraja.
On the same day, president Salome Zurabishvili addressed the female MPs with a special statement. She condemned the offensive language used and expressed her full solidarity with the female MPs.
Was it sexual harassment?
Lawyers see in Irakli Beraja's statement not just verbal insult, but also discrimination on sexual grounds. Sexual discrimination is prohibited by Georgia's law "On elimination of all forms of discrimination."
Teona Akubardia demands the legal establishment of the fact of sexual discrimination, and other opposition MPs have joined her in this demand.
She states, "I must continue to fight in all legal ways so that other women who want to enter politics feel safe and the ways of communication established by the Georgian Dream become punishable. We will not tolerate such behavior and will fight to prevent such facts from becoming the norm."
Additionally, the opposition MP demands that Irakli Beraja step down from his position as chairman of the defense and security committee. She perceives Beraja's statements as a personal threat.
"This is not only harassment, but also a warning using methods akin to those of the state security service of Georgia. I refuse to be silenced through SGB-like tactics, and I am not fearful that failing to keep silent might lead to further measures, including the potential release of my private life photographs.
Hence, I approach this situation from a dual perspective. On one hand, I consider it through a gender lens. On the other, it involves the committee's leader waging a battle against his own deputy using state security methods."
Ana Arganashvili, an attorney from the Partnership for Human Rights with extensive experience handling sexual harassment cases, believes that if Irakli Beraja's case goes to court, it will undoubtedly be determined as a clear instance of sexual discrimination. She holds the same opinion regarding Aluda Gudushauri's comments:
"As a lawyer, I can confirm that this is a typical case of sexual harassment. Thus, issuing apologies is insufficient; he has violated the law and should face legal consequences for it."
Sexism and misogyny in parliament
Sexist and misogynistic remarks, as well as gender discrimination targeting political adversaries, are unfortunately not uncommon occurrences in Georgian politics. October 31 was no different.
For instance, the Ombudsman's report on sexual harassment implicated the current Speaker of Parliament, Shalva Papuashvili. In 2021, when Papuashvili was an MP from the Georgian Dream, he forcibly kicked out of the rostrum a member of the National Movement, Tina Bokuchava.
Observers suggest that Georgian male MPs frequently resort to misogyny when they seek to demean their female counterparts.