A daily dose of Abkhaz adjika for a longer life
How to cook and how to eat Abkhaz adjika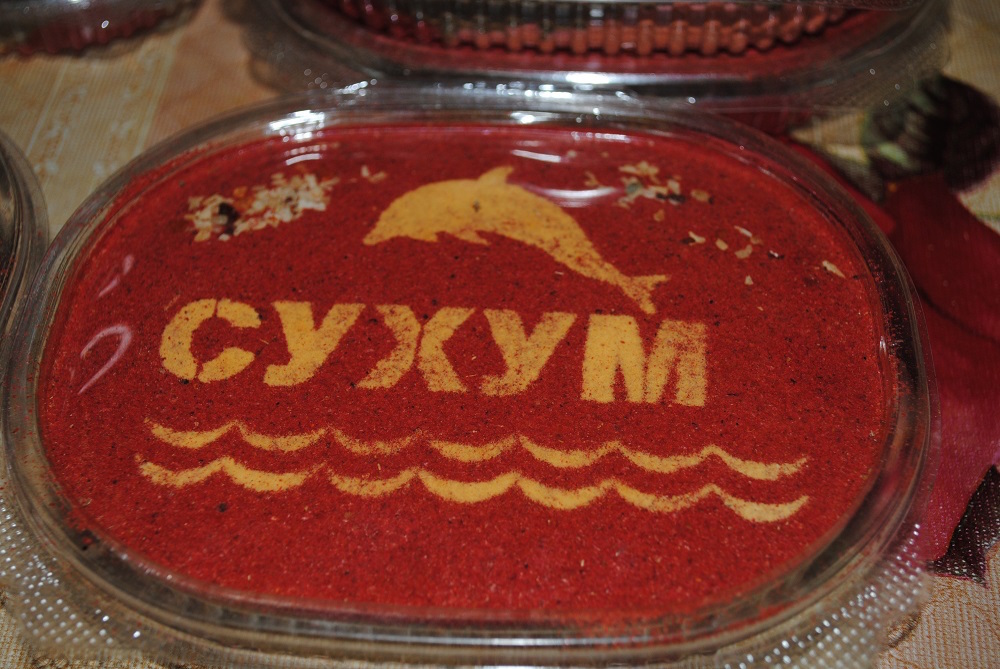 First and foremost, it should be noted that for the Abkhaz, adjika is regarded as salt. The paste-like seasoning which many refer to as adjika is called 'aparpyl-djika' in Abkhaz, as well as 'adjiktsatsa', which means 'salt with grains of pepper.'
Rimma Kogonia has been making adjika since the post-war period and sells it at the Sukhum market. She is a 65-year-old pleasant-looking and very modest woman. She admits that it is difficult to make adjika, especially at her age. Some time ago, she was going to take a well-deserved vacation, but certain circumstances made her have to return to work again.
"My grandson recently crashed his car and now he has a lot of debts to pay off. That's why I had to return to the market. I am going to save up some money for him and then I will sit at home and make adjika only for my family," says Rimma.
"My grandmother taught me how to make adjika. In the past adjika was prepared in an 'ahakya', a special stone utensil used for grounding pepper. But nowadays everyone uses a meat grinder."
Everyone at the Sukhum market knows Aunt Rimma, and she has her own regular clients. She makes adjika at the market since it is far away from home and difficult to bring it with her. She lives in Kutol village in the eastern part of Abkhazia.
T
he village has its own story of how Abkhazia's famous seasoning came about. It is said that the owners of the flocks who sent their animals to the pastures gave salt to their shepherds as an additive to the sheep's feed. The salt was mixed with pepper so that the shepherds wouldn't eat the then-expensive salt themselves.
However, the shepherd fancied the peppered salt. They also added some garlic and aromatic herbs to it and got a piquant and spicy seasoning that soon became very popular.
Adjika is a spice favored in many countries. Although what people usually call adjika may be tasty, it is not the real adjika.
A few tips from Abkhaz homemakers:
1. There are no tomatoes in adjika.
2. There is no paprika in adjika.
3. There is no vinegar in adjika.
4. There is no sugar in adjika.
5. There is no vegetable oil in adjika.
6. There are no apples or carrots in adjika.
Authentic Abkhaz adjika does not and should not include any of these things.
To prepare aparpyl-djika, you will need red chili peppers, dry coriander, walnuts (optional), garlic, khmeli-suneli (a spice mix) and coarse salt.
The process of preparing adjika may seem easy, but it is in fact hard work.
Ingredients needed:
• chili peppers – 30 large pods;
• garlic – 1.5 cloves;
• dry coriander – 4 tablespoons;
• khmeli-suneli – 3 teaspoons;
• walnut – 200 grams;
• salt to taste.
P
epper is certainly the most important ingredient in adjika.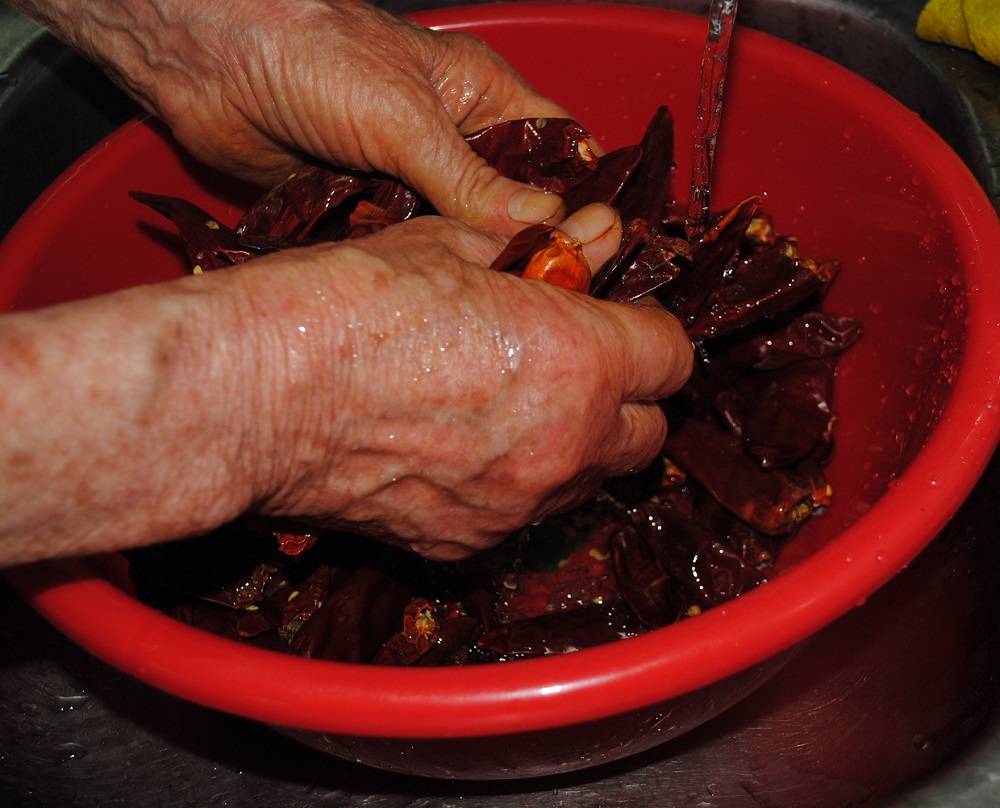 In Abkhazia it is planted in March and it grows knee-high by the end of summer. It produces green and red sprouts.
Both kinds of pepper are used to prepare adjika. When the lowermost pods turn red they are harvested.
Afterward, they are hung out to dry in a summer kitchen made of wicker called an 'apatskha', which is the best place for that. The peppers are kept there and covered with smoke. That's when the special taste develops – one of the mysteries of real Abkhaz adjika.
The peppers will stay in the apatskha for a long time, eventually turning dark maroon.
H
owever, in our case, everything was bought in advance.
Aunt Rimma immediately started cleaning the peppers. The ends should be removed, but it should not be cleared of seeds, otherwise the adjika will not be that hot.
The women usually wear rubber gloves, but Rimma does not feel quite comfortable with them, though her hands burn at night from working with the hot peppers all day. She has scars on her hands, since she grinds adjika in a meat grinder and often cuts her hands.
After Aunt Rimma finishes cleaning the peppers, she washes it well. Then she starts grinding dry coriander, and afterwards, the peppers itself. The grinder turns the hot peppers into a homogeneous mixture.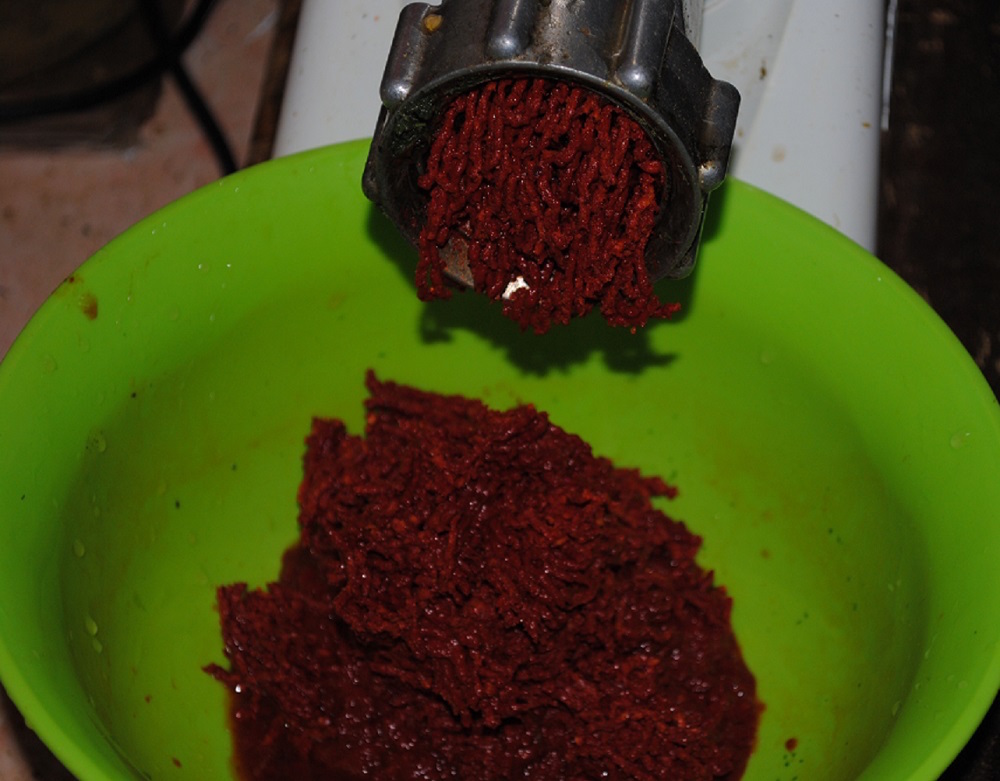 Aunt Rimma gets distracted from time to time by clients who approach her, wanting to buy adjika that is ready to be sold.
I also decided to help and started stirring the finished pepper mixture. Aunt Rimma ground some dry coriander and added it to the peppers. She started stirring the mixture, gradually adding some salt. Salt is added to adjika not only for taste, but also to make it less hot.
Then we diced some garlic and added it to our finished mixture along with khmeli-suneli (spice mix). This released a wonderful aroma that enveloped the market. Judging from the expressions on the faces of the people passing by, the wonderful aroma was tempting them to taste the adjika.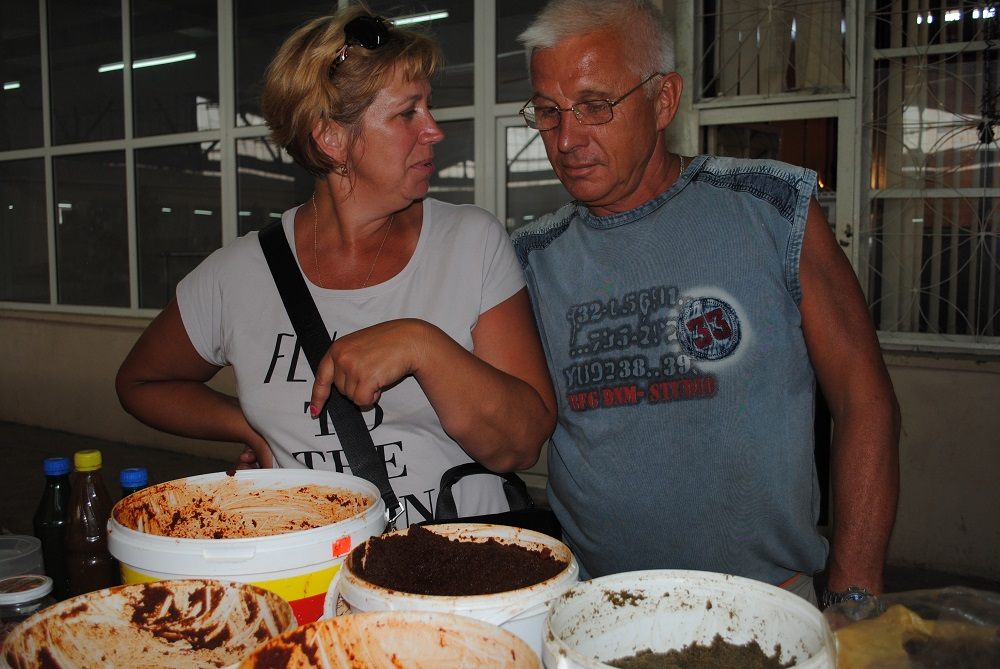 Aunt Rimma and I continued stirring the almost finished adjika and, finally, added some crushed walnuts.
I
f you don't like spicy food but you really want to eat spoons of adjika, I will let you in on one more secret: Mix red chili peppers with paprika and then the adjika will become less hot. Or you can prepare adjika from green chili peppers which is not as hot as the red one.
The Abkhaz use adjika almost everywhere. It is added to nearly all dishes and it is always allocated a particular place in a special holder on a festive table. Even the word 'hospitality' in the Abkhaz language sounds like 'achey-djika,' which literally means 'bread and adjika', similar to the Russian 'bread and salt.'
In Abkhazia, people eat adjika with meat, beans, dairy products and fresh vegetables, and it is added to almost all sauces. Tea is probably the only product that the Abkhaz don't add adjika to.
When studying the phenomenon of Abkhaz longevity, some scholars have concluded that, among some other reasons, the lifelong use of adjika seasoning plays an important role.
The Abkhaz say that adjika isn't just food, but rather a lifestyle. Its abundant use will burn and thus instill temperance, whereas its bite will bring vivacity.
M
eanwhile, aunt Rimma had already filled jars with adjika that we had prepared in advance and gave me two of them. Such small jars can be bought for RUB 100 [about USD 1.50] at the Sukhum market.
It is better to let adjika stand for five days, let all the components 'hug' each other, establish 'the indissoluble bonds of friendship' and even 'love'. But I could not wait any longer. I bought some hot Sukhum bread, spread a thin layer of adjika on top of it and ate it with great pleasure.
Adjika isn't a fusion; it is very delicious and always generates happiness, as well as a good feeling in the stomach area. The main thing is to wait for five important days so that the ingredients can partner up with each other, let the conflict go and the holiday come instead.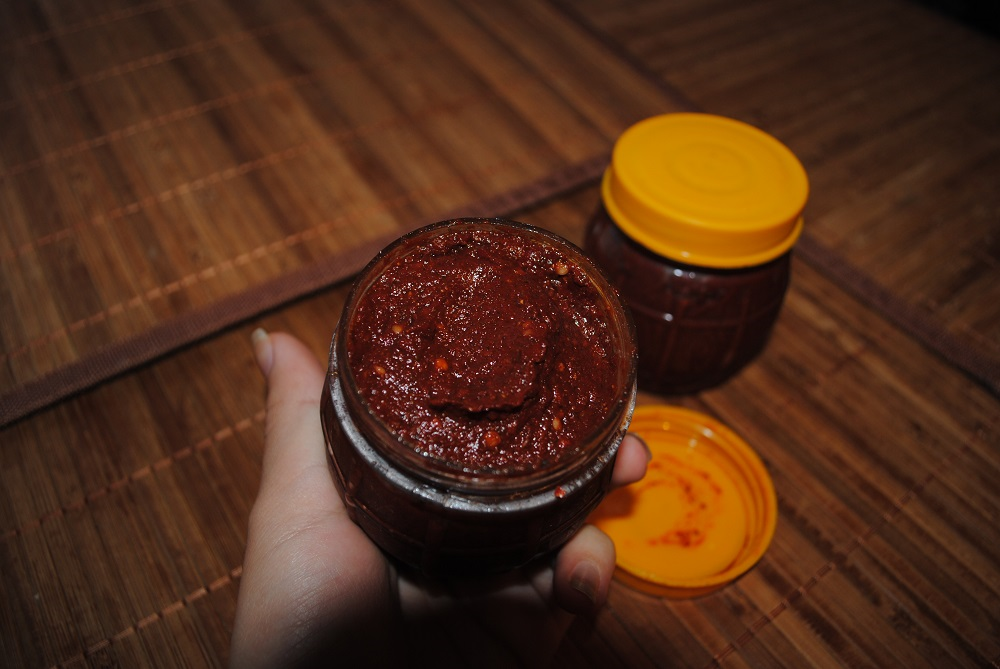 Toponyms and terminology used by the author, as well as views, opinions and strategies expressed by them are theirs alone and do not necessarily reflect the views and opinions of JAMnews or any employees thereof. JAMnews reserves the right to delete comments it considers to be offensive, inflammatory, threatening or otherwise unacceptable.