Schools in Georgia: How to protect children from both Covid-19 and loneliness of distance learning?
Will schools reopen in Georgia?
Will the new academic year in Georgia start as usual? A month before the schools are to begin, many doubt that the country will return to full classroom learning, as the daily infection rate has reached 5,000-6,000 and approximately 50 die of Covid-19 every day.
The new strain of the virus is spreading quickly among children – they account for about 10% of new cases. For many, infections are causing severe health complications.
Amid the worsening epidemiological situation in Georgia, the vaccination rate remains very low. The government has not come forward with proposals for mandatory vaccination or lowering the age of those who can be vaccinated (currently only those aged 18 or older can get vaccinated).
It was announced that teachers and other school staff must receive at least one dose of the vaccine before the start of the school year. But by August 12, only 30% of teachers had been vaccinated, and most of them live and work in Tbilisi, Georgia's Ministry of Education told JAMnews.
At the same time, they said that "they are trying to convince teachers to vaccinate in every possible way, but, nevertheless, this decision should be made voluntarily".
JAMnews tried to get answers to the most important questions:
What will happen in September when the school year begins? Will the kids return to class or continue their education online?
If learning will be in real mode, what is the Ministry of Education's plan to ensure the safety of children in schools and kindergartens?
If there will be online training – what has been done to correct the failures and mistakes of the previous academic year?
During quarantine during 2020, 165,000 preschoolers and 592,000 school-age children were forced into distance learning in Georgia. According to official figures, 20% of children did not have a computer or Internet access.
What about working parents, for whom the workload and problems increase significantly in the context of online learning? This applies primarily to mothers.
Will schools and kindergartens be safe?
Marika Tvildiani became infected in 2020 four days after giving birth. The coronavirus was confirmed in a newborn baby. He became the youngest of the infected residents of Georgia.
"He was not even a month old. The doctors watched on camera how I fed him, bathed him", says Marika. Having experienced fearing for her child's life, she, perhaps, is most afraid of the coming September:
"My eldest son is in the fifth grade. If everything continues as it is now, I will be afraid to let him go to school, I prefer online education".
---
---
Schools and kindergartens in Georgia were closed for the first time due to the pandemic in March 2020. The children studied online and returned to classes only in September-October 2020, only for a few weeks. Educational institutions were soon closed again due to the worsening of the epidemiological situation in the country.
Then strict isolation and a curfew were imposed for several months. The schools only reopened in March 2021. The visit was voluntary – some parents decided to have their children study online because they were afraid of the virus.
Now the country is at the new peak of the spread of coronavirus and the Ministry of Health does not even hide the fact that hospitals are so overcrowded that they are on the verge of collapse.
Many frightened parents still prefer online education.
Stay home to avoid Covid-19?
Anna Nemsitsveridze spent last year in anxiety. Her son is in fifth grade and has hardly attended school for over a year.
Anna understands that socialization is important. But when children are at risk, their vaccination is prohibited, and compliance with the rules in schools is almost impossible – she prefers online education:
"Even if most of the teachers are vaccinated, I have no information or guarantees about the parents and family members of my child's classmates. I will leave my children to study from home. And we will only meet outdoors with children of vaccinated parents. This is necessary, otherwise the psyche of children will not withstand it".
However, not everyone thinks that way. Most parents believe that another year at home will have dire consequences for their children.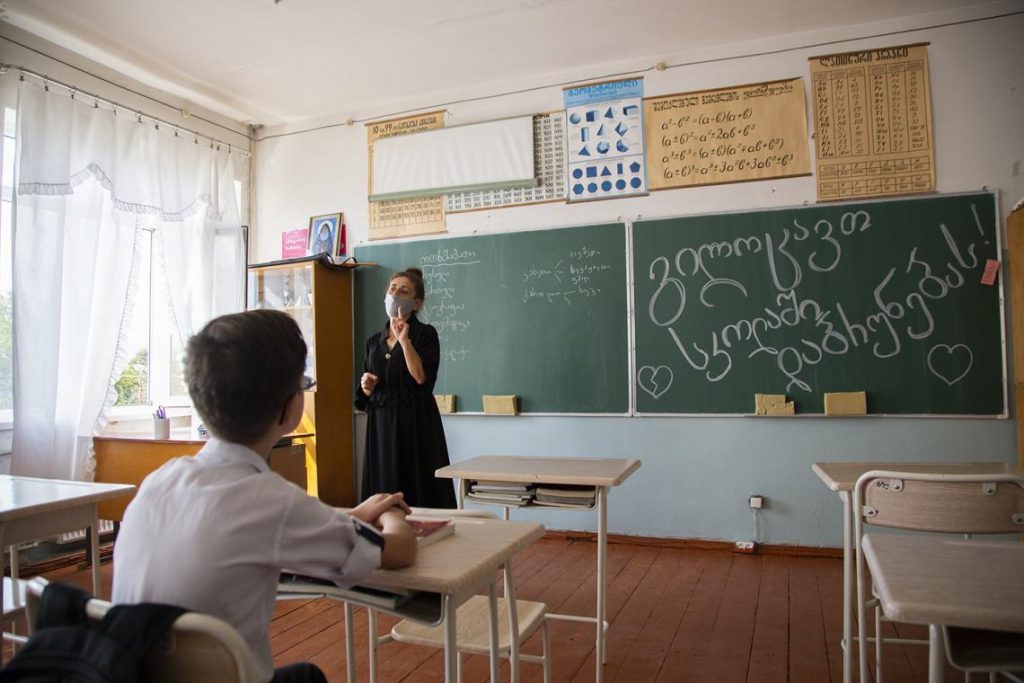 Should children go to school to avoid major psychological risks?
The eldest son of Nino Robakidze is in the third grade and he goes to a private school. But he had spent almost all of the previous year at home with his two-year-old sister.
Nino fears that further isolation will have a very negative impact on the psyche of the children. This is confirmed by studies that have been carried out in many countries, she says:
"The past year has been especially difficult for primary school students. Many have developmental delays and this will have a significant impact on the next stages of their lives. Children have missed a whole stage in their lives. The quality of education also suffers. All of this will affect the future careers of many, many children. And this is very problematic for a country that already has problems with the quality of education".
In 2020, during the forced isolation of children at home, Nino and her friend founded a parent initiative group. They protested and demanded the opening of schools:
"We demanded that children return to classes. Indeed, in different countries of the world, special protocols and models have been developed and actively used that allowed children to go to school, but at the same time maximizing their protection and minimized the risks".
Nino Robakidze says that she cannot even imagine that schools and kindergartens will be closed again, mothers will be left without childcare assistance, and children will not be able to receive education and undergo proper development.
"I can't get everyone to get vaccinated. But I demand that the Ministry of Education create a system in which teachers and children can safely work in classrooms", says Nino.
What will improve in online learning?
Although distance learning in Georgia has been implemented for almost a year and a half, so far no large-scale research and gap analysis has been carried out in the organization of the process and teacher readiness. In fact, there is simply no reliable information on this matter.
Also, in Georgia, no one studied how almost a year of being in a confined space at home affected the children.
Another problem is the lack of access to gadgets and the Internet for tens of thousands of schoolchildren, which was revealed during the pandemic-induced lockdown.
"Where there are problems with the Internet, education has not been remote in 2020", the Ministry of Education told JAMnews. "For example, in the highlands, there are many small schools that have not been closed. And in those regions where there is a problem with access to a computer and the Internet, classroom learning was organized".
Gvantsa Lomsadze has just finished school in the village of Gurkeli near the town of Akhaltsikhe (Samtskhe-Javakheti region). This school is also attended by residents of another village, Tsinubani.
For almost a year, the studying was online – despite the fact that in both villages there is no Internet provider at all.
Whoever could – used Internet mobile operators to participate in the lessons. "But there were usually only two or three of us in an online lesson", says Gvantsa.
"There are problems with online education in developed countries, not only in our country. And like there, it is not always possible to change the situation quickly and dramatically", says Shalva Tabatadze, an education expert.
"The teachers, in general, were able to adapt from a technical point of view. But the quality of the lessons cannot be called high. Because of this, student participation is very low. It is unlikely that much can be changed in the coming academic year".
"Continuing online learning will make the existing problem of inequality among children even more acute".
"Some (more often private school students) will get a much better education, as they will have mentors who have developed a new methodology and are prepared for distance learning. Others will not be able to get even the basic knowledge and educational opportunities that were possible when attending school".
" During this time is difficult and generally unrealistic to prepare 60,000 thousand teachers for the new teaching system. After all, it depends on the age of the teachers", says Shalva Tabatadze.
Teachers are afraid to get vaccinated, because of the lack of information
Several private schools have already informed the parents of their students that their school will be as safe as possible by September, as most of the staff have already been vaccinated.
For example, Green School informed parents that 91.5% of their employees have already been vaccinated twice or will be vaccinated very soon. Another private school, Newton School, also announced that 90% of teachers and other staff members were vaccinated.
No public school in the country has made such statements.
The Ministry of Education has yet to decide whether fully vaccinated schools will receive special permission to continue working with children in classrooms.
Many schools and kindergarten teachers in Georgia's provinces say they are afraid of getting vaccinated. Eka Didishvili works in a kindergarten in the village of Kheta in the Samtskhe-Javakheti region. She says none of her colleagues have been vaccinated:
"I prepare myself psychologically. If my other colleagues are vaccinated, I will also get vaccinated, I don't want to lose my job because of this", she told JAMnews.
But at the same time, a significant part of teachers are in an information vacuum about vaccines or are asing their assuptions on misinformation.
This is confirmed by the meetings on vaccination, which are regularly held in the regions of the country by groups of Georgian doctors together with the United Nations Children's Fund (UNICEF).
Allergist Bidzina Kulumbegov told how, together with other doctors, he comes to remote cities and villages and tells teachers in detail about the vaccine, explains what effects and side effects it can have, answers their doubts and questions.
One example, which UNICEF cites on its social media page: after a recent meeting with Kulumbegov and his colleagues in the highlands of the Achara region, more than 200 local teachers went to get vaccinated on the same day or within the next few days.