Scandal in Abkhazia as hundreds of tourists end up on the street because of fake trip deals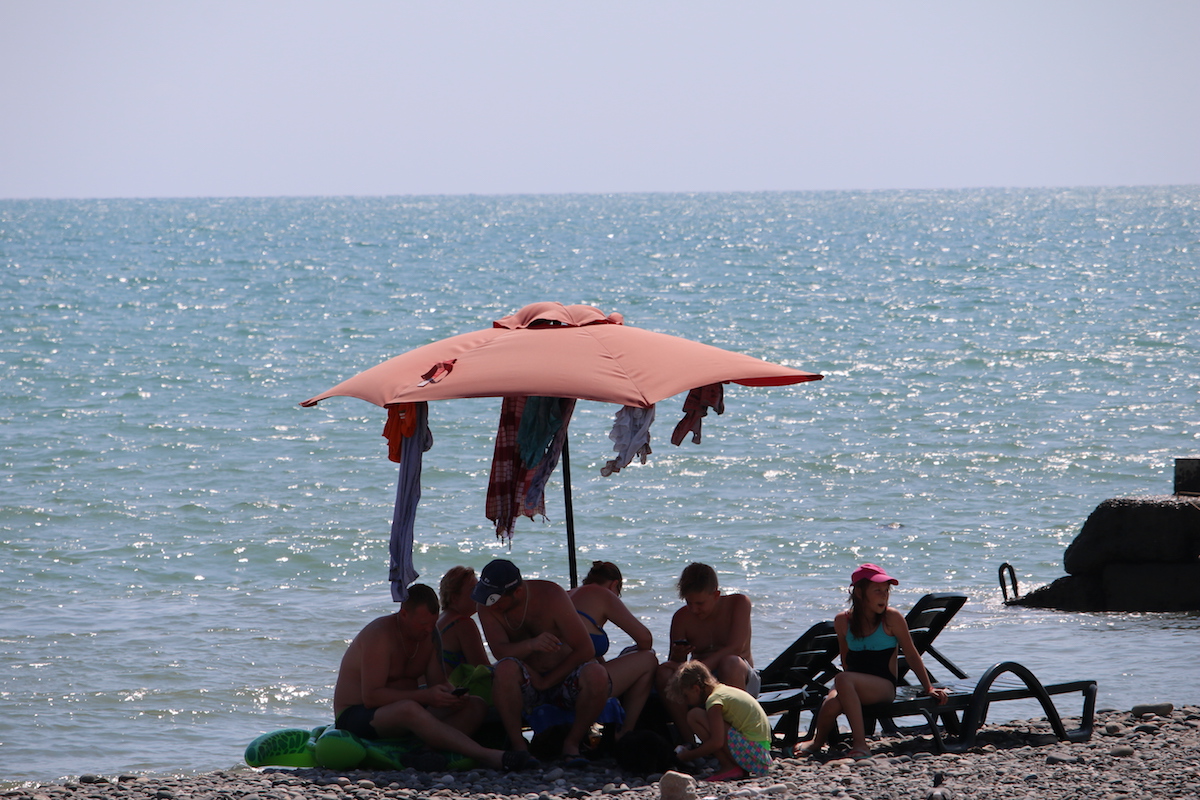 Hundreds of Russian tourists planning to have their vacations in Abkhazia have ended up on the street. They all bought trip deals on the internet on fake sites allegedly offering trips to Abkhaz resorts.
How to snag a tourist
The first thing that attracts potential tourists to such deals are attractive prices offered by fake sites. In order to take advantage of such an 'advantageous offer', they must pay the entire amount upfront. The prices of hotel accommodations on these sites varies from RUB 20 000 [USD 350] to RUB 120 000 [about USD 2 000].
The scammers began advertising Sosnovaya Roscha resort [Pine Grove] in Pitsunda as well as Psou located in Tsandrypsh village. They were also offered trips and accommodation in Bagripsh, Solnechny and Lazurny Bereg [Cote d'Azur].
Those who made purchases were sent receipts and confirmation documents.
The police have already received a number of complaints from victims, but has been unable to locate the culprits so far. Every time the company's director seems to have been changed with only the site remaining the same.
"It's annoying that all of these organisations are registered in Moscow, Russia. All the registration data exists. But does that mean any scammer can create a company, a fake site for some hotel and go unpunished for tricking hundreds of people? Our law-enforcement agencies can't do anything? How is that possible?" asked one of the victims.
Victims unite
It is so far unclear just how many tourists have been tricked by the scheme. However, several hundred are presumed to have fallen for the scam. A group has been created on one social media site for those who were scammed and is called 'Pansionat Psou, Abkhazia'. There are currently 361 people in the group since its creation.
It is also known that more than 481 victims have signed a petition on the website change.org.
The majority of those who speak out online have already written appeals to the police and their cases have been registered.
Among the victims are retirees as well as poor families who have saved up for an entire year just to spend their vacations in Abkhazia. Every day the number of victims grows.
"I saved money out of my pension for two years. I transferred the money to the fake Psou site and bought a return ticket from Novosibirsk to Sochi. Now I have neither money nor the sea," wrote one woman who identifies herself as Lidia.
"In May, we reserved a trip to Abkhazia. As it turned out, there was no reservation. We paid the full amount up front. My family is in shock. My child is crying, and we'll have no vacation. When will this senselessness come to an end? When will they punish the guilty? There are hundreds of victims," wrote another lady named Elena.
"We were all victims of the scammer's actions because we trusted the State Organisation Register," wrote Galina.
The victims have also sent an open letter to President Vladimir Putin during an open Q&A session which took place on Thursday, 7 June. They asked for his help in finding the criminals and returning the stolen money.
Help for tricked tourists
The Abkhaz Tourism Union is now trying to come up with ways of organising a vacation for the victims of the scheme. About 10 hotels and resorts have taken in those that fell prey to the scheme.
"We appealed to our colleagues to take in those victims. Some are being put up for free, while others at a good discount. We are working very carefully. In the future, we hope to help all," said the president of the Abkhaz Tourism Union Anna Kalyagina.
The organisation also strongly recommends appealing to the police at their place of residence and await for support from Russian law enforcement agencies as the fraudulent actions were committed on Russian Federation soil. Furthermore, the legal entities and payment accounts of the scammers were also registered in Russia.
"We must united our efforts; the guest-houses and the entire tourism industry of Abkhazia are also victims. The actions of the scammers has harmed the image of tourism and all of Abkhazia as a whole," reads one statement.
How to protect yourself against fraud
The Russian supervising organization Rosturizm says that it is simple to find out the legality or legitimacy of a company – one must simply find them on Rosturizm's site.
Another way of not falling victim to such false offers is to buy trips from tour offices with an agreement document and a bill of sale. If you have to pay on the internet – check the site's trustworthiness.
"One can look at the reputation of the company, its experience and at the recommendations left by other tourists," said Dmitri Gorin, the advisor to the head of Rosturizm.
Toponyms and terminology used in the article, and views, opinions and strategies expressed in it do not necessarily reflect the views and opinions of JAMnews or any employees thereof. JAMnews reserves the right to delete comments it considers to be offensive, inflammatory, threatening, or otherwise unacceptable