From April to June, the Georgian border was most often crossed by citizens of Russia
Russians cross the Georgian border
According to the Ministry of Internal Affairs, in the second quarter of 2023 (April-June), the Georgian border was crossed a total of 4,918,036 times (entry + exit). Among those crossing the border, 30% are citizens of Georgia, and 70% are foreigners, among whom Russian citizens predominate (443,624 people).
In terms of the number of crossings of the Georgian border, Russia is followed by Turkey (413,127), then Armenia (285,403) and the EU countries (119,855).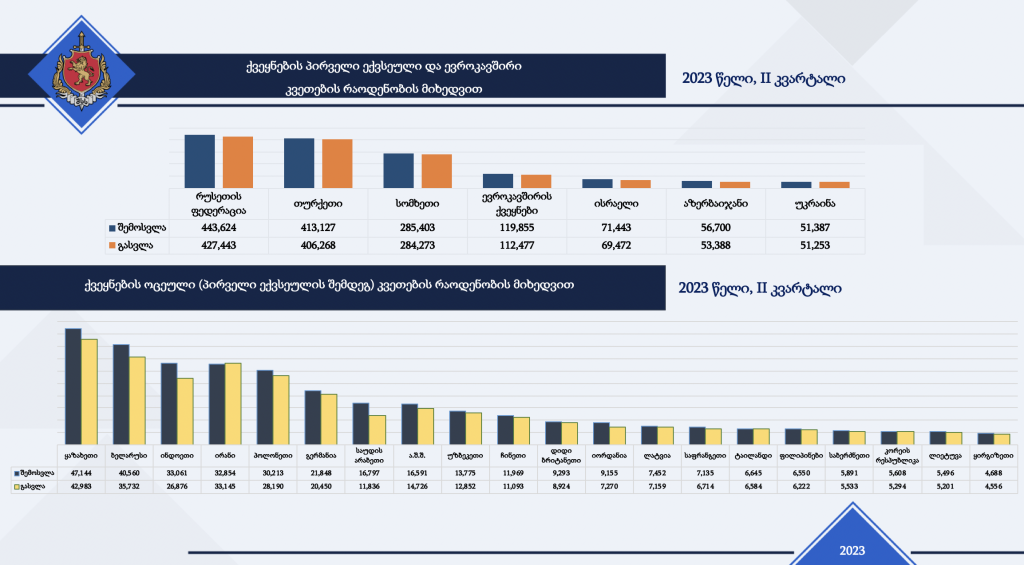 The total number of people who arrived in Georgia in April-June amounted to 1,754,992 people, of which 1,092,903 people stayed in the country for more than a day, and 257,872 people used transit through the territory of Georgia.
During the indicated period, 746,734 citizens of Georgia left the country and 732,743 citizens of Georgia entered it.
---
---
● Direct flights between Georgia and Russia have been restored by Vladimir Putin's decision of May 10, 2023.
● Despite protests from the president, civil society, opposition and Western partners, the Georgian government supported Putin's initiative. On May 20, the main national carrier Georgian Airways made its first flight from Tbilisi to Moscow. Because of this, Georgian President Salome Zurabishvili declared a boycott on the airline.
● On July 1, Ukraine adopted a new package of sanctions. Along with Russian and Belarusian companies, Georgian Airways was also included in the sanctions list. Sanctions against the Georgian air carrier have been introduced for a period of 10 years and include a complete ban on flights on the territory of Ukraine.