Russia is using South Ossetia to finance self-proclaimed republics in Eastern Ukraine
The Security Service of Ukraine (SSU) uncovered a plot to covertly finance unrecognized republics in eastern Ukraine through South Ossetia.
Ukrainian television station "Hromadske" reports that those who participated are now wanted criminals, accused of financing actions to overthrow the government and constitutional order, as well as violating the territorial integrity of Ukraine.
The SSU's press service reports that in order to avoid sanctions, Russia has created special financial institutions within its own territory, as well as in the territory of Donbass not controlled by Ukraine. Finances was transferred there from Russia.
In order to hide the money transfers, they were first sent to the self-proclaimed republic of South Ossetia. From there, the funds went through the so-called "state bank of the Lugansk People's Republic."
The security service notes that Russia has been financing the "LPR" in this way with about 30 million Russian rubles [about $490 thousand] annually.
Ukrainian law enforcement officers have placed the "Minister of Finance" and the "Head of the State Bank" of the LPR on the wanted list.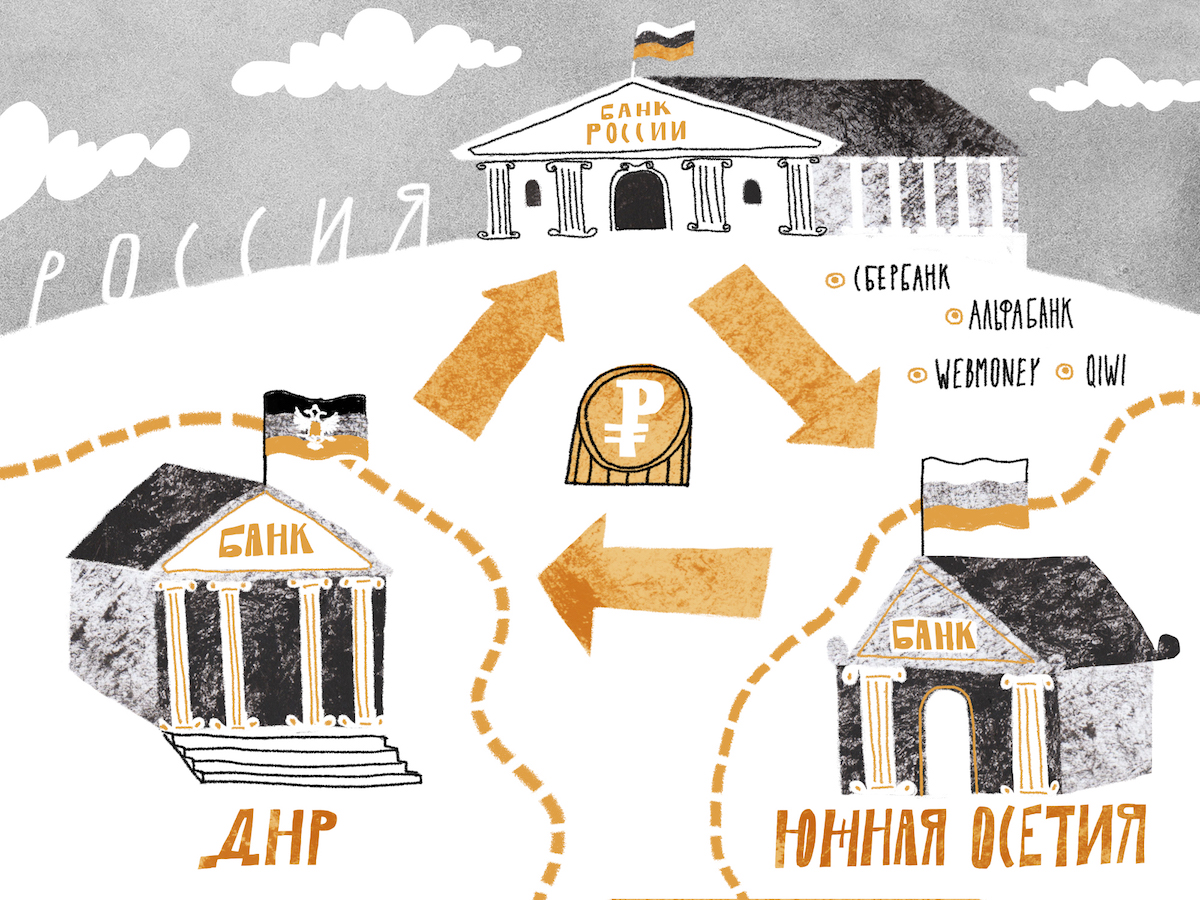 Money for Donbass through South Ossetia—how it works
Russia established full financial control in the self-proclaimed republics in eastern Ukraine by the spring of 2017, after Kiev imposed a transport and trade blockade on territories beyond Ukraine's control, writes Spectr.
Due to their unrecognized status, the entire financial system of the self-proclaimed republics became a closed loop and could not be integrated into either the international or, to avoid sanctions, into the Russian financial system.
But trade between Russia and these republics does occur and is growing rapidly—in the Rostov Region, which borders on the DPR and LPR, from 2014 to 2017, the number of wholesale food companies, logistics centers and intermediary companies involved with product supply more than doubled.
The number of transport companies increased 1.6 times. The growth was due to a sharp increase in demand for deliveries to self-proclaimed republics.
Local entrepreneurs say that there are a limited number of companies in the unrecognized republics that import and make payments through South Ossetia.
"We tried to buy goods a couple of times in Russia, but it's difficult for us—you need to open an account in South Ossetia, which recognizes us and is recognized by Russia, the whole procedure takes a couple of months," explains Victor, an entrepreneur from the Donetsk People's Republic.
From the time we order the goods to the time they are delivered, everything would take about three months, so we decided it wasn't worth reaching out to them and instead got everything from local sources (in Donetsk – ed.) that specialized in this. They adapted well, and there are no more than 10 of them.
Russia uses a scheme for creating non-bank credit organizations in order to trade with the "republics."
At first, both Donetsk enterprises and Ukrainian legal entities opened accounts with them. However, Ukraine put these non-bank credit organizations under sanctions, after which they created an LLC, the Center for International Payments, in Moscow, and accounts with DNR-LNR began to be channeled through South Ossetia.
There are entire law firms which deal solely with exporting goods to Russia and creating "South Ossetian" enterprises with Donetsk and Lugansk roots on Russian territory, "without even leaving the headquarters in Tskhinval."