Riot against district head in Abkhazia ends in her departure on unpaid leave
A public protest in the Tkuarchal district in Abkhazia has ended with a victory for the local opposition.
On February 21, a group of citizens besieged the administration building and demanded the resignation of the head of the district, Aida Chachkhalia.
The demand was partially satisfied – by the evening of the same day, the Prime Minister of Abkhazia Valery Bganba, who is now acting as president, sent her on unpaid leave.
Aida Chachkhalia was accused by the opposition of using administrative resources in the summer-fall 2019 presidential election when Raul Khajimba was re-elected with a slight advantage, but in January he was overthrown as a result of mass protest.
New presidential elections are scheduled for March 22.
• Op-ed: how long will political groups continue to chase one another out of the Abkhaz presidency?
• Leaders of presidential race in Abkhazia unite – rivals may follow suit?
• Presidential elections in Abkhazia
Chachkhalia is also accused of poor work as the head of the district.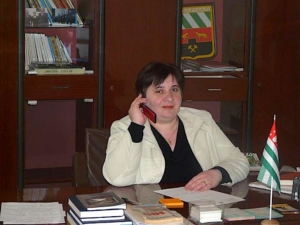 Initially, she posted a desperate request for help on her Facebook page.
"I appeal to the acting president, to the deputies of the parliament, presidential candidates – to urgently leave for Tkuarchal, and to understand the situation, the situation is getting out of the control of law enforcement authorities," Chachkhalia wrote.
Representatives of political parties, organizations, deputies and journalists left for Tkuarchal.
According to protesters, a fight broke out near the administration building, in which the chairman of the local assembly of deputies suffered.  He was asked to initiate the resignation of Aida Chachkhalia, he refused, and because of this a fight began.
In January 2020, young people who identified themselves members of the Amtsakhara opposition party already demanded Chachkhalia's resignation and promised to stage protests if she didn't leave.
Then the party chairman and ex-presidential candidate Alkhas Kvitsinia said that the party did not take such decisions and this was a public initiative.
The final decision on the fate of Chachkhalia will be made after the election of the next president of Abkhazia.
Toponyms, terminology, views and opinions expressed in the article do not necessarily reflect the views and opinions of JAMnews or any employees thereof. JAMnews reserves the right to delete comments it considers to be offensive, inflammatory, threatening, or otherwise unacceptable