Regions protest against crisis
This week Azerbaijani regions have responded to the price increase and other consequences of the crisis. A tidal wave of discontent grows and splashes into demonstrations and clashes with the police.
On November 12, residents of Liman town in Lankaran district blocked Baku-Astara highway. The people complained about increase of food prices, unemployment and outrage of criminality.
According to the locals, there were clashes between locals and the police in Syazani that resulted in arrests and injuries of people. The protestors' demands were the same – to stop the price growth and provide them with jobs.
Protest rallies were held in Bala Mekhmenli village, Fizuli district. People complained of inflation and low living standard.
In Agcabadi, police dispersed a rally of approximately 200 people, who blocked Agdash-Barda road. Later, representatives of the local authorities held a meeting with discontented people and calmed them, having pledged to tackle their problems.
Events in Beylagan and Agsu developed under the same scenario.
On the whole, the unrests broke out for the same reasons: sharp drop in the living standards following devaluation, price increase almost by half, crime rate growth, unemployment as a result of job reduction. The results of the unrests were the same: the protestors were either dispersed by force, or local authorities had to damp down the discontented people.
Despite numerous reports that the rallies were of spontaneous, not political character, two oppositionists- the head of Lenkoran branch of the People's Front of Azerbaijan, Nazim Ghasanli and activist of the Musavat party, Iman Alyev, were detained in Liman town in Lankaran district "for the security reasons. According to Iman Alyev's colleagues, he was detained because he had provided the Mass Media with the unrest related information.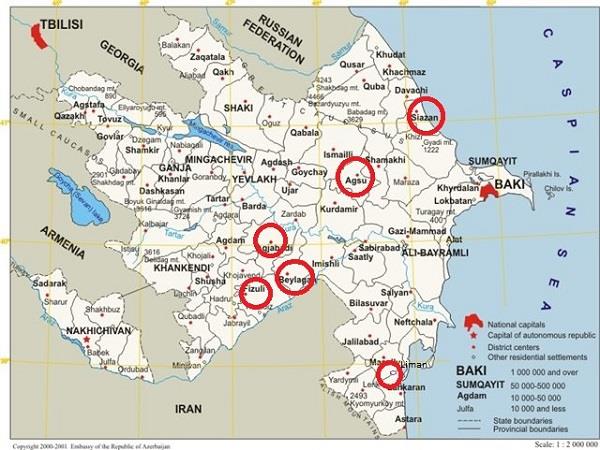 The authorities and pro-governmental Mass Media traditionally covered the events namely, some officials denied facts of unrests, others disproved reports on rally dispersal and victims. A version that unrests were caused by a ban on alcohol sale for cash from January this year was also voiced. Alcohol vanished from shops as a result of transfer to a new payment system – bank cards required re-issuance of documents.
On January 12, the new law was suspended for an indefinite period of time. Time will show, whether such care will solace residents of the region.
The Caucasian Knot and BBC Azerbaijan service materials were used in the process of preparing this article.